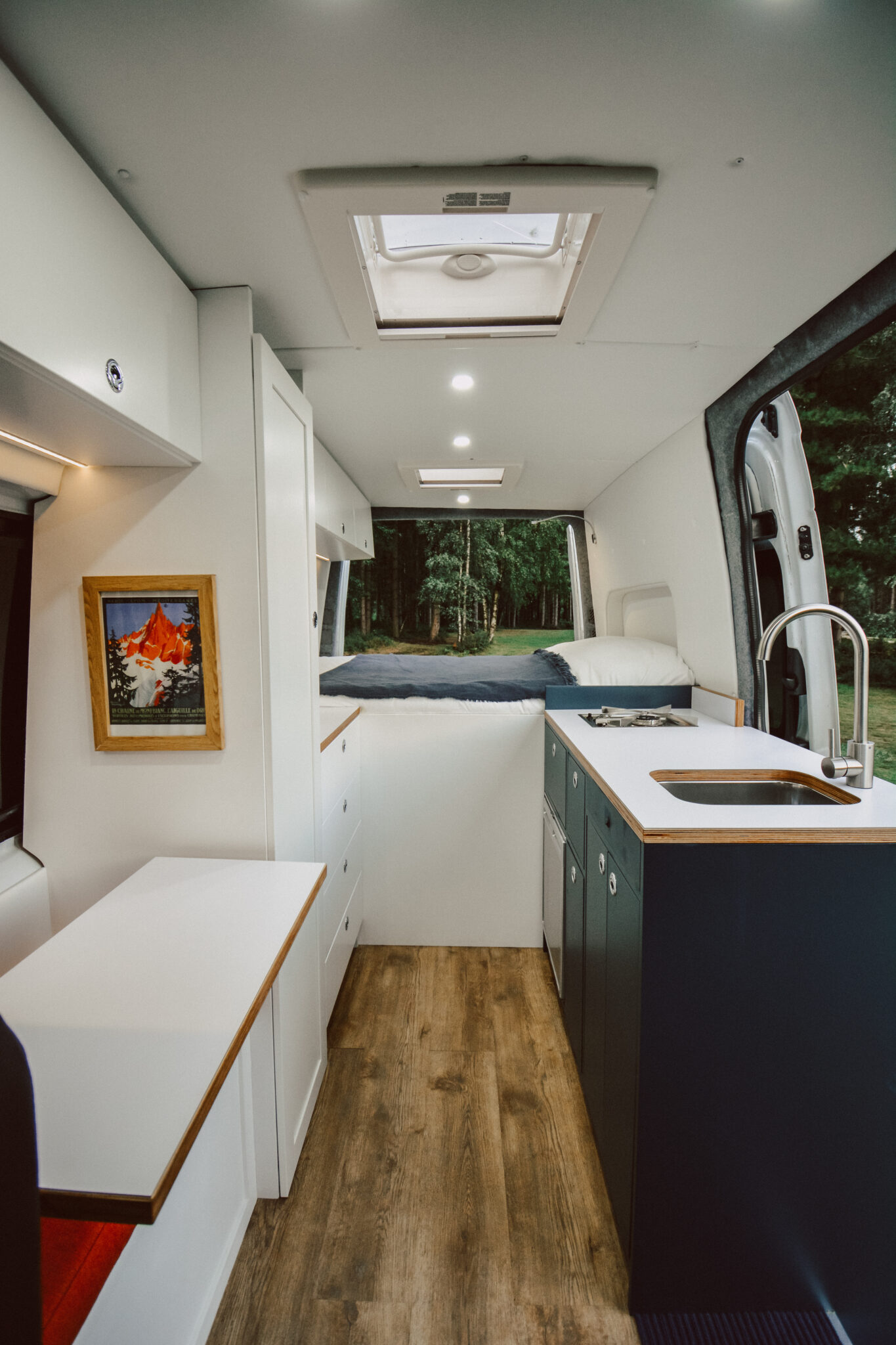 Conversion Description
Hi all!
My names Jamie from trekkvans (www.trekkvans.co.uk, @trekkvans instagram)
I recently graduated with a masters in Civil Engineering and started building out campervans over 4 years ago. We are expanding our business and are taking on three more build slots for a MWB Sprinter/Crafter for our 'Helvellyn' layout starting October 2021. The advertised van (pictures and spec) is indicative of our 'Helvellyn' build (see more on our site). This build is very high spec, including hot water, heating, underslung gas, water, marine appliances, upholstery etc etc! We use the very best quality materials available and don't even think twice about the cost, most materials are sourced with influence from the yachting and boating industry. The finishings are flexible and we've recently introduced a variation of this layout which eliminates the dresser in favour of a longer bench, the choice is yours. Please get in touch if you'd like to reserve a build slot with us, in-time for Spring/Summer 2022. Call anytime, I'm happy to answer questions and chat vans.
Specification:
Furniture:
All of our furniture is constructed from a lightweight poplar plywood. Carcassing is 18mm poplar edge banded with 2mm maple. We can provide a painted finish or custom laminate any egger finish of your choice. All drawers are constructed from 12mm birch plywood and lacquered for durability. The helvellyn build typically consists of a large kitchen which houses a stainless steel sink, double burner and a 65L fridge. A dresser offers 4 large storage drawers and the upper cabinets also provide significant storage, with one compartment left for the electrical 'command centre'. The bench, depending on layout, can house a porta potty or a larger battery array.
Hardware:
We use 30kg rated soft-close drawers on all drawers. Blum hardware is used as standard on hinges. Our latches are marine grade stainless steel. We also use Hafele 10N gas struts on our upper cabinet doors.
Insulation:
A combination of organic sheepswool, 50mm celotex, 2mm closed cell foam and double thickness aluminium foil provides the best possible insulating properties for your van. We use 25mm Celotex on the floor and replace the factory floor with a fresh 18mm ply.
Upholstery:
We prefer to use marine ply backed in marine vinyl to clad our vans. This provides a very luxurious feel, especially around the bed area. It is very hard wearing and wipeable, as you would expect with it being designed for yachts.
Electrical System:
You have the option to achieve 350Watts of solar capacity on a MWB Sprinter/Crafter with one roof opening (maxxfan or dometic heiki skylight). This is reduced to 175Watts if you would like two roof openings.
As standand we fit 2X 110aH AGM batteries hooked up in tandem with:
Victron b2b charger
Victron MPPT
800Watt Victron Inverter
Plenty of 12V outlets, sockets and mood lighting
Heating and hot water:
We fit a truma combi 4e to this build. It is absolutely fantastic. Near-instant hot water on demand and heating through ducts which run through the van.
Gas:
We fit as standard an underslung refillable gas system of 25L minimum capacity. This feeds the truma combi and any ovens/stoves.
Water:
Underslung fresh and waste tanks typically compromising at least 60L each. Larger fresh water capacity is achievable if the spare wheel is omitted.
Outdoor, hot water yacht deck shower is also available on request.
Appliances:
Our stainless steel sinks, faucets, deck showers and cookers are sourced directly from marine manufacturers, they are built to last. We typically fit the Waeco CRX65 to our Helvellyn build and find this to be a great compromise of size.
Other inclusions:
Maxxfan/Dometic Heiki as standard
Flares, spayed professionally and colour matched by Mercedes.
Any combination of windows of your choice
Lagun Swivel Table
Portapotty
Double swivel seat
Drivers swivel seat
Aluminium bed frame
Beech bed slats and comfort mattress
Thanks for your time, get in touch if you've any questions and I look forward to hearing from you!
Jamie
Quirky approved and ready to list
We like the style
'We like the style' means that Quirky Campers would approve it for hiring but you must still check that the gas, electrics and weight were done properly. For some tips on what to look out for read this. If the listing has no Gas Safe certificate, no unladen weight and no electrical sign-off please proceed with caution!
Please note: Quirky Campers do not inspect the listings for accuracy or check campervans in person. We have asked sellers to provide evidence of certificates and paperwork however you MUST check yourself that the information provided is present and correct. You will need to exercise the normal due diligence when buying any vehicle.
Current Mileage
54,300miles
Registered Vehicle Type
Motor Caravan - approved
A fixed standard double made possible by flares.
Maximum Weight (MAM or MTPLM)
3,500kg
Unladen Weight Verified?
YES - the vehicle has been weighed since completion
Gas sign-off supplied
Gas Safe Certificate