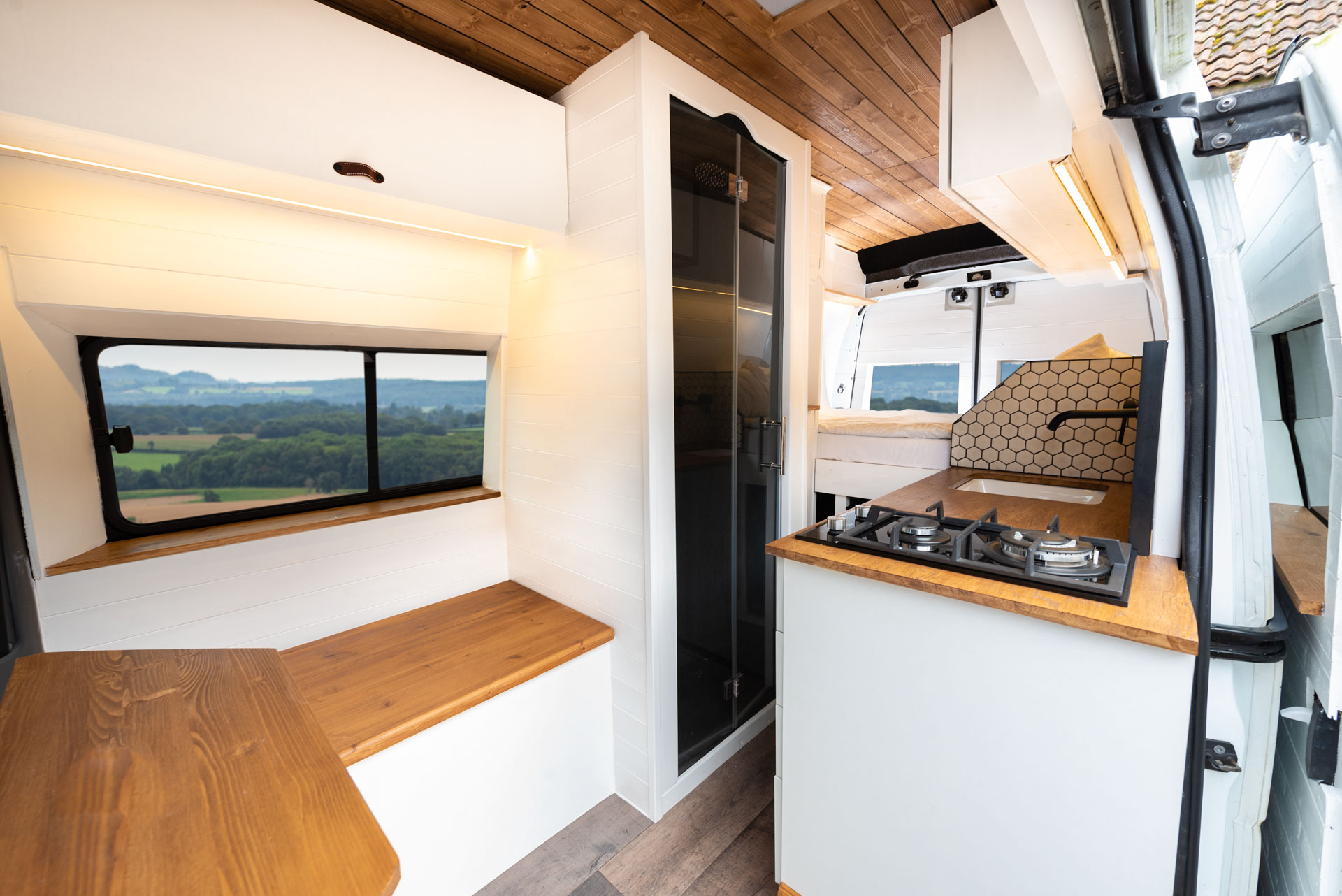 Sold
Vehicle Description
AA vehicle inspection approved. Full service history. Long MOT. Low miles (68,000). Two keys. Reverse parking sensors and reverse camera. In-car entertainment including Bluetooth. Electric windows. Additional insurance approved alarm covering entire of vehicle (cab and rear) which makes insurance cheaper too.
Conversion Description
Polaris is AA inspected, has a full service history, two keys, bluetooth, a long MOT, and at only 68,000 miles it's ready to take you on your next adventure.
Key Features:
Take Polaris anywhere with your own shower and toilet, double bed, two-ring gas hob, three way fridge, and stay toasty thanks to luxury underfloor heating. Never worry about parking again thanks to the reverse parking sensors and reversing camera. Two-ring gas hob is complemented by overhead roof fan which blows in both directions (in and out), has a rain-sense function (shutting when it rains) and can be operated manually, electronically, or via the remote.
Security:
As well as full central locking all around the van, Polaris is also protected by an insurance-approved cat-1 alarm which secures the entire vehicle front-to-back so that you can rest easy knowing everything is kept secure whilst out adventuring. When sleeping, the alarm can be independently disengaged from the central locking to ensure a peaceful night.
Shower/Toilet:
A bespoke rain shower and brand new Thetford toilet make Polaris the ideal camper for those who want to stay away from public toilets and busy areas, which you're able to use off-grid or at a campsite thanks to its own fresh and waste water tanks. Hot and cold water run to both the shower and the kitchen sink and is powered by the Ariston boiler. Polaris comes with a brand new, portable Thetford toilet which stores and can be used in the shower cubicle. The shower has its own frosted window for natural light but ultimate privacy.
Storage:
As you step into Polaris you're greeted with an incredible amount of storage space that effortlessly blends into the living area. A shoe storage space doubles as a table surface next to the sofa. Huge carpeted space above the cab and to the rear are complemented by a massive area built into the sofa (accessible via the hinged seat).
Make your way into the kitchen and three large cabinets provide plenty of space for food and drinks, with a brand new Smad three-way fridge for cold items. Throughout Polaris overhead cabinets run discreetly along its flanks for additional storage. Store bikes, climbing equipment, or anything else you need to take with you in the extensive garage space accessible underneath the double bed.
Lighting:
The adventure continues at night thanks to Polaris' ample interior LED lighting that provides warm, inviting light plenty bright enough for reading, cooking etc. Interior cabinet lights illuminate when the doors are opened making it easy to find exactly what you're looking for, even in the middle of the night.
Kitchen:
Whether cooking dinner or making a hot chocolate after a long hike, the two ring gas hob built-in to the solid oak kitchen worktop is the heart of the kitchen. Heat and smoke can be extracted via the overhead fan which can draw air both inwards and outwards, has a rain sense function which will automatically close the fan if rain is detected and can be remotely operated if you don't wish to get up. Hot and cold water run to both the shower and the kitchen sink and is powered by the Ariston boiler. Wash up in the belfast sink and wall-mounted matte black mixer tap, with contemporary white tile splashback behind. Cold food can be stored in the Smad three-way fridge which can run on gas, 12V or 240V electric. Kitchen cabinets also benefit from interior lighting which illuminates when the doors are opened.
Power:
Never get caught out off-grid thanks to the 25L underslung Gas-It tank and water provided via the 45L fresh water tank and 25L waste water tank. Charge your phones and laptops using the built-in 240V mains and USB combi sockets which are powered either via Shore power or off the 95Ah AGM leisure battery thanks to the 600W inverter (enough to power everything inside plus multiple phones and laptops).
Heating:
You can rely on the energy efficient underfloor heating system which can run off-grid 24/7 via the leisure battery for nearly a week (6.5 days). There's also an in-built diesel heater which can warm the space if you want to get dry after a rainy walk.
Control:
The electrics run through a Sargeant EC160H which acts as the control panel, situated above the kitchen, and even has a self-controlled split-charge system. Stay stealthy with the tinted side and rear windows, to allow light in but remain private at all times. The driver's-side window also has its own opening for fresh air.
Registered Vehicle Type
Panel Van (meets DfT standards)
Base Vehicle Condition
Used
Maximum Weight (MAM or MTPLM)
3,500kg
Unladen Weight Verified?
YES - the vehicle has been weighed since completion
Gas sign-off supplied
None
'We like the style' means that Quirky Campers would approve it for hiring but you must still check that the gas, electrics and weight were done properly. For some tips on what to look out for read this. If the listing has no Gas Safe certificate, no unladen weight and no electrical sign-off please proceed with caution!
Please note: Quirky Campers do not inspect the listings for accuracy or check campervans in person. We have asked sellers to provide evidence of certificates and paperwork however you MUST check yourself that the information provided is present and correct. You will need to exercise the normal due diligence when buying any vehicle.