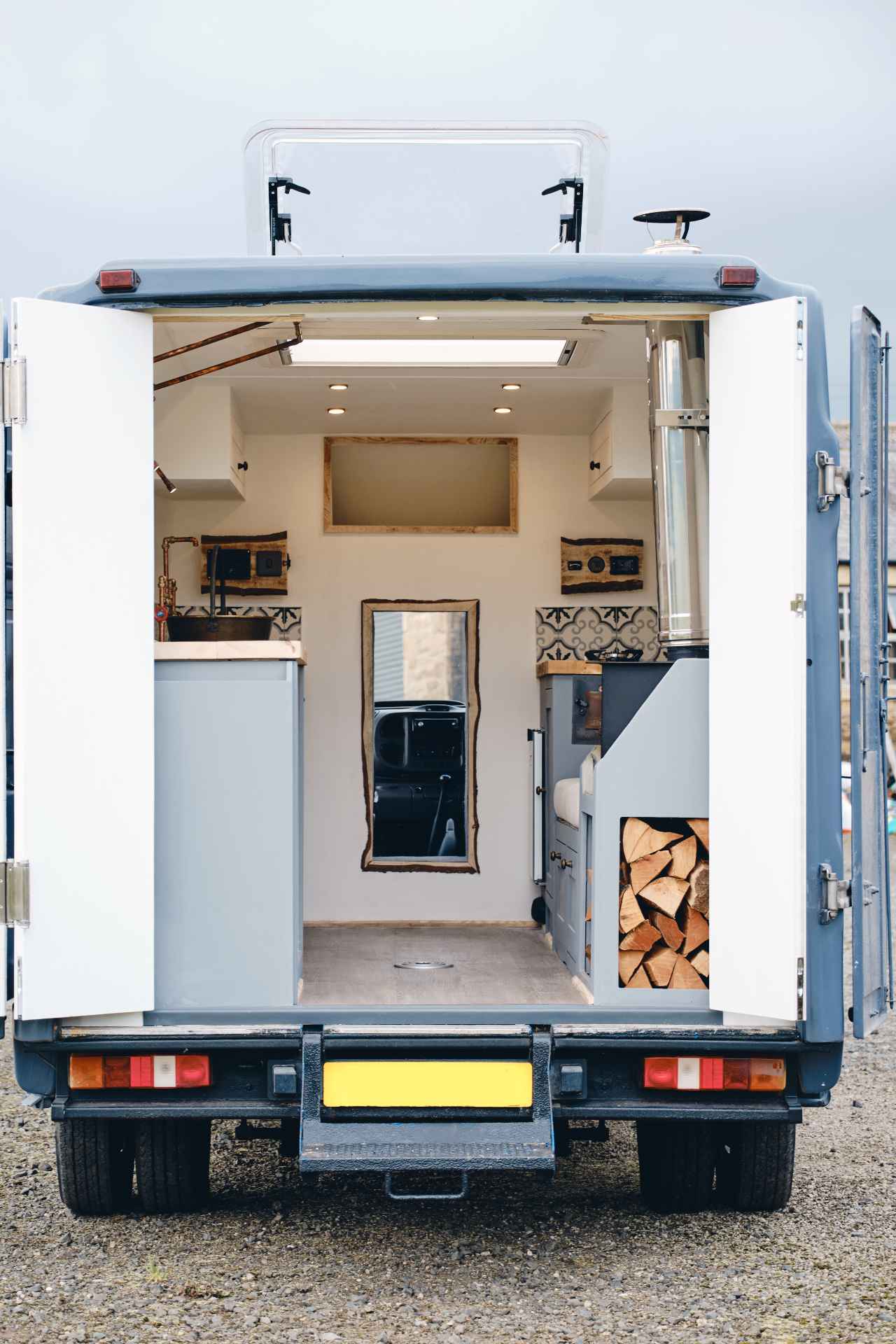 Sold
£32,500
The best campervan you've ever seen – based on an ex BT Ford Transit
80,000 miles
Vehicle Description
– Full MOT until September 2022!
– Fresh full service
– Bodywork fully resprayed
– 2.4L bullet proof diesel transit engine with super low mileage for its age
– 5 speed
Originally a BT van with a bespoke fiberglass body (only used by BT), its second life was by an alloy wheel refurbishment company who stored it indoors and did minimal mileage, we've owned this vehicle since then and had it refurbished then (respray / full MOT & service / cab floor, inner arches, inner sills & steps treated with raptor) before being fully converted by us.
Only done 12k miles in the last 10 years! (that's less than the average yearly mileage for a car)
As part of its MOT, the below advisories were noted and most rectified:
– Brake pedal rubber pad wearing smooth **Brake & clutch pedal pads replaced**
– N/S/F tyre wearing low **New tyre fitted**
– O/S/F tyre wearing low **New tyre fitted**
– Chip in windscreen **Chip repaired**
– Front brake discs worn **advised that as the brake performance is good, its worth waiting for the front pads to wear out then replace the pads / discs together in the future**
Bear in mind it's not designed to go fast, so don't expect a Ferrari!
Beds Description
The 2 benches pull together to make a large double bed
Conversion Description
Newly professionally converted campervan by the team at Northern Conversions
We've been completing customer commissions for a while now but have been eager to build a campervan to our own specifications and taste – a van for us to be able to essentially push ourselves and go wild.. and Tony is the result of this.
The van was stripped back to the bare walls, then we pushed it a little further by removing the cab interior, stripping the exterior (bumpers / mirrors / handles etc), cutting through the cab bulkhead, then through the fiberglass bulkhead. That left us with a blank canvass to create our masterpiece.
The full exterior was painted a beautiful dark grey, we bridged the gap between the cab & box cut outs to create an escape hatch, sealed the cab floor with raptor then began the conversions.
We started by cutting out the MASSIVE skylight (the biggest we could find) and side windows before insulating the complete box with PIR boards (50mm in the walls, 25mm in the ceiling & floor to maximize the headroom). The walls and ceiling were then lined with lightweight ply which was sprayed with primer then a scrubbable white paint – this left us with a large well insulated base.
For the cabinetry, everything was built from scratch using lightweight materials. We decided to build shaker style doors for the units which were sprayed with primer followed by scrubbable paint. The worktops are recclaimed scaffolding which we've sanded then treated and as you can see in the photos, we've used live edge and recclaimed wood throughout the build which really brings the whole van together.
Towards the rear of the camper we've fitted a small log burner which is mounted on a copper hearth, this has a double lined flue and has been signed off as part of the landlords gas safety certificate. When its not practical to fire up the burner, we've also fitted an air blown diesel heater.
On the other side of the van we've installed a semi-hidden shower which can be used as an additional workbench when not in use. This has been lined with Reco to give it a clean and fresh look.
One of our main visions when planning this build was copper.. as you can see, we've used this throughout the build – everything from the taps, shower head, shower rail and reading lights have been built in house and look beautiful
The rear fiberglass bifold doors are used to hide and protect the interior. These can be opened all the way out then clipped back to the vehicles body which exposes our custom, lightweight but fully insulated bifold conversion doors **which are just crying out for a full art piece**. The center door has a 2 way hinge which allows the door to be opened internally or externally (meaning the outer shell can be opened from inside and also means you can never forget which way the door opens!), these can then also be fully opened to really bring in the scenery – have you ever seen a camper like that?!
Electrical:
– 110AH lithium leisure battery
– Wireless phone charger mounted in the kitchen worktop
– 200w solar panels with Victron Smart Solar controller
– Victron DC-DC split charge system
– 500w Victron Multiplus inverter / charger
– Battery monitor, showing a % reading of the battery level
– Digital Gas level indicator
– Digital Water level indicator
– Fawo Hookup socket
– RCD / MCB
– USB & 240v sockets at either side of the benches
– Bespoke copper reading lights
Gas / Water:
– Whale expanse underslung water heater
– Underslung Gasit gas tank
– 70L underslung fresh water tank
– Copper jam pan sink
– Shurflo diagram water pump with fiamma accumulator
– Exterior grey waste outlet, allowing a portable waste tank to be used
Appliances
– Air blown diesel powered heater which takes its fuel from the vehicles main fuel tank
– 12v Compressor fridge 50L
– Thetford 922 double burner hob
Other items worth mentioning:
– Very comfortable Audi seats fitted to replace the usual transit cab seats
– Waney edge table using a sequoia leg
– Externally accessed log store
– Thetford porta potti
– Stunning upholstery by SouthView Upholstery
– Although its not part of the conversion, @Rekwahstudios completed the photoshoot for Tony, and the pictures are absolutely beautiful
Price includes 20% VAT, a full VAT receipt will be supplied. (fortunately or unfortunately we're a VAT registered company so do need to include this).
Have a look at our website or instagram for more photos and videos, or get in touch and we'd be happy to answer any queries
www.Instagram.com/Northern_Conversions
www.NorthernConversions.com
But now… CHECK OUT THESE PICTURES!!
Registered Vehicle Type
Other - see description for explanation
Base Vehicle Condition
Refurbished
Converter Type
Professional - Handcrafted
Maximum Weight (MAM or MTPLM)
3,500kg
Unladen Weight Verified?
YES - the vehicle has been weighed since completion
Gas sign-off supplied
Landlords Gas Safe Certificate
Created by an approved Quirky Converter
We like the style
'We like the style' means that Quirky Campers would approve it for hiring but you must still check that the gas, electrics and weight were done properly. For some tips on what to look out for read this. If the listing has no Gas Safe certificate, no unladen weight and no electrical sign-off please proceed with caution!
Please note: Quirky Campers do not inspect the listings for accuracy or check campervans in person. We have asked sellers to provide evidence of certificates and paperwork however you MUST check yourself that the information provided is present and correct. You will need to exercise the normal due diligence when buying any vehicle.