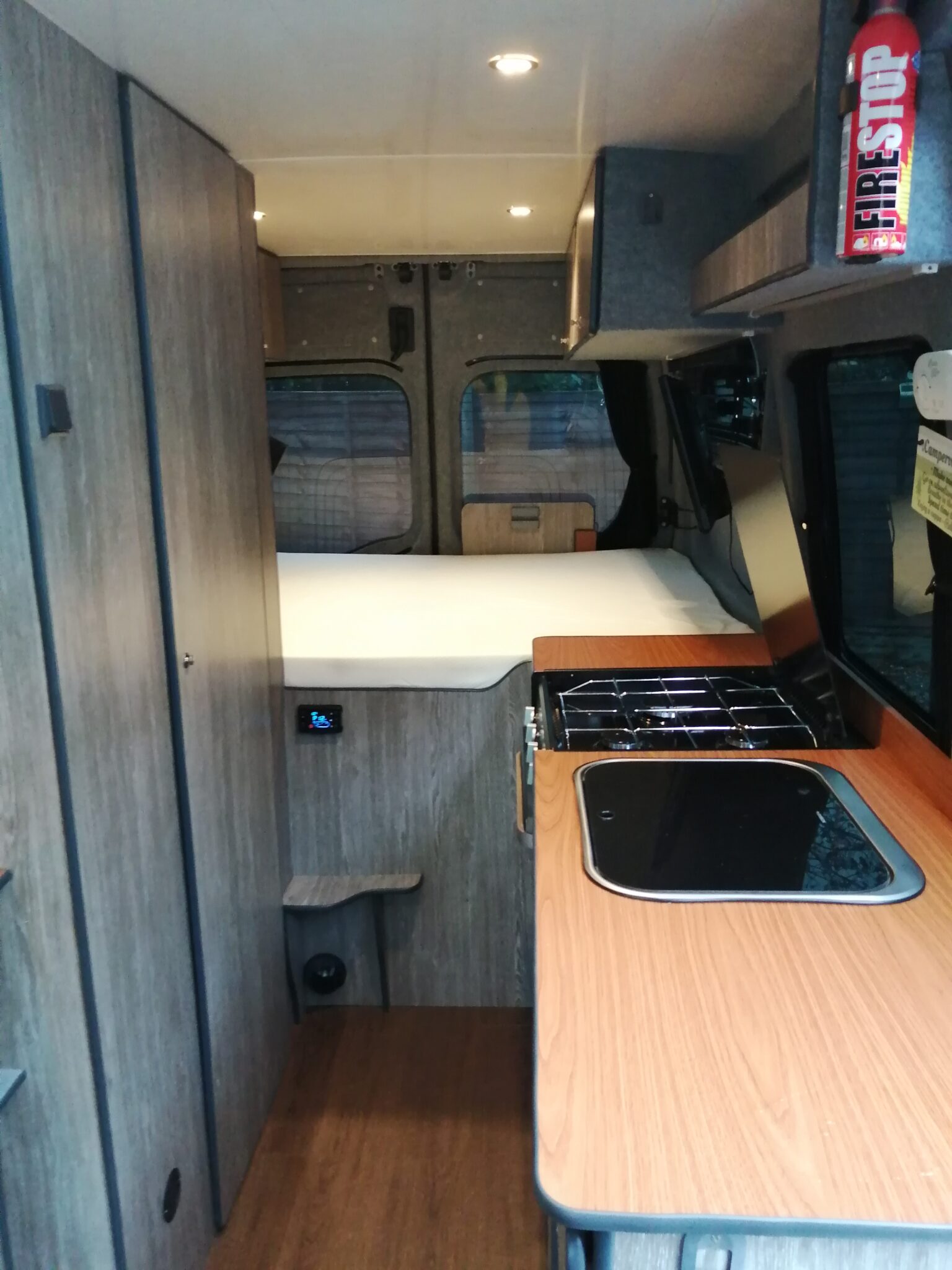 Vehicle Description
2008 Vauxall Movano ex primary school minibus 2.5L 6 speed Diesel. It had a full service and cam belt at 76692 miles in May of 2021. It also also recently had a crankshaft oil seal and a starter battery. It was Mot'd 9th May this year with no advisories.
I struggled to find a straight van without dents, scratches etc, however this one was sourced from basevan, who supplies ex local authority vehicles. As an ex school bus it does have a tacho fitted however all this does in show the mileage (in KM). Also, it is limited to 62 mph, but I understand this can be removed if required. It has also been down plated to 3500kg. It has 2 keys. It has central locking but not electric windows.
The body and underside are all in good condition. There are no gearbox issues.
Beds Description
Double Width, memory foam
Conversion Description
Work carried out:
Insulated and vapor barrier
Thule sliding step
Fiamma roof vent, Fiamma F80s Awning
Diesel Heater, Compressor Fridge, Thetford oven and hob, Dometic sink, portable water tanks under sink, low watt 230v microwave
Split charge relay and leisure battery, 230v hook up
Porta Potti, curtains /blinds to all windows, removable table leg / top
230v Tv plus amplified aerial, Reversing camera and permanent rear view camera
Swivel passenger seat, led lighting under units
4 x reading lights, usbs over bed,usbs and 12v socket to switch panel, 12v socket to rear storage, portable satnav, new bottle jack and tyre lever, fire extinguisher and carbon monoxide detector
The windows were tinted by basevan prior to me buying
The van does not have hot water or a shower.
It will come with a thermal exterior windscreen cover, 2 x hook up leads and fiamma leveling ramps
The front seats are in great condition but the fabric doesn't match. The near side rear bumper has a bit of a scuff and there is the odd small mark, but overall it is in great condition and has clearly been well maintained by the local authority. I do have some of their inspection sheets, however they have never filled in the service book. Both my regular mechanic and the mot inspector have commented what a good van it is.
Registered Vehicle Type
Motor Caravan - refused (on external appearance only)
Base Vehicle Condition
Used
Converter Type
Self Build - Handcrafted Start-up
Conversion Condition
Used - Excellent
Maximum Weight (MAM or MTPLM)
3,500kg
Unladen Weight Verified?
NO - the vehicle has not been weighed since completion
Gas sign-off supplied
None
Please note: Quirky Campers do not inspect the listings for accuracy or check campervans in person. We have asked sellers to provide evidence of certificates and paperwork however you MUST check yourself that the information provided is present and correct. You will need to exercise the normal due diligence when buying any vehicle.