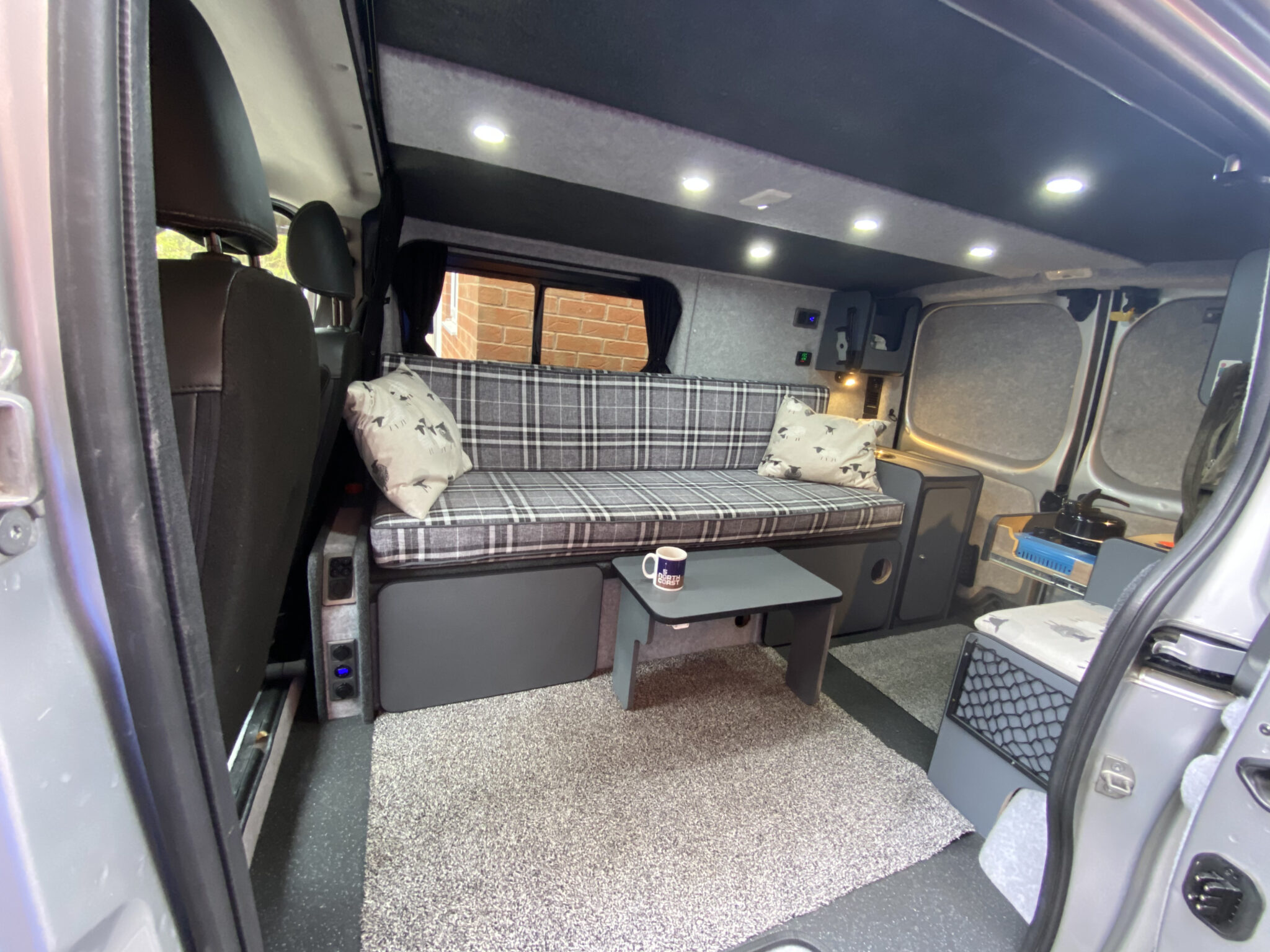 Vehicle Description
Renault Trafic sport 1.6 dci 115, 6 speed, low mileage of approx 44000 miles, average 38-44 mpg. Drives well, body in good order (a few very minor age related marks). Used as a car in my last three years of ownership. Dab radio, sat nav, cruise control, speed limiter, parking sensors, air-con, serviced annually with records, MOT May 2022.
Conversion Description
Started life as an electricians so no heavy work. In my three years of ownership it gradually became what it is now for my weekend get awayways.
The van has been insulated with a combination of 50mm Kingspan and recycled plastic insulation with a vapour foil barrier and also sound deadening squares affixed to the inner panels of the van.
Professionally fitted privacy glass side windows with 1 opener and black out curtains and a Van X cab curtain divider.
Carpet lined and fitted heavy duty vinyl flooring.
12 volt electrics with usbs, 12 volt sockets for powering `12 volt TV's / Cooling boxes etc , switchable led lighting that's dimmable including 2 rear spot lights all powered by a fitted leasure battery which is recharged by an intelligent
B 2 B charger from CTEK 250 se ( Which is correct fitment for vehicles with smart charging alternators ) this also is able take charge from a solar panel if one was fitted .
Diesel heater fitted using a floor mounted turret for safer fitment with wall mounted control unit and small remote control. Also added CO2 alarm and fire extinguisher.
One unit with small mixing bowl style sink with cold water fed by a usb rechargeable tap, with 10 litre fresh water and waste containers stored below, with storage area next to
containers. The second unit houses a removable single butane camping stove great for making a quick brew inside or removing and cooking outside, again with storage below and also storage below the small seating unit. Above both units are small shelving units to house cans of food and coffee jars etc. One side with adjustable bracket to house a tablet for those downloaded movies while you're away.
The sofa / bed area also allows for storage and houses the electrics and diesel heater, the bed extensions also serve as useful tables for a brew, the bed is a small double measuring in at 1800 x 1000 but cozy none the less.
The van is also fitted with a single passenger seat with a fitted swivel base made by RIB.
There's a C channel fitted to the roof guttering to allow fitment of a side canopy, which is also included in the sale.
Dash cam included,
Any enquiries / Viewings feel free to ring , 07543534227
Offers welcome
Cleared funds before vehicle is released.
Please note: Quirky Campers do not inspect the listings for accuracy or check campervans in person. We have asked sellers to provide evidence of certificates and paperwork however you MUST check yourself that the information provided is present and correct. You will need to exercise the normal due diligence when buying any vehicle.
Current Mileage
44,000miles
Registered Vehicle Type
Panel Van (does not meet DOT standards)
Side sofa / bed making small double measuring 1800 x 1000mm
Maximum Weight (MAM or MTPLM)
2,740kg
Unladen Weight Verified?
NO - the vehicle has not been weighed since completion
Gas sign-off supplied
None