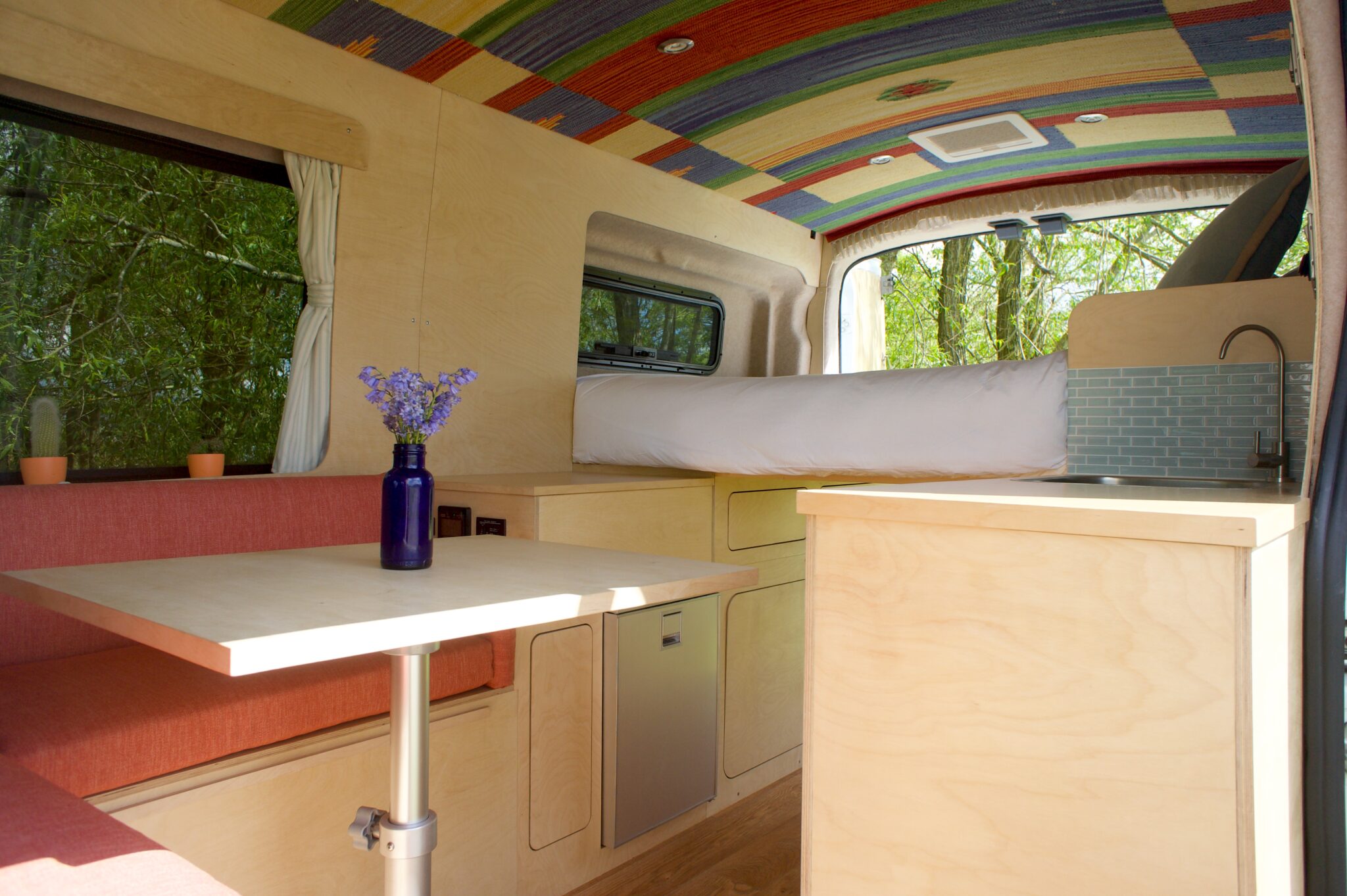 Vehicle Description
Rita – White Ford Transit 2015
– MOT Valid – 8 March 2022
– Low mileage – 39,000
– Full service history
– Front wheel drive
– Engine and body work in excellent condition
– Cab area in excellent condition
– Flares (Lets you sleep sideways comfortably)
– Engine imobiliser
– Vehicle alarm
– Hands free system
– New set of Agilis Cross Climate tyers, one spare tyre from previous set
– Engine size: 2.1
– Fuel type: Diesel
– Number of gears: 6
– Security locks for sliding door and rear doors
– Roof rack with roller and ladder
– 1 sealed side window and 2 windows that open on the side and roof
Conversion Description
"Offers are welcome"
I created this van with outdoor pursuit lovers in mind. There are extensive lockers throughout the van of all shapes and sizes, plentiful space under the bed for all your gear and you can even fit a bike standing up with its front wheel removed (bike mount needs to be installed and can be at your request). Surfboards, canoes or kayaks can be stored on the roof beside the solar panels and strapped down to the roof rack. There is a roller bar on the end of the roof rack so equipment can be easily stowed. The mattress and bed slats are removable so if you wanted to store or transport larger items there is that option too. There is an outdoor shower accessed from the rear doors to hose off muddy and sandy items and the vinyl flooring is wipe clean. A lot of these products have been personally tested in my previous Ford Transit campervan which I lived and traveled in for 9 months. I believe they are the best products out there and I hope you do too! Please check out my instagram account @altaiconversions for more close up images and a video of Rita.
– The units, walls, ceiling and roof are all made of high quality birch ply, waxed and varnished
– Fixed seating with internal storage and professionally made seat cushions using flame retardant and stain resistant material
– Tinted windows with professionally made blackout and insulated curtains
– Cushioned vinyl flooring in wood effect
– Bright and durable Kilim rug fitted to the roof
– Detachable table with an adjustable height
– 6 x LED ceiling spot lights
– 2 x 12V USB socket and 2 x 240V plug socket
– Rhino roof rack with roller bar and ladder
– Webasto cruise elegance fridge/freezer 49L
– MV Airo 2KW Diesel Heater Undermount
– Hidden lockers to hide valuables
– 2 Zone Induction Hob (not permanently fixed so it can be used outside)
– Flarespace Flares designed to maximise space and sleep side ways
– Thetford PortaPotti
– Good storage throughout, small clothes hanging space and large garage area under the bed
– 1 x Dometic roof vent with blackout blinds and a fly net
– 2 additional side windows, one that opens and has blackout blinds and a fly net
– 57L fresh water tank accessed from the rear doors
– 35L waste water tank accessed from the side door
– Outdoor shower (cold water)
– 12V 500AH AGM Deep Cycle Battery Bank (6 x 2V) for large power systems
– 2 x 250W 12V Solar Panel (German solar cells)
– High efficiency 40A MPPT Solar Charge Controller
– 3000W 12V Low Frequency Pure Sine Wave Inverter and Charger
– Split Charge Relay System
– 240V Hook Up
Please note: Quirky Campers do not inspect the listings for accuracy or check campervans in person. We have asked sellers to provide evidence of certificates and paperwork however you MUST check yourself that the information provided is present and correct. You will need to exercise the normal due diligence when buying any vehicle.
Current Mileage
39,000miles
Registered Vehicle Type
Motor Caravan refused (on external appearance only)
Main Bed – positioned across the van rather than the length of it using Flarespace flares. This means someone who is 6ft 5 can sleep comfortably! The mattress is made by Custom Size Beds (ComfiCel® Cool Memory Foam Mattress) to fit snugly to the profile of the van and comes with a custom fitted cotton sheet. The flares also maximise the living space by 2ft.
Second Bed – the table lowers down to the height of the benches creating a small bed or a very comfortable spot to watch a movie.
Maximum Weight (MAM or MTPLM)
3,500kg
Unladen Weight Verified?
NO - the vehicle has not been weighed since completion
Gas sign-off supplied
Gas free