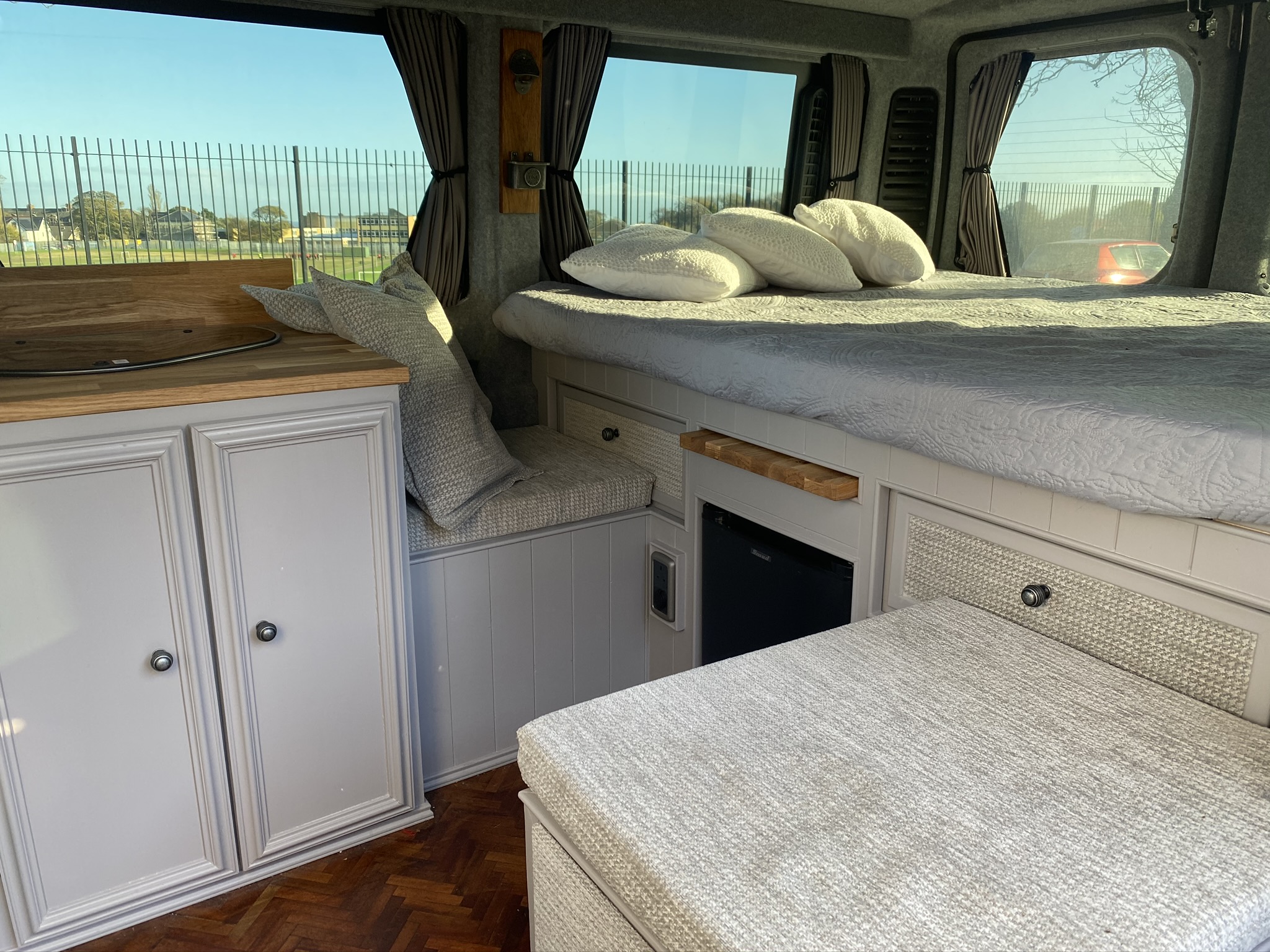 Sold
Vehicle Description
IF YOU ARE WORRIED ABOUT DRIVING, PARKING AND LOOKING AFTER A LARGE VAN THIS IS THE IDEAL SOLUTION!
This model of Boxer is one of the very best for a campervan due to the huge amount of space you have inside it. Car-park friendly with an excellent turning circle. If you are looking for a camper and do not want to drive a big van then this will suit you.
We recon it has about as much space as a medium wheelbase we previously converted!
2 Litre diesel engine in excellent condition.
6 Gears.
Metalic Silver bodywork in very good condition.
MOT until February with no advisories.
4 very good tyres. Front pair replaced spring 2020.
Retracting step to access the rear via sliding door.
Windows throughout in privacy glass.
Service history.
Roof-rack NOT included.
Skylight offers more light and ventilation.
Air conditioning.
CD/Radio with excellent sound and speakers to the rear.
Cab is in pristine condition.
Both front captain's chairs have arm rests.
Conversion Description
Unique hand-crafted quality conversion with excellent attention to detail. The van is short enough to park in a normal parking space. The turning circle in very good. Will go into most car parks including park and ride in our area.
Drives like a large car. No worries about having to drive a large van. Very discrete when parked!
The heater in the cab is very warm. Air Conditioning is the best we have used in a vehicle like this.
The vehicle is registered as Private/Light Goods (PLG).
150w solar panel provides ample power for the installed electrics.
Genuine Van X blackout curtains.
Kitchen and matching retracting table in stunning hardwood.
Genuine Webasto Diesel Heater. Not a cheap Chinese version. Warm in winter!
Genuine parquet hardwood floor.
Sink and hob. Waste water piped through to the outside.
Water pump.
All electrics routed through a Power Management System.
A huge amount of storage space to the rear. More storage in kitchen cupboards, under the seats and in hatches next to seats.
Toilet accessed from under seat with a draw.
Fridge (can be run off 240v, but is wired for 12v).
Cab can be accessed from the rear between the front seats. This creates space which flows from the rear to the front seamlessly.
Ample height in the back means it is possible to stand in comfort, unlike smaller H1 vans such as T5s.
Gas safe box. System has been checked, but lockdown prevents certificate. Check booked for 7th December.
240v hook up and plug to rear.
110ah Leisure Battery.
12v lights.
'We like the style' means that Quirky Campers would approve it for hiring but you must still check that the gas, electrics and weight were done properly. For some tips on what to look out for read this. If the listing has no Gas Safe certificate, no unladen weight and no electrical sign-off please proceed with caution!
Please note: Quirky Campers do not inspect the listings for accuracy or check campervans in person. We have asked sellers to provide evidence of certificates and paperwork however you MUST check yourself that the information provided is present and correct. You will need to exercise the normal due diligence when buying any vehicle.
Current Mileage
53,500miles
Registered Vehicle Type
Other - see description for explanation
Double bed (6'2″ x 4'7″). Nothing cramped about this bed. We managed to get a great size without losing space in the living area.
Maximum Weight (MAM or MTPLM)
3,300kg
Gas sign-off supplied
None