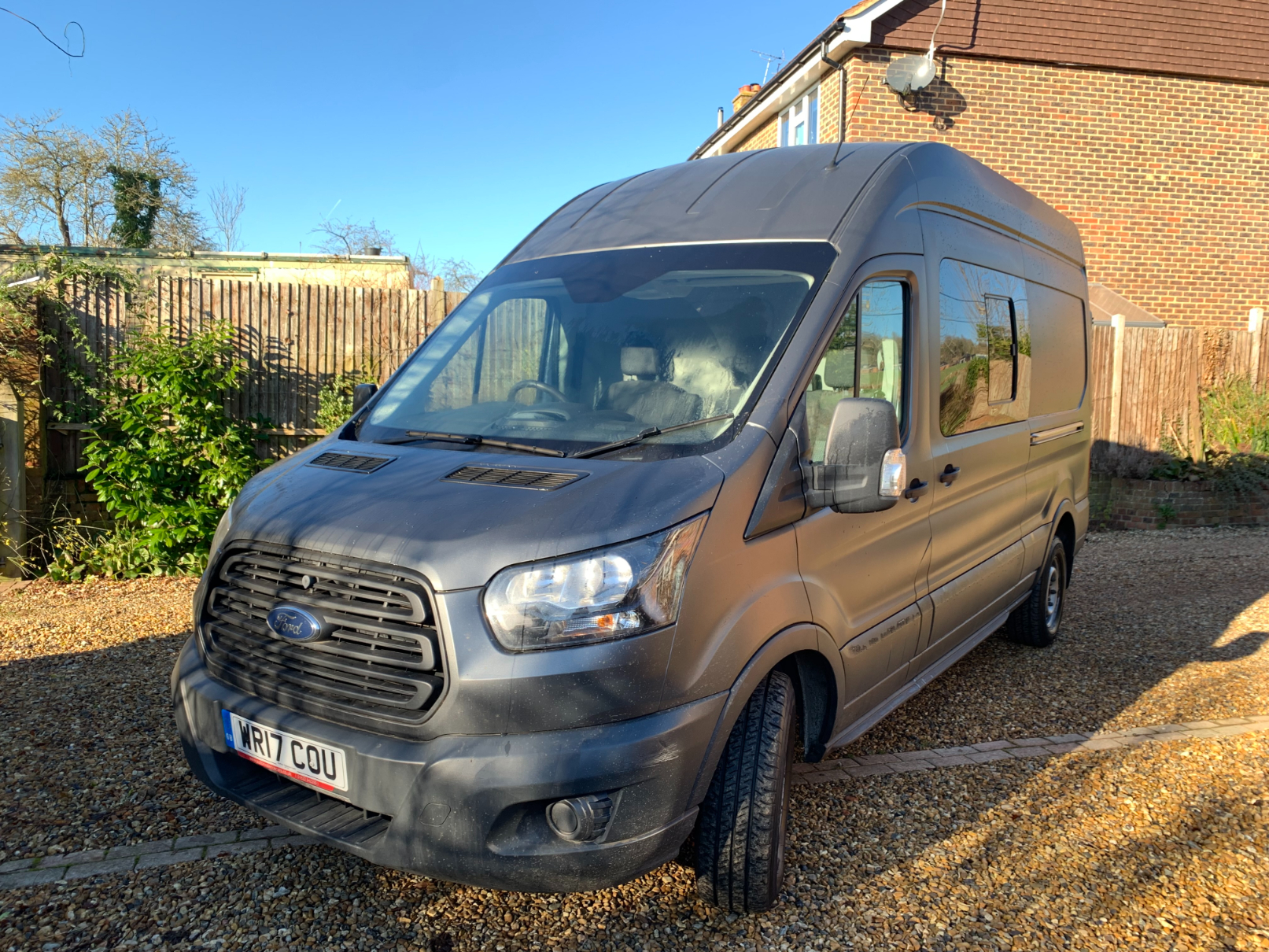 Vehicle Description
2017 Ford Transit L3H3
Campervan Conversion
Selling due to a permanent move abroad. Purchased in 2020 with one previous commercial owner, I began converting the van into a camper. It has done just under 100k miles and been used very little as a camper.
The van is fully insulated and plywood lined. It has two sliding windows and a Heki mini skylight. It has fully functioning electrics system which includes a Victron Gel Power 12V 165Ah Deep Cycle Batter & Victron Multi Inverter/Charger. There are internal spot lights and three duel power sockets with USB connections. There is an external hookup for charging. All installed by professionals with invoices available.
The van contains a spacious double bed with no need to construct it each time you use it, it has a large garage space underneath the bed for bike storage & more, it has bench seating with storage and an ikea kitchen installed with a very camping friendly, 'space saver sink' from B&Q. The kitchen sink needs plumbing in to an already existing water exit & the gas hob connection needs changing to liquid gas for the kitchen to be fully functioning.
The interior construction is not glued down. It's all fixed with screws so could easily be taken apart in very little time. The kitchen, bed and seating could all very easily be re-designed or moved around to your taste, if you're the sort who is happy to take on a DIY project.
The van has a full service history & records.
There is a selection of camping goods available with the van. Some camping chairs, a small table, storage boxes, electric cool box/fridge.
Beds Description
Permanent double bed, not mounting required.
WxL: 148 x 172 cm
Registered Vehicle Type
Panel Van (meets DVLA standards)
Base Vehicle Condition
Used
Converter Type
Professional - Handcrafted
Conversion Condition
Used - Excellent
Maximum Weight (MAM or MTPLM)
3,500kg
Unladen Weight Verified?
NO - the vehicle has not been weighed since completion
Gas sign-off supplied
None
Please note: Quirky Campers do not inspect the listings for accuracy or check campervans in person. We have asked sellers to provide evidence of certificates and paperwork however you MUST check yourself that the information provided is present and correct. You will need to exercise the normal due diligence when buying any vehicle.