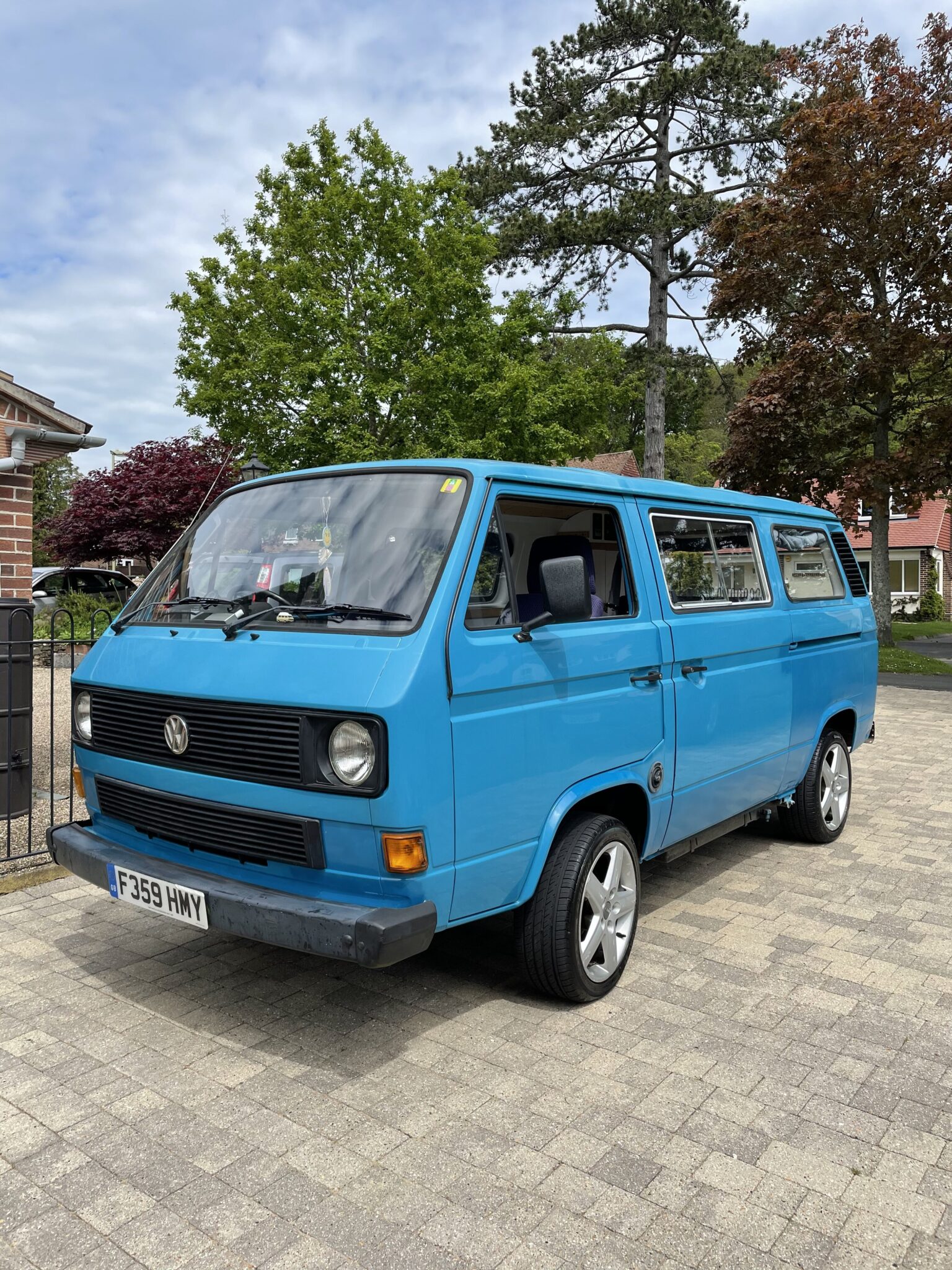 Sold
Vehicle Description
This amazing van, Sky, has been in my family since 2007. It was my father's dream campervan and was his pride & joy and as a result, has been looked after and cared for all these years. As a family, we went all over the Uk with Sky and travelled Europe as well! This Van never let us down during any adventure we had as a family, it is a reliable, trustworthy and super comfortable camper that could be part of your future journeys and adventures.
This Van has an up to date MOT which will last till the 24th of May 2022 and has received a service every year since my family has owned this vehicle (except last year due to Covid) but has been serviced this year alongside its MOT. I have all of its original paperwork since 1988, including every MOT, receipt of repairs, original documents from VW as well as from the original convertors. So if you'd like to see a full history of this vehicle I have it all organised in a physical file to show.
This van's features:
Gas hob & Grill
Sink (with working plumbing)
Fridge works off the battery (when driving) or gas or 240-volt battery when the van is hooked up to mains
2 gas bottles
Modernised interior
Radio with USB plugin point
Multiple cigarette lighters in the front of the van for device charging needs (which individual switches)
Electric hook up
12-volt leisure battery system
Buddy box with chemical toilet
1 double rock and roll bed
Plenty of storage spaces for every camping need
A proper VW T25 Wooden roof rack
The Technical Stuff:
Vehicle make: VOLKSWAGEN
Date of first registration: August 1988
Year of manufacture:1988
Cylinder capacity: 1915 cc
Fuel type:PETROL
Vehicle colour: TURQUOISE (originally white but was re-sprayed turquoise in 2013)
Wheelplan 2 AXLE RIGID BODY
This Van was originally converted by 'Richard Holdsworth Conversion Limited' and is extremely well built and very durable. After inheriting this van from my father 2 years ago I decided that the sheek dark wood 80's vibe inside needed updating as it was starting to look a bit worn out… so during Covid-19 lockdown last year my lockdown project was to modernise and restore the interior of this beautiful Van. This restoration took the core build of the original conversion and restored it back to being less dilapidated to being modern, comfortable and practical again.
I did the following to the van:
– Removed old carpeted flooring (that was worn out) and replaced it with wooden flooring and trim
– added new table mount & table
-reupholstered all seating
-sanded & painted all woodwork to be white (making the whole interior feel so much bigger!)
– added new soft leather handles
-added new shelving inside cupboards to make more practical storage spaces
– refelted walls & chair bases
– added new modern electrics (12volt phone charger, cigarette lighter & battery voltage charge reader)
– removed fabric ceiling and replaced with wooden slatted ceiling (with foam insulation inside)
– Removed old glass bulbed lighting and added 8, 12-volt LED spotlights across the ceiling (all of which have individual light switches)
– cleaned out water tank underneath the van and re-attached plumbing to inside the van
– added new 12-volt pump & switch by sink
– fixed leisure battery so it runs off a switch relay from the main battery & engine.
As well as working on the interior last year I spent time restoring the exterior. The paint job on this van may not look perfect however I can happily say that this van is 90% rust free. There was never any rust underneath the van (as it has always been stored in a dry garage) however there were small patches of rust appearing in the seams between panels of the van (very common for T25's) So, last summer I removed all rust from this vehicle, treated these areas & repaired them and then re-coated and resprayed in blue. The blue used was matched with the original paint (I had a small pot of the original paint from 2013) thus there is a slight colour difference between areas as the van's paint has faded over the years compared to the original blue/turquoise. The only rust left on the van is on the windows where the rubber seal on the windows has deteriorated and for that reason, to anyone thinking of buying this van I think it would be worth considering that this van would need new window ceils & a new paint job within the next few years.
Sky is an amazing quirky T25 Van that my entire family & friends love – she has a reliable and sturdy engine that will get you anywhere you want to go and will help create amazing memories along the road with you. She may need a little help making her exterior look a bit more beautiful again but this is definitely worth it for such a Van. I am only selling this vehicle because I don't get enough use out of it and it feels a shame for Sky to not be used to her full potential, I have only done 200 or so miles in it since last September 2020 so this shows that I just use it as much as I should.
If you are at all interested in Sky and wish to contact me with any further questions my details are below!
Mobile Number: 07428554883
Email: lillian-atkins@hotmail.co.uk
Please note: Quirky Campers do not inspect the listings for accuracy or check campervans in person. We have asked sellers to provide evidence of certificates and paperwork however you MUST check yourself that the information provided is present and correct. You will need to exercise the normal due diligence when buying any vehicle.
Current Mileage
95,216miles
Registered Vehicle Type
Motor Caravan - approved
Maximum Weight (MAM or MTPLM)
2,390kg
Unladen Weight Verified?
NO - the vehicle has not been weighed since completion
Gas sign-off supplied
None