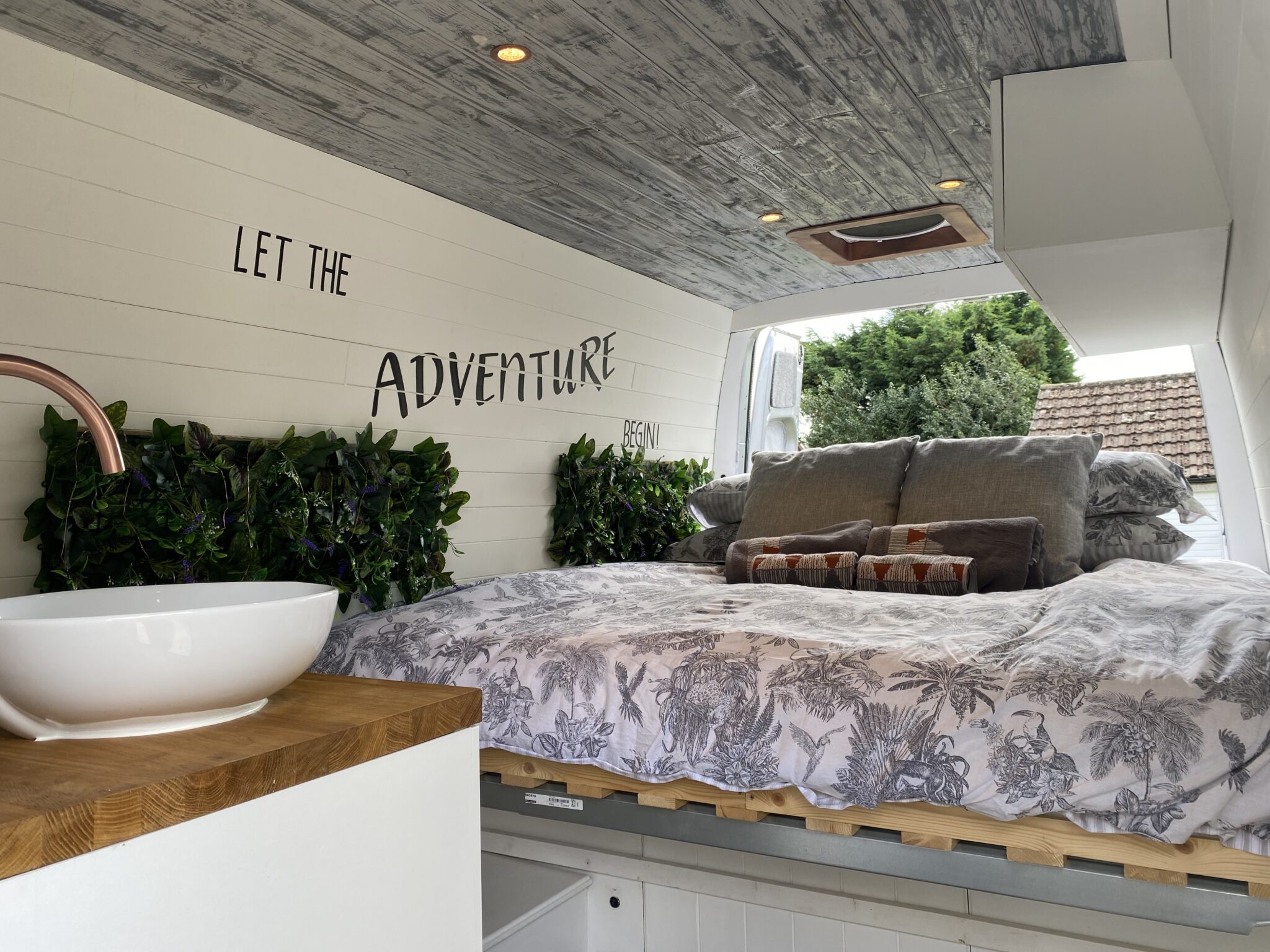 £29,995
MERCEDES SPRINTER 313 CDI
134,072 miles
Vehicle Description
Sailed through latest MOT with no advisories, Has never failed an MOT since new and runs perfectly.
Engine is 2143cc and it is a diesel model. Very good on fuel for size, doing 30-40mpg easily with 6 speed gear box and cruise control which is a great bonus.
Condition of the engine is fantastic, really clean and doesn't miss a beat. Bodywork is in good condition, a few small bumps as expected at 6 years old, but no rust concerns which can be associated with sprinters.
Full service history and MOT until September 3rd 2022.
Beds Description
A very clever set up meaning the bed has had a purpose built removable extension using a midbeam, which enables it to be 6'4 long or 5'5 long. The bed is 5'5 in width.
Super roomy for 2 adults, or a snug fit with 3!
Conversion Description
'Skye' the Sprinter has been lovingly created over a period just shy of 2 years. She started life as an electricians van, bought in fantastic condition, of which she is still in today.
We stripped her out of everything, fully insulated her and added a few windows to ensure we had the option of natural light and views whilst on adventures!
One of the challenges associated with LWB sprinters, is the shorter width compared to the height. For that reason, the bed tends to have to be length ways as opposed to sideways (unless you have expensive side pods added) This really restricts how big the shower and area in front of the bed can be. Therefore we had a brainwave and created a bed system in which an Ikea Midbeam is used to extend the bed from the sideways position (5ft 5inches in length) to (6ft 4inches in length). This allowed us to have the seating area further back, meaning a nice roomy shower area where you can even get dressed in private once stepping out the shower!
We installed two box seats opposite one another with storage inside them and a very classy pull out butchers block, which is on super strength runners and is pulled out for you to eat your meals opposite each other.
We wanted to make Skye home from home. Therefore, no expense has been spared in getting her up to the standard of living she can provide wherever you are in the world!! – She is completely self sufficient and has had a professionally installed super high spec electric, gas & water system with all invoices available to show for the work completed. Such is the power of the battery's and Inverter, you could comfortably run a TV, games console and other appliances off of the 240V set up, whilst enjoying the free electricity your 360W solar panel provides!
We love our cooking, so the thought of being able to cook anything, even a Sunday Roast wherever you are in the world, really appealed to us! For that reason we installed a Thetford Triplex Oven/Grill/Hob system right by the side door. There is nothing like cooking up a Bacon sandwich with the views of the Scottish Highlands to your left hand side!
A full list of the appliances in the build are shown below!
We are welcome to any viewings and will provide a full breakdown of how to use the features of Skye before handing across to the lucky new owner.
Electrics:
2 x 100amp/h deep cycle KS energy lithium batteries
360W solar panel – Bluetooth controlled
20 Amp Lithium Mains Charger
Mains 240V Consumer unit
12 Way 12V Fuse board
6 Way 12V fuse board
30 Amp DC-DC Charger (Alternator charging)
2000 Watt Inverter
240v hook up
Victron Smart Solar 100/30 – Bluetooth controlled
Appliances:
Maxxair Maxxfan Deluxe
Dometic Mini Heki Rooflight
25ltr underslung gas tank
80ltr underslung waste tank and 80ltr underslung fresh water tank
Thetford Triplex LPG cooker – 3 x Hobs, Oven, Grill
Dometic CoolFreeze CDF 26 Portabe Compressor Cooler and Freezer, 21 Litre 12/24 V
Luxury Vinyl flooring throughout
Truma Combi 4E Boiler and Space Heater Complete Kit – Provides hot water and heating.
Registered Vehicle Type
Panel Van (meets DOT standards)
Base Vehicle Condition
Used
Maximum Weight (MAM or MTPLM)
3,500kg
Unladen Weight Verified?
YES - the vehicle has been weighed since completion
Gas sign-off supplied
None
'We like the style' means that Quirky Campers would approve it for hiring but you must still check that the gas, electrics and weight were done properly. For some tips on what to look out for read this. If the listing has no Gas Safe certificate, no unladen weight and no electrical sign-off please proceed with caution!
Please note: Quirky Campers do not inspect the listings for accuracy or check campervans in person. We have asked sellers to provide evidence of certificates and paperwork however you MUST check yourself that the information provided is present and correct. You will need to exercise the normal due diligence when buying any vehicle.