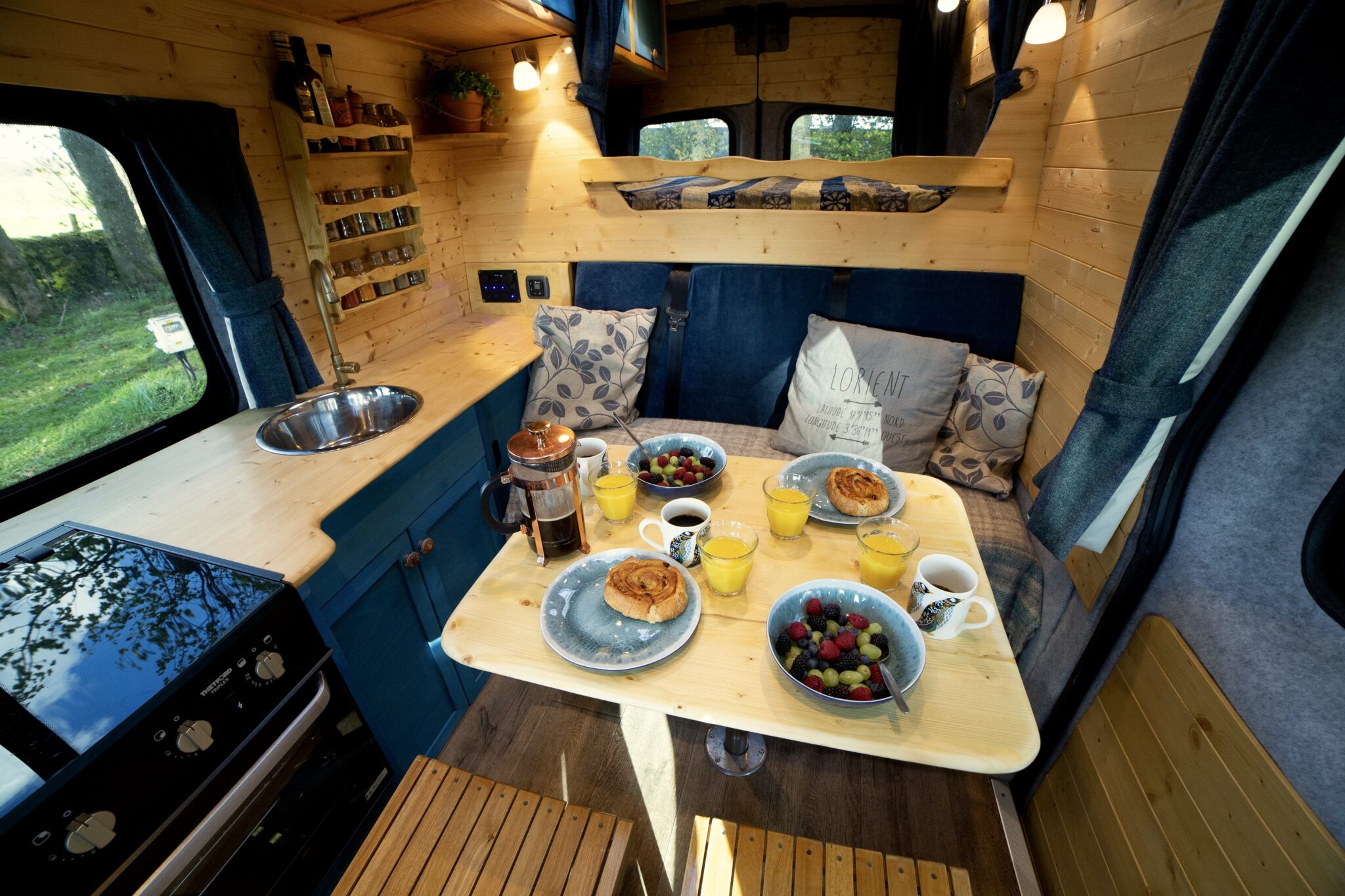 Sold
Vehicle Description
Professionally converted, 4 berth, off-grid, L3H3 Ford Transit.
Low mileage (46,000)
MOT until 26th May 2022
Full service History
Last service in May 2021.
1 previous owner
Diesel 6 speed manual. 1995 CC.
Very fuel efficient (35mpg)
Engine in perfect condition
Minor marks to bodywork but otherwise in excellent condition
6 belted seats
Air conditioning
Bluetooth
Beds Description
This campervan can sleep 4 Adults comfortably; two downstairs on the Rock and Roll bed and two upstairs on a fixed loft bed. The downstairs Rock and Roll bed is 130cm wide and 187cm long. The 'upstairs' loft bad is 125cm wide and 185cm long.
Conversion Description
Conversion Description
The van was converted in 2020 by our family run business Cosy Camper Conversions. Camper vans have been a key part of our adventures in the UK and around the world for over 15 years. Together we have used this experience to develop a unique layout of which we are extremely proud. It's the only medium wheelbase van we've seen with two double beds and six belted seats which still feels spacious and comfortable; with plenty of storage space as well.
The interior is made of natural pine contrasted with ocean blue wood dye. It has everything you need to keep you comfortably off grid for weeks at a time. Key features of the van include:
• Fixed double bed (125x185cm).
• Triple seater rock and roll bed, M1 tested seatbelts (130x187cm).
• Double swivel passenger seat.
• Large garage space in the back.
• 100ah lithium leisure battery with 5 year warranty (equivalent to 180ah lead battery).
• Solar panel
• Oven and hob (Thetford Triplex)
• Gas heater (Propex heatsource HS2000)
• Landlords gas-safe certificate and weigh-bridge certificate (payload of 680kgs)
• 12v fridge freezer (Isotherm Elegance 49l)
• Overhead cupboards.
• Wine rack.
• Spice rack.
• Reading lights.
• Sink, tap and water tanks.
All camper van components come with a one year guarantee. The van has had one successful rental season with Quirky campers but is showing very little wear as a result.
The van does not include a 240V Hook-Up, inverter or awning; however, we would be happy to install any of these at a reduced cost.
Registered Vehicle Type
Panel Van (meets DfT standards)
Base Vehicle Condition
Used
Converter Type
Professional - Handcrafted
Conversion Condition
Used - Excellent
Maximum Weight (MAM or MTPLM)
3,500kg
Unladen Weight Verified?
YES - the vehicle has been weighed since completion
Gas sign-off supplied
Gas Safe Certificate
Currently listed on Quirky
We like the style
'We like the style' means that Quirky Campers would approve it for hiring but you must still check that the gas, electrics and weight were done properly. For some tips on what to look out for read this. If the listing has no Gas Safe certificate, no unladen weight and no electrical sign-off please proceed with caution!
Please note: Quirky Campers do not inspect the listings for accuracy or check campervans in person. We have asked sellers to provide evidence of certificates and paperwork however you MUST check yourself that the information provided is present and correct. You will need to exercise the normal due diligence when buying any vehicle.