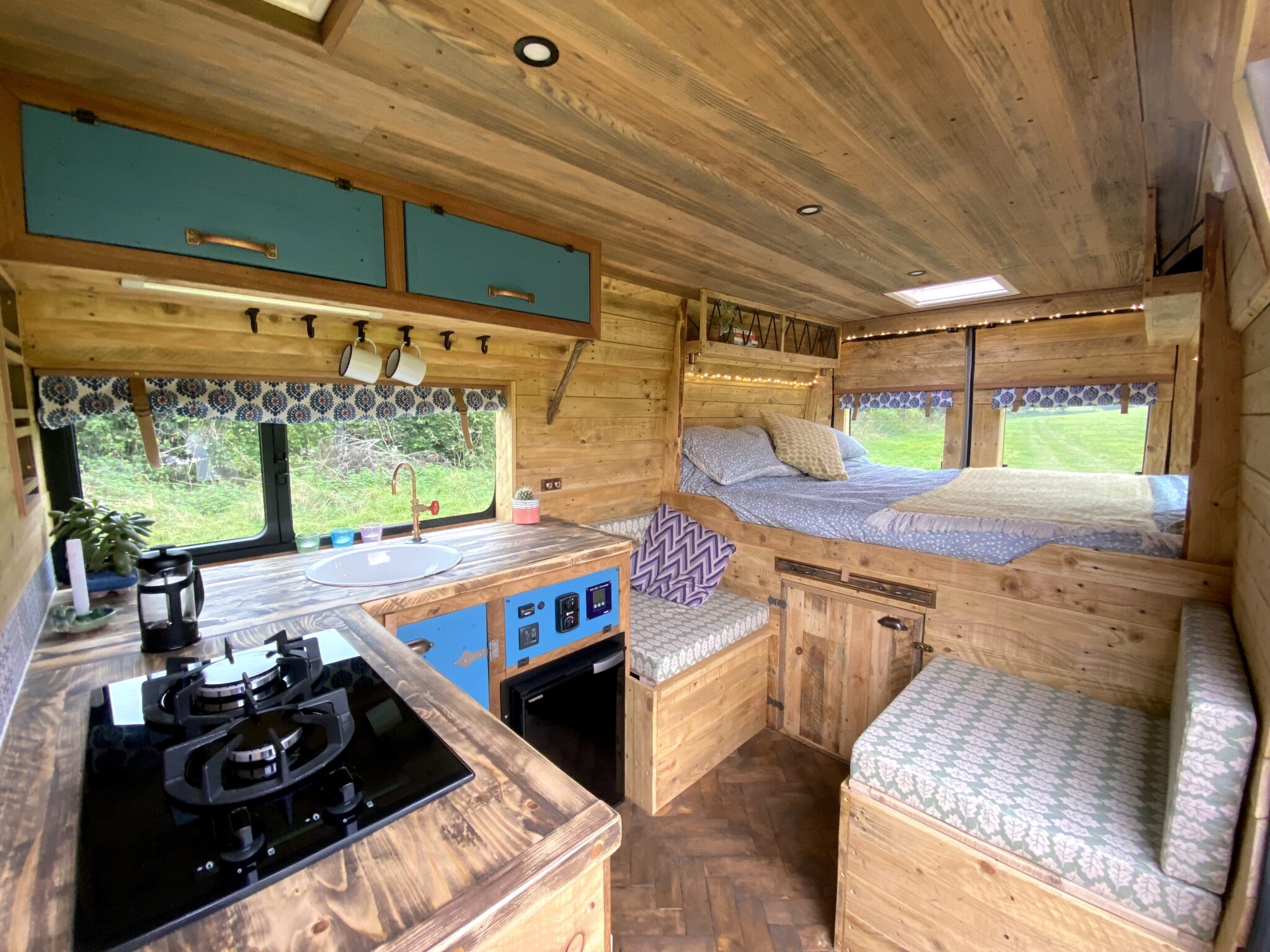 Vehicle Description
This conversion has just been completed with an emphasis on sustainability throughout. It has been constructed using almost entirely reclaimed timber, which along with the use of natural materials, such as hemp insulation, makes it likely this conversion has a negative carbon footprint! In addition, this conversion provides a healthy internal environment, essential in small space living, by using non-toxic and low VOC materials and products including wood oils, paints and adhesives. Using reclaimed timber also means there are no off the shelf products in here, all work surfaces, cabinetry and furniture are bespoke and handcrafted. Many other materials have also been reclaimed for the conversion, such as the enamel bowl sink and 1970s parquet floor!
Overview:
Low mileage, ex-school bus, has been incredibly well maintained with servicing at least every six months. Drives really well and passed its MOT last month with no problems. Body work in very good condition, all the paintwork has just been repaired and new graphics applied. MOT until September 2022. Diesel. 6 Speed Gear Box. Full Service History.
Beds Description
Full-size bed with standard double mattress. (135x190cm)
Additional fold out single bed. (65x180cm)
Conversion Description
This off-grid camper truly is a tiny home on wheels for all seasons. My background is in sustainable architecture and I love to create small-scale alternative living spaces that are both functionally and aesthetically beautiful.
Specification:
Electrics.
220Ah AGM Leisure battery.
270W Solar panel.
Abso 50A DC-DC Charger / Solar MPPT.
240v Mains Hook-Up
Victron Battery Charger 30A
2x 240v Sockets with USB.
2x 12v Sockets
4x USB Sockets.
The system can be charged in 3 ways, either through the solar, split-charge or mains hook-up, to keep you powered no matter what. The Victron bluetooth function means you can also monitor your battery charging on your phone.
Appliances.
Lighting: Overhead Lights, Kitchen light, 2x Reading lights and Bedside fairy lights.
Fiamma Turbo Vent 40 Extractor Fan
Vitrifrigo Compressor Fridge.
Compost Toilet with Ventilation, no harsh chemicals, much more eco-friendly.
Smoke & Carbon Monoxide Alarms.
Water.
66L Underslung fresh water tank with LED Display.
50L Underslung waste water tank with LED Display.
Shurflo 12v 30psi Water Pump
Fiamma Acummalator.
Gas.
25L Underslung LPG Tank with LED gauge. This is enough to last you months at a time!
Side fill point, can be refilled at LPG stations across UK and Europe.
2 Burner Kitchen Hob.
Propex Heater to keep you warm through the winter months!
Other Features:
Fiamma F80 Awning.
Automatic slide out step on side door.
Huge under-bed storage area.
Double insulated wall cavities to keep you extra cosy and regulate internal moisture.
Roof light (in addition to extractor fan) to provide plenty of ventilation.
Standard double foam mattress.
Custom made blinds and professionally upholstered seat cushions with high-quality, medium-density foam.
Registered Vehicle Type
Panel Van (meets DOT standards)
Base Vehicle Condition
Refurbished
Converter Type
Self Build - Handcrafted Expert
Maximum Weight (MAM or MTPLM)
3,500kg
Unladen Weight Verified?
NO - the vehicle has not been weighed since completion
Gas sign-off supplied
Gas Safe Certificate
'We like the style' means that Quirky Campers would approve it for hiring but you must still check that the gas, electrics and weight were done properly. For some tips on what to look out for read this. If the listing has no Gas Safe certificate, no unladen weight and no electrical sign-off please proceed with caution!
Please note: Quirky Campers do not inspect the listings for accuracy or check campervans in person. We have asked sellers to provide evidence of certificates and paperwork however you MUST check yourself that the information provided is present and correct. You will need to exercise the normal due diligence when buying any vehicle.