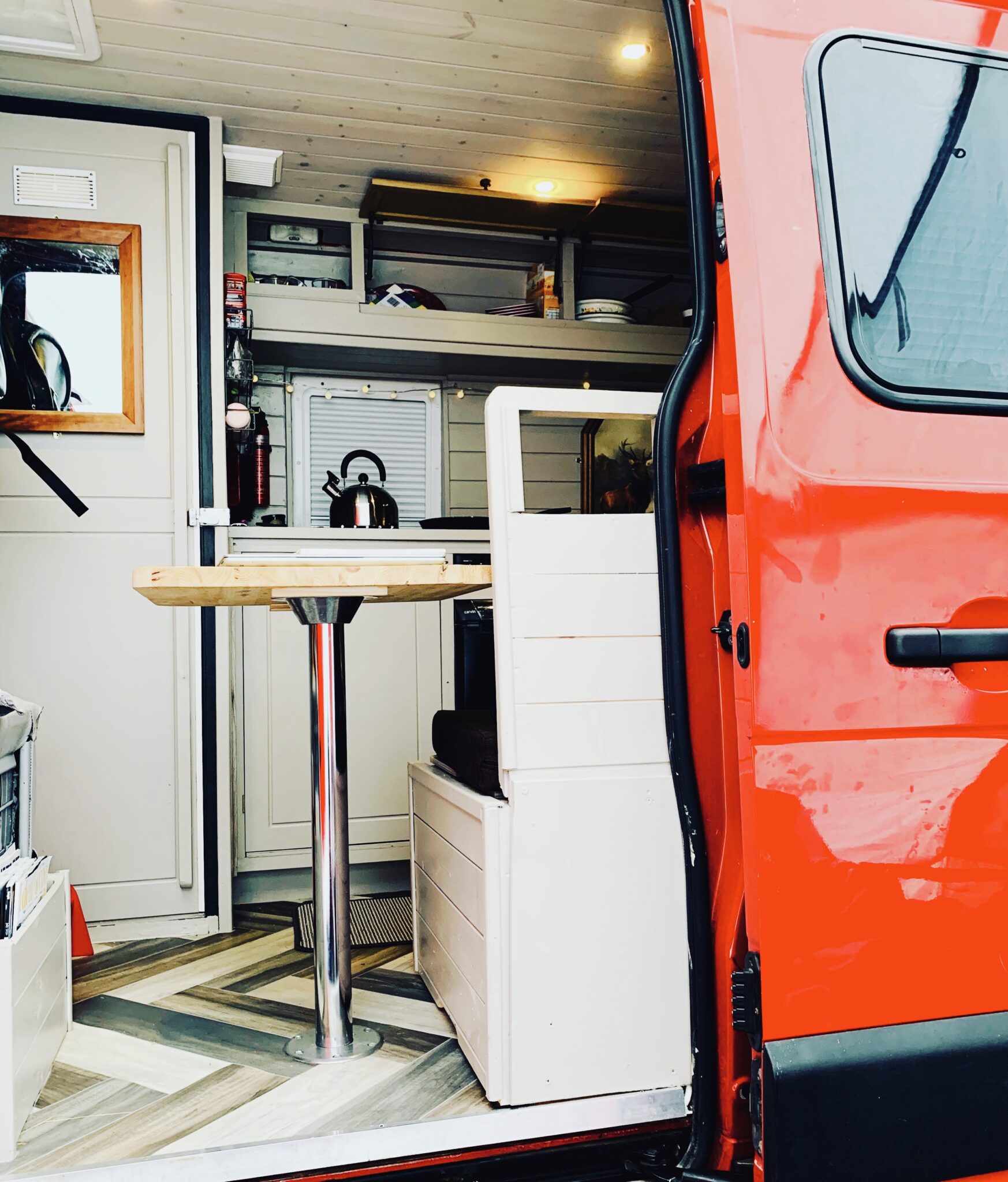 Sold
Vehicle Description
Sven is a recently converted, four berth campervan for sale, based in Surrey. This gorgeous red rolling home has been crafted to provide a lot of home comforts in one living space. It can be used off and on Grid. 93,770 miles on the clock, excellent engine, with new battery.
What's included:
MOT, Service and Tax'd till 2022
2 Keys
Portable loo
Large and small step for entry
3 Water Tanks for drinking and Waste, pump attachment and carry wheel
Very long electric cable for hook up
Gas Bottle fixed in boot
Kitchen accessories negotiable
Two moveable tables on poles
Open awning, closed awning negotiable.
Gas Certificate for Boiler (Just expired) But only required if renting out.
Weighbridge Certificate
All set up for rentals via Quirky
He has a fixed rear double bed with mattress, which sits above a large garage space for wellies and rucksacks, there is a door to the cabin allowing for long items, surf boards etc.
He has two dining tables which are removable and can be used to convert the two small beds.
Fully equipped Kitchen with sink, hob and fridge, with a Truma boiler allowing hot water off and on grid via an external water tank connected up and drawn in via a pump once converted to Gas, which is safely secured in the back.
A built in fully enclosed shower is in the main camper, which you can use off and on grid, with a mixer tap. You have access to 12v on grid and 23v, allowing off grid holidays. The solar panels on the roof also allow for lighting inside the camper. There is lots of extra storage under each seat in the main area as well as overhead cupboards and a cutlery draw.
Sven has been designed with comfort in mind; with the huge added benefit of being fully self-contained, he is as cosy off grid as he is hooked up on a campsite. He has a tartan and cream colour palette and has been lovingly converted to provide style and comfort, with everything you could need for a camping holiday. The kitchen is fully equipped at an extra cost.
Beds Description
1 Permanent Double bed
2 small beds made up with table tops in the dining area, three set up combinations.
1 Tunnel bed with small light.
Conversion Description
Red transit work van converted into a 3 berth camper.
Sven began life as a window fitter's van. He has been converted and styled throughout 2020 by a good friend and ourselves.
Sven sleeps up to four people; two adults in the permanent double bed which measures 180cms long and two in the converted bench style sofa seats.
There are three belted seats in the front (including driver) with head rests and one more belted seat in the main cabin. All 4 seats have three-point belts. The front passenger seats are suitable for a child car seat using the belt.
There is a 10 and 50-litre removable water tank that supplies water to the sink via a pump. The Truma gas/electric boiler powers hot water to the inside shower and sink.
Registered Vehicle Type
Panel Van (meets DfT standards)
Base Vehicle Condition
Refurbished
Converter Type
Professional - Handcrafted
Conversion Condition
Used - Good
Maximum Weight (MAM or MTPLM)
2,720kg
Unladen Weight Verified?
NO - the vehicle has not been weighed since completion
Gas sign-off supplied
Gas Safe Certificate
Quirky approved and ready to list
Previously listed on Quirky
We like the style
'We like the style' means that Quirky Campers would approve it for hiring but you must still check that the gas, electrics and weight were done properly. For some tips on what to look out for read this. If the listing has no Gas Safe certificate, no unladen weight and no electrical sign-off please proceed with caution!
Please note: Quirky Campers do not inspect the listings for accuracy or check campervans in person. We have asked sellers to provide evidence of certificates and paperwork however you MUST check yourself that the information provided is present and correct. You will need to exercise the normal due diligence when buying any vehicle.