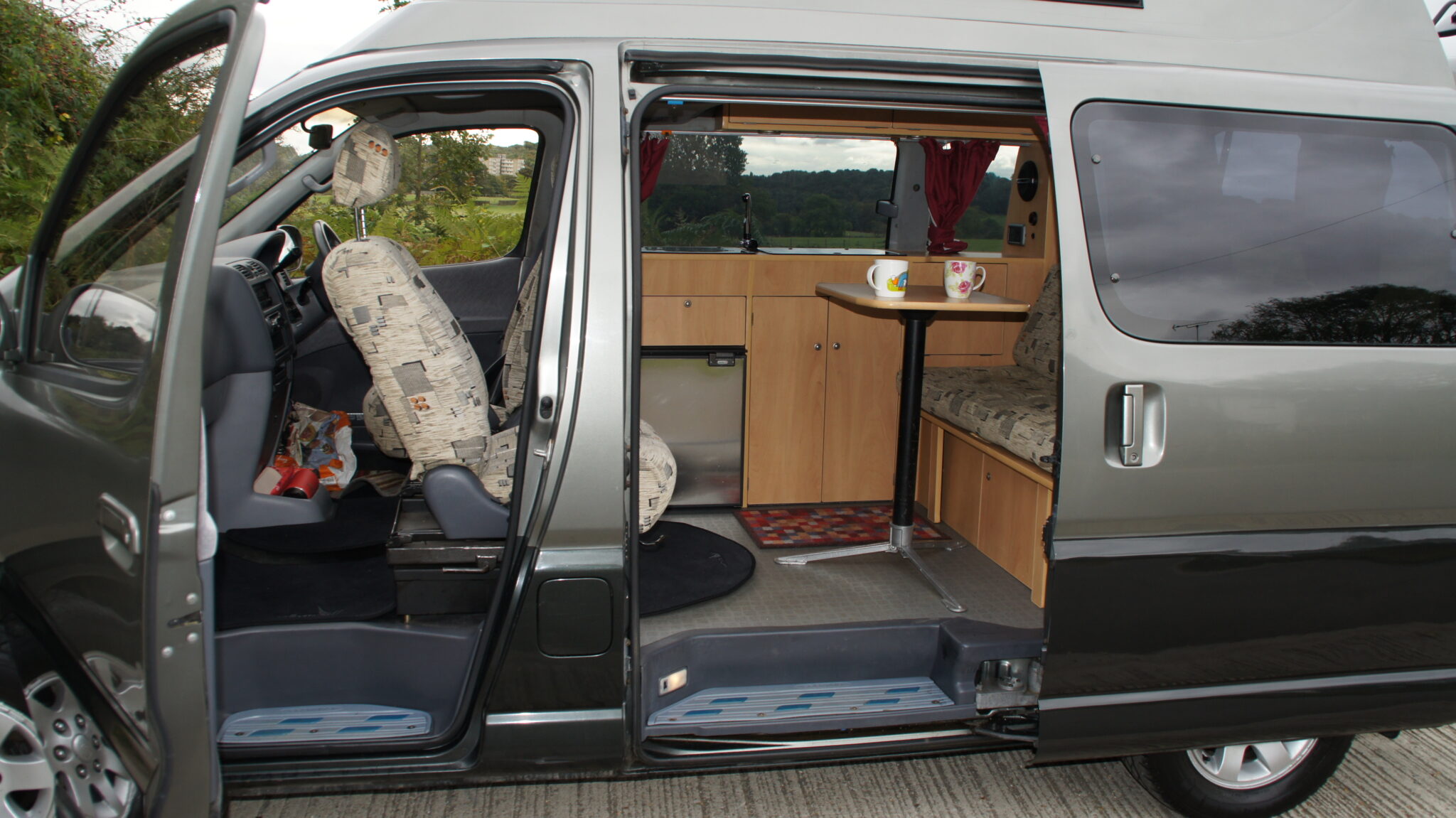 £12,500
1995 Automatic 2980cc Toyota Granvia automatic diesel turbo engine
171,246 miles
Vehicle Description
2980cc diesel engine, turbo, power steering, automatic. Very easy to drive, with lots of power and has a reliable Toyota engine.
Spare full size wheel stored under van.
Has upgraded tyres which are more sturdy and give a smoother ride than standard car tyres.
Radio with cd player and usb port.
Undersealed and waxoyl in 2021, rear and front parking sensors installed 2021.
Owned by 3 people prior to 2016 when I bought it, both interior and exterior in extremely good condition as it has been very well looked-after by all the owners.
Converted by award winning van convertors, Wellhouse Leisure. Yorkshire based craftsmen, Wellhouse Leisure is one of the most respected professional convertors in the UK.
Fits within a normal car parking space at supermarkets etc.
MOT until Feb 10th 2022
Beds Description
A comfortable rock and roll bed 48″ wide, 6′ long.
Conversion Description
High quality side conversion of this van by Wellhouse, including-
New upholstery fitted in 2016, unmarked.
5 belted seats,
Swivel passenger front seat so allows flexible living / eating arrangements.
Webasto Heating system – Air Top 2000 ST hot air heating system. This is a really high spec system that costs in excess of £1000 to install and makes it possible to be cosy in the van all year round.
Fridge with small freezer compartment that runs off 12V and 240V.
Integrated sink and double gas hob unit – very sleek and practical with hinged glass covers. Gas bottle supplied in its own secure locker.
Many cupboards, and 2 shelving units above the windows at the sides of the van.
Tinted rear windows – allows for great privacy and helps to keep the van cool. Original silver screens supplied for 3 front windows and rear window.
Lined curtains for extra warmth and privacy.
The high-top roof allows a lot of extra headroom plus large storage compartments as well as added insulation and noise reduction.
Porta-potty (included) which stores in a cupboard under the bed.
25m electric hook-up lead.
This van will fit a side awning to give greater sheltered space when camping, this is not supplied.
In essence – a well-fitted and attractive interior, ideal for day-van, weekend or longer use, year-round. Ideal for wild camping with heater and all electrics running off the leisure battery. Also able to use daily purely as a car, due to size allowing easy parking in normal parking spaces.
Registered Vehicle Type
Motor Caravan - approved
Base Vehicle Condition
Used
Transmission Type
Automatic
Converter Type
Professional - Handcrafted
Conversion Condition
Used - Excellent
Maximum Weight (MAM or MTPLM)
3,500kg
Unladen Weight Verified?
NO - the vehicle has not been weighed since completion
Gas sign-off supplied
None
Please note: Quirky Campers do not inspect the listings for accuracy or check campervans in person. We have asked sellers to provide evidence of certificates and paperwork however you MUST check yourself that the information provided is present and correct. You will need to exercise the normal due diligence when buying any vehicle.