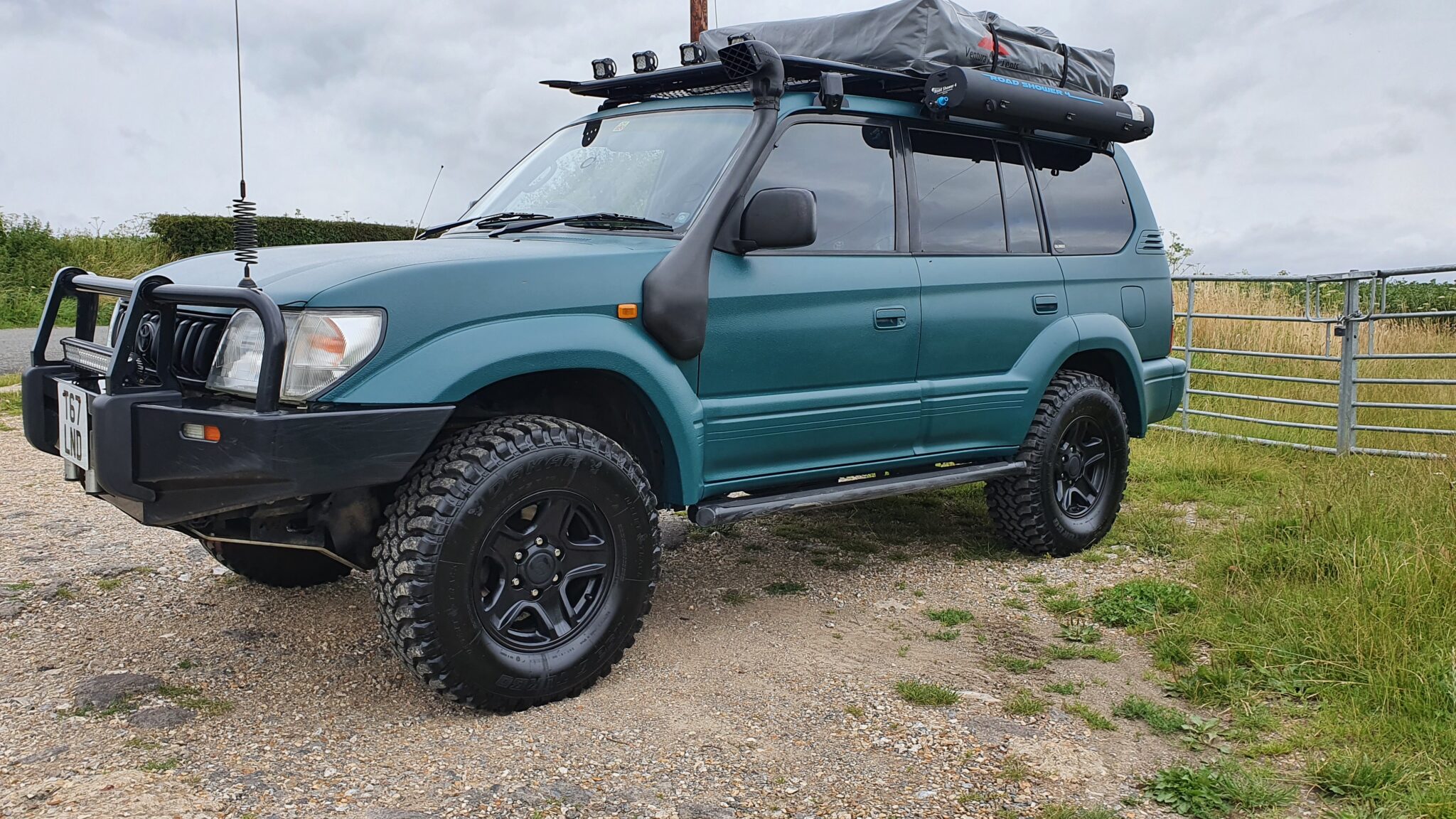 Sold
£23,500
Toyota Landcruiser Colorado 3.0TD
225,000 miles
Vehicle Description
There are 3 reasons why you would want to buy this vehicle:
1. No one else has one and you will be driving the quirkiest camper around, if getting attention is your thing
2. You are looking for a serious man car
3. You appreciate that the best camping is the kind that you can only (legally of course) reach with a 4×4 like this, taking you to places no other camper on earth can take you
This vehicle is in excellent condition outside, inside and mechanically. Starts on the button, drives smoothly and turns heads wherever you go. It is arguably one of the best and most reliable 4×4 vehicles that money can buy.
This is the UK spec Colorado (not a Prado import) classic KZJ95 series with rear and centre diff lock, low range gearbox, auto gearbox and of course the 3.0 litre turbo diesel 1KZ-TE engine, a legendary machine known to do 500,000 miles. Starts first time every time and if you know Landcruisers that have been looked after (which this one has, with no expense spared through it's lifetime!) the mileage on this vehicle is no concern.
Here is a list of the restoration work and modifications done:
COMPLETE RESPRAY WITH RAPTOR PAINT
If you take a closer look you will notice that it has been completely resprayed with Raptor paint, which has a rough sandpaper-like texture. If you are not familiar with Raptor paint, it has the following qualities (from their website):
○ Provides tough mechanical damage and stain resistant surface
○ Protects against rust and corrosion
○ UV resistant – Delivers a high level of fade resistance Resistant to a wide range of chemicals including fuels, hydraulic oils, animal urine, salt water and more
The paint is quite incredible and resistant to scratches from branches and thorns etc while off-roading/greenlaning.
VEHICLE UNDERSIDE:
The underside of the vehicle is in excellent condition with no rust (other than a few small spots of surface rust as you would expect but all the steel and axles are rock solid, which you may know is not common for a vehicle driven on UK roads)
BASE VEHICLE MODIFICATIONS:
1. Ironman winch bumper, solid steel with LED running lights
2. 13500lb Rhino winch with steel cable
3. 2″ suspension lift with Ironman shocks and springs
4. Insa Turbo Dakar off road tyres
5. Rock sliders (steel)
6. Full professional Raptor paint respray
7. Re-enforced undertrays
8. Free-flow exhaust
9. Professional allow refurbishment with chrome wheel nuts
CAMPER MODIFICATIONS:
1. Three man roof tent, can be set up in under 5 minutes. Nearly new, has hardly been used. See below for more info
2. Steel roof rack
3. Front and rear flood lights, will light up the entire camp site (coupled with the LED front spot light that will illuminate a small town)
4. 25l powder coated aluminium solar-heated road shower (with pop up tent) providing pressurised hot running water
5. 60l internal water tank with compressor, providing cold running water on tap
6. 3-way fridge (12V, gas, 220V) on sliding rails
7. 2-way gas cooker with mini-grill/toaster
8. Internal 75l/min air compressor for tyre inflation
9. Citizen Band (CB radio) with long-range antenna
10. Entertainment system with sat-nav
11. Full-length food storage drawer
12. Fold out table with aluminium work surfaces
13. Auxilliary electric distribution board with switches for all services (lights, fridge, compressor etc)
14. 25l mounted jerry can for reserve fuel
POP UP ROOF TENT WITH COVERED ENTRANCE:
Designed to withstand winds of up to 120km/h (I have experienced winds close to this first hand in the Pyrenees and the tent came through with flying colours even though the rest of our campsite was wiped out by the storm!) . You can set it up in under 5 mins, has a really comfortable mattress and sleeps 2 – 3. Windows on all sides with rain / dew flaps so you can enjoy the sunrise and sunset views from the comfort of your bed. There is nothing in the world like waking up in the mountains and watching the sun rise over your toes!
MECHANICAL:
Mechanically no expense has been spared to keep this vehicle in top running order. If I had to list all the work I have done on it myself or had done on it by my trusted local landcruiser mechanic, plus the previous owner who was just as big a landcruiser fanatic, I would run out of characters for this ad.
CONCLUSION:
This car is much more imposing in real life than what you see in the photos, you have to see it to believe it. I get compliments and respect everywhere I go, on road, off road, camping, there just isn't another car like this on the road. Add fuel, food and water and you are ready to go anywhere. This is a fully self-sufficient overland/off-road truck for up to 3 adults or 2 adults + 2 children, you can be completely off-grid for days and lack nothing.
While I am willing to reasonably negotiate on price, the price reflects the value and uniqueness of this vehicle, so please no silly offers or time wasters.
Beds Description
Roof tent for 2 adults length wise + 1 child width wise. Width 1.4m length 2.1m
Registered Vehicle Type
Other - see description for explanation
Base Vehicle Condition
Refurbished
Transmission Type
Automatic
Conversion Condition
Used - Excellent
Maximum Weight (MAM or MTPLM)
2,800kg
Unladen Weight Verified?
NO - the vehicle has not been weighed since completion
Gas sign-off supplied
None
Please note: Quirky Campers do not inspect the listings for accuracy or check campervans in person. We have asked sellers to provide evidence of certificates and paperwork however you MUST check yourself that the information provided is present and correct. You will need to exercise the normal due diligence when buying any vehicle.