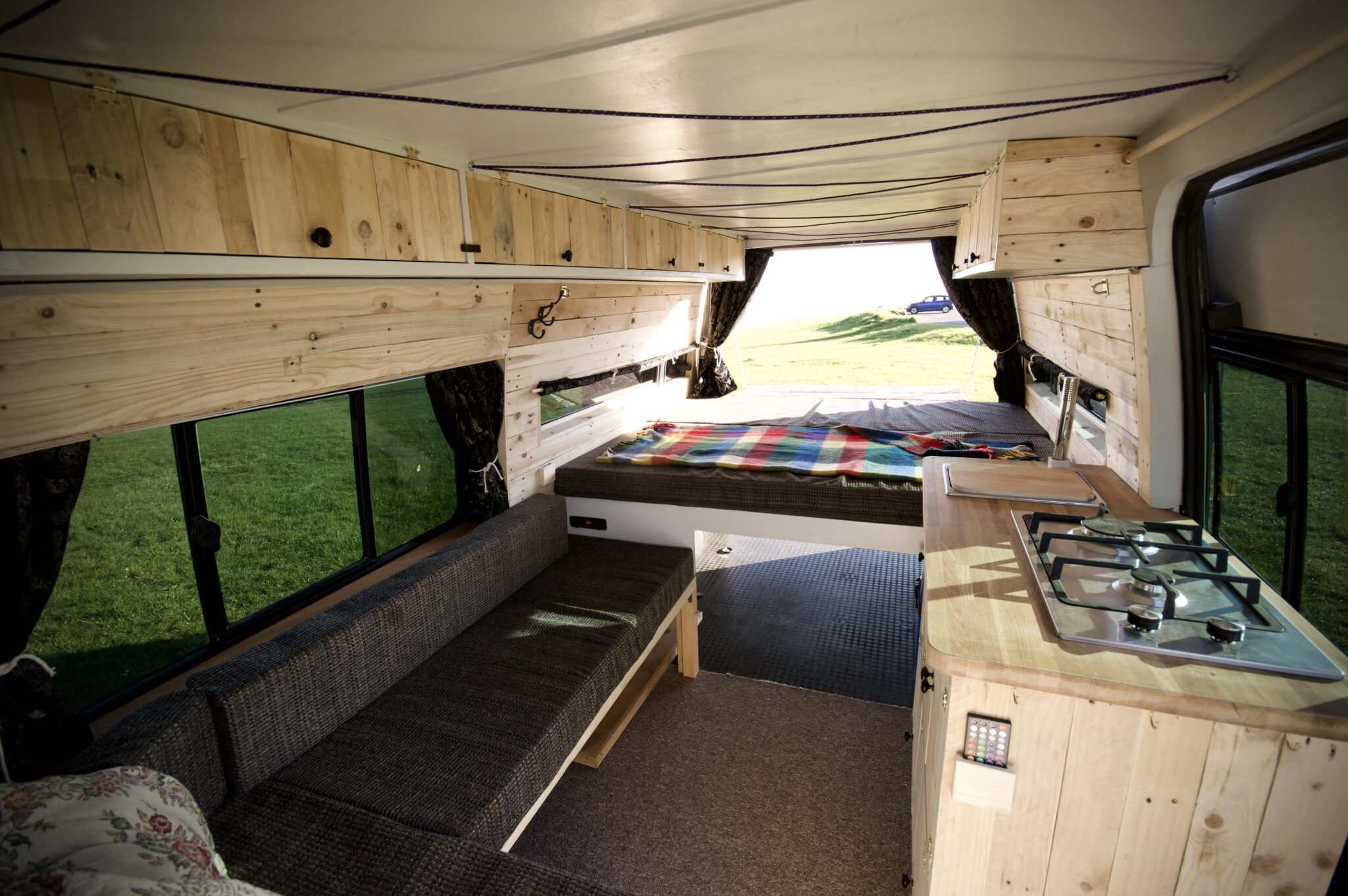 Sold
Vehicle Description
– 2006 Ford Transit 350 LWB
– Mileage: 99369
– 2.4L DI – 120bhp – 80L
– Rear Wheel Drive
– 5 Speed Manual
– MOT till 31/12/2021
– Central Locking and Electric Windows
Recent Work Carried out:
– Central prop shaft bearing replaced (5/5/21) *the only advisory on most recent MOT*
– Power steering hose assembly and fluid replaced (5/5/21)
– 62Mph limiter removed (1/4/21)
– Water pump, hoses and gaskets replaced and new coolant added (16/2/21)
– Full service (12/2/21)
Previously owned by a church group this Transit is in excellent condition and has very low mileage for its age with no expense spared on maintenance. Sadly the previous owner could not supply me with a full service history but invoices and receipts are present for al the work mentioned above.
Conversion Description
This stylish and spacious Transit has been designed to sleep 4 and will comfortably seat 7-8 adults. A fixed double bed in the rear with an extendable stargazing platform also folds up to create an additional bench seat and provide more storage in the rear. The bench seat in the living area also pulls out to make a second bed. Beautifully hand crafted this camper includes all the essential amenities, with a powerful and reliable 2.4L Diesel engine under the bonnet. This is a brand new conversion so all the electrics and appliances are new and there is plenty of space for you to tailor it to your needs and make it your own. The custom layout also provides ample storage for bikes, surfboards & fishing rods etc. A roof terrace also offers 3×1.6m of additional space to relax and enjoy the view or transport larger items.
The van is fully insulated using Thermafleece Sheeps Wool insulation that naturally purifies the air and helps mediate moisture content within the vehicle. An aluminium foil vapour barrier, rear diesel aircon unit and four rear windows also help ensure you can effectively regulate temperature and moisture.
Included:
– Built in 2 burner gas hob with hose and brass fittings (thought it best to let you decide which LPG system you would like based on usage and rental potential. I can recommend Calor Gas if you are likely to stay in the UK; CampinGaz is much more readily available in Europe but comes at a slightly higher price).
– 25L water tank with 12V pump and 25L grey water tank, all plumbed into a large stainless steel sink
– 5M of RGBW LED's with wireless remote
– 130 AH leisure battery (charges through a volt sense relay that automatically isolates to avoid draining the starter battery by accident)
– 2 x USB sockets
– 1 x 12V Socket
– Voltage display to keep track of your usage and protect the life span of your battery
– 240V external hook up (with 20M extension cable) with additional USB sockets and four 3-pin 240V brushed aluminium mains sockets
– Aftermarket Bluetooth stereo with handsfree means you can easily connect your smartphone and 2 additional speakers in the rear provide great volume and sound quality.
– Carbon Monoxide Detecter/Alarm
– Ample storage and potential to add additional features and amenities such as solar panels, fridge or toilet.
Please enjoy the tour and do not hesitate to contact me with any questions or queries you might have.
About me: Thank you for taking the time to look at my Transit conversion. I strive to design and build unique campers that utilise every inch of space in a stylish and contemporary way. I have a passion for trying to maximise the space to provide not only a comfortable and homely living space but also one that is extremely functional. I also try to leave the exterior fairly inconspicuous so that your van does not become a target to thieves or parking attendants. Up-cycling is a strong ethos of mine and wherever possible I source reclaimed timber and other materials to maintain sustainability within the industry.
Please note: Quirky Campers do not inspect the listings for accuracy or check campervans in person. We have asked sellers to provide evidence of certificates and paperwork however you MUST check yourself that the information provided is present and correct. You will need to exercise the normal due diligence when buying any vehicle.
Current Mileage
99,368miles
Registered Vehicle Type
Panel Van (meets DOT standards)
Maximum Weight (MAM or MTPLM)
3,500kg
Unladen Weight Verified?
NO - the vehicle has not been weighed since completion
Gas sign-off supplied
None