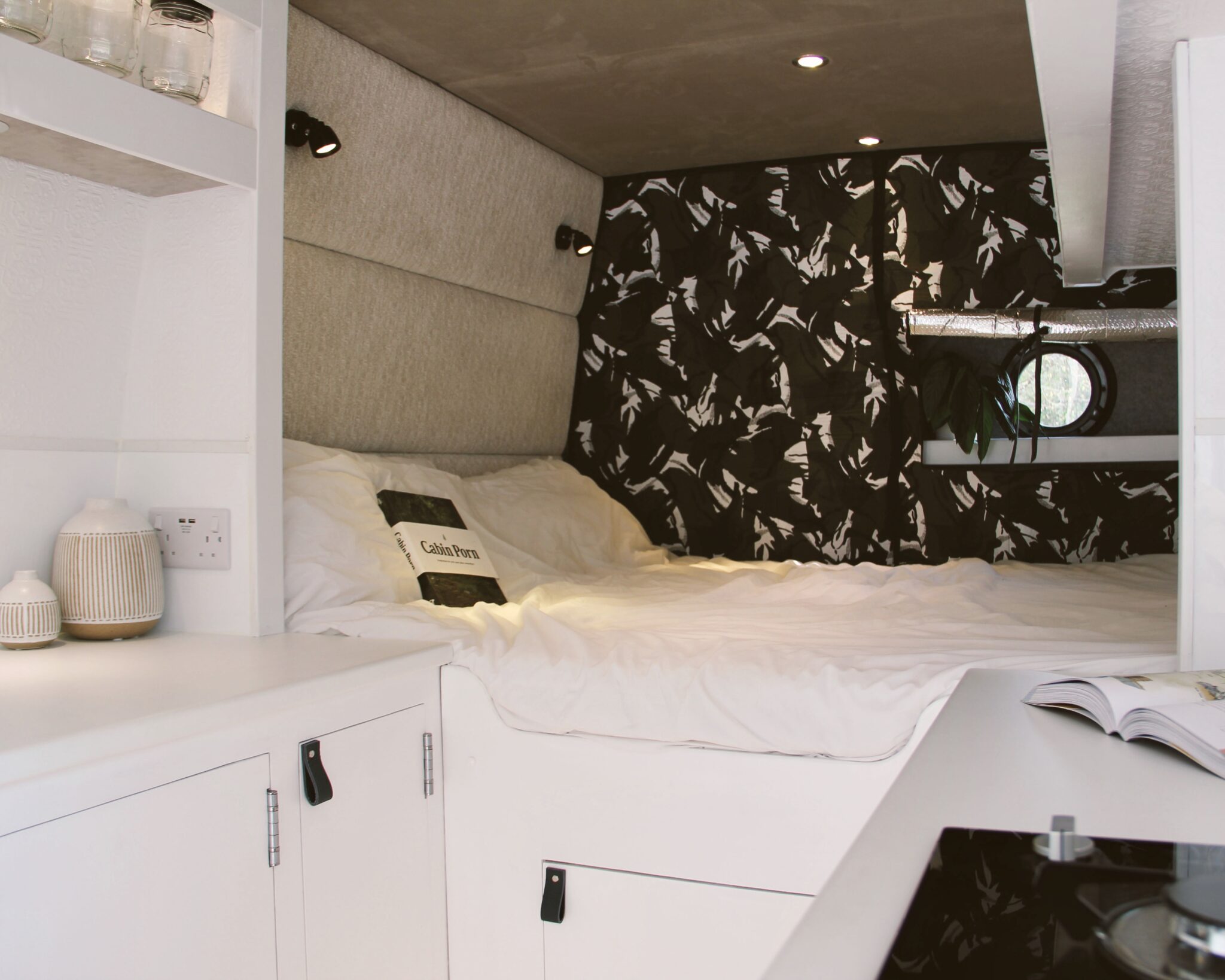 Sold
Vehicle Description
'Galivant' is a fully off-grid luxury conversion, with high-spec, brand new appliances and bespoke fittings and finishes.
The van has two solar panels for maximum power capability, USB ports, heating, as well as gas safe water heating for the kitchen and shower. The shower includes metro tile style shower panelling and a black eco shower head fitting with filtration stones for a luxurious shower experience, as well as a brand new and unused Thetford toilet.
Everything has been designed with attention to detail and finish, including soft close cupboards with leather handles, bespoke upholstery, a padded fabric ceiling and headboard, port hole and shelving similar to a luxury yacht.
There is fitted kitchen that features a Thetford oven and hob, a 3-way fridge for off-grid adaptability and secure jars that can be unscrewed from the shelves to store tea and coffee.
There is extensive storage in the van, with every space utilised, including press-open top cupboards with gas struts and soft close. There is also step extension storage for dirty shoes and cupboards for books and towels.
There is an extendable bench seat, and rotatable double passenger seats which create an additional potential sleeping area or social area to eat and drink. There is a removable table for dining or work. More storage is hidden within the bench seating, including storage for dirty clothes.
A super comfortable kingsize width bed has easy access to light switches and movable spot lights, along with options to change the colour of LED lighting under the top cupboards, USB ports and shelving.
There is a switch panel at the front of the van, which lights up to show available power and an easy access cupboard to reach the inverter and main power switch.
The back of the van is covered by a removable insulated black out curtain with flap for a porthole which can be opened or used as a viewing window whilst relaxing in bed.
The garage area includes access to a 57 litre water tank, diesel heater (vented into the van under kitchen units for warm feet), water pumps and filter and storage.
The camper has a brand new MOT and 6 months tax and the cam belt was replaced at 100,000 miles (VW Crafters run to around 500,000 miles – a replacement cam belt is recommended after around 150,000, so the van has been looked after).
There is an underslung gas tank and grey water tank with tap. The leisure gas system has an external hatch, allowing gas to be topped up at petrol stations and means there is no need to replace or remove heavy tanks.
Finally the van features a gorgeous sun roof deck (on a Van Guard roof rack accessed by a Rhino ladder), which enables you to soak up the rays whilst adventuring.
Brand new MOT
Taxed until Dec 2021
Adjustable speed limiter enabling effortless long journeys at set speeds
Drivers airbag
Central Locking
Power Steering
Heating and ventilation system
Electric Windows
Middle passenger seat folds down for drinks table
6 speed gears
Reversing sensors
270 double-wing rear-end doors
Spare wheel
Fiamma ventilation fan
Rotatable passenger seats for extended living space
USB ports
LED switch panel
Leisure gas system with underslung propane gas tank, can be filled up at petrol stations for ease, no need to lift or change tanks
Bespoke seat covers
Overhead cupboards, including over-cab.
All appliances brand new
New and unused Thetford toilet
Shower cubicle
Black eco power Stone Stream shower head with filtration stones
Foam mattress and protector
Insulated black-out removable bespoke curtain for back doors with window flap
Porthole (can be opened) and back door shelf
Vapour barrier and insulation
Propex gas water heating system, fully gas safe and signed off. Hot water for kitchen sink and shower
Bespoke cabinetry with double roller catches to ensure the doors stay shut when driving. Soft close top cupboards with hydraulic gas stays
Cubby holes for towels and books, overhead cab storage
Padded fabric ceiling and headboard for bed for extra comfort
3 way fridge 12v, 240v or gas (currently not hooked up to gas, but pipes there if desired)
Garage storage area with 57 litre wheel arch water tank
55 litre underslung waste water tank with tap
Remote controlled Diesel heater with refillable tank in garage
Parquet style vinyl floor, easily wipeable and lightweight
Pop-up table (stored in over head cabin cupboard) to enable working or dining area for front seats when twisted around
Pull out bench seating with bespoke upholstery, removable and washable
Pull out bench also hides toilet and additional storage.
Thetford oven and sleek 2 burner hob enabling fully off grid luxury cooking facilities
Powder coated gloss white tin bath in shower area that can double as a dog bed
Luxury printed shower curtain and removable light
Door matt
LED floor and under cupboard lighting, along with ceiling LEDS on separate switches. Rotatable headboard spot lights
Colour changing switch for top cupboards by bed
Under-bed cupboard for garage storage access
Privacy tint side window
New cam belt in 2018
Roof sun-deck
Vents for all gas appliances
Van guard Roof rack
Rhino back ladder
Rear Safe-T-Bar
Electrics
2 x 200W Solar Panels
2 x 12v 110 AH leisure batteries
Votronic 430W 12V dual battery MPPT solar charge controller (tops up main van starter battery with excess solar power).
USB sockets
2000W 12V pure sine wave power inverter with On/Off remote control
LCD display for MPP and SR solar charge controllers
240v sockets with USB outlets, via inverter or plugg into a separate 240v supply
Conversion Description
This conversion is brand new, with craftsman made fixtures and fittings, propex water heating system and gas sign off and electrics installed and checked by an electrician. It has been designed with attention to detail, comfort and finish. The van has two solar panels for maximum power to go off-grid.
The van just requires an awning and a decal to meet DOT standards. As graphics are so personal, the van has been left as a blank canvas for the new owner. Everything else meets DOT standards.
'We like the style' means that Quirky Campers would approve it for hiring but you must still check that the gas, electrics and weight were done properly. For some tips on what to look out for read this. If the listing has no Gas Safe certificate, no unladen weight and no electrical sign-off please proceed with caution!
Please note: Quirky Campers do not inspect the listings for accuracy or check campervans in person. We have asked sellers to provide evidence of certificates and paperwork however you MUST check yourself that the information provided is present and correct. You will need to exercise the normal due diligence when buying any vehicle.
Current Mileage
142,000miles
Registered Vehicle Type
Panel Van (does not meet DOT standards)
Kingsize width bed with foam mattress and protector, bed is across van (so approx 1.78m length).
Bench seating extends and double passenger seats rotate for more potential sleeping options for children.
Maximum Weight (MAM or MTPLM)
3,500kg
Unladen Weight Verified?
NO - the vehicle has not been weighed since completion
Gas sign-off supplied
Gas Safe Certificate