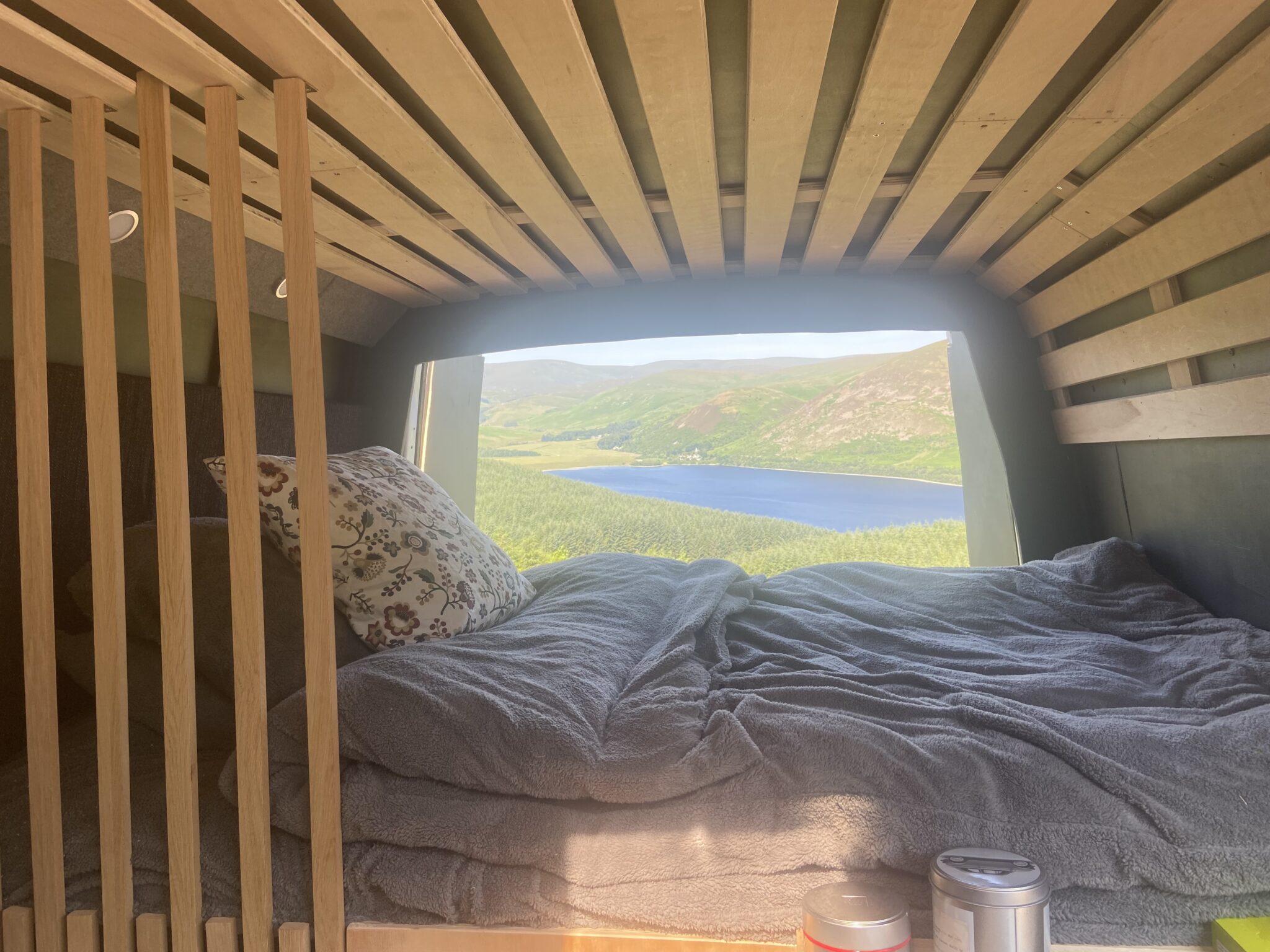 Vehicle Description
Vw Crafter Camper Conversion (MWB) with garage that can fit 6 mountain bikes. 1968cc, 6 gears, good runner, full years MOT (22 July 2021 – 21 July 2022) + serviced (22 July 2021), body work in excellent clean condition as spent considerable amount on body work and rust repair; vehicle history available with receipts for all work done; 17 inch BLACK RHINO arsenal wheels with B F Goodrich all-terrain tyres (New Feb 2021); roof solar panels and leisure battery, fully insulated with diesel heater. Sky light and large side window. Double bed and Single bed/sofa with built in storage. USB port and 360 rotating front seats for extra kitchen seating area. Electric hook up, full LED lights inside. Black out curtain to create privacy between front cab and living area. Headliner Shelf provides more storage. Fitted with Nature Wall Oak Slatwall. Built in cooker and sink with water and waste tanks. Good storage both under single bed/ sofa and under sink/cooker hob. Insulated Window blinds. [24 litre wheel arch water tank with worx portable pressure washer for cleaning bikes. Heavy duty Drawer runners that fully extend for bike storage and access – essential for sliding tray for bikes, 3 fork mounts for bikes ALL THESE not in pictures as we haven't got that far but have all the parts that will form part of the sale]
Conversion Description
Vw Crafter Camper Conversion with garage that can fit 6 mountain bikes. 1968cc, 6 gears, good runner, full years MOT (22 July 2021 – 21 July 2022) + serviced (22 July2021) , body work in excellent clean condition as spent considerable amount on body work and rust repair, vehicle history available with receipts for all work done, 17 inch BLACK RHINO arsenal wheels with B F Goodrich all-terrain tyres (New Feb 2021), Solar panels and leisure battery, fully insulated with diesel heater. Sky light and large side window that opens. Double bed and Single bed/sofa with built in storage. USB ports and 360 rotating front seats for extra kitchen seating area. Electric hook up, full LED lights inside. Black out curtain to create privacy between front cab and living area. Headliner Shelf provides more storage. Fitted with Nature Wall Oak Slatwall. Built in cooker and sink with water and waste tanks. Good storage both under single bed/ sofa and under sink/cooker hob. Insulated Window blinds, [24 litre wheel arch water tank with worx portable pressure washer for cleaning bikes. Heavy duty Drawer runners that fully extend for bike storage and access – essential for sliding tray for bikes, 3 fork mounts for bikes ALL THESE not in pictures as we haven't got that far but have all the parts that will form part of the sale]
I haven't registered as a camper as yet.
Please note: Quirky Campers do not inspect the listings for accuracy or check campervans in person. We have asked sellers to provide evidence of certificates and paperwork however you MUST check yourself that the information provided is present and correct. You will need to exercise the normal due diligence when buying any vehicle.
Make and Model
VW Crafter CR35 TDI 109 MWB
Current Mileage
136,000miles
Registered Vehicle Type
Other - see description for explanation
Double bed (49 inches wide by 66 inches in length with a Foam Centre 4 inch mattress) for 2 adults and single bed/sofa ( 26 inches wide by 64 inches in length with a Foam Centre 4 inch mattress) that will fit an adult/child.
Maximum Weight (MAM or MTPLM)
3,500kg
Unladen Weight Verified?
NO - the vehicle has not been weighed since completion
Gas sign-off supplied
None