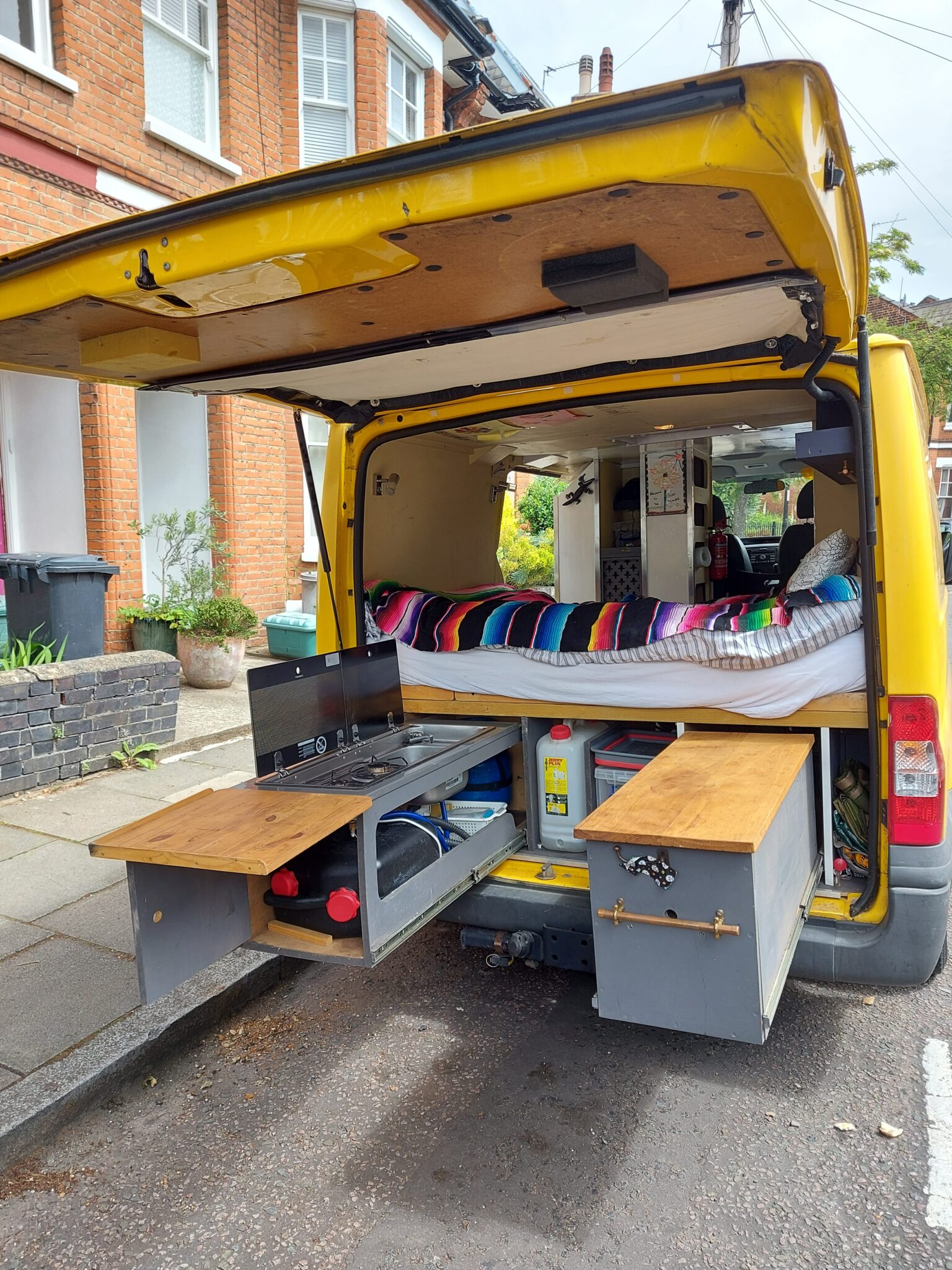 Sold
Vehicle Description
This is an ex AA van and has been well looked after. It has a brand new MOT (14th April), and I have spent a couple of grand in the last 2 months on the engine, the exhaust and any other niggles to get it running beautifully ready for her new owners. We're only selling because we live in London, she's a diesel but not a Euro 6, and the ULEZ zone is about to expand. This would cost me £120 a day just to keep her outside the house, so she needs to leave London for a new home, otherwise we'd keep her because we love her.
Conversion Description
This is the perfect stealth camper. From the outside you seriously can't tell it's anything other than an old AA van being used as a general trade van, and that means we are able to sleep anywhere without ever being troubled. But when you take the blind down on the the huge rear window your have a huge picture-window and flood the van with light. There is a small roof window which opens as well. The conversion itself was done by the previous owner, and I have made some important modifications to fit our needs, which were a little different from theirs.
The main thing is the 'wow' when you open the door and people see it for the first time. It's like opening a jewel-box, and it feels homely the second you slide back that door.
The main thing to notice – which you'll either love of hate – is that the kitchen is a pull-out. This was the main selling point for us as we didn't like cooking inside on hot days when we hired vans before – and it's a fantastic feature. There's a tailgate about your head to keep off any rain, there's room for several people to cook and prepare meals on the two workspaces, and it makes fro really social mealtimes. There's a Waeco fridge freezer that pulls out of the side door and fits a ton of food and drink in.
There's tons of storage thanks to the original conversion – 11 different sets of shelves – plus we added the cupboard you can see so that there's room for the practical things (for us anyway) like saws, portable firepit, wellies, you name it. We added the grass floor as, well it just makes it feel so lovely.
Has been insured by JustKampers for the past 2 years – great price and no issues. There's no rust – I've thoroughly been through all the body-work putting everything right. I'll happily go over the whole van with you to make sure that you are happy with her.
Please note: Quirky Campers do not inspect the listings for accuracy or check campervans in person. We have asked sellers to provide evidence of certificates and paperwork however you MUST check yourself that the information provided is present and correct. You will need to exercise the normal due diligence when buying any vehicle.
Current Mileage
149,600miles
Registered Vehicle Type
Panel Van (meets DOT standards)
Fixed double bed with a super-comfortable futon mattress. NB This might not be great if you are taller than 5'9″ because it runs sideways – so please think about whether you could comfortably sleep in her. Our daughter also fits in with us because it's quite wide (1.73 x 1.40), and at times we have managed to sleep 4 in her (2 kids 2 adults) across the bed and the floor.
Maximum Weight (MAM or MTPLM)
3,000kg
Unladen Weight Verified?
NO - the vehicle has not been weighed since completion
Gas sign-off supplied
None