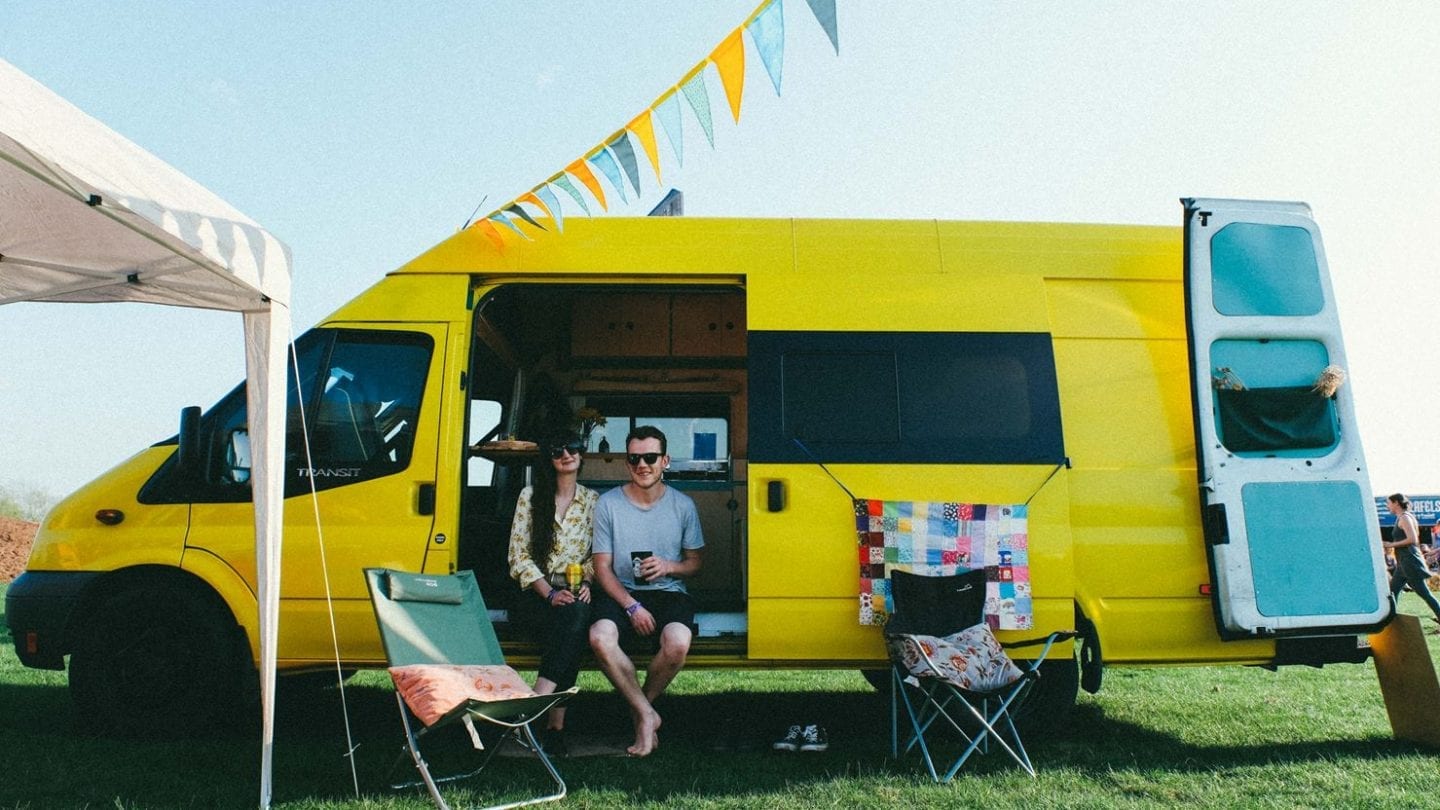 Glastonbury Festival Campervan Hire
Glastonbury campervan passes went on sale from 7pm Thursday 21st Nov.
Why book a campervan for Glastonbury Festival?
A Glastonbury campervan is the perfect way to experience this incredible festival well-equipped, well rested and well dressed! To maintain those levels of fun for 5 days requires a quiet and comfy place to sleep, a space to recuperate and refuel and somewhere to keep your glad rags/bikini/rain gear. Plus the awesome friendly vibes of the campervan fields are like a mini festival in themselves.
How Can I Book a Glastonbury Campervan for Glastonbury Festival 2020?
Glastonbury Campervans available to book NOW! Here are the 5 steps to doing Glastonbury in a campervan
Glastonbury 2020 tickets will be up for sale on 6 October 2019. Once you've bought your Glastonbury Festival ticket and campervan pass:
Browse our available campervans and identify the ones that meet your requirements.
Book your campervan now by paying a 20% non refundable deposit.
Pay the balance of your festival tickets in April and your campervan hire in May
Pick up your campervan from the owners' location, get a full tour of how everything works and head off for the best Glastonbury of your life!
If you don't yet have a Glastonbury Festival ticket and/or campervan pass
Look out for the ticket sale in October and resale in April! Sign up below to receive an email when the resale date is announced. You will need to have already registered in order to be eligible for the resale.
Once you have secured your tickets in the resale, book your favourite campervan with a 20% deposit.
Pay the balance of your campervan hire in May.
Pick up your campervan from the owners' location, get a full tour of how everything works and head off for the best Glastonbury of your life!
Important Glastonbury Campervan Hire Information
Length: minimum 5 days
Hire includes: Beautiful campervan, insurance & breakdown cover, kitchen equipment (check individual van pages for exact info). Optional extras available on booking.
Hire does NOT include:

Festival ticket
Campervan ticket/pass
Delivery to site

Pick-up and Drop-Off: Vehicle owners can't deliver to site. Please check the campervan locations before booking; we have campervans across the UK so you should be able to find something near you or on your way
Which campervans are available?
The majority of our campervans are still available. However they are likely to get booked up quickly as soon as tickets are on sale. Put your desired dates and criteria in the filters below to see what is available.
We have a range of sizes, styles and pick-up locations on offer. Pick-up locations are located across the UK and include London, Somerset and Bristol. All of our campervans include all basic kitchen equipment and other extras can be added as desired. Most of them also come with heating, either in the form of woodburners or other heating systems.
Want the full deluxe experience? You might want to consider hiring a campervan with a shower like Saffiyah or Astrid.
Just want a good night/day's sleep? Then why not grab one of our campers with a super king size bed like Morris.
Taking the kids along with you? Check out our range of family campervans such as Saul, Roma, Agnes and many many more.
There really is nothing like pulling off your muddy boots, hanging up your wet pantaloons to dry and making yourself a lovely hot cuppa (or ice cold cocktail!) to get you ready for another round of fun.
How can I get more information?


Already own a campervan? Find out more about renting it out when you're not using it (such as for Glastonbury festival) to make it pay for itself.
Further information – Glastonbury festival has their own campervan information page which contains excellent up-to-date information.