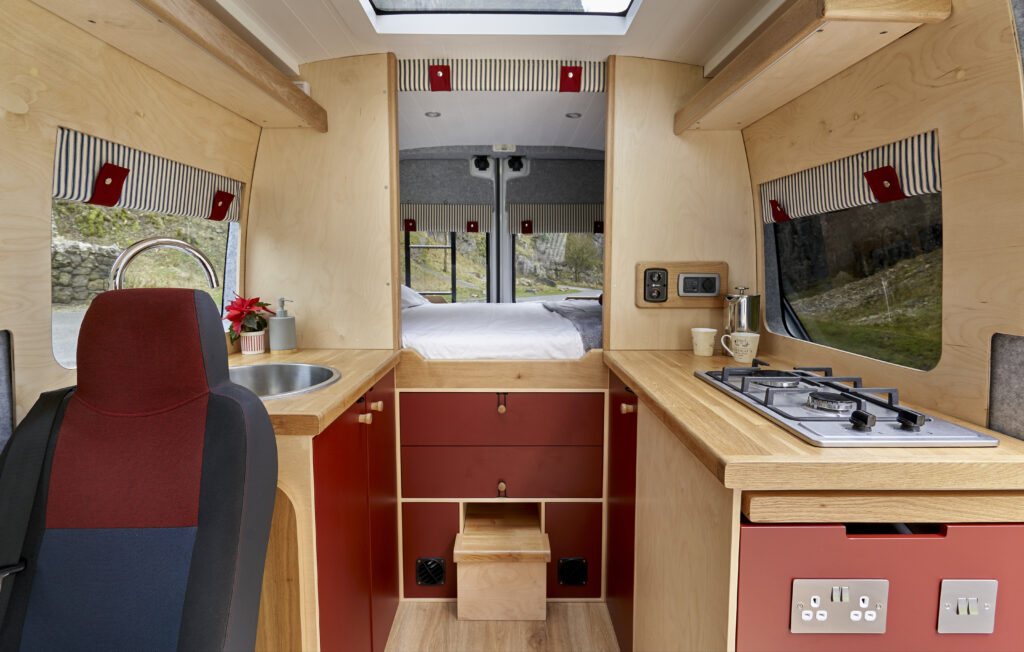 We are a bespoke campervan conversion workshop, created by Tom, built on his passion for craftsmanship and 4-wheeled exploration. Tom is a furniture designer/maker, surfer, explorer and life long campervan owner. We create our campervans with a designer's eye and a craftsman's attention to detail.
Our Mission
Our mission is to create vehicles that enable people to experience the joy of adventure when travelling on 4 wheels. Creating welcoming and comfortable spaces that allow van owners to connect with nature and explore every track of our beautiful little corner of the world.
Custom Design and Build
We have experience of designing campers big and small, short and tall, accommodating families, dogs, bikes and boards. We understand that no one family is the same, and therefore no-one's campers needs are either. We create a layout that works for you, whether that's fixed bed, sofabed, swivel seats, rear garage and many other layout configurations. We fabricate bespoke units, frames and layouts based on tried and tested configurations to ensure we meet your unique specification.
Fine Furniture Quality
With a background in designing and making contemporary furniture, using our years of experience we craft the finest campervan solutions. In our fully equipped workshop we use the best construction techniques and finest materials to create campervans of unrivalled quality that are built to last.
Built by Intrepid Explorers
We are lifelong campervan owners and have travelled in campers both big and small. We've had epic 6-month European adventures and weekend blasts to the coast. We've lived and breathed van life. We distil all this knowledge and experience into every build to ensure we create a functional and comfortable campervan that's just right for you and your clan.
Hardware and Installation
Whether you are going for an off grid adventure or campsite summer holiday we design the power, water and heating system to suit. We can install tinted windows, skylights, solar panels and roof racks. All of our vans utilise multiple power charging sources giving you flexibility when on the road. We fit under slung or interior mounted water and gas tanks. Want to stay clean, fresh, and warm on your travels. We can install toilet facilities, hot showers, and heating. Having spent many years researching the best appliances and systems we can talk you through the best solutions for your build.
Materials & Finishes
All our campervans are finished to the highest quality. We don't use Plastic coated MDF and pre-fabricated factory fitted units. Every van that leaves the workshop has the Chew Valley Campers fine furniture finish, not your 1980's caravan vibe. Our vans are built around a metal frame that provides a great strength to weight ratio, as well allowing units and components to be bolted in place, allowing ease of access for maintenance and future configuration changes. We use a mixture of birch plywood and UK sourced solid timber. Our materials are varnished, lacquered or sprayed to meet the life on the road wear and tear of kids, dogs and the weather.
Safety & Sign-off
Before we hand over the keys to your dream vehicle, we complete an extensive Chew Valley Campers safety checklist. This includes both Gas and Electrics sign off with our certificated engineer partners. We check that all appliances and hardware are functioning properly, and weigh the vehicle to ensure you have an appropriate payload available. We compile a new user handbook, where we document all the inner workings of your conversion before talking through the details face to face when you pick up the vehicle, and head on your first adventure.  All of our completed campers include a 6-month warranty, and we are happy to hear from you when ever you have a question.
Get in touch
If you want to discuss your very own campervan conversion, please get in touch with us. We would love to hear about your travelling plans.
Quirky Campers has not yet been able to verify the work of this Converter.
Landlords Gas Safe Certificate
Landlords Gas Safe Certificate
Guaranteed Appropriate Payload
DVLA Motor Caravan Registration
Electric Conversion Experience
Has experience with converting new electric vehicles.
Has experience with retrofitting classic vehicles.
No experience, but happy to take on an electric conversion.