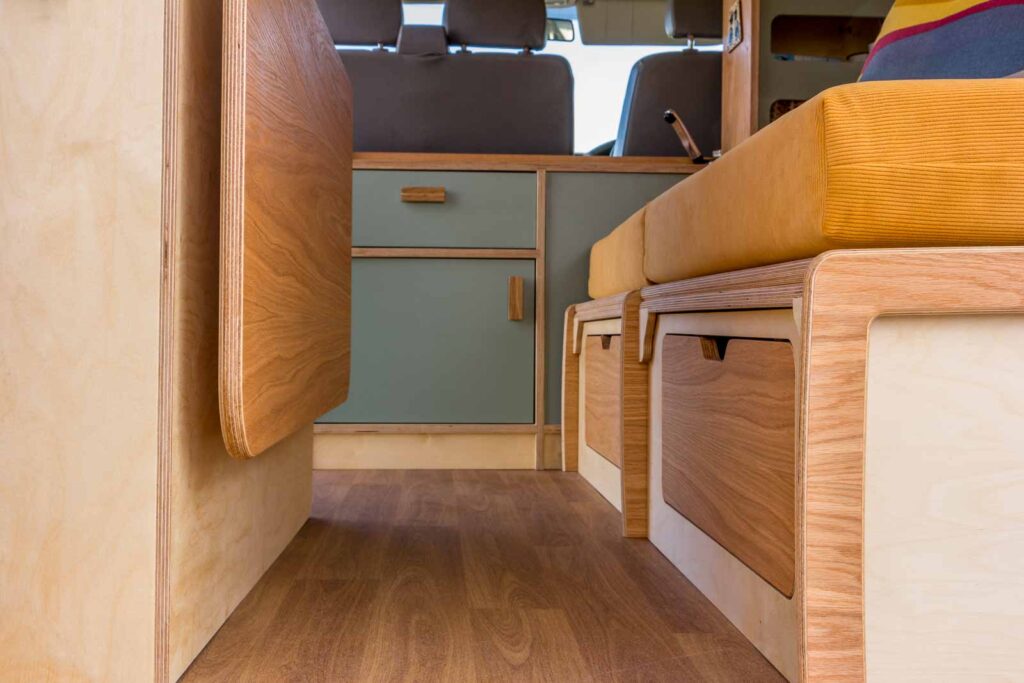 Waiting List
Flat-pack – 6wks
Installed & conversions – May 2023
Contour Campervan Furniture designs and manufactures modular, innovative and sustainable furniture which is packed with thoughtful details and creative storage solutions. Our sofa-beds, kitchen units, lighting and accessories cater to people who want to build their campervan to a professional standard, but may not have the time, space, or experience to do it themselves. We offer a tiered service, to suit all requirements, from shipped furniture to a comprehensive conversion service and everything in between. Sustainability is woven throughout our business and our recycled fabrics and carbon neutral paints offer customisation. Choose from a range of layouts, all featuring our contemporary design aesthetic. 
Contour was launched in 2021 after co-founders (Caitlin and Tom) built and travelled in our own campervan throughout 2020. We are outdoor enthusiasts with backgrounds in product design, manufacturing, visual arts and textiles and have extensive lived experience in a campervan.
It has taken a huge amount of research and development to create campervan furniture suited to a wide range of makes and models of vans. It needs to be simple enough for customers to assemble themselves (with only a few basic tools), universal enough to fit the different dimensions and curves of most vans and unique, innovative and stylish enough to complete with one-of-a-kind, bespoke van conversions. This is a very tall order! 
Our furniture is continuously improved and refined, giving it more functionality and ingenious design with each iteration. Every product is meticulously thought-through and developed over the long-term. Our furniture is CNC machined, and we capitalise on the use of this process by including subtle curves and intricate details that would be time consuming and costly to hand-make. 
From our one-of-a-kind front and top opening sofa-bed to a rear facing kitchen with drop-down table, our furniture is packed with creative space-saving details which set us apart as specialists in small space design. We stand out with our distinctive design characterised by high-quality finishes, weight-saving features and professional joinery techniques. From our FSC certified plywood to reducing sheet wastage and using offcuts of wood and foam for our upholstery and accessory range, we want to ensure that our products are working for both our customers and the planet. 
Please note: We are only able to offer electrics, gas installation and other conversion services as part of our furniture installs or full conversions. We offer a comprehensive service at our workshop, ship our furniture worldwide and offer custom upholstery as a standalone service. Our modular furniture layouts are tried and tested, we do not offer bespoke furniture and layouts.
Want to try out our furniture? Head over to Wensley's rental page.
Quirky Campers has not yet been able to verify the work of this Converter.
Landlords Gas Safe Certificate
Landlords Gas Safe Certificate
Guaranteed Appropriate Payload
DVLA Motor Caravan Registration
Electric Conversion Experience
Has experience with converting new electric vehicles.
Has experience with retrofitting classic vehicles.
No experience, but happy to take on an electric conversion.