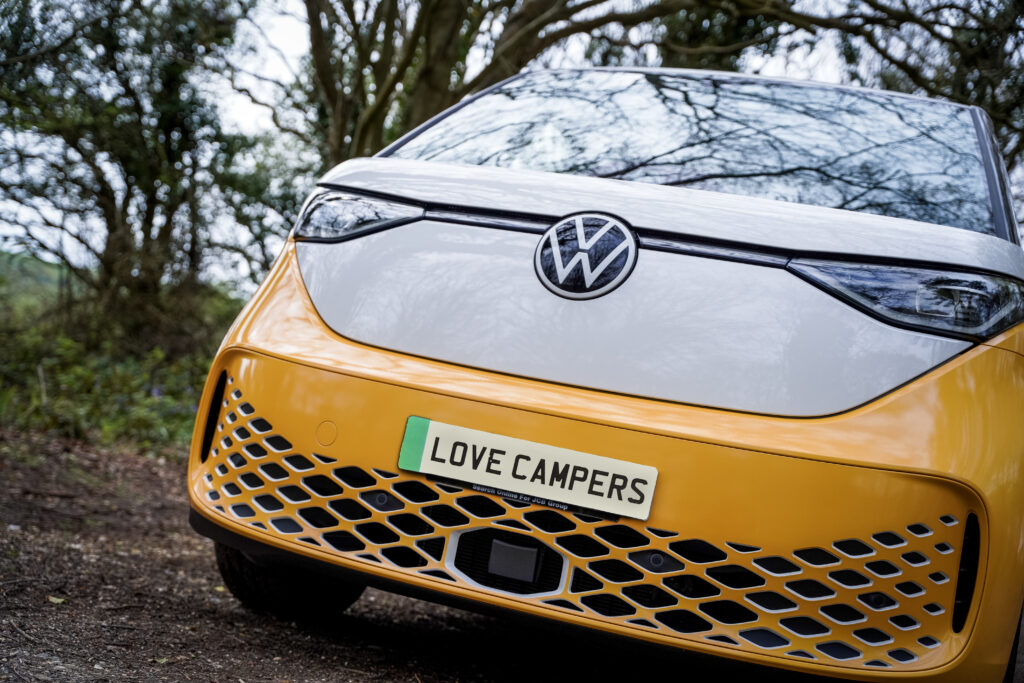 Love Campers is a family run conversion company specialising in creating beautifully designed, hand built, artisan campervans. 
We bring high level design and skill together with our passion for creating campers, serving customers across the UK and around the world.
Love Campers can convert any type of van for you, from small micro campers to larger long wheel based vehicles, and everything in between. We design and create stunning interiors for our customers, using high quality and sustainable materials, with lots of wood and natural products. We also specialise in converting electric campervans, including many new models that are currently hitting the market such as the VW ID Buzz.
We pride ourselves on always making the absolute best use of space, through our bespoke carpentry and metalwork. 
Our Campervans
A Love Campers van conversion will include a fully equipped kitchen, luxury upholstery and wooden furniture hand-built by our skilled carpenters.
We can convert any type of van for you, including micro campers, electric vans and larger long wheel based vehicles. We design and create stunning interiors for our clients, using high quality and sustainable materials, with lots of wood and natural products.
Our pop-top roofs, solar panels and round porthole style windows mean our vans are perfect for wild camping but equally at home at a camping or glamping site, if that's more your sort of thing.
We have a range of official Love Campers design layouts for small, medium sized and niche campervan conversions such as the VW Caddy, VW Transporter, VW ID Buzz, Ford Transit Custom and many more. We also carry out builds in larger vans such as VW Crafter, Mercedes Sprinter, Fiat Ducato and Citroen Relay.
Alternatively, we can sometimes work closely with clients on special projects with requirements that are unique to you. That might be a conversion of a vintage vehicle, a school bus or even an ambulance!
Love Campers can source or help you source a base vehicle, or we can work with something you already own.
Our vans come with a 12, 24 or 36 month European-wide warranty covering both the conversion and the vehicle. We are always available for aftercare and trouble-shooting.
Campervans Customised by You
At Love Campers we have several tried and tested core designs which we can then tailor to our customers' needs. We know how important it is to have a customisable design so you can give your campervan interior a 'personal touch'.
That's why our builds are customisable so that our clients can have a lot of input into the look and feel of the finished product.
You will be able to choose the colour scheme, fabrics, wood finish and other interior design elements.  Whether you want a tasteful classic with tweed upholstery, or something more bold and quirky, we can help you manifest your dream campervan.
Our Values and Standards
Love Campers hold ISO certifications for both Quality Management and Environmental Management. This recognition means that you can feel reassured that you are receiving a premium campervan from an internationally certified manufacturer.
As a highly experienced and innovative business we are proud to have designed many of our own products from scratch, for example, our innovative rocknroll beds, and semi-fixed bed designs.
As a green business that is committed to sustainability we use an Environmental Management system to ensure efficient use of resources and reduction of waste. On top of this, our suppliers have been chosen for their high quality, ethics & sustainability standards.
Our range of off-grid eco-camper conversion options mean that our clients can enter into their 'van life' journey in an ethical way.  For those who already have a campervan, we can help you find ways to "green" your campervan without costing the earth.  
We are an inclusive company and have enjoyed building several accessible campervans, including a wheelchair accessible vans, an accessible day van and many campers which have been adapted to individual needs. 
Alongside our own products, we can fit a range of high quality parts, and are authorised agents and converters for Reimo, the legendary German campervan specialists. We have been trained at the Reimo headquarters in Germany, so all our work with Reimo parts carries the Reimo warranty.
Meet the team
Darren Munday – Company Director
As Technical Director of the workshop, Darren brings over 25 years' experience of precision metal-working across a variety of areas including heading a tool-room making and fitting parts for super-yachts. Darren innovates on all Love Campers designs to maximise functionality.
Darren has a deep passion for campervans and all things technical – especially batteries and electric skateboards!
"Our vans are definitely quite different to what other converters offer, and they're always extremely functional. If you get the campervan bug we can work with you to convert or refurbish a new or 'pre-loved' van."
Clara Usiskin – Company Director
Clara is the managing Company Director, dealing with all operational and organisational sides of the business. Clara will be the person whom you have your first few phone calls with and is happy to answer your questions to identify your perfect van design.
Prior to founding Love Campers with Darren, Clara qualified as a solicitor and ran her own human rights consultancy specialising in research and advocacy in jurisdictions around the world.
"We've always loved the feeling of freedom that you get when you set off in a campervan. When we set up Love Campers we wanted to make sure that anyone who used our vans felt like they were on an adventure from the moment they sat behind the wheel."
James – Carpenter & Joiner
Our workshop team of skilled carpenters includes the amazing James who has many years experience creating handcrafted joinery and beautiful woodwork. He has helped to design some of our most cutting edge cabinetry products including work on the interior of the world's first VW ID Buzz campervan conversion.
Alongside our growing team of campervan fitters and carpenters, our workshop is always busy and bursting with creativity.
We have designed some of our own products, for example, our innovative rock n roll beds, and semi-fixed bed designs. There's never a dull moment in the Love Campers workshop!
Lucy – Marketing Manager
Lucy joined Love Campers in 2020 and has more than ten years experience working in marketing for ethical businesses. Her passion for travel and her desire to work for sustainable and forward-thinking small businesses, meant the role was a perfect match for her skills.
We can help you kickstart your project in a number of ways. If you have a vision for your project we might be able to work with you to create a photoshoot, vanlife video and much more!
"I've loved watching how the business has gone from strength to strength over the years, while always staying true to the values of quality, sustainability and inclusivity. It's a pleasure to work for such a positive and innovative company."
Landlords Gas Safe Certificate
Landlords Gas Safe Certificate
Guaranteed Appropriate Payload
DVLA Motor Caravan Registration
Electric Conversion Experience
Has experience with converting new electric vehicles.
Has experience with retrofitting classic vehicles.
No experience, but happy to take on an electric conversion.