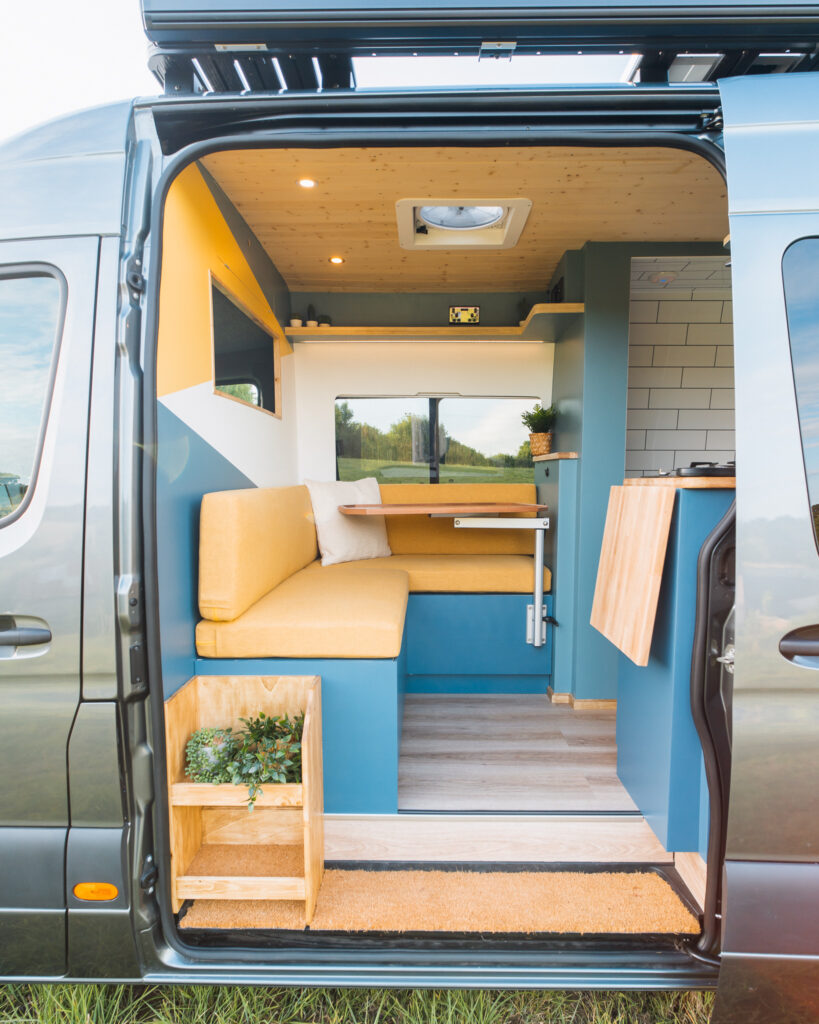 Hello, we're Holly & Chris – nomads at heart and passionate about our campervan creations.
We've been lucky enough to travel the world both in our previous military careers and just for fun. We first came up with the idea of converting vans into the perfect home-on-wheels while sailing around the Indian Ocean and travelling the Far East in 2018. After converting our first van during the first COVID-19 lockdown in 2020, we fell in love with the process of planning and designing bespoke hand-crafted campervans.
Now based in the incredible Devon countryside with our family-run Nomads Campervan Creations business, we want to help you to explore the outdoors, have your own adventures and create the vanlife you want. At Nomads HQ (aka our workshop in the garden) we offer a bespoke conversion service, where we work with you every step of the way to design and create your ultimate adventure vehicle. We also offer a selection of pre-built, ready-to-drive campervans; planned, designed and hand-built by us – sign up to our mailing list to hear about the latest Nomads Campervan Creation when it's up for sale.
Why us?
At Nomads, our goal is to provide you with the perfect converted van, to give you the freedom to explore the UK and the rest of the world in the comfort of your own home-from-home on  wheels. We are completely customer focused and pride ourselves on our attention-to-detail and high quality products. We make sure your campervan creation is everything you want it to be through our thorough consultation, design and build process. We listen to you every step of the way and ensure we keep you posted on the build progress throughout, with regular updates and photos. We only use appliances and materials that we believe are the best in the business, to give you peace-of-mind on the road and a campervan that is built to last.
Our previous conversions
Take a look at some of our previous conversions below to get a feel for what we do or check out our website to see more of our previous conversions.
Bolt – LWB Sprinter
Goldie – LWB T5
What our customers have said
"Cannot describe how beautiful our bespoke LWB Sprinter 'Bolt' Chris and Holly created is. They have thought about every detail and the finish is stunning. There isn't one area on the van that hasn't been thought out. The process has been extremely smooth from the offset with Holly and Chris always answering any questions we had. The time taken to understand what our adventures would involve and what equipment/systems would best suit our needs, from solar panels to the toilet and shower, it was always made so easy by you both. It certainly has the WOW factor, and have been asked non-stop to see the van from people since we've had him. Thank you both so much, you exceeded expectations. I cannot wait to see your future vans. Your care and attention to detail is second to none. You guys are amazing at what you do, don't stop!"
"Wish we could give 6 stars! The van is so beautiful and unbelievably functional. The attention to detail in the finish is excellent as well!
If you're looking for a camper or a conversion, cant go wrong. Buying one of their creations is the best decision we ever made…life changing."
Landlords Gas Safe Certificate
Landlords Gas Safe Certificate
Guaranteed Appropriate Payload
DVLA Motor Caravan Registration
Electric Conversion Experience
Has experience with converting new electric vehicles.
Has experience with retrofitting classic vehicles.
No experience, but happy to take on an electric conversion.