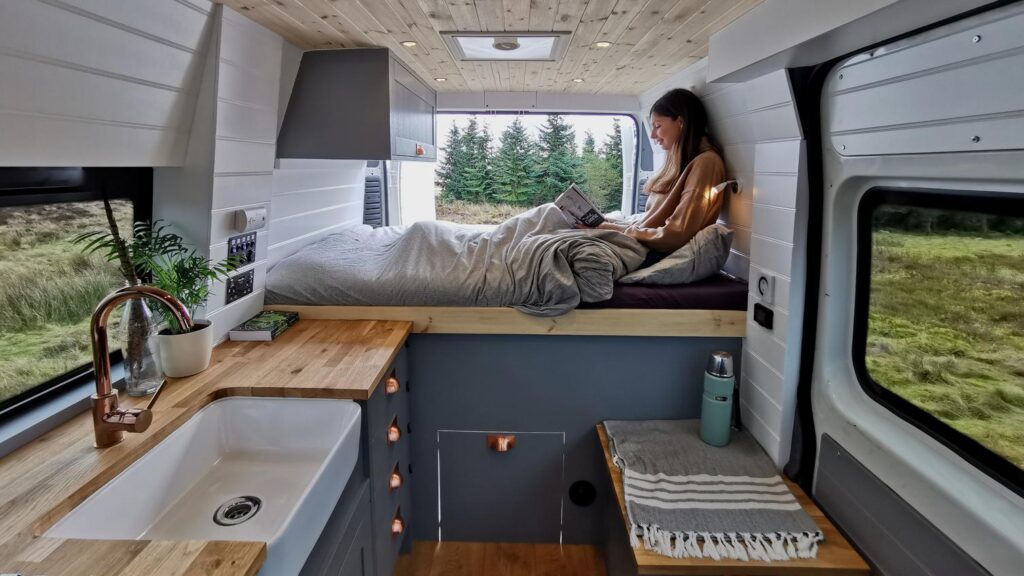 We've spent 5 years refining, testing and developing our most practical and attractive layout and design. Our aim was to create a campervan that was highly functional, with lots of useable storage that felt clean spacious and minimal on the inside.
We specialise in converting Fiat Ducato, Citron relay and Peugeot boxer but can also convert Mercedes Sprinter and VW Crafter.
The build is influenced by modern, clean and comfortable interior design, making the experience of travel and new adventures one to relish. Our aim was to create a bright and airy space that even on a dark day feels warm and homely inside.
We use high quality local and professional tradesmen and high quality products throughout the process of design, fabrication and installation. Our work is warranted and each conversion comes with a North Bound Warranty.
We can offer our classic layout with an impressive 4-6 week turnaround from delivery of base van.
North Bound Also offer a drive away price including everything you need to hit the road straight away including a mattress and even a full bottle of gas meaning there are no hidden cost's at the end of your build.
Our entry conversion starts at £19,000 plus VAT (we can also assist in the sourcing of a new or second hand base van)
Please feel free drop us an email or better give us a call to discuss your requirements and our build process.
Quirky Campers has not yet been able to verify the work of this Converter.
Landlords Gas Safe Certificate
Landlords Gas Safe Certificate
Guaranteed Appropriate Payload
DVLA Motor Caravan Registration
Electric Conversion Experience
Has experience with converting new electric vehicles.
Has experience with retrofitting classic vehicles.
No experience, but happy to take on an electric conversion.