How to Manage Gas, Electric and Water in a Campervan
by naomi fiddes-baron

If you're thinking of hiring a Quirky Camper, then we already know you're an adventurous sort of person who likes something a little bit different. We like you already! If you've never travelled in a camper van before, then we're 100% convinced you're going to love it! But we also understand that it can be a little daunting; after all, it is definitely not the same as checking into a hotel room with all the facilities you're used to. But fear not! We've put together some handy helpful information about the more practical side of hiring a campervan so you can be as prepared as possible for your quirky campervan holiday.
Campervan conversions vary from van to van. Of course, there's a standard list of things that all conversions need to have, in order for them to be reclassified as a campervan on the V5. What you will typically find is water, electric, maybe some kind of heating, and fuel (normally gas) for the cooking facilities. When you go to collect your campervan from its owner, they will give you a thorough handover and walkthrough of the different functions of the campervan.
Some of the key things to think about when it comes to the practical side of a campervan holiday will depend on where you're going, and where you intend to stay. We've broken down our advice into the most common things you'll be dealing with in your rolling home!
Water
Water facilities are split into fresh water and grey water. The fresh water is for drinking, and the grey water is what you let out of the sink (or shower) after use. Word of advice – don't drink the grey water! Not all campervans have a grey water facility, so bear this in mind when using a campsite. You could consider putting a bowl underneath the outlet to catch it and then empty it. Either way, we very much recommend using eco brands of washing up liquid or laundry detergent when on the road, so you don't risk harming the environment.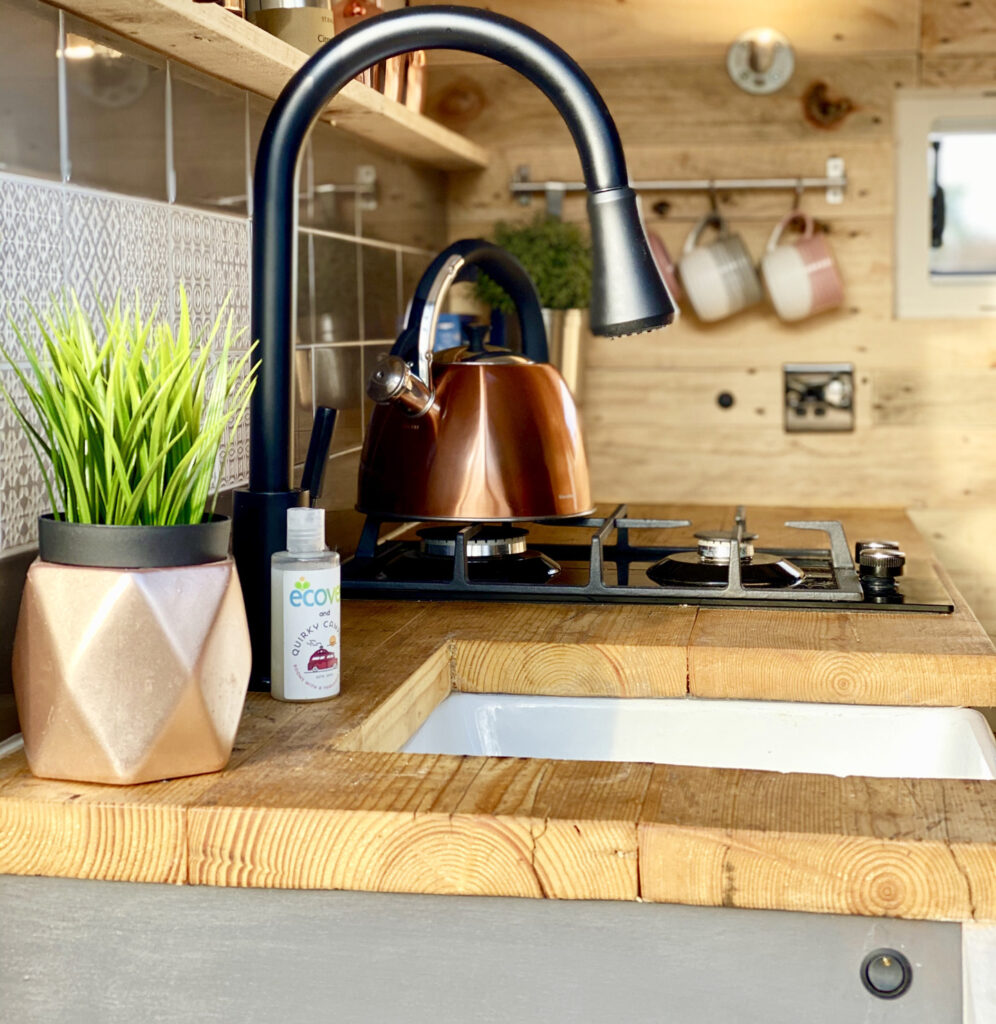 Not all onboard water can be drunk straight from the container. This will normally depend on the type of container that the water is housed in. Again, the owner will let you know if you can drink the water straight from the tap or if you will need to boil it first.
Filling up your water tank is pretty straightforward. If a campervan has an underslung tank, there will likely be a refill point on the outside of the camper that you can push a hosepipe in. If the containers are inside the camper, you might have to take them to the water point to refill them.
Where can you get water from?
If you are staying on a campsite, you will be able to refill your water supply from one of the campsites drinking water points. Sometimes, fuel stations will have a water point that you can utilise, though this is more common in Europe than it is in the UK.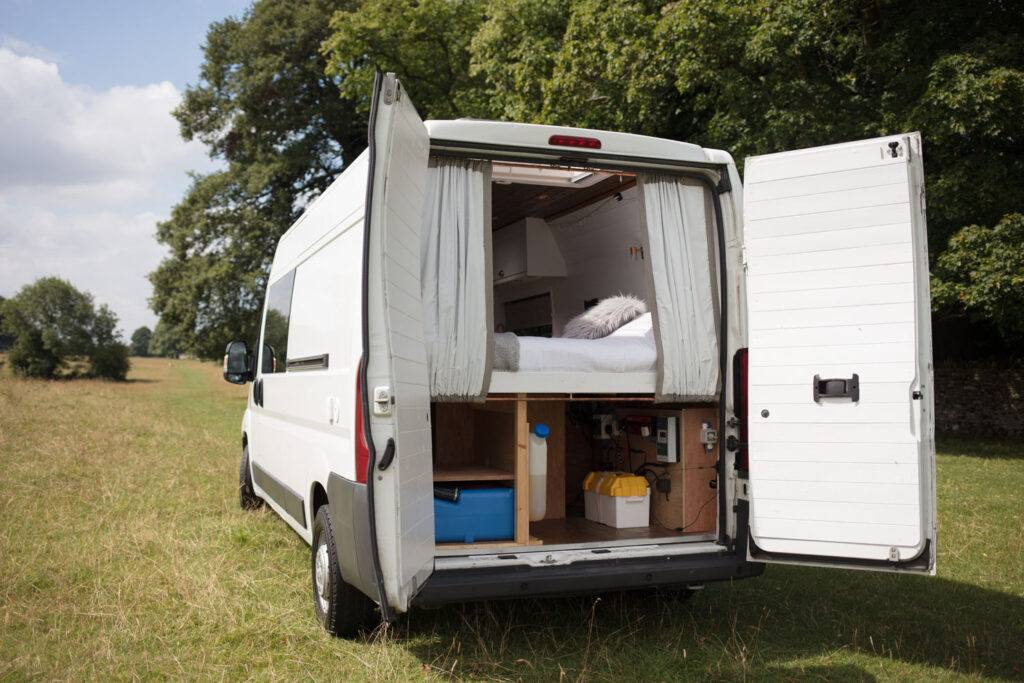 Gas
Your campervan will likely have either a portable calor gas container, or an undermounted LPG gas tank. The most common uses of gas in a campervan are for cooking or heating. It's actually really unlikely that you will need to deal with refilling either of these for the duration of your quirky camper holiday. This is because gas lasts a really long time, even in the depths of winter! Be mindful that if you are taking your campervan abroad, you might need to change the connector on the calor gas bottle.
When it comes to LPG, or Autogas, it's pretty easy to fill up. Again, because these tanks have a much larger capacity than the calor gas bottles, you probably won't need to. It is worth knowing where your nearest refill station is, though, as if you are having an off grid Scottish adventure, they are quite a few miles away from each other.
Where can you get Gas from?
Use this very helpful interactive map to pinpoint the nearest Autogas station to your location which will make planning your journey a little easier. And again, you need to be aware that different countries have different filling point types, so you will need an adaptor set if you are travelling outside of the UK.
Another useful practical side to a campervan holiday top tip for gas, is that it should really be switched off when you are travelling. And, if you are using a ferry or the Eurostar, this is absolutely critical! Make sure you know where the "off" switch is, before you head off.
Electric
A lot of campervans come with solar panels, which makes them perfect for an off grid wilderness wild camping holiday. Solar will help charge the leisure batteries in the camper. In turn, these batteries provide power for the internal electrics when the campervan is stationary. With a lot of vans the batteries are also charged up when the campervan is in motion.
Some campervans will also have a power invertor installed, which basically converts the energy produced from these batteries into a 240v capacity so you can use standard electric devices like your laptop charger or even a blender. This will inevitably consume more electricity and therefore battery power, so it's important that you keep an eye on your battery levels. In fact, as a rule of thumb, we recommend using 240v items when you're on hook up on a camp site, because you definitely don't want to run the risk of running out of juice on a wild camp park up.
Solar power does not mean you have an unlimited supply of electric. Of course, in the summer you are more likely to be able to spend more time off grid, but in the less sunny months, you might need to head to a campsite every third day or so, to avoid running the batteries down to low levels.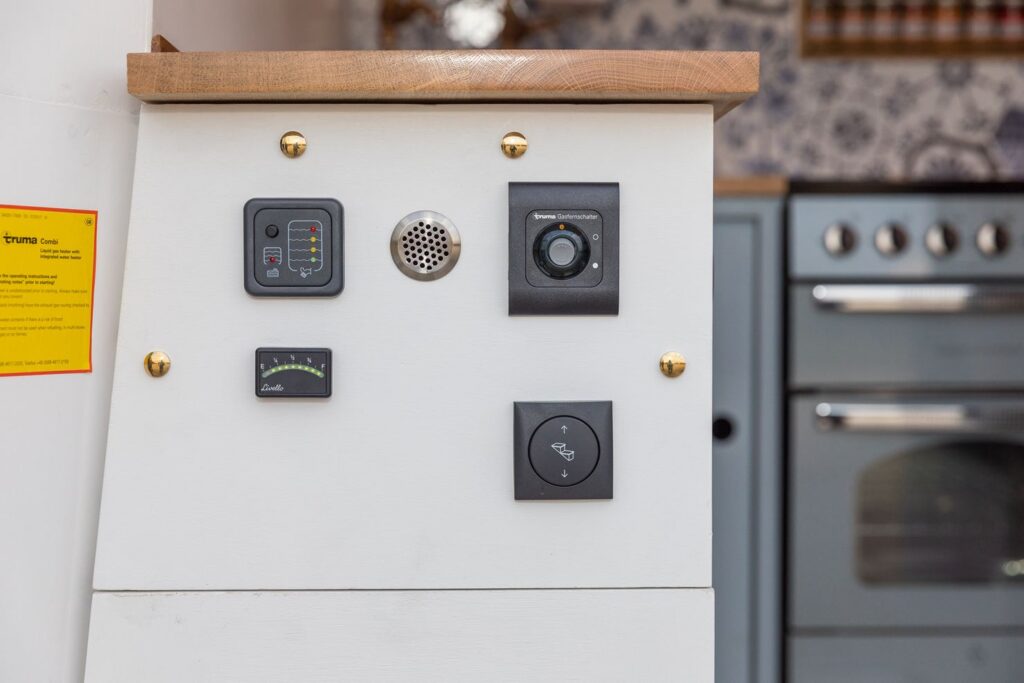 Hooking Up
If you are using a 240v electric hook up cable, then in the UK it's pretty simple to operate. You put one end of the connector on the (normally outside) connection of the campervan, the other end in the electric hook up point which will be located in your campsite pitch. Turn it on, and hey presto you have power! In Europe, you will need either a total EU cable or an adapter which will convert the UK three-point plug into a 2-point plug.
Every campervan will have a slightly different set up when it comes to type of batteries and solar capabilities. Be sure to listen to the owner's advice on maintaining and topping up battery levels, so you have a power-filled camper van holiday!
When you're looking for a campervan from our collection, you'll find details about each van's water, gas and electric under 'Essential Information' on the van's page.