Vallery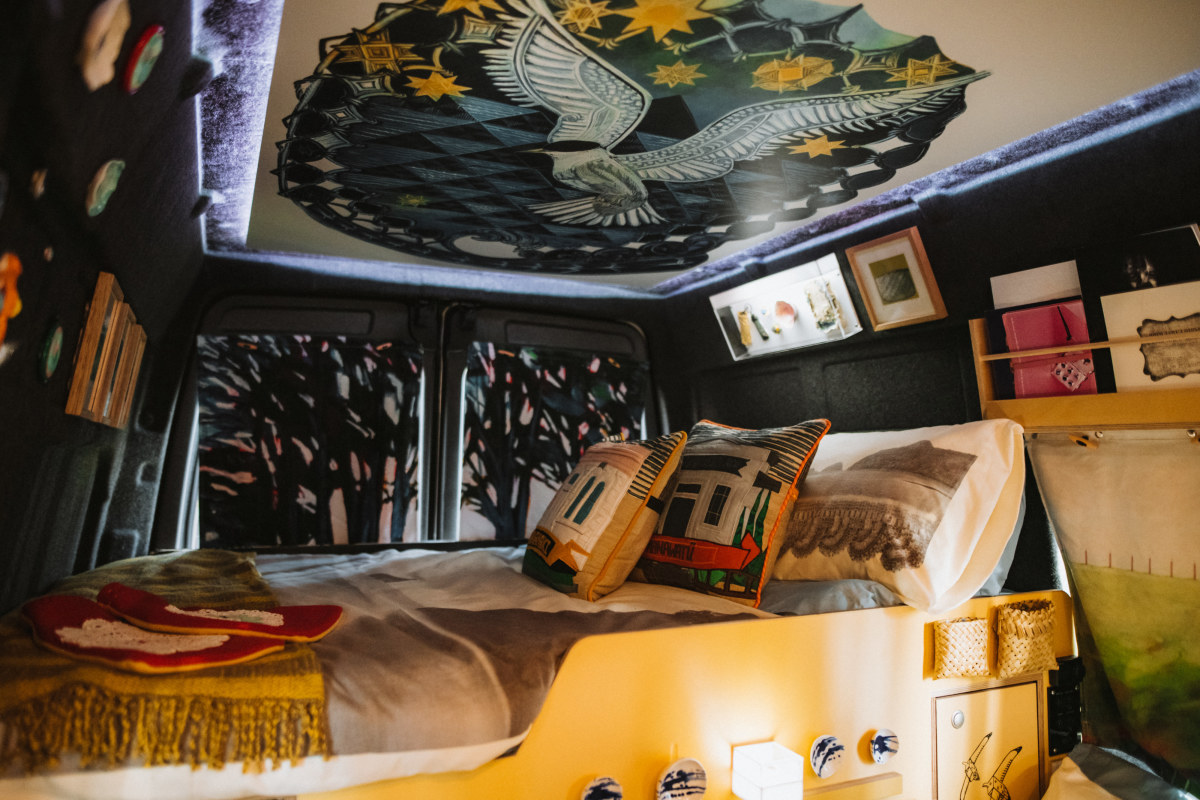 Auckland
3 Belted seats 3 Adult berths
Quirky Campers NZ has partnered with the brand new Coastal Arts Trail, to create the worlds first gallery camper! Check out the Trail at https://coastalartstrail.nz/

Vallery has been designed for the ultimate experience of the Trail, which is an easy, self-driving, art-lovers' tour across the lower West Coast of the North Island. The country's newest, and largest regional arts tourism experience features over 50 stops, thanks to a unique collaboration between the Manawatū, Whanganui, and Taranaki regions.

The Trail takes visitors through an eclectic mix of public art, street art, galleries and museums, as well as off-the-beaten-track studios and creative rural communities. This new art explorer road trip showcases the incredible variety of creativity on offer, redefining what it means to take the scenic route! So, to get you inspired, Vallery contains an eclectic mix of Kiwi art from artists and galleries on the Coastal Arts Trail picked out by Aimée Ralfini of @artache_nz.

Aside from the gorgeous artworks, Vallery is great for those that want to take it easy with minimal fuss! If you don't like the faff of making up a bed each night, then Vallery will be perfect. Even making up the third bed is a super quick job. With plenty of room inside you don't need to worry about bad weather… you can stand, cook, dine and play with ease. And if the weather's great pull out the awning, camping chairs and table and enjoy the complimentary bottle of wine! Rain or shine, summer or winter, this epic and totally unique van will nail both form and function. Especially if you like the outdoors and need space for equipment (or you can't bear to travel light!)… as Vallery has a big garage.

Note: Vallery has a minimum 4 day hire for most of the year and 7 days during the summer.
Essential Information
Hob
Heater
Dining Table
Refrigerator
Kitchen Sink
Toilet
Ceiling Fan
Awning
Solar
Reversing Camera
Extra Storage
Radio
Inverter
Pet Friendly
Waste Tank Capacity: &nbsp55 litres
Water Tank Capacity: &nbsp55 litres
About the Campervan
Location: Vallery lives in Titirangi approx. 20km from Auckland airport and Auckland CBD. If you're driving your own car, it can be safely parked at the property (off-road) while you're away.
In The Cab: 3 seats in the cab up front (all with 3-point seat belts); reversing camera and USB ports for charging phones. You can also pair you phone to the stereo.
Kitchen Area: The interior height is 1.96m so virtually everyone can stand up comfortably. Vallery has a two-burner gas stove,sink and generous sized fridge. Handcrafted plates, bowls and mugs plus glasses, cutlery, knife set (sharp!), wide range of utensils, 3 pans and a fry pan all with lids, mixing/serving bowls, stovetop kettle and coffee pot; salt and pepper. It also comes with placements, tea towels and other accessories.
Dining/Living/Sleeping Area: Vallery has comfy bench seats facing each other with a good-sized table for working or dining. She has a fixed double bed (135cm x 180cm) across the back of the van and a third convertible single bed (85cm x 180cm). Note: we list bedding and towels as Extras at the booking stage in case guests prefer to bring their own. There are black-out blinds for privacy. There are storage areas under the dining seats.
Water Facilities: Like all Quirky Campers in NZ, Vallery is certified self-contained. There is a 55 litre fresh water tank and 55 litre grey water tank (with tank level gauge) and electric pump tap and sink in the kitchen area. The portable toilet is stored in the garage and can be used in the living area when needed.
Electrical/Lighting and Audio Equipment: Vallery has a solar panel on its roof which feeds the leisure battery inside to power the lights, fridge, diesel heater, water pump and USB sockets so you can be entirely self-sufficient. Or, if you want to pitch up on a camp site, it has electric hook-up so you can use the 240v sockets.
Type of Heating: Diesel heater
Outside: It has a 2.5m x 2.2m awning and comes with a low picnic table and specially created deck chairs
Conversion Story:
From Aimee Ralfini, curator of Vallery...
When I was first approached about The Coastal Arts Trail slash Glampervan project I was hesitant, the core concept seemed complex to me – fine art meets road-trip, can those two worlds actually co-exist? In the end my curiosity got the better of me, and I absolutely love a challenge, so I couldn't resist the opportunity to make it work.
'The journey' is an intrinsic part of regionalism in Aoteaora's art history, and the landscape plays a huge part in that (as do the stars and the sea). So the opportunity to create a completely immersive space which had the potential to change how people perceived their environment as well as educate them, and leave a truly lasting impression was irresistible to me.
Before I took a journey along the Coastal Arts Trail for the first time I was careful not to go too far down any particular path design wise. I wanted to be really open to what was experienced in real time. I had this idea in my mind of framing the landscape from within the van, so that when you're on the Trail the landscape becomes the ever-changing artwork. I thought of the van as potentially being the inside of an artists' eye. I wasn't wanting to create a traditional gallery space, I see the artworks inside as memoirs of the journey, that are substantiated by the environment they were created in – not the other way around. I wanted to leave plenty of space for people to weave their own story, In that regard I see the artworks inside as cues to prompt further exploration.
Another important element that I focused on throughout the trip was the colour palette, and how that changed depending on the region, I wanted to make sure that the colours inside reflected the outside throughout the seasons, so we have rust orange from the wildflowers, sheds and farming equipment in the fields; road marking yellow and asphalt grey, salted stone, greens and plasticine blues from the coast, and rich greens and navy from further inland. I am super pleased with how the colour palette has worked out, and how it plays with the landscape as you travel through it in Vallery – it's exactly what I was hoping for.
Pick up / Drop off Times
| - | Pick up | Drop off |
| --- | --- | --- |
| Sunday | By arrangement | By arrangement |
| Monday | By arrangement | By arrangement |
| Tuesday | By arrangement | By arrangement |
| Wednesday | By arrangement | By arrangement |
| Thursday | By arrangement | By arrangement |
| Friday | By arrangement | By arrangement |
| Saturday | By arrangement | By arrangement |
When would you like to go?
Sorry, there was a problem...
Vehicle Spec
Vehicle Type: Converted Van
Make: LDV
Model: V80 Biggest
Year: 2021
Vehicle Length: 5.8 metres
Vehicle Height: 2.7 metres
Transmission: automatic
Fuel Type: diesel
Registration: emailed when you book
Note: The hire of this vehicle is arranged by Quirky Campers ltd acting as the agent on behalf of Vallery's owners. We make every effort to ensure that all the vehicles listed with us are of a high standard but cannot guarantee the condition of the vehicle. If you experience any problems please notify us as soon as possible.