It's estimated that one in three New Zealand households now own dog – a dramatic rise over recent years. With all that has happened with COVID-19, planning a local trip away is an exciting prospect… until it comes to sorting out who will look after your beloved furry friend(s). Wouldn't it just be so much more fun, easier, and cheaper (who wants to pay a small fortune for a dog hotel?) if you could take your dog on holiday with you? After all, they are one of the family.
Nearly all Quirky Campers in NZ are pet-friendly – with no extra charge for the privilege?!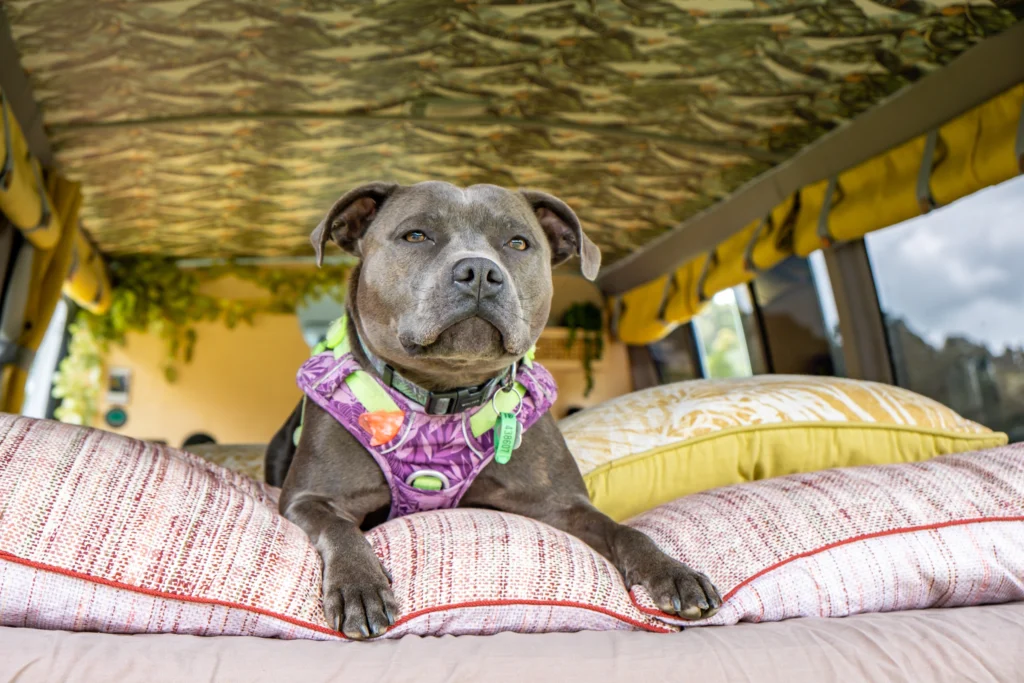 There's nothing quite like holidaying with your dog in a campervan
Pulling up on a secluded beach or a quiet piece of a woodland. Opening up the doors and letting them jump out. Watching them discover all those new smells and run around to their heart's content in new places every day. It's all so exciting for them, and for you too watching them!
Let's face it, dogs are happy when they're outside, playing, eating or snuggled up with their paw-rents. So, it seems like campervanning is the perfect kind of holiday! If you need some tips on holidaying with your dog in a campervan, here are some ideas…
Dog-friendly features for your campervan
If, like us, you knew you wanted to take your dog with you before you built or bought your van, then you may have already planned in a dog-sized space for your pooch to grab some zzzzz's! Under a fixed bed is common – potentially accessible from both inside and out. Take Barbara's cute dog cubby for example!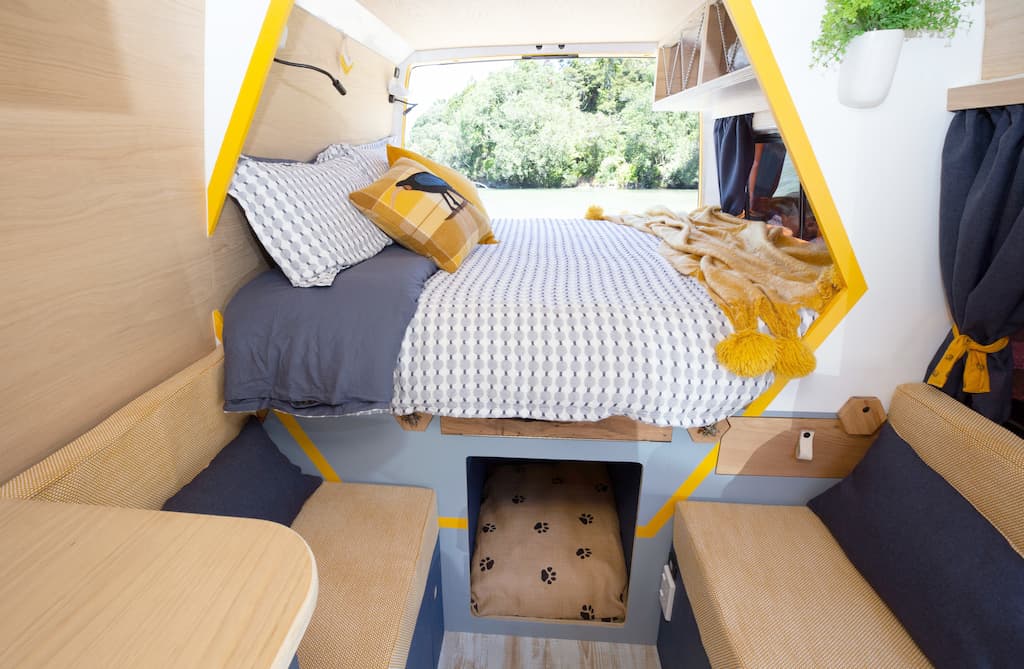 You might even go the whole hog (dog?) and add an outdoor shower just so you can hose off muddy paws after a good walk!
If your dog is on the larger side, do be realistic about the space they'll need to stay comfy! Big dogs will probably have a much better trip (especially one that's long), in a more spacious camper.
Finding places to stay when holidaying with your dog onboard
The question of "where are the best dog-friendly places to camp in [NZ region]?" comes up a lot, on many different pages, groups and forums. And it's fair to say that the answers change over time, for many reasons… local bylaw changes, restrictions at different times of the year and general opinion!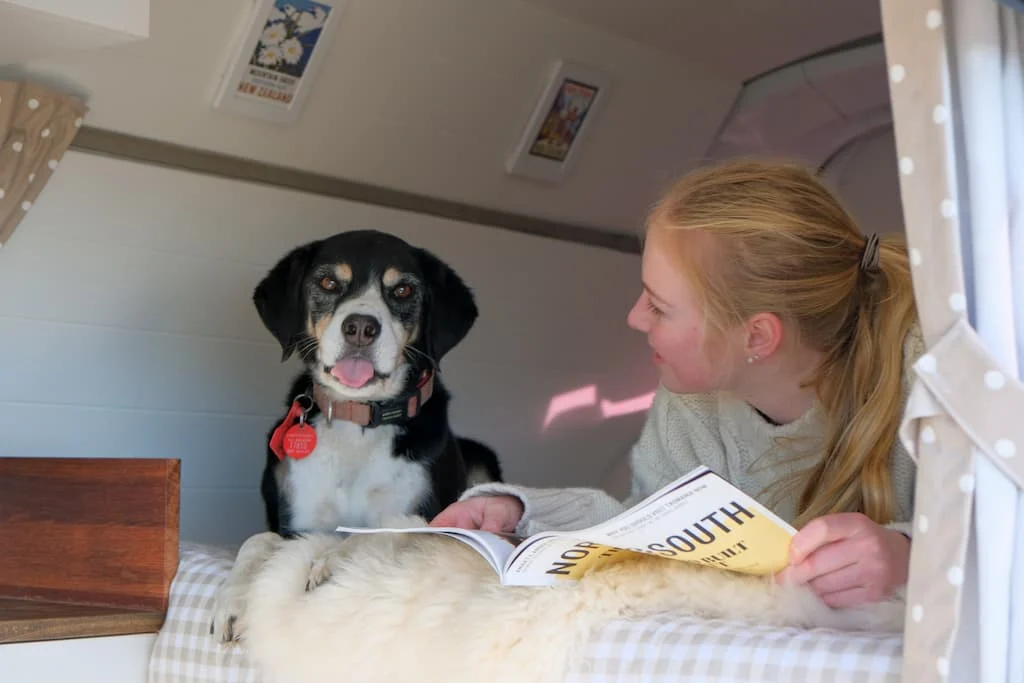 The safest bet is probably to use an app like Campermate, where you can apply a filter to find dog-friendly campsites across NZ. You may also find more general places to go (for walks or cafes) on an app like Dog Friendly New Zealand and Paw Planet NZ (which both have Facebook pages too). If you're not already a member, there's also the NZMCA. Virtually all the places that members can stay are dog-friendly, which is pretty cool! Planning on a North Island roadie? Here's some itinerary inspiration from guest blogger Laura's trip with gorgeous pup, Bean!
If in doubt, ring ahead to confirm what – if any – restrictions are in place for dogs. Most places welcome well-behaved dogs on a leash. 🙂
Sticking to routine
The host of new sights, sounds and smells each destination brings can be quite overwhelming for any pup! That's why it's important to maintain aspects of their home routine like eating, sleeping and walking times. Where possible, comforts from home, like home bedding, toys, and food bowls, should also travel with you to help keep them calm.
Make sure you pack enough dog food, as it can be tricky to find the same stuff en route and nobody wants to deal with upset tummies from new food!
Setting up camp with your pooch
When it comes to caring for your dog outside – keeping them close or enclosed – there are a couple of popular options. Many people use a fixed tether/tie-out that can simply be "corkscrewed" in to the ground, providing the dog with a few metres of space to wander about in. But these can end up getting tangled around chairs and tables! The other common option is a playpen set-up using portable fencing – though this is really only suitable for small dogs and puppies. With either, do make sure your dog(s) have plenty of water and a shady space to hang out – perhaps adding a collapsible crate with cover and/or a raised bed to allow airflow underneath.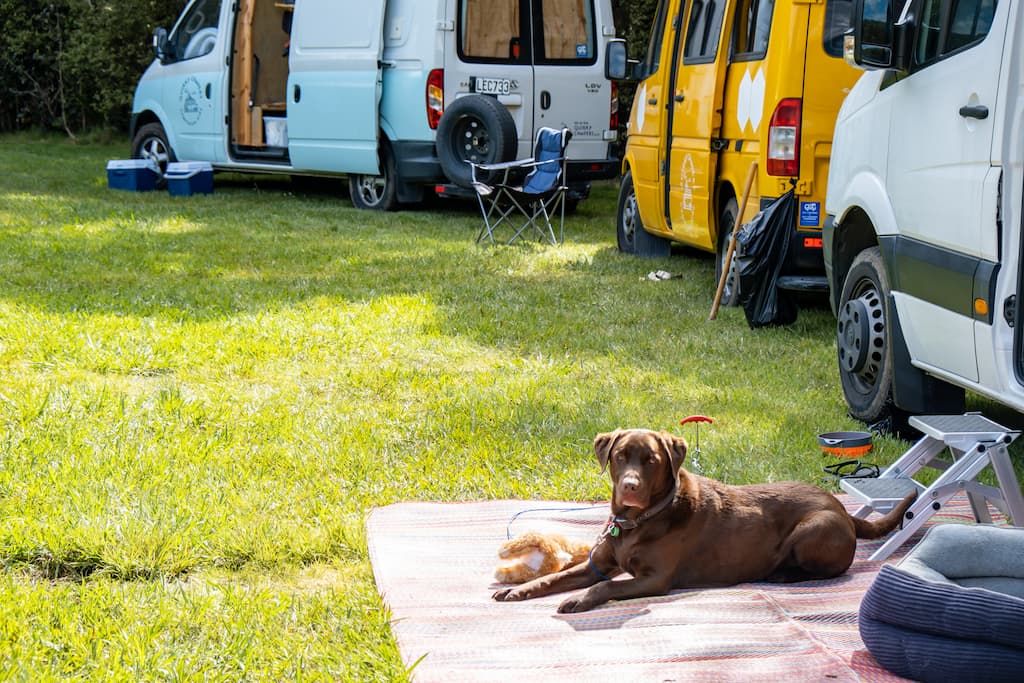 Keeping your dog entertained
Take a stroll. A scenic walk in a new location is a sure-fire way to please your pooch. With its dog-friendly filter, AllTrails helps you find thousands of suitable trails fast. Alternatively, check out the aforementioned websites – Dog Friendly New Zealand and Paw Planet NZ!
Make a splash. Aotearoa has a wealth of dog-friendly rivers, beaches and lakes, so you'll never be far from a place to take a dip. Some regional councils have created maps and searches for dog-friendly beaches (and parks) on their websites, like Auckland and Wellington. While some beaches allow dogs to be off-leash, always have one with you just in case.
Mix and mingle. What better way to meet new peeps than through your dogs?! Whether you're at a campsite, beach or local hangout spot, let your dogs socialize while you hang out with their owners.
Try something new: Chill with your furry friend in a hammock, have a pooch picnic, go canine canoeing! Need some more inspo? Start with these 10 awesome ideas from Dog Friendly NZ!
Leaving your dog alone in a campervan
This should really be avoided, especially in summer when vans can quickly reach scorching temperatures. If you're out of options, be sure to:
make sure there is plenty of ventilation by opening roof vents and windows (without creating an escape risk!)
lock the doors and close any blinds or curtains to keep the space cooler and block any outside distractions
leave a radio on to create some white noise and keep your dog calm
ensure they have adequate water
keep your time away to an absolute minimum. During the warmer months, even two hours locked in a van could prove fatal.
beforehand, pop a cooling mat on the floor, or take them for a swim to help them keep cool while you're away.
check on them regularly if you need to be out of the van for more than a short supermarket trip
For longer spells you could consider NZ Pet Sitters On The Road – to make contact with others who offer or receive pet sitting! Lovely idea.
Check out our pet-friendly campervans for hire and happy travels with your dog(s)!