We invited guest blogger Laura to share the itinerary and top tips from her autumn campervan trip around the North Island with hubby, Lloyd, and their gorgeous pup, Bean!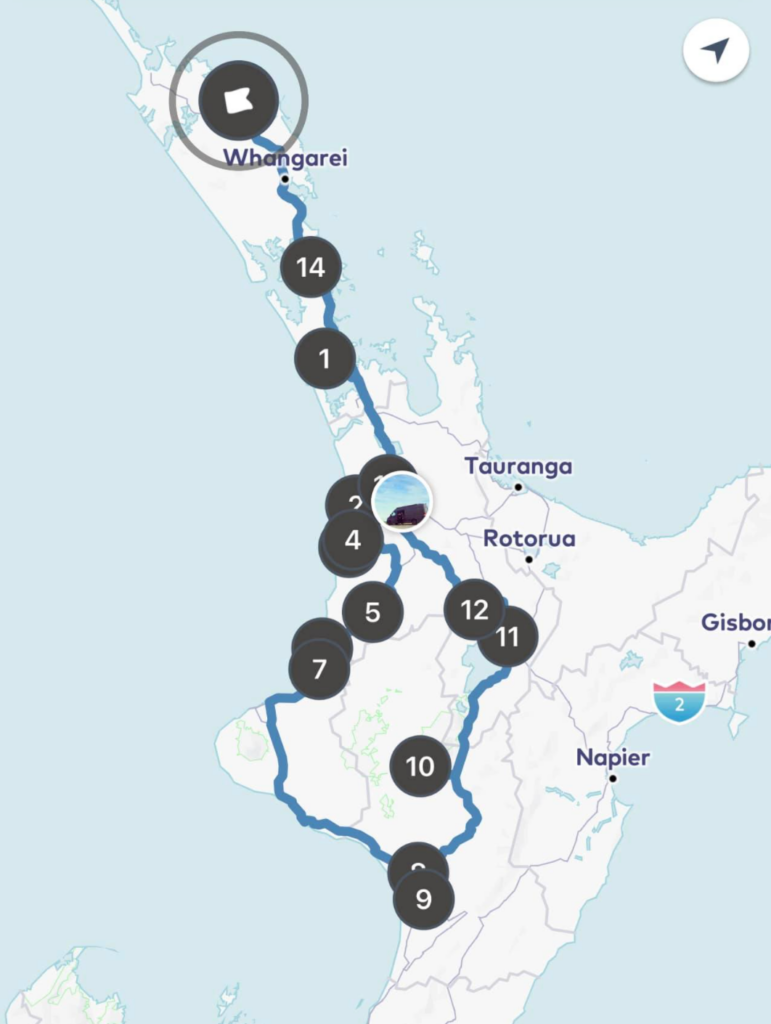 We live up in the Bay of Islands and while Bean is only 18 months old, he has been coming on weekend van trips since he was just weeks old. This time, though, it was for almost a month. How would we all cope?
Our final route:
We are super flexible, and like to follow the weather, so this is quite different from our original plan, which
included the East coast and no 'up through the' middle. We also don't specifically plan for travelling with a dog, we just go with the flow and hope for the best.
First stop… Raglan!
Our first proper stop of the trip was in Raglan. Somewhere we'd never been before, so had no idea how friendly it would be for dogs. Turns out it is incredibly friendly. Dogs are allowed pretty much everywhere, except, sadly, all the nearest campsites (that we could find). We are NZMCA members, which meant we could park up at the Raglan Club, right in the centre of town. Perfect. But if we hadn't been able to do this we were struggling to find somewhere in Raglan itself to stay, in a van, with a dog.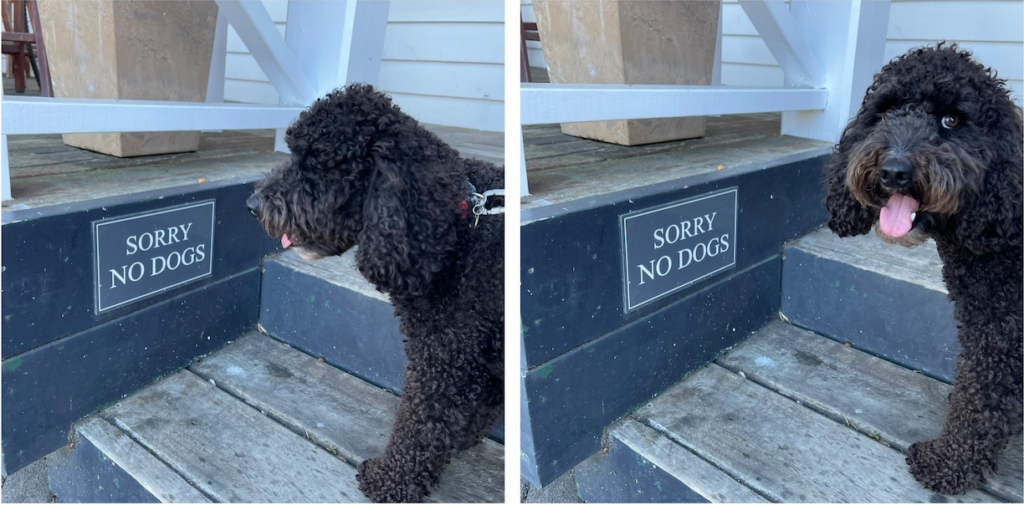 Dogs are allowed in the town centre and most of the cafes (outside), and there were lots of dogs around. It was lovely. Bean had treats at La La Land and The Shack. Well, he actually slept on the cushions at La La Land, and had a lot to drink at The Shack with his friend Arthur.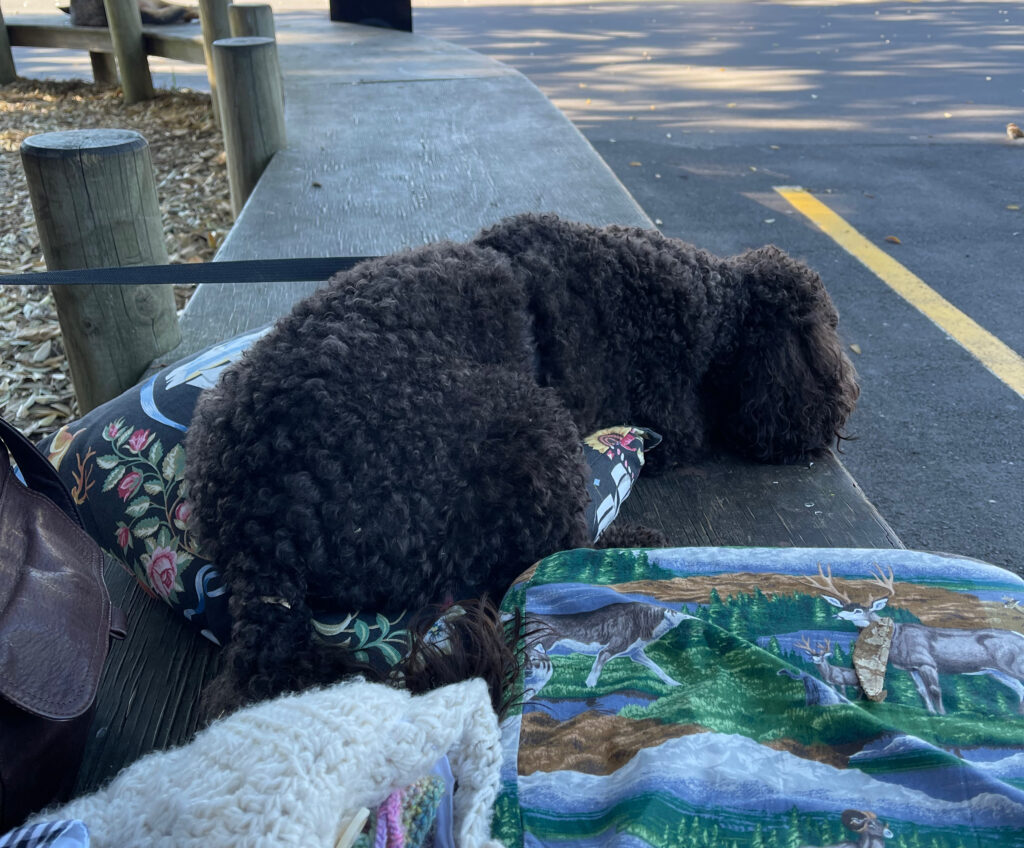 Raglan also has the most amazing beaches. We spent a lot of time at Ngarunui Beach, a stunning black sand beach that was almost deserted through the week and a busy doggy paradise at the weekend. The sand is black and stunning, but can get terribly hot so be aware of this for your dog's feet.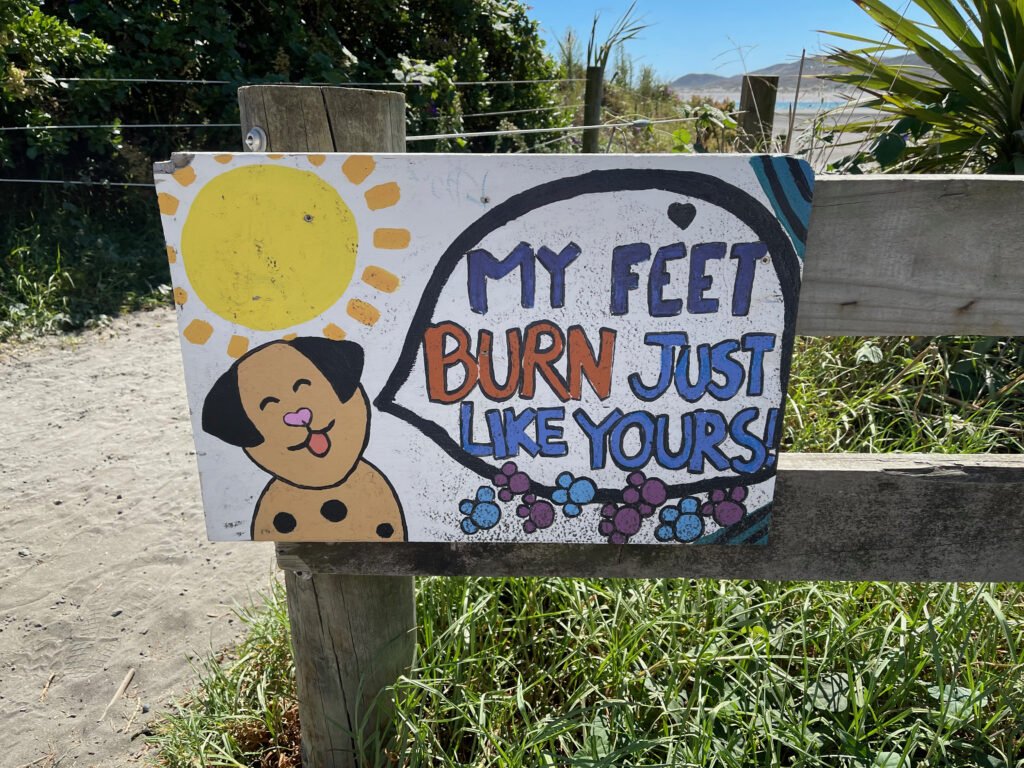 New Plymouth next!
It has some good dog walking areas. We discovered Hautoki Domain. It's a huge wooded area where dogs are allowed to walk off leash. It was a great find. We were there through the week so it was very quiet, but I feel it could be busy at the weekend. Bean adored it.
We spent a fair bit of time camping at Tainui Wetere Domain, which is a small camp near the town of Mokau, to the north of New Plymouth. The Domain allows dogs and it's right on another stunning black sand beach, on the estuary of the Mokau River, which makes it an incredibly safe beach for swimming and general dog antics.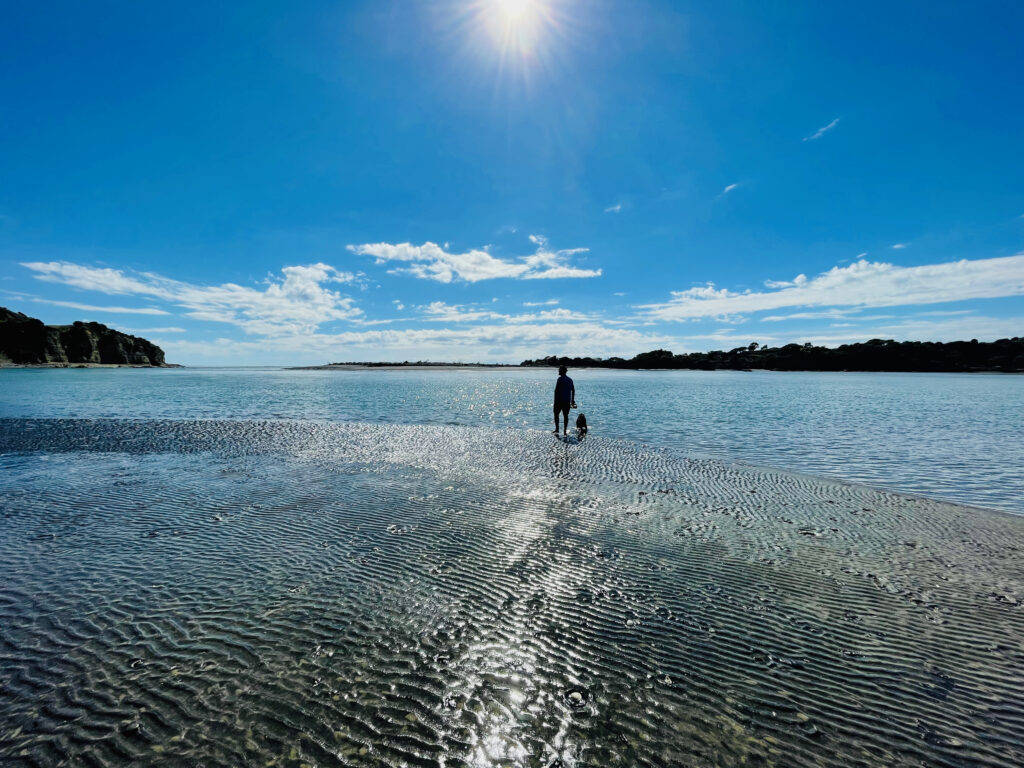 Next on the doggy tour were Bulls and Sanson
Bulls is such a dog-friendly place that they even allow dogs inside to explore amazing antique shops. Well, maybe not all antique shops, but they are allowed in French & Sons which in all honesty is a dream shop. Bean couldn't believe his luck, as the owners gave him a treat on entry! There were doggy drinking stations throughout the shop. A lovely, novel experience.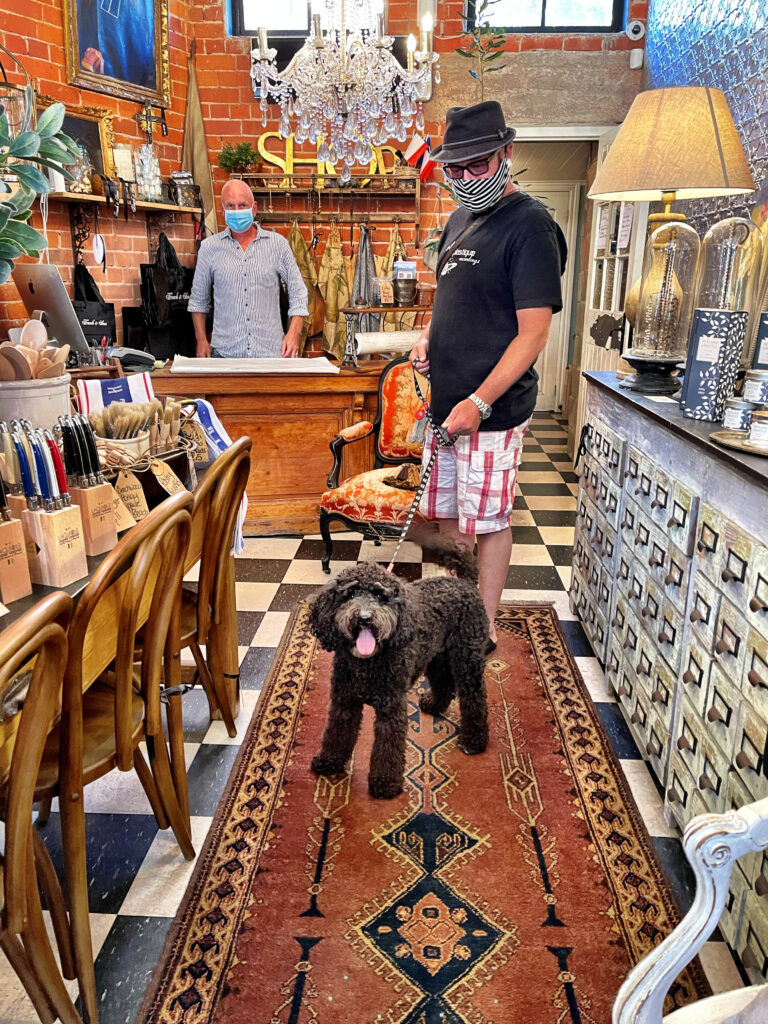 Just down from Bulls is Sanson, Sanson is famous for Viv's Kitchen and their cream horns. They are also incredibly dog friendly and have a huge garden out the back with lots of tables spaced around the place. Dogs are very welcome. Bean had scrambled eggs.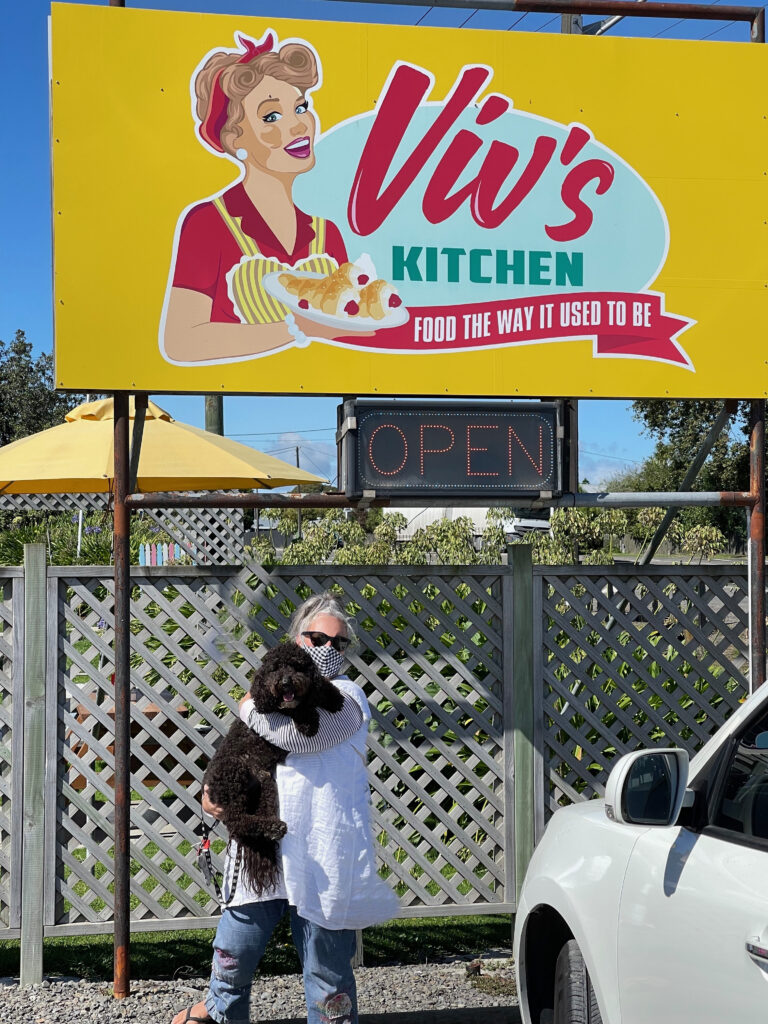 After all this excitement and food, Bean needed a walk. Half an hour away is Ashhurst Domain, it has various walks. We did a sort of farm/forest walk. It's really well signposted – some bits you need to pop your dog back on the lead if there happen to be cattle there, then let them off again on the next part. It was deserted when we were there and was an absolutely brilliant, surprising find.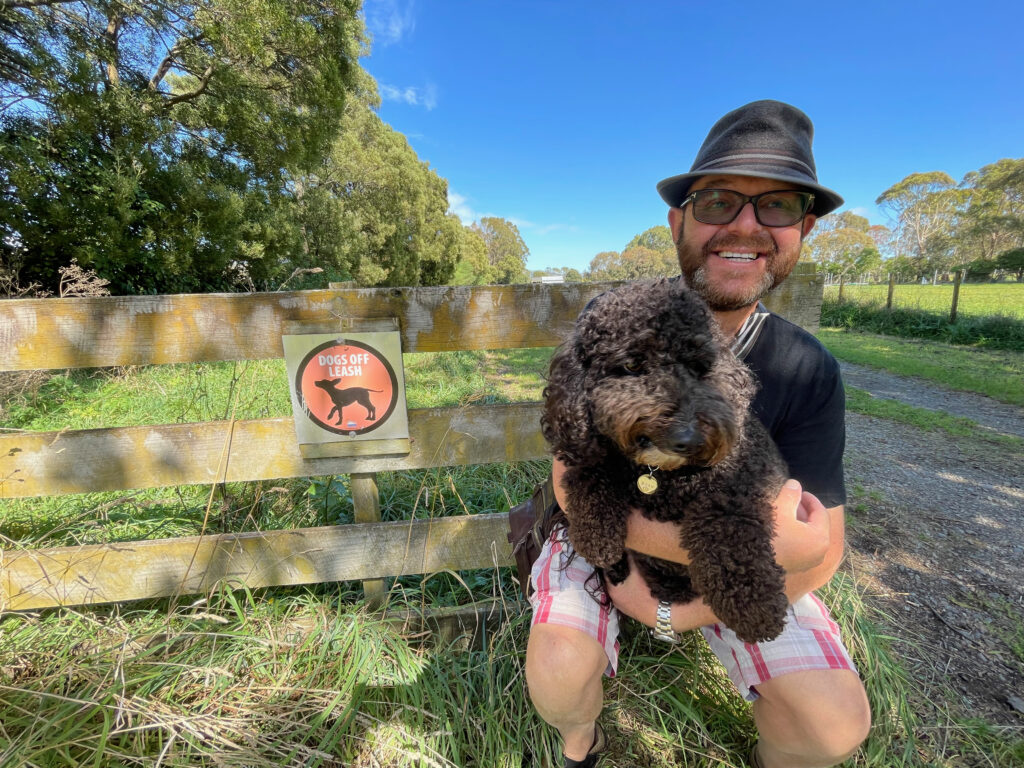 Next up, Taupo…
Our next big stop was just a few minutes north of Taupo. We were staying at Wairakei Thermal Valley Campsite, and spending time with friends for a few days. They have a lovely Labrador, Paige, who Bean loves more than anything in the world. The campsite is amazing and totally different from any campsite we've ever stayed. It's full of animals. There are chickens and baby chicks all over the place. Alpacas, goats, peacocks, pigs. For this reason dogs need to be on a lead, but that's usual for pretty much all campsites. It's very relaxed and just lovely. We were the only people there. The dogs loved it and it's a perfect base for Taupo.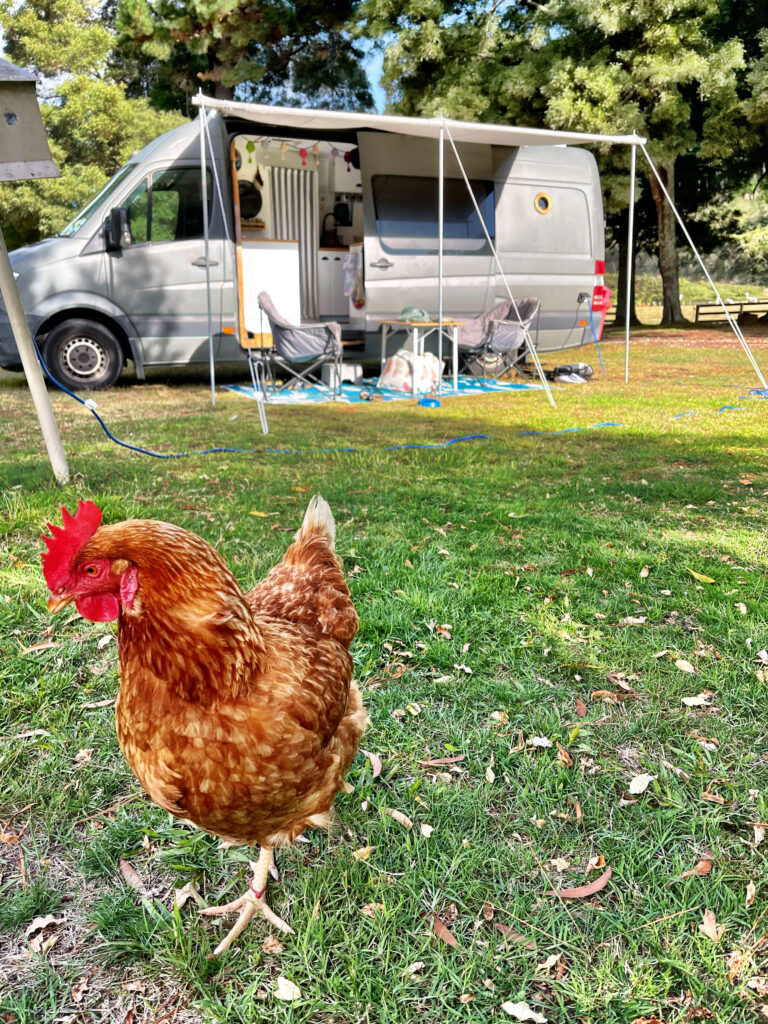 Taupo was a revelation for doggy friendliness. Dogs are allowed in the town centre, some shops and most cafes (outside). Torpedo 7 have a shop dog who was kind enough to let Bean sit on his chair. Burger Fuel provided dog bowls and both Paige and Bean enjoyed bits of burger.
The highlight in Taupo had to be the boat trip on the Ernest Kemp. It would have been brilliant even if dogs weren't allowed, but having them with us was the icing on the cake. I can't recommend this more highly. The team are unbelievably lovely to dogs (and people). They have dog treats, and dog towels for them to sit on. Staff may ask you to sit in a specific area. We were lucky enough to be sitting right at the front of the boat which was perfect. No visit to Taupo is complete without an afternoon on the lake!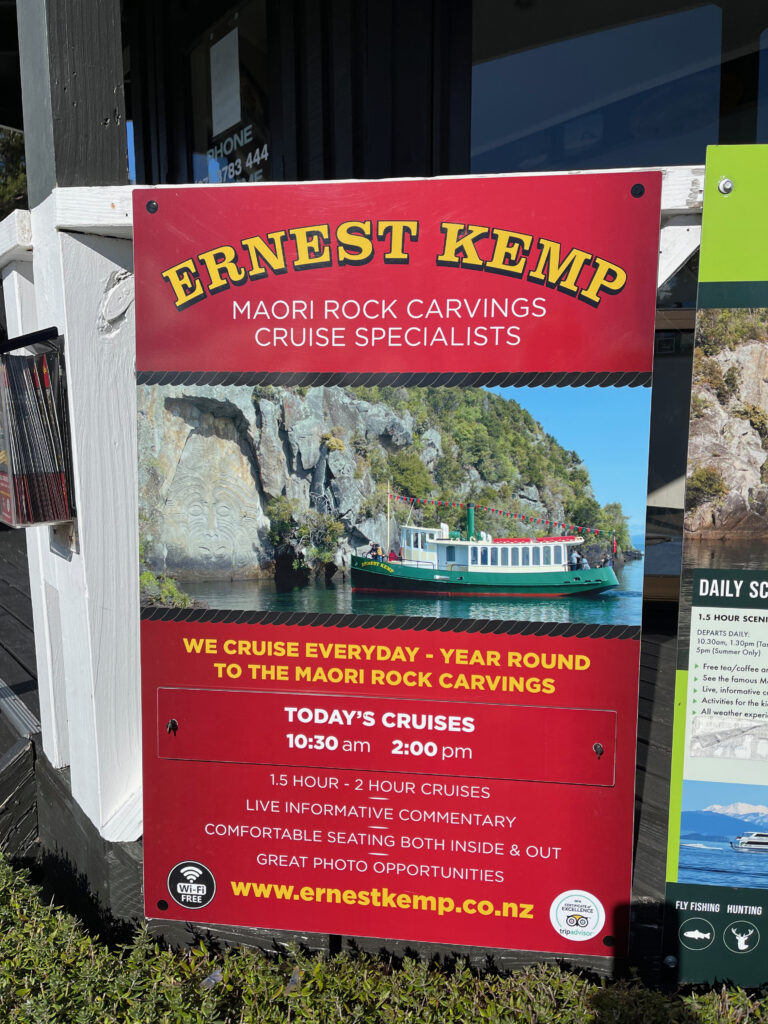 Freedom camping in the Waikato
One of our camps towards the end of our trip was Whakamaru Freedom camping situated on the edge of Lake Whakamaru in the Waikato. The Waikato is incredibly good to freedom campers with many amazing places to stay. Bean could have a paddle in the Lake then chill on his chair.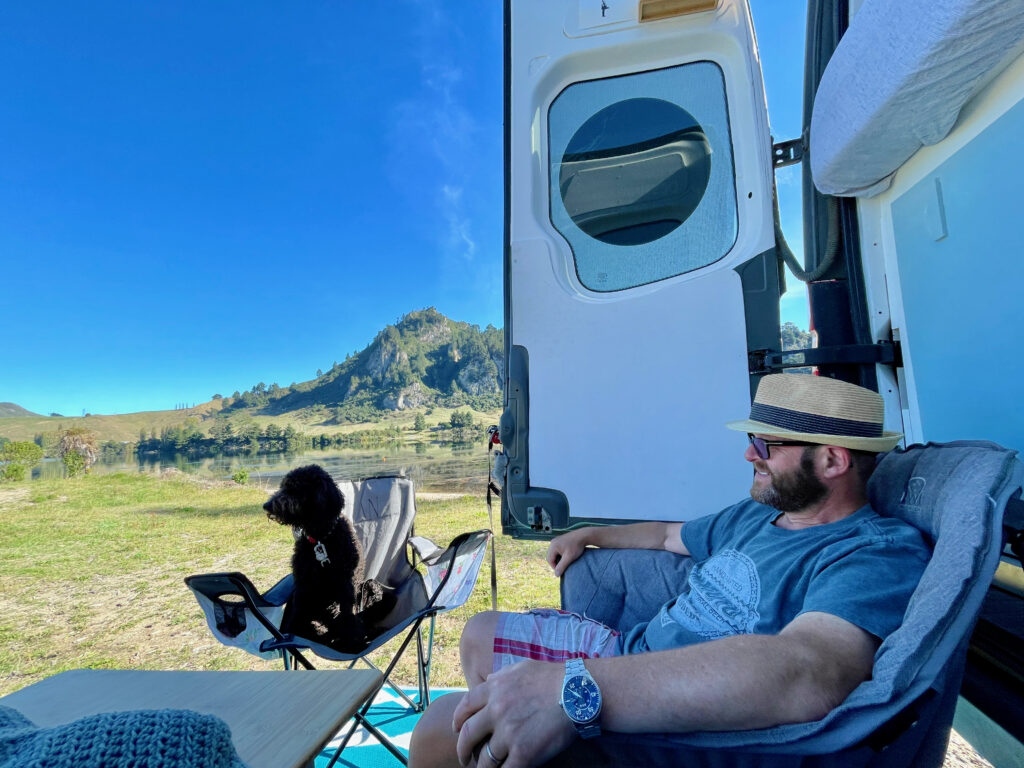 Reflections on the trip
So, how was our first big trip with Bean? A huge success. We always found a place to stay and somewhere for him to have a decent walk. We were pleasantly surprised by the number of places that were really dog-friendly, and only had positive experiences traveling with him, not one single negative. I think the important thing when traveling with a dog is not to think of the places you can't go, but marvel at the new and wonderful places you wouldn't have found if you didn't have your furry friend with you.

We found apps were our friends. Paw Planet is great, but not exhaustive. Just doing a search for dog walks on Google Maps comes up with some gems. The travel apps are good, but Rankers (which I love) stated quite a few camping places as not dog friendly, when in fact the signage said happy for dogs on leads when we actually turned up to check. We're now home and Bean has been sleeping for 18 hours. He had a brilliant time and we had the best time because we shared it with him.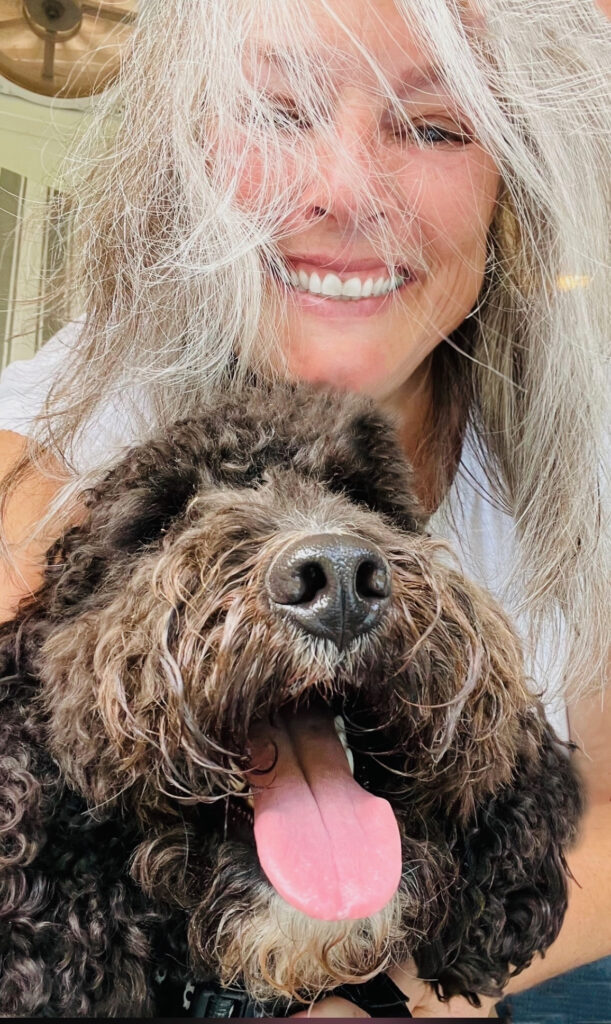 If you're keen to follow in Laura, Lloyd and Bean's footsteps and take your four-legged friend on a campervan trip, check out our pet-friendly collection for hire!
And if you want to learn more about Laura and Lloyd's beautiful self-built van – Coddiwomple – and their other adventures together do visit their own blog and Facebook page.