Caleb & Lanelle – power couple and proud owners of Christchurch-based Bertie – get real about the ups and downs of their intense 5-month conversion, and dish out their wisdom to aspiring converters!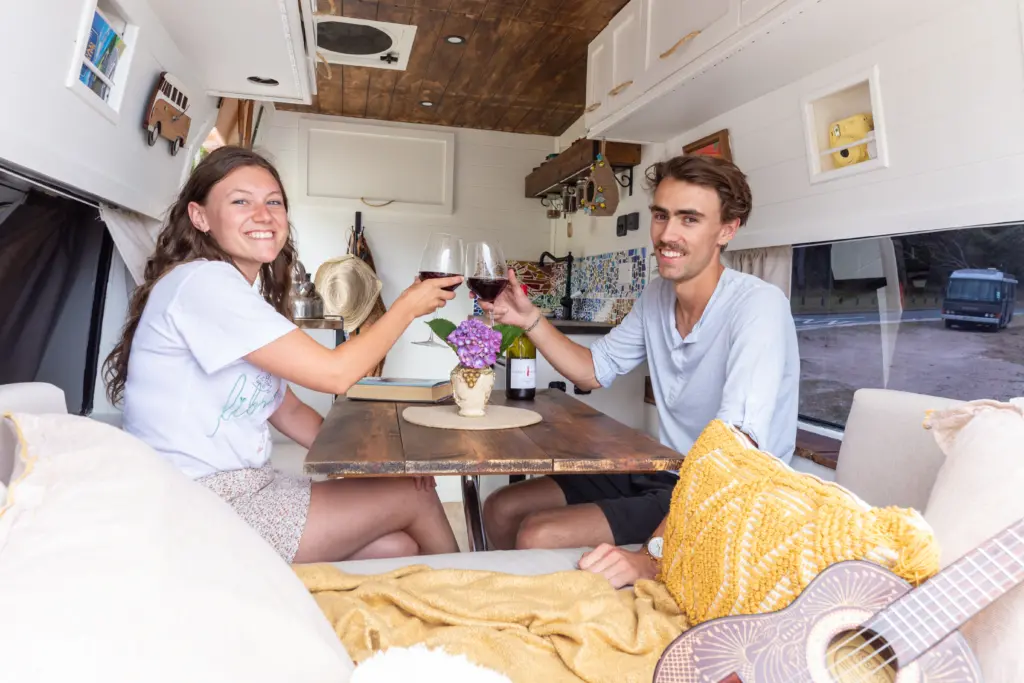 Let's start at the very beginning. Why did you decide on converting Bertie?
In 2020, we were planning to go to Europe for a gap year experience. Then along came COVID! With our flights canceled and all our savings left untouched, we decided to travel within New Zealand. And what better way to do it than in a van! We spent the lockdown period watching many hours of online tutorials about van building and drawing inspiration from several social media accounts with vans we liked. We considered converting everything from caravans to busses… and finally settled on a large van! 😃

Check out Bertie's Instagram – @berties.story!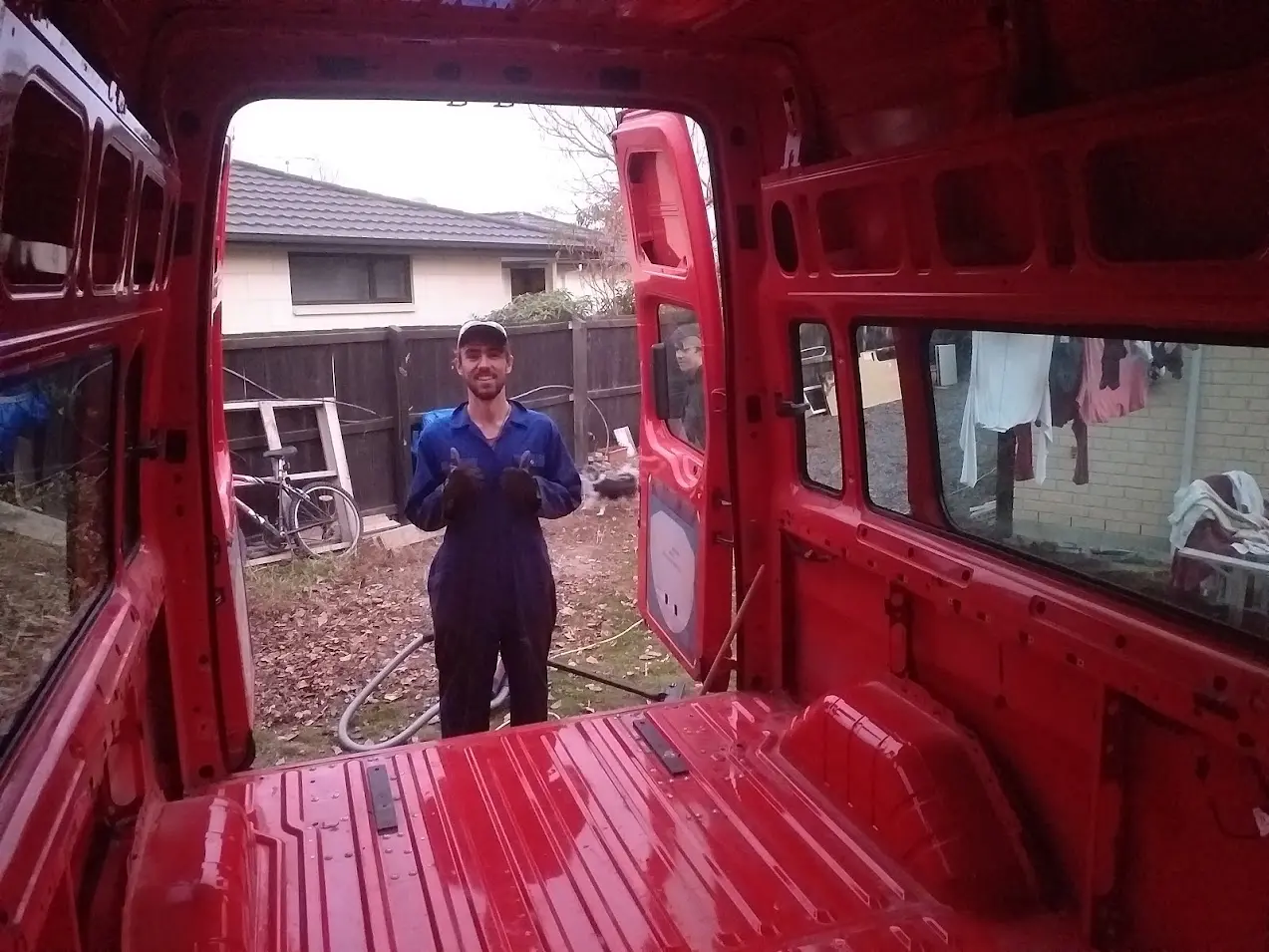 Why did you choose a Ford Transit?
At the time, we mostly chose the Ford Transit because it was available, reasonably priced, and had relatively low mileage (160,000 km). We had experience with Fords before, and we knew that getting parts and servicing was easy here in New Zealand.
Looking back, getting a Ford was a great choice. Firstly, it's been relatively reliable and super easy to service and get parts for. Often, parts can be bought cheaper from Australia or the UK, so if you don't mind waiting, you can save money there. Secondly, the 2.4L TDCI engine in our Transit is powerful! It has no problem hauling Bertie's 2.8 tonnes up hills and manages an okay 10L/100km. 💪
Finding a van that meets all your needs is a slow process, but they do come around! Just be patient and don't compromise. This is arguably the most important decision for your van build!

Need some advice and inspiration for your conversion? Check out our downloadable workshops on everything from choosing a base vehicle, layout design, electrics, plumbing to upholstery!!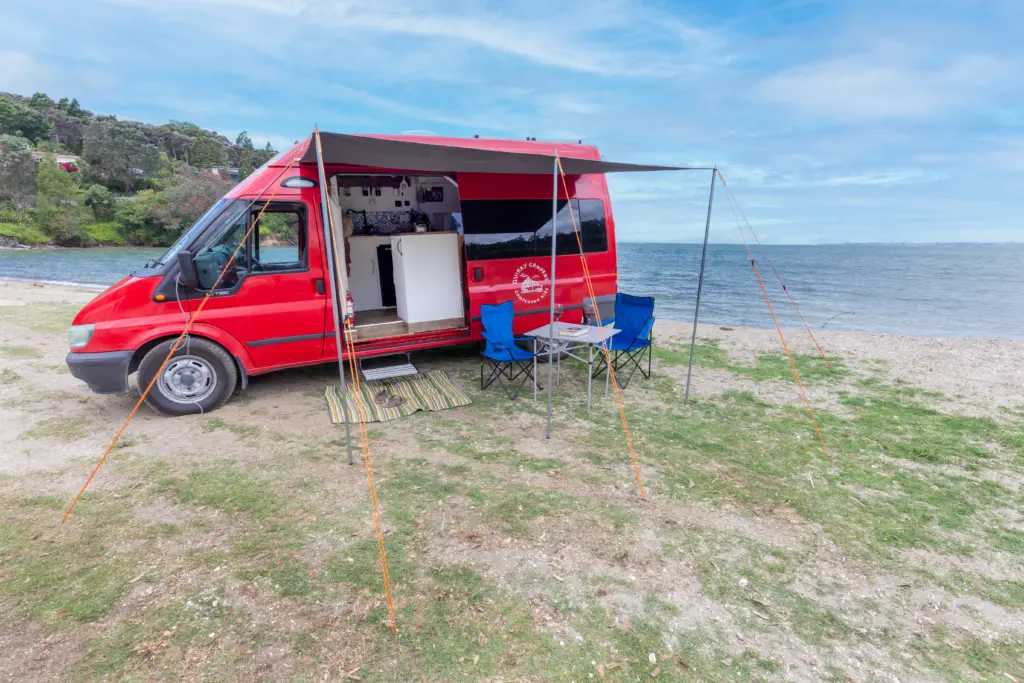 How did you find Bertie?
We found Bertie on Trade Me, where she was being sold through Turners on behalf of a private owner. Our van was actually located all the way out in Tauranga, but, being such a good deal we felt it was worth paying to transport it down to us here in Christchurch.
Planning the Build
Building a van from scratch is no small feat...
What initial concerns did you have about converting Bertie?
Our biggest initial concern was that we would make a big fundamental mistake at the start that would impact the rest of the build. So we really tried to get all the "foundations" of the build perfect so that nothing would come back to bite us. These included the framing, the flooring, and the roof vent we installed.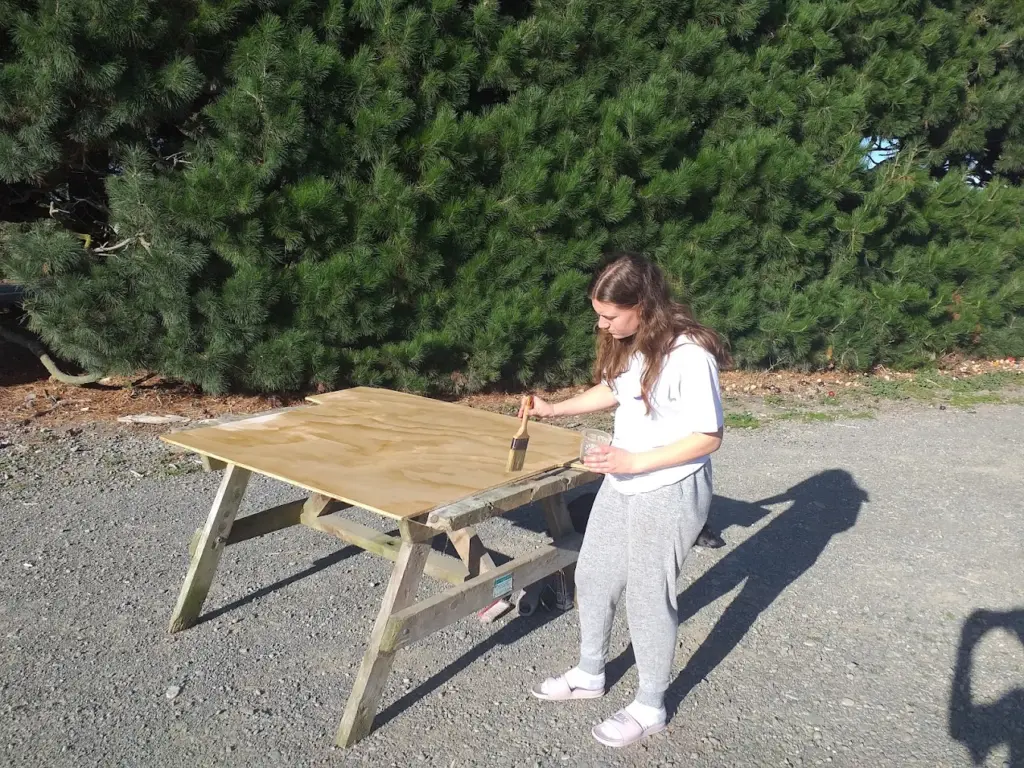 Looking back, were those concerns valid? How did you overcome them?
Yeah. It's important to get things right at the start. It's best to take your time and plan things instead of jumping in straight away. Draw things out on paper, make lists, save photos of designs you like. Doing these things will help you get things right the first time.
As first-time converters, you must've had a ton of questions along the way. What resources did you use?
The best resource for van building and van life is YouTube! We spent hours watching all sorts of videos. It's super important to watch videos on how people actually use their vans, not just how to build them, as these videos help you work out what you want in a van and what you don't want. We didn't intend for Bertie to be rented out when we built her; we were just building her for us. So we just focused on sorting out what we wanted. Now our customers get to enjoy her too. 😊
We considered different seat arrangements, a bed at the front end of the van, and even a bench that converts into a bathroom! Once you work out what you want, then you can go ahead and find videos on how to build it.
Do you have a handcrafted campervan or want to create one and are interested in having it pay for itself? Contact us!
Quick-Fire Questions
What inspired the name "Bertie?"
The name actually came from one of the characters from the Netflix show "Love". We aren't sure why we picked this, but it just seems to work!
Who did what?
Caleb did all the woodwork and the electrical work. At the time, he worked for a power company, so he had great access to a workshop and skilled electricians who he could talk to. Caleb also studies electrical engineering so he was comfortable taking care of that side of things.
Lanelle did all the painting and decorating. She picked the colour scheme, the aesthetic of the conversion, and came up with the ideas for Berties key features such as the splashback, the cubbies in the walls, the bedside storage, and the overhead cupboards.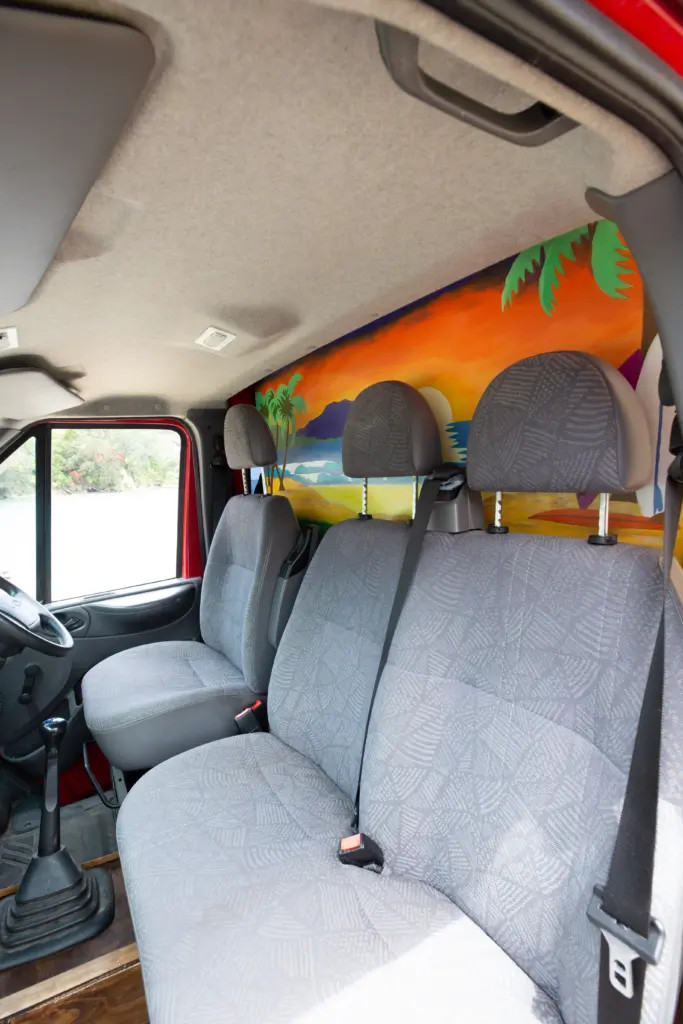 Who is responsible for Bertie's gorgeous artwork?
We are extremely lucky to have Caleb's Mum who is an artistic genius. She did the painting behind the front seats, which depicts the end goal we had in mind – to be on a beautiful beach somewhere with our van.
Lanelle and Caleb's Mum made the mosaic splashback together, which shoes another sunset beach setting. 🌞 The hanging beehive and the bee-happy painting were presents from Caleb's Mum to Lanelle, as bees are one of Lanelles' favourite creatures.
How long did converting Bertie take?
About 5 months. This was while we were both working full time. It was extremely intense, and we were working on Bertie every weekend and most nights after work. We actually had a completion date in mind, as Lanelle's cousin was getting married in the North Island, and we intended to drive Bertie up to the wedding.
Looking back, it might have been nice to take a bit longer and be a bit less stressed, but sometimes diamonds are made under pressure!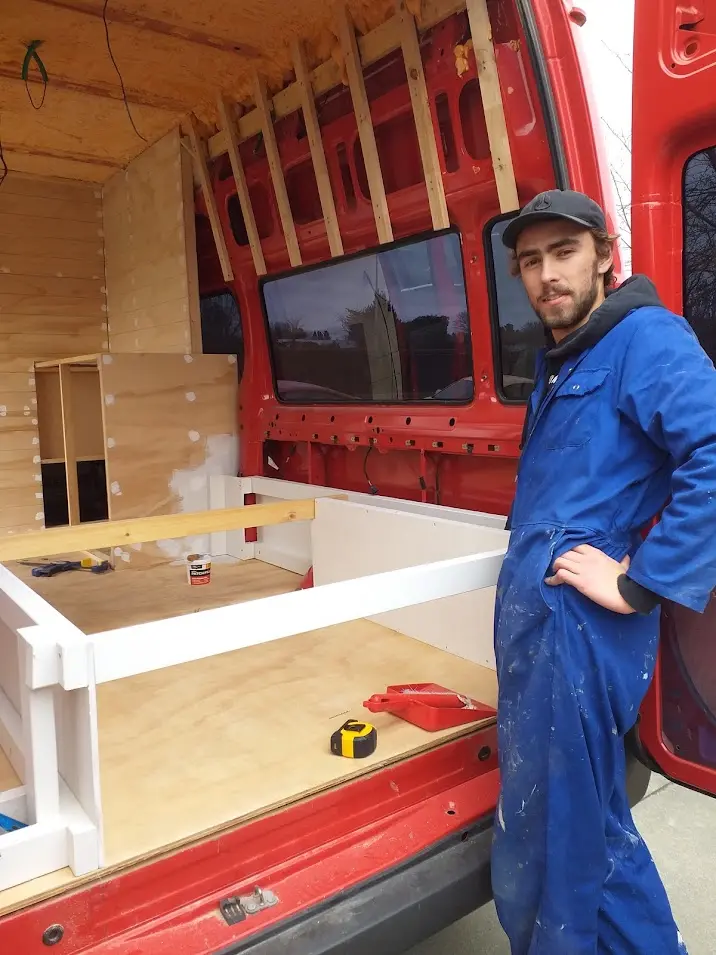 What is Bertie's quirkiest feature?
We think all of Bertie's amazing artwork is pretty cool! The artwork reminds us of our family and gets a lot of compliments from everyone who sees her!
If you know any artsy people in your life, we highly recommend getting them to unleash their creativity and really spice up your build!
Getting Stuck In: The Van Build
Talk us through the build. How did you do what?
Starting with the floor, we glued 12mm ply down to the floor, which gave us a great foundation to build off. Then, we used tape on the floor to plan the layout.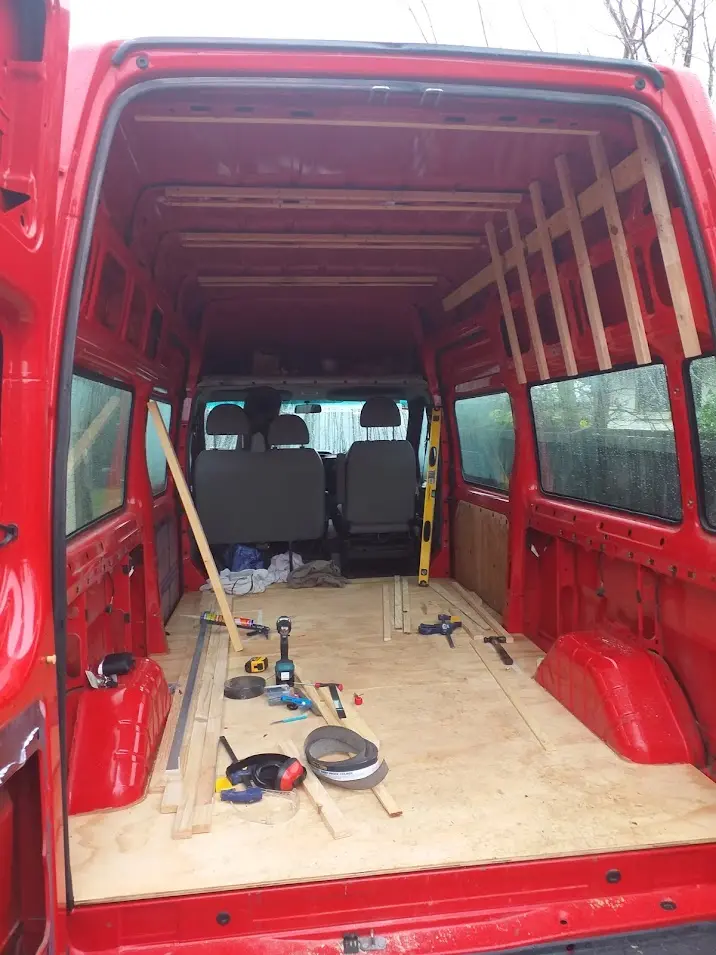 We framed both the front wall and the sides of the van, installed wooden battens in the ceiling to give us something to screw the roof lining to later, and used metal self tapping screws and No-More-Nails glue to fasten everything to the sides of the van.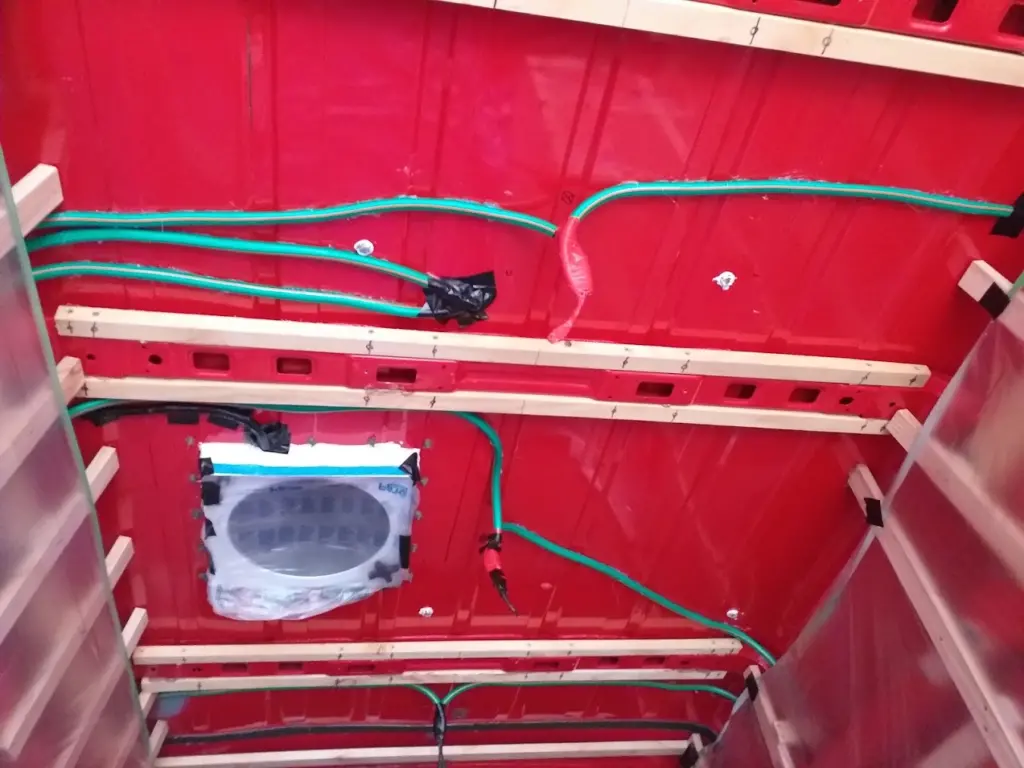 We installed the solar panels, allowing us to route the wires through the roof, and also added the ceiling extractor fan. Prior to installing insulation (spray foam in the roof and wool insulation in the walls), we ran all the necessary wiring. This included wiring for the reverse camera, which had to run from the front cab to the back of the van. Precise planning was crucial to ensure proper placement of lights and the ceiling fan.
Once the spray foam insulation was installed we could frame the front wall and create the cupboard above the driver's cab. Then we started constructing the bed frame, taking into account the sizes of our batteries and fresh water tank that would occupy the space below.
After lining the walls and roof, and completing the bed frame, we installed the batteries and finalized the electrical system.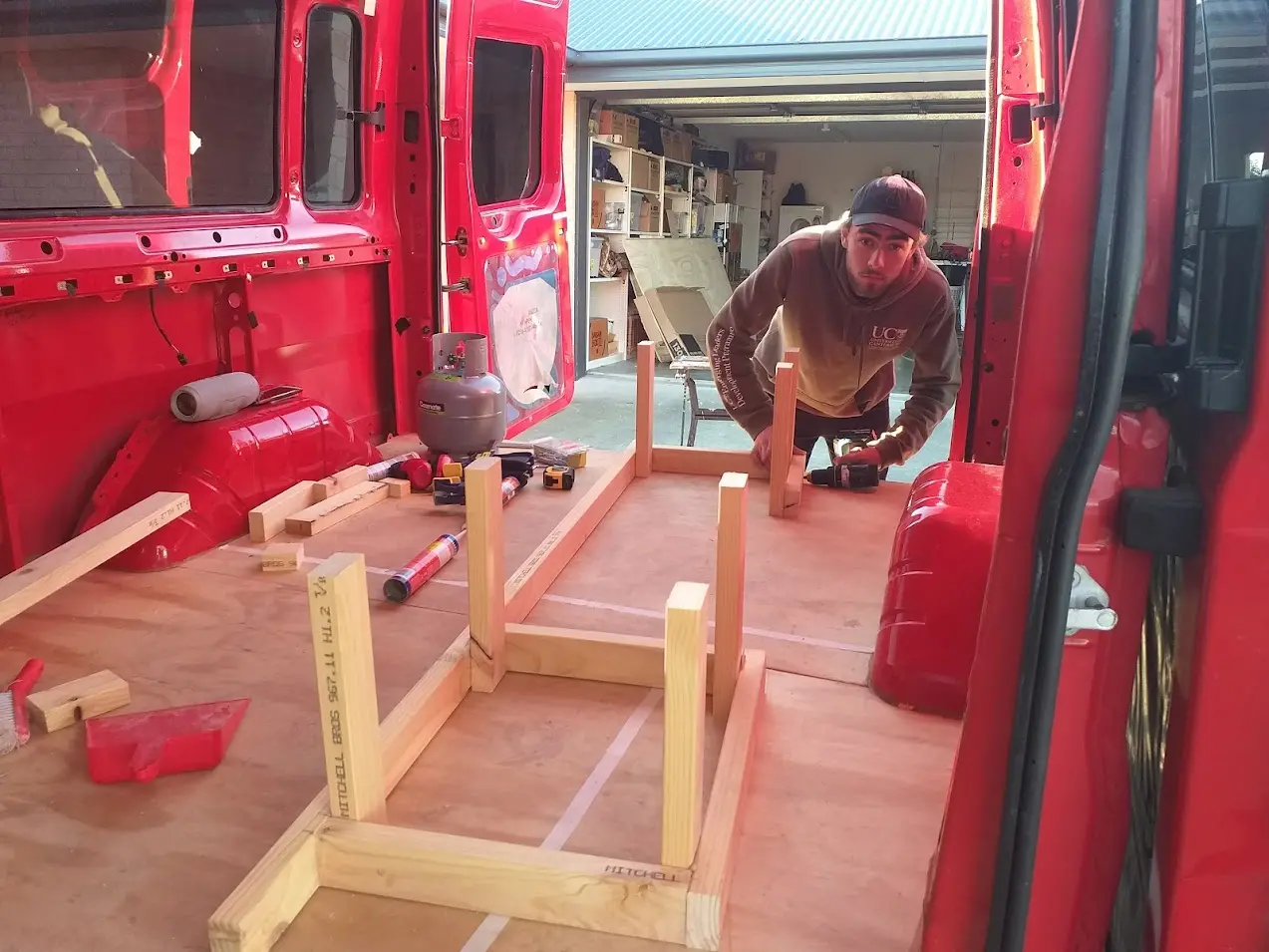 We then built the overhead cabinets before lining the rest of the walls with grooved ply. The hardest part about this was getting all the grooves to line up!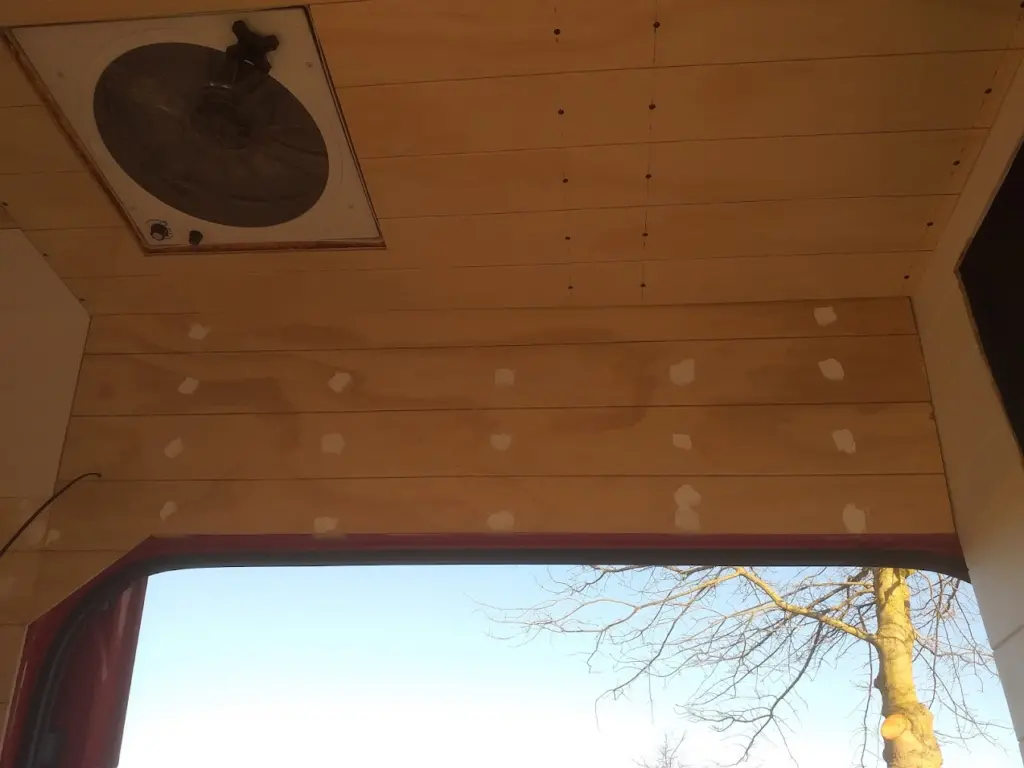 Once the roof lining was in place and our electrical system was complete, we could finally install the lights, which turned out to be a massive lifesaver! It meant we could work much easier in the evenings.

Phew, almost there! We finally installed the appliances (including enlisting a gas fitter to install the cooktop), made our table and bench tops, and got our bed squabs and cushions made. The table was made from sanded pallet wood with a Bri-wax applied. The bench tops were bought from Bunnings. The roof received a wax treatment with the same Bri-wax applied to the table. For the flooring, we opted for the stick-down planks available at Bunnings.
The Highs
What was the most satisfying aspect of the van build?
One satisfying moment was when we turned on the lights for the first time. Up until then, we had been working in the evenings using work lights and head torches, which had become quite frustrating. It was incredibly relieving to see the electrical system working seamlessly, allowing us to work late into the evening with ease.

Finally we did extensive sanding, plastering of screw holes, and painting to get Bertie looking beautiful.
It was also extremely satisfying when we got the roof lining on, as it covered up the ugly spray foam insulation and dramatically changed the look of the van.
The Lows
What was the most frustrating part?
Definitely sanding back the spray foam insulation in the ceiling. When the insulation was initially installed, there were some parts which needed to be sanded back to accomodate the ceiling lining. This sanding process was horrible; the foam goes absolutely everywhere and frequently got in our eyes, nose and ears. It took us three evenings to perfect, and these evenings were undoubtedly the low points of the entire experience.
Reflecting on the Journey
Looking back, is there anything you would have done differently?
In hindsight, we would have opted for an externally accessed gas locker. While it costs a bit more and requires a bit more work to install, we think it would be really nice to access the gas bottle from the outside, instead of having the access under the bed.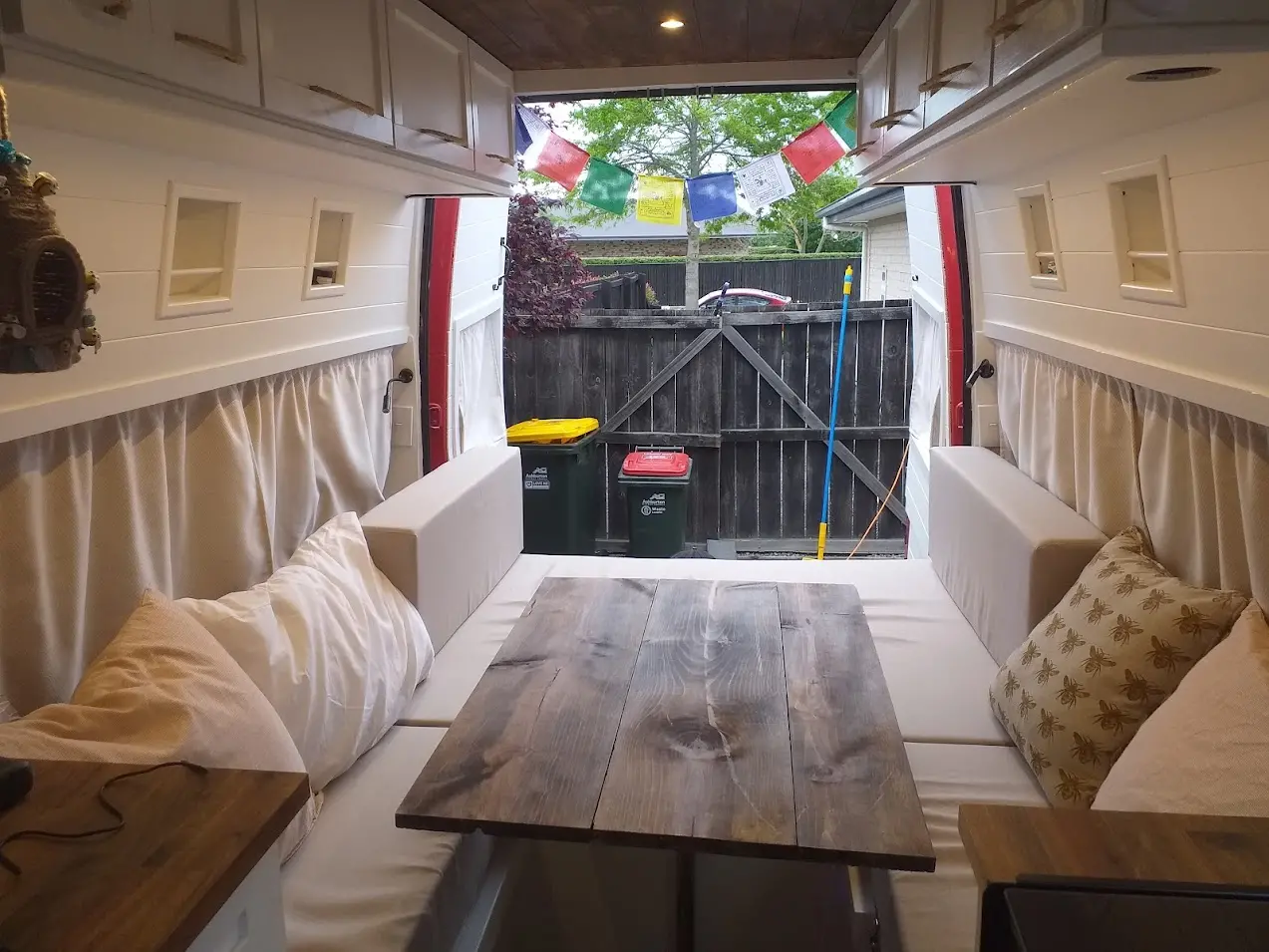 Top 5 Tips for Rookie Converters
1. Research, Plan, and Discuss
We really benefited from watching lots of videos and perusing van blogs. Properly planning the van layout meant we didn't have any major setbacks. We also found talking to lots of different people about the project was super helpful. Everyone brings unique ideas and strengths to the table. Some can give you cool creative ideas, while others can help you make good practical decisions.
2. Don't Cut Corners
There will be times when you have cheaper or less time-consuming options. But in almost every case we found that investing the extra effort and money is worthwhilee. There's nothing more frustrating than having something break while you're trying to enjoy your holiday in your newly converted van!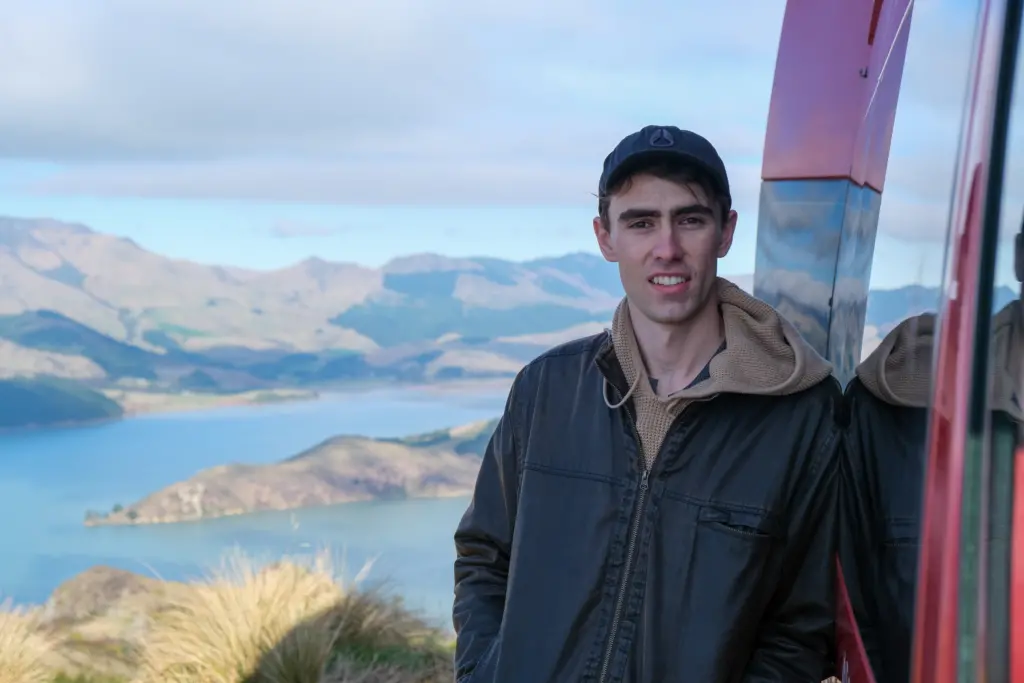 3. Prioritise Storage
During our three-month journey in Bertie, her ample storage areas proved to be a lifesaver. It's easy to underestimate how much storage you'll need. Also, consider the accessibility of your storage. While stashing everything under the bed may seem convenient, it becomes annoying when you've made the bed and realize your pajamas are buried deep underneath.
4. Go Solar!
We love Bertie's solar panel system on Bertie. It means that we can park up indefinitely and never run out of power, even in the winter. With 390W of solar panels and 400Ah of batteries, we can run our fridge, water pump, lights, and USB chargers even during the shortest winter days. We reckon a solar system is worth the extra investment over relying solely on the car alternator.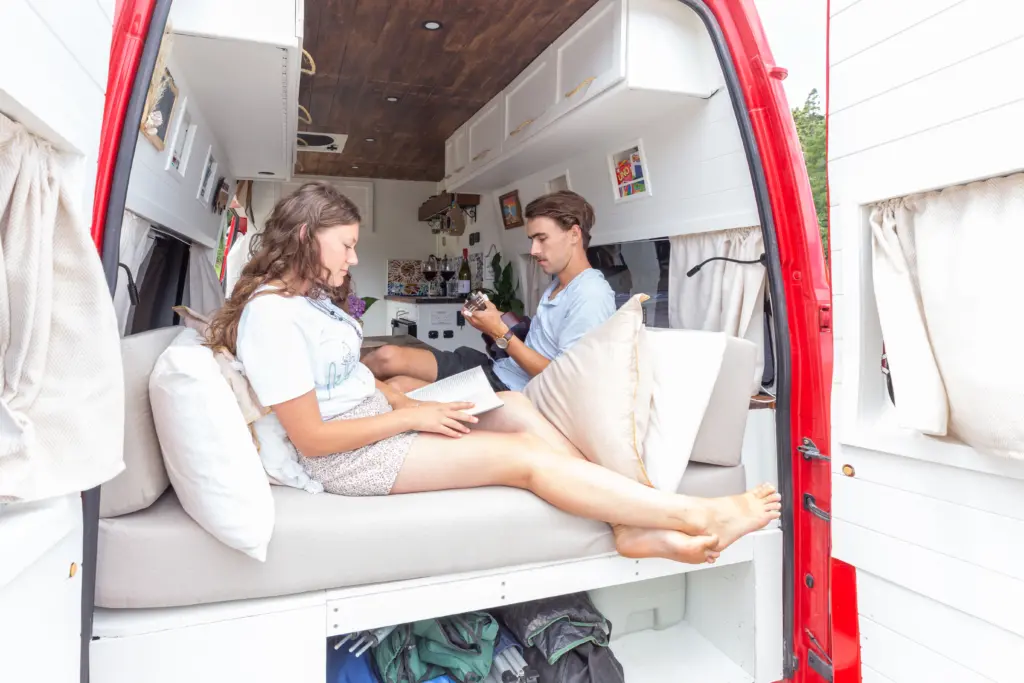 5. Be Space Savvy
Space within the van is a precious commodity. We positioned our grey water tank underneath the van to maximise room. Looking back, we also could have also mounted our batteries underneath to save even more space. Additionally, we custom-designed our joinery to squeeze out every bit of storage space possible from the van.
Want to experience Bertie for yourself? Click here for more info, pics and pricing of all our vans available for hire.