Ever dreamed of building your own custom camper, but got no time to DIY? Choosing to pass the job on to professionals can be nerve-wracking, so we asked co-owners of Cruzar Custom Campervans and frequent Quirky collaborators Brenda and Andy to set the record straight by busting some professional van conversion myths and telling us about the epic service they offer!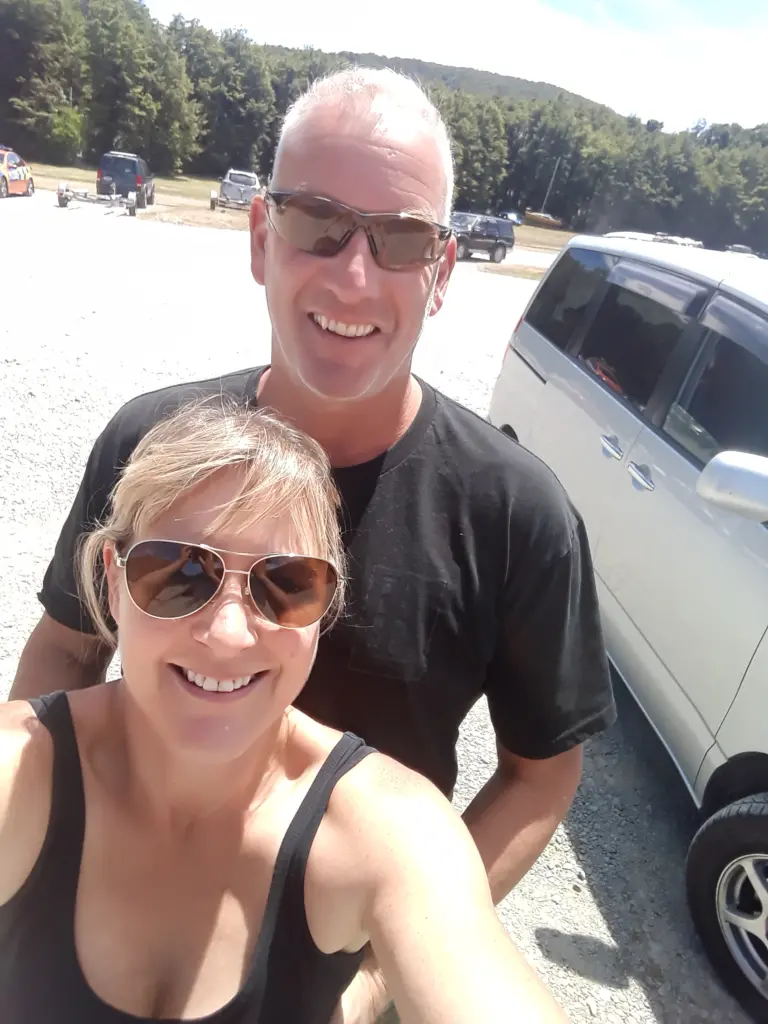 How did Cruzar Custom Campervans (CCC) come to be?
Funnily enough, our family business name 'Cruzar', came from our old dog! Every time we opened a van door, he'd happily jump in and explore. Just look at that face. 🐶
My partner Andy and I kicked off Cruzar Custom Campervans 4 years ago. It felt like a natural next step since we'd been converting campervans as a hobby for a few years and discovered we loved building things together. Plus, we were tired of our dull 9-5 jobs and a change in lifestyle was calling our names!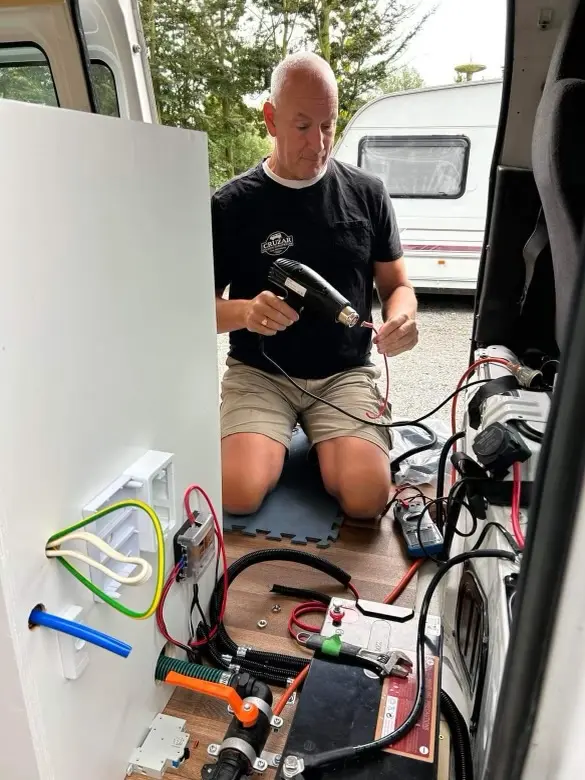 In 2019 we bought and converted a charming 1991 Toyota named Goldie, pictured below. We had our very first official holiday together in him. Sadly, it was also our last! 😆 )A couple of photos from that trip are proudly displayed in Roxy.)
We started Cruzar after that, and the rest is history!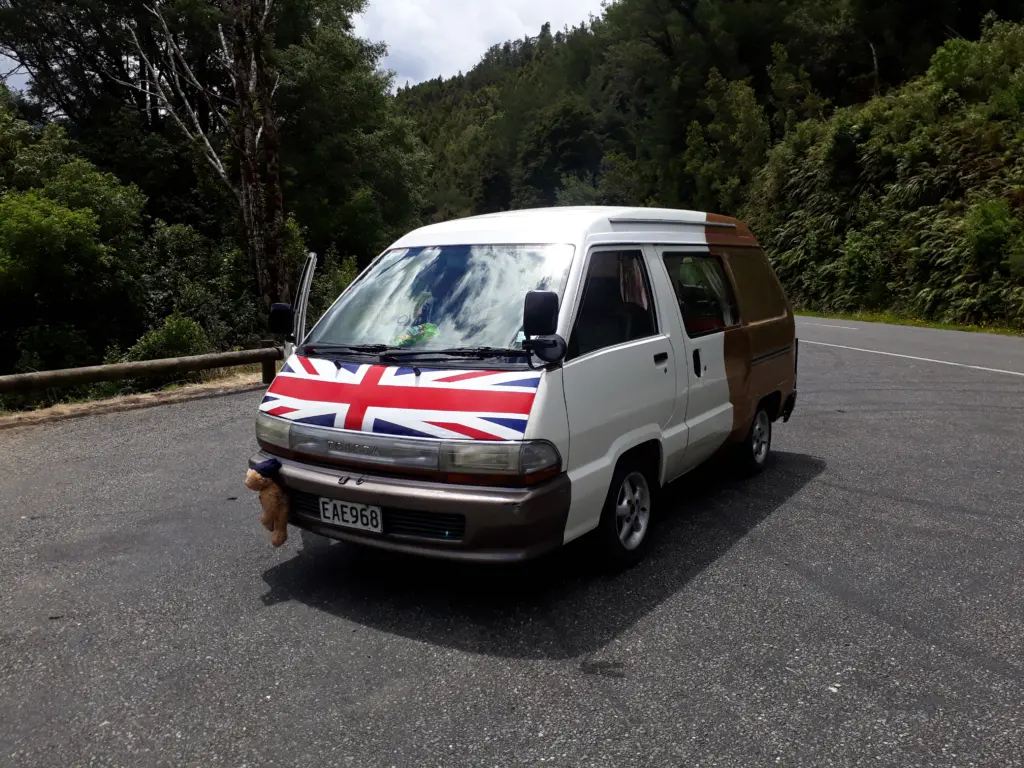 Why do people choose your conversion service instead of doing it themselves?
Most people come to us for two reasons: our high quality, custom-built fit-outs and superb customer service. Andy, as an expert coach builder and trained engineer, has a handle on all things conversion. I work with the build and design side of the conversions and handle all customer inquiries. In other words, I'm the happy one on the end of CCC's phone!
Our conversions are bespoke – tailored to each client's unique wants and needs.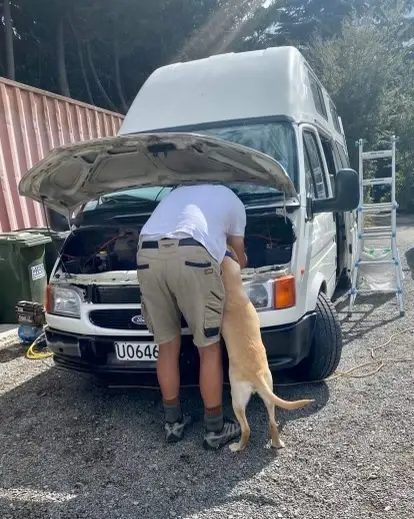 We keep our clients involved every step of the way, always ensuring they're happy with our progress. At the start, they share what they envision for the conversion, and we share our ideas, products and designs. Then we get to work on bringing their ideas to life!

Brenda, co-owner of Cruzar Custom Campervans
People come to us at different stages – some already with a van, others without, and others with a van that only needs a partial conversion.
Sometimes we guide people in vehicle choice, depending on the budget and size they want to work with, whether it be a vehicle big enough for a family or a couple doing short trips.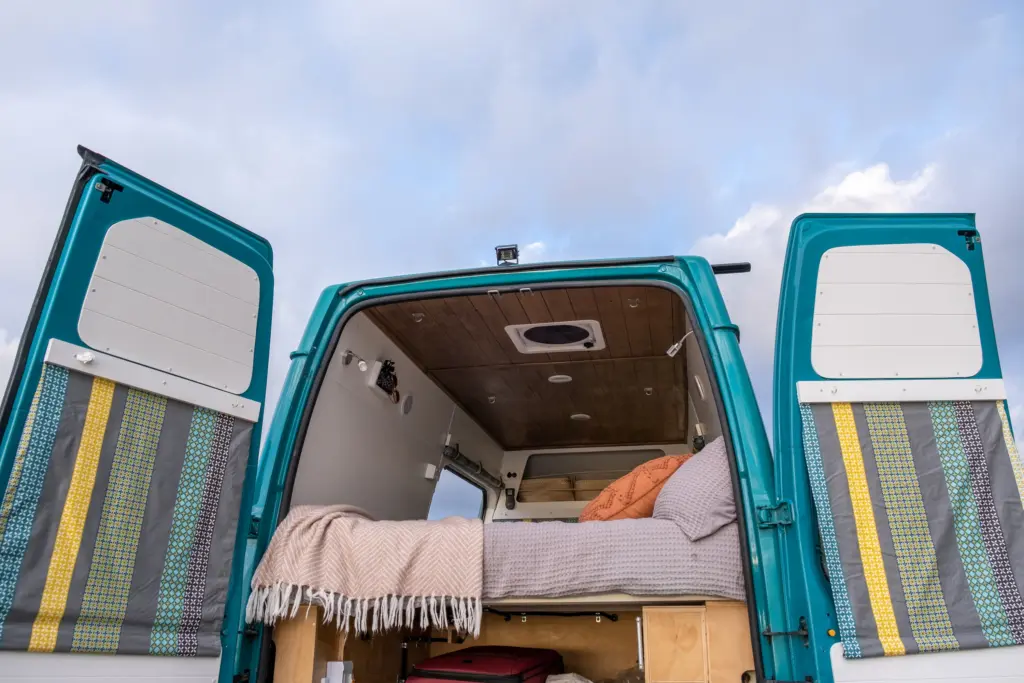 Do you often make changes along the way/have instances where the initial design is far from the end conversion?
We always strive to communicate the final plan clearly in order to avoid changes during the building process. If a new idea pops up, we're open to it, but we try to stick to the original plan as much as possible.
We believe in open communication and never make changes without keeping our clients in the loop. Say we realise during the build that there is more room for the bed than first anticipated – we'd chat with you to see if you'd like to go bigger or use the space differently.
We're always very conscious of not overcapitalising on a build. If someone is looking at doing something where an alternative could be used, we'll share that idea.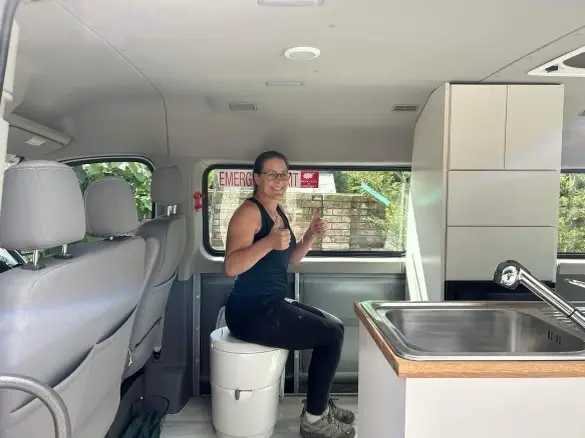 What are the main differences between vans for rent and personal use?
Through our years of experience, we've learned a lot about what people enjoy in vans. Both for personal and rental vans, we take on owners' feedback to ensure their fit-outs are versatile, well-spaced, and feel just right.
When converting vans for rental, we take all these insights into account, striving for adaptability and smart use of space. We want everyone to feel comfortable and avoid that cramped feeling.
When it comes to personal vans, it's all about tailoring the design to what that particular person envisions. We listen closely to their ideas and build from there, making sure it's a perfect fit!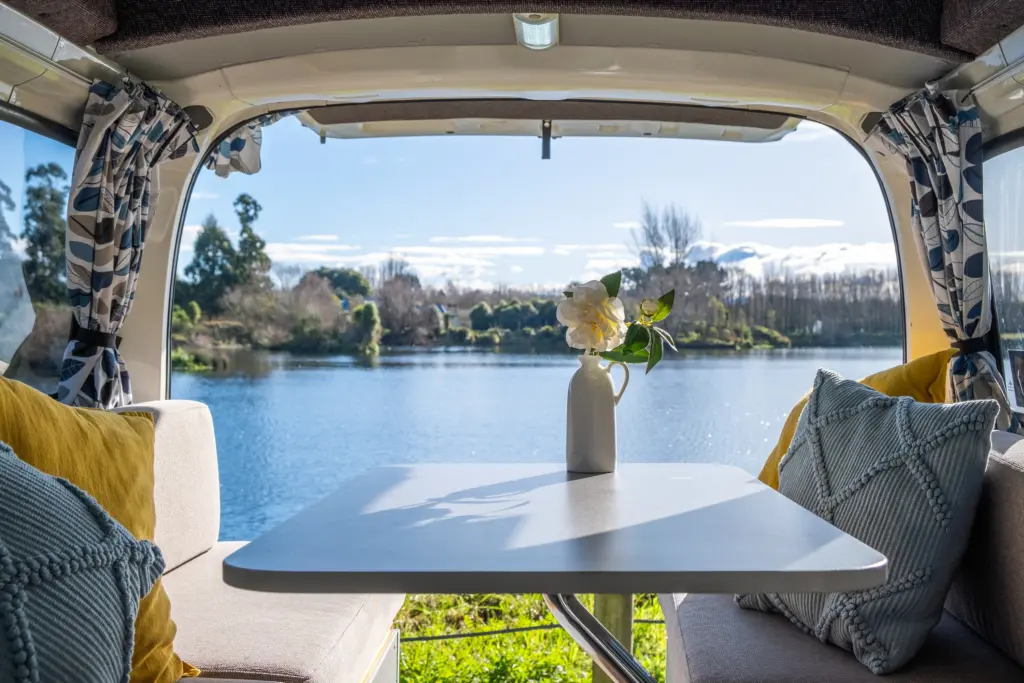 What are the main worries/concerns clients have about getting a professional conversion?
People worry about what happens if they want to make changes during the build, given we usually buy the materials and products in advance. Changes can slow things down, and are often difficult to execute when a client has a tight timeframe. We always do our best to be flexible, but the truth is that less interruptions mean a smoother ride!
People often wonder about the "by-hand" aspect. How can we guarantee great results? Reassurance and clear communication are the answers. We trust each other in each unique, custom-built journey, ensuring each van is built with care, not computer systems.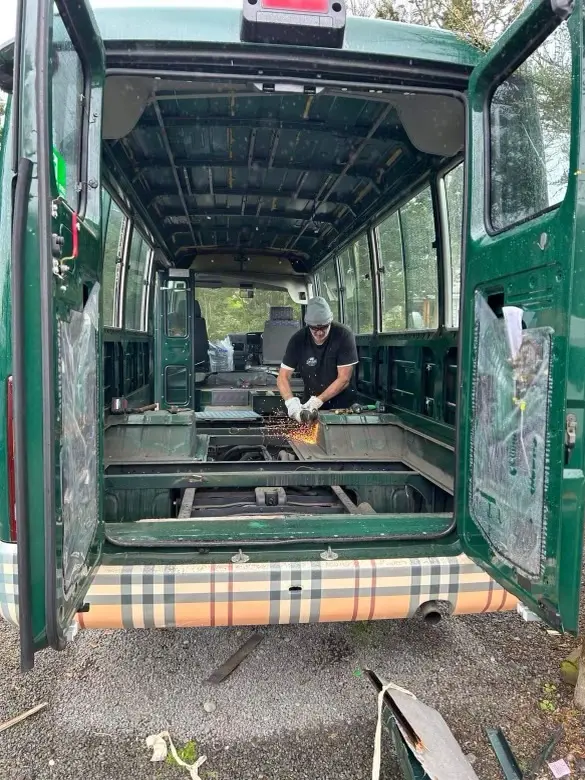 Layouts and what goes into the van can be a concern. We guide our clients through this, stressing the importance of taking time to get it right. At the beginning, they usually send us photos and ideas of what they want. Then, we work with them to fill in any gaps and ensure they haven't missed anything, like how they're going to power the van or heat it. "Have you thought about…?" is our go-to question!
Colors, themes, and interior design also worry some people. We collaborate on these aspects, assisting with color schemes and creating a harmonious design. If they're handy with wiring or interior design, we work with their skills, weaving everything together for a beautiful, cohesive look.
Plus, we're happy to work with clients all over the country, and even those abroad! Distance isn't a barrier for crafting the perfect van.
How many Quirky campers have you had a hand in converting?
Six… with two more in the works! 😋

We worked with Graeme and Rachel to convert this campervan into the ultimate family van. First, we stripped most of the interior and re-did the floor. It was already partly converted so our goal was to make good of what was already there., utilising a small space as well as we could to get everything into it.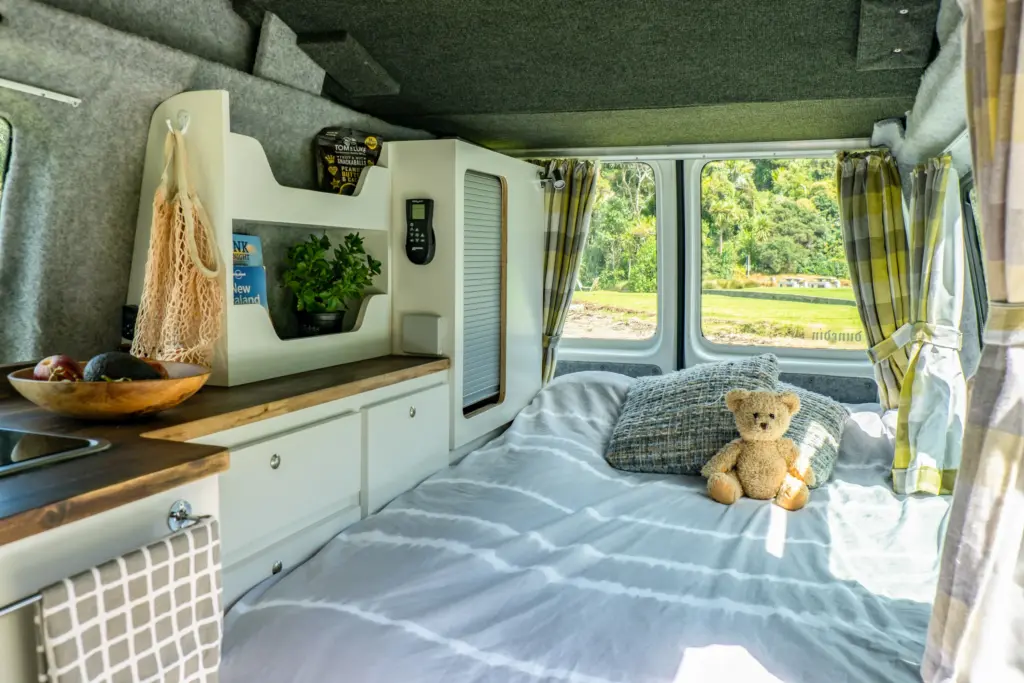 We helped the first owners source the van through one of our contacts. Then, we worked alongside them to fit it out to their wants and needs. They were always going to rent it out through Quirky, so we factored that into the equation.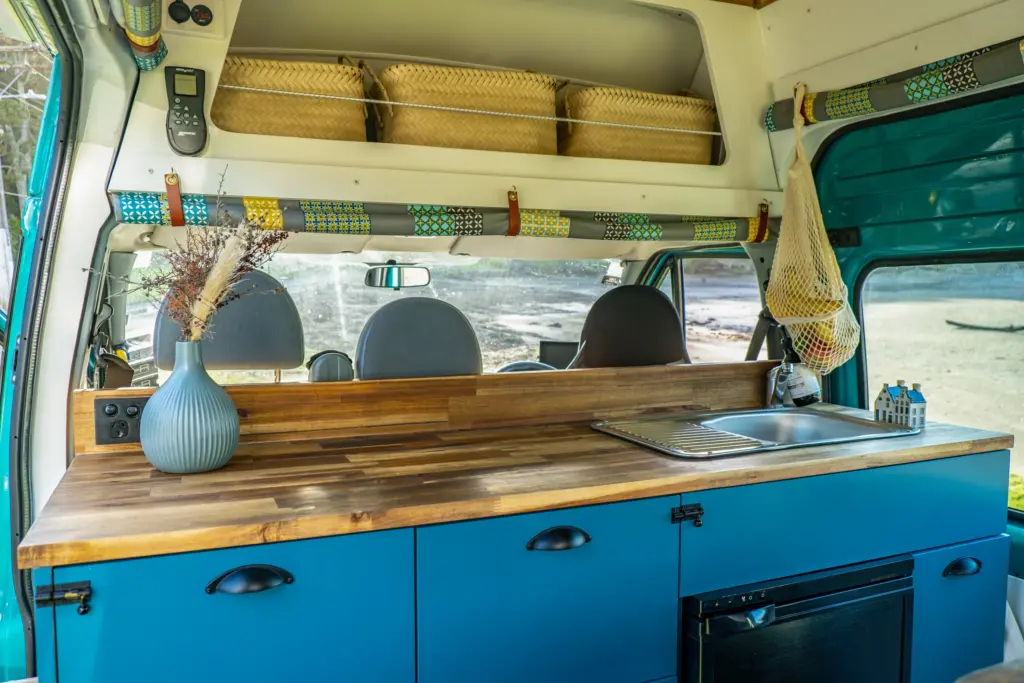 Ex-rental, stripped it all out and utilised some of the original design in the new design plan. Upgraded everything.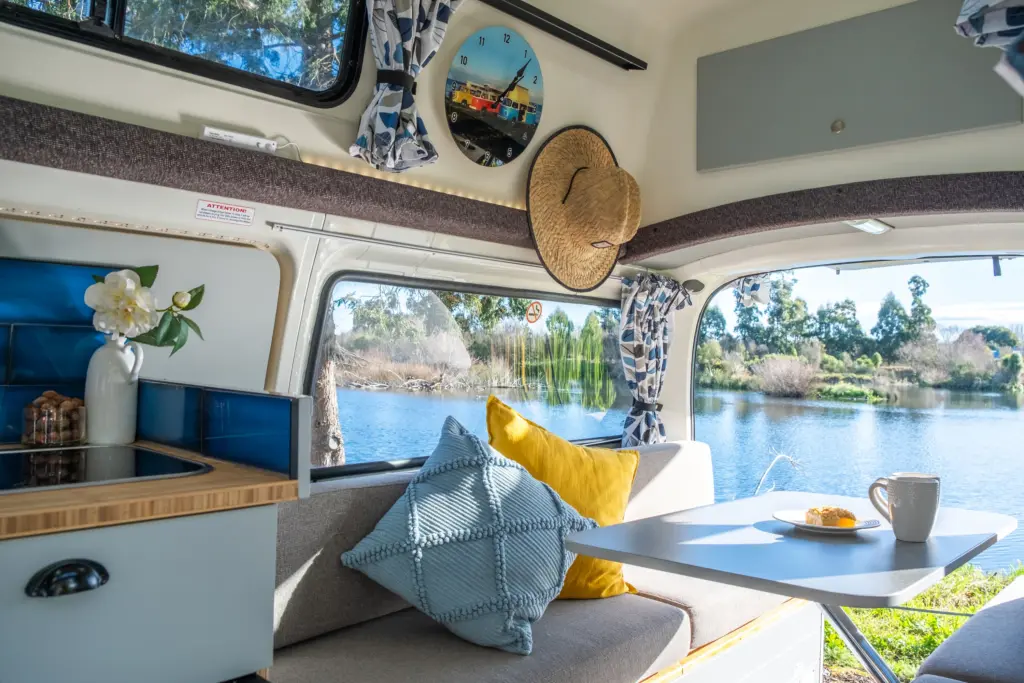 Similar story to Cruzar! The fit-out is very similar, except I had a bit more fun with it because I had total creative control!
My daughter Ashleigh got Ollie partially converted. We helped utilised what was already there, upgraded it and quirkified it.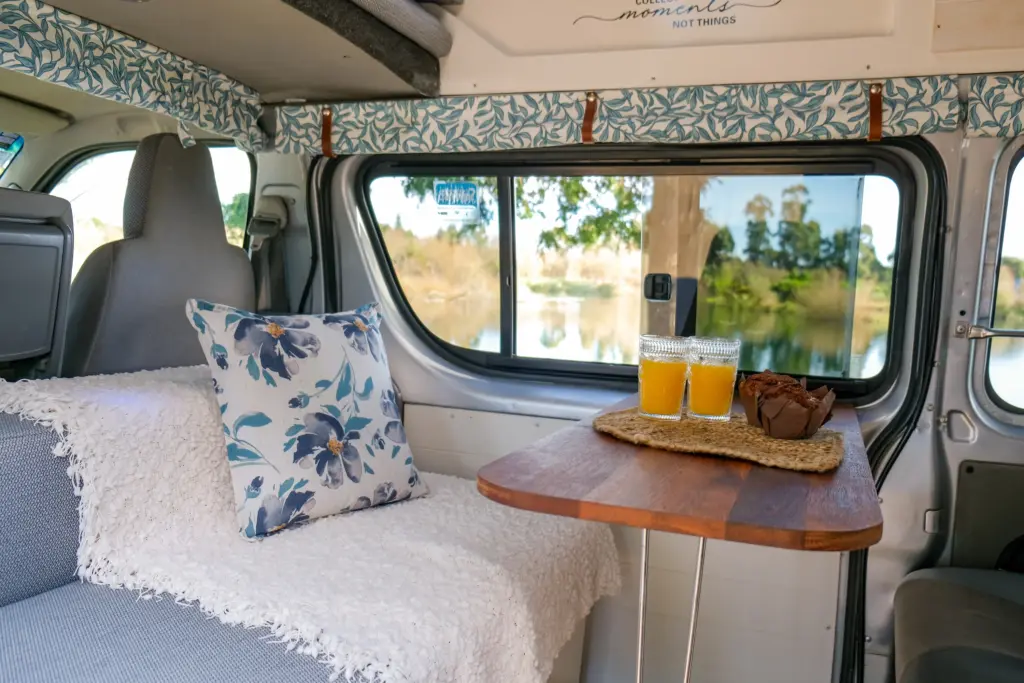 Also a partial conversion. We ripped everything out apart from the bed and sliding unit at the back and then rebuilt the interior.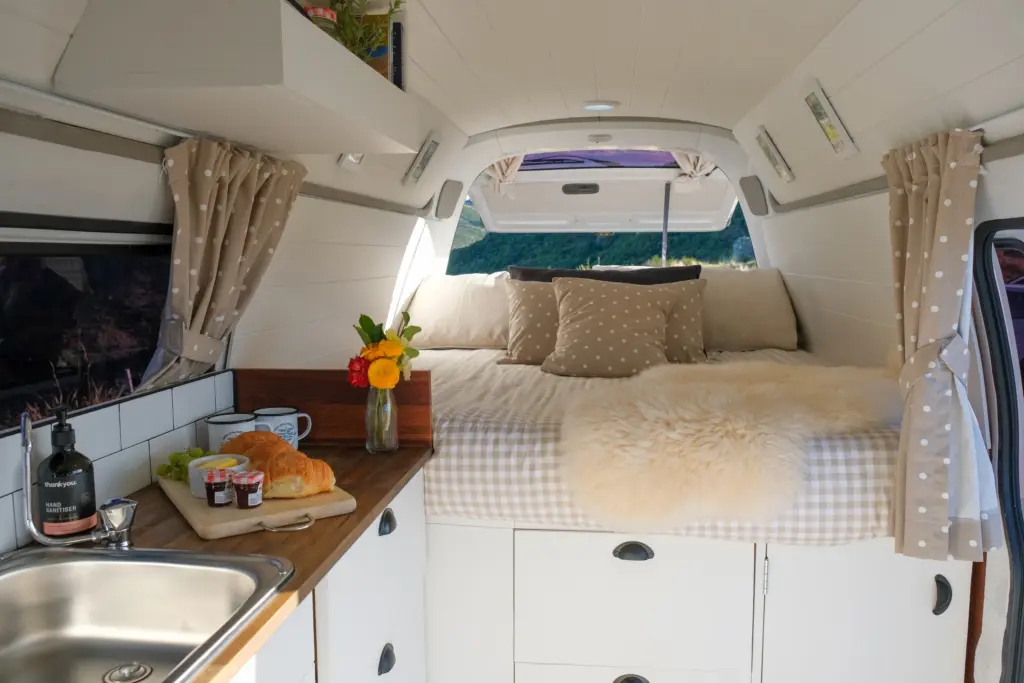 What is the process of working with a converter like you?
It differs for every client but generally it goes something like this:
Inquiry and introduction. We tell the client who we are and what we offer and they decide whether we're the right fit for them.

First meet (in person if they're near, video call if they're remote). We take all their ideas, draft a layout and put together a plan of action. If they're happy with everything, we organise a start date and ask for a 50% deposit.

Drop off. The client brings their vehicle round. We go through the plan and tick everything off to ensure understanding both ways is clear.

Conversion begins. First, we strip the van out, put down a new floor, mark out and measure the new layout.

First check-in. Once that's complete, we have the client come back / video call again to check that they're happy with progress. At that point, any changes that they want made, we can.

Conversion continues. After we've finalised the colour scheme, we start the building process.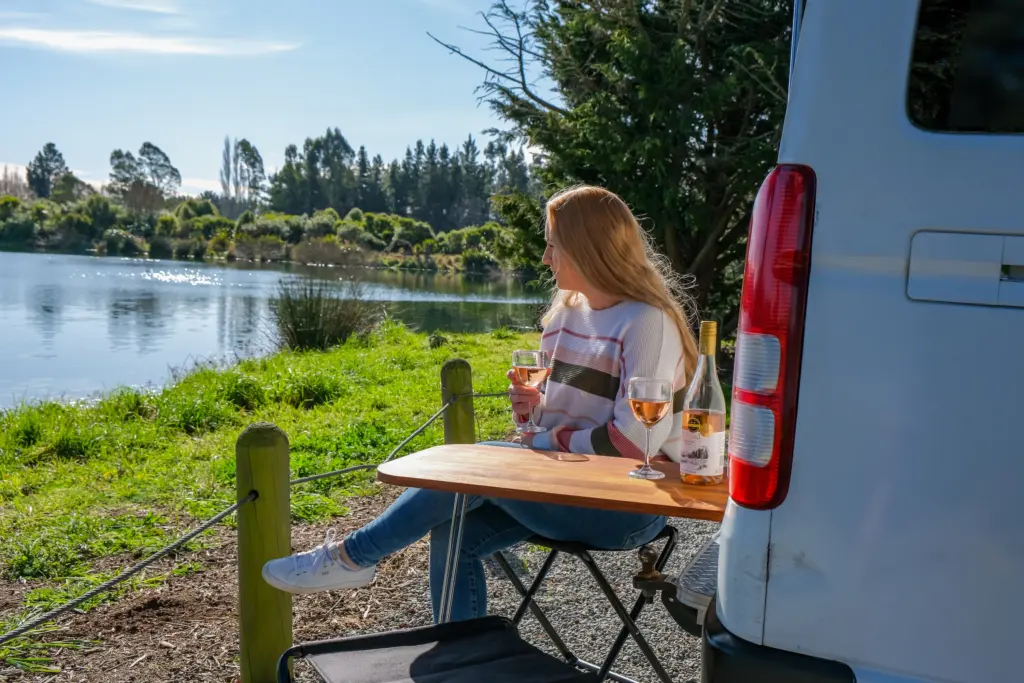 7. Regular check-ins. The beginning of the build is quite slow and unexciting with just plumbing and wiring, so we just give fortnightly updates. Then, we give weekly updates as the build proceeds. We also have an open-door policy, so people can call in and have a look at our progress whenever they like. Some people like to see photos of finished van but the majority like to get a surprise and see it for the first time when they pick it up. So around two weeks prior we stop sending photos so there is a surprise.
8. Pick-up. Clients pay their final invoice, and then arrive to do a tour of the van. We show them how everything works and reassure them that we're available afterwards for them to give us a call if they have any questions. We understand that there's heaps to take in when they pick it up, so it's totally understandable that they will have follow ups! Before they head off, we always like to make them aware that because it's a new conversion there could be some squeaks. We do a "squeak test" before they go out, but there is usually a settling in period.
What are the most common kind of builds you get asked to do? Pros and cons of each?
One of the hottest trends right now is 👉 having a permanent bed with lots of storage underneath. People are still 50/50 on showers. Those who go for one tend to opt for an external shower for more space inside and a cheaper price.
For cooking, 👉 slide-out kitchens on the passenger's side still tend to be the most popular. People adore these because they can whip up meals under the awning, it keeps the camper's interior smelling fresh, and it's removable so you can easily take the cooker to the beach or a picnic table.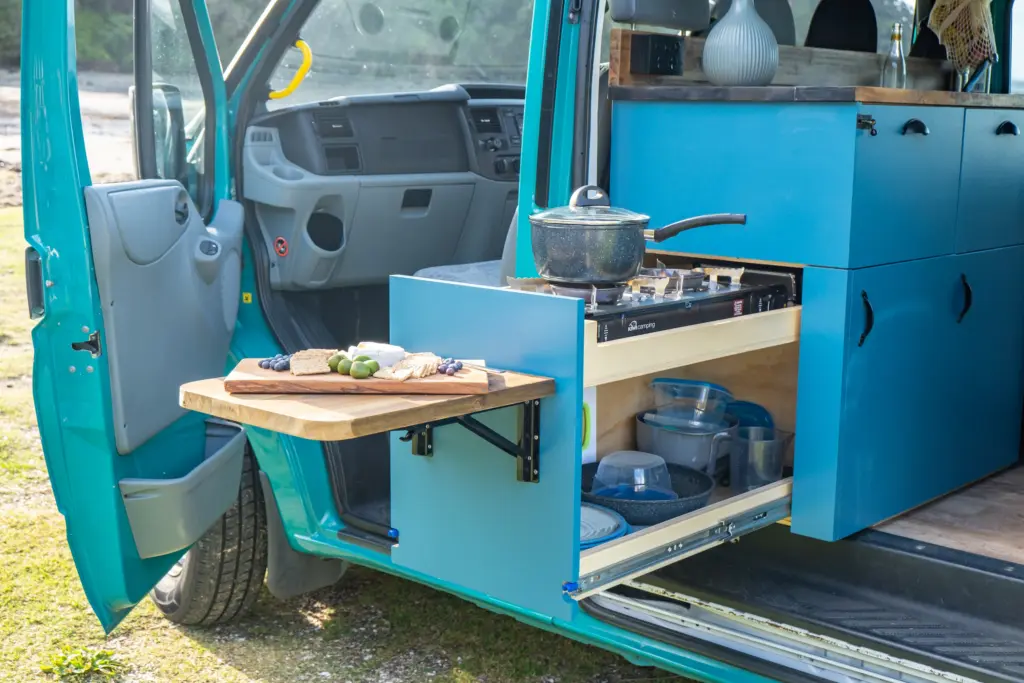 👉 Hot water is a mixed bag – those turning their vans into homes usually go for it, while weekend adventurers might settle for a cold splash.
👉 Everyone's going solar!
What has been your favourite van to convert?
We had a blast building a 1993 Toyota Coaster! The design, the colors, the cozy seating area, and that kitchen layout were simply fantastic, and the clients were just awesome.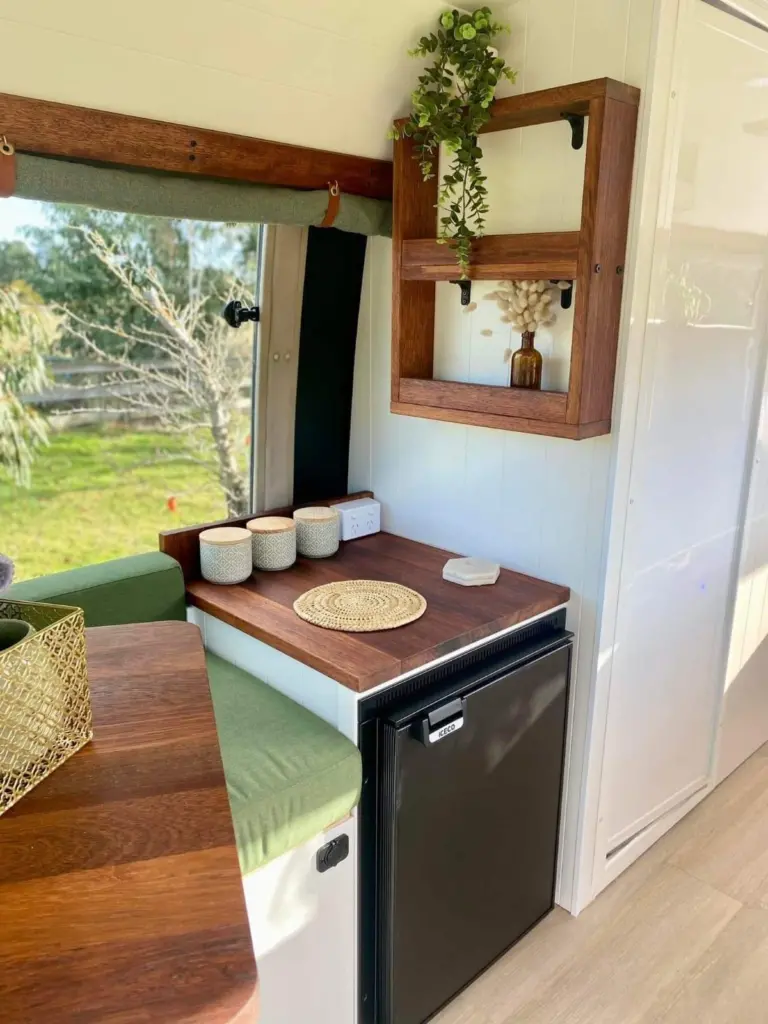 And then there's Roxy, my absolute favorite project. I guess I liked converting her so much because I had total creative control, and was able to freely play around with colors and designs. It's so inviting and comfy, giving you that light, open, and clean vibe. And you wouldn't guess it, but the color scheme all started with this one cushion from Briscoes.
Having hot water, a roof fan, and a gas cooker inside is just the extra layer of luxury I wanted in a camper. It was a bit like a creative playground because we could show our clients what we're capable of without any pressure. Fun times indeed!

If you're dreaming of having your own campervan converted, but are still unsure about what that would look like, flick us an email at cruzar.customcampervans@gmail.com. We'd be more than happy to help!