This fab handcrafted campervan is for sale (NOW SOLD)
One of our wonderful owners is selling a Quirky Camper! It doesn't happen very often so don't miss your chance to own Kākāpō!
The Kākāpō is a beautiful, curious and unique bird and its campervan namesake certainly continues these qualities, as well as its colour scheme! This custom-made bespoke campervan combines great functionality with the ultimate comfort.
This van is currently based Christchurch and yours for $35k NZD or nearest offer! So let's talk details…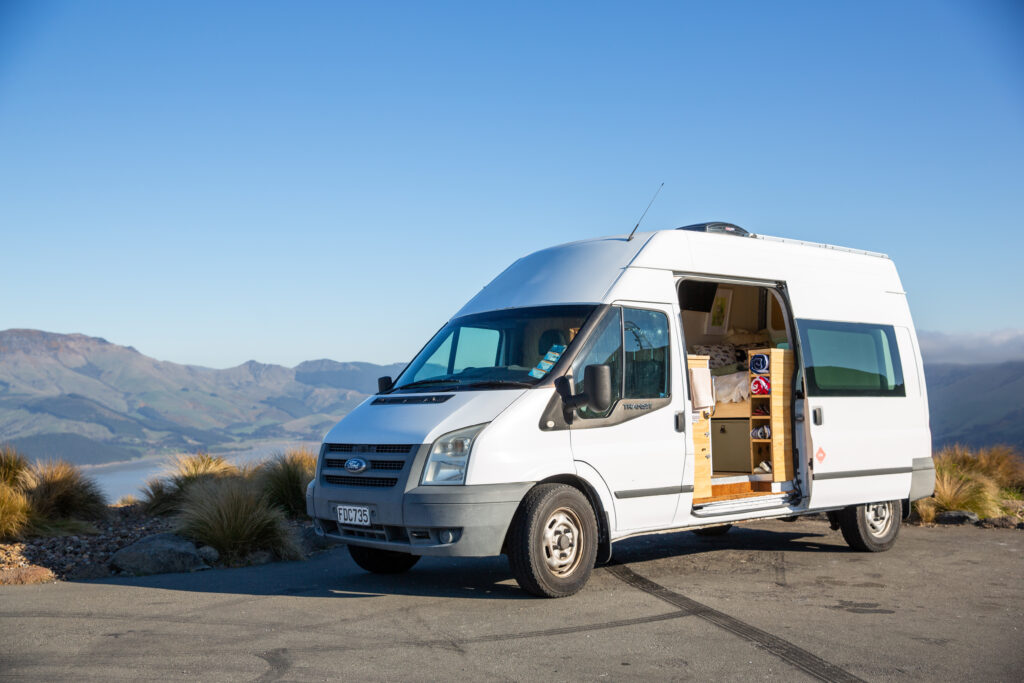 All about the vehicle
Kākāpō is a 2009 2.4L Ford Transit (LWB Hi-Roof) – diesel, 6-speed manual drive – with only 238k on the clock so plenty of life yet! The rego expires Aug 2022 and COF* expires July 2022. *A COF is required if you plan to rent the van out; if it's for personal use only, a WOF is sufficient.
The bodywork and cab have some blemishes representative of the age, but in our opinion Kākāpō still looks great. She has remote central locking and comes with two keys. Kākāpō also has a reversing camera with as well as snowchains! Up front in the cab there are three seats and a 12v power outlet. In terms of maintenance, Kākāpō had the following parts replaced in early 2019: clutch plate, pressure plate, thrust bearing flywheel and harmonic balancer. She will also be serviced before the sale.
The living space
While the comfy bed is the main feature, this van is not short on functionality
Kākāpō is a light bright and super welcoming camper van and is the perfect base for two people to explore our beautiful backyard.
Kitchen Area: The interior height is 1.85m so most people can stand up comfortably… a must-have for many people looking for the perfect van! Kākāpō has a solid wood, fully equipped kitchen complete with Eno Premium 2 Burner Hob/Stove Top as well as the Isotherm CR49 Fridge Freezer (49 litre capacity). The ever popular MaxxAir Maxxfan Deluxe Vent with 10 Speed Fan Power Lift Remote is great when you're cooking, or just on those hot evenings when you want a little fresh air. Kākāpō also comes with cutlery, crockery, glasses and mugs for four; knife set and a range of utensils and pans. Note: the Gas safety certificate expires: 24 Feb 2023.
Living/Sleeping Area: Kākāpō has a full queen-size bed 1.53m x 2.03m with proper sprung mattress… an absolute luxury and no compromise on sleeping space and comfort here! You can also curl up and cast some of your Netflix favourites from your phone to the 32″ monitor. There is lots of storage space – overhead and under the bed – and Kākāpō comes with an outdoor table and chairs for dining.
Staying Warm: Kākāpō has been insulated with Goldfoam XPS extruded polystyrene in the walls, floor and roof… and also has the super efficient Eberspacher D2 Diesel Heater connected directly to the fuel tank. Instant cosiness whatever is going on outside!
The power system
Kākāpō has been fitted with a 500w solar panel as well as having more than 200amp hours of battery power. Combined with the multiple 12 and 240v outlets, you can charge up all your gadgets, safe in the knowledge you won't be running out of juice!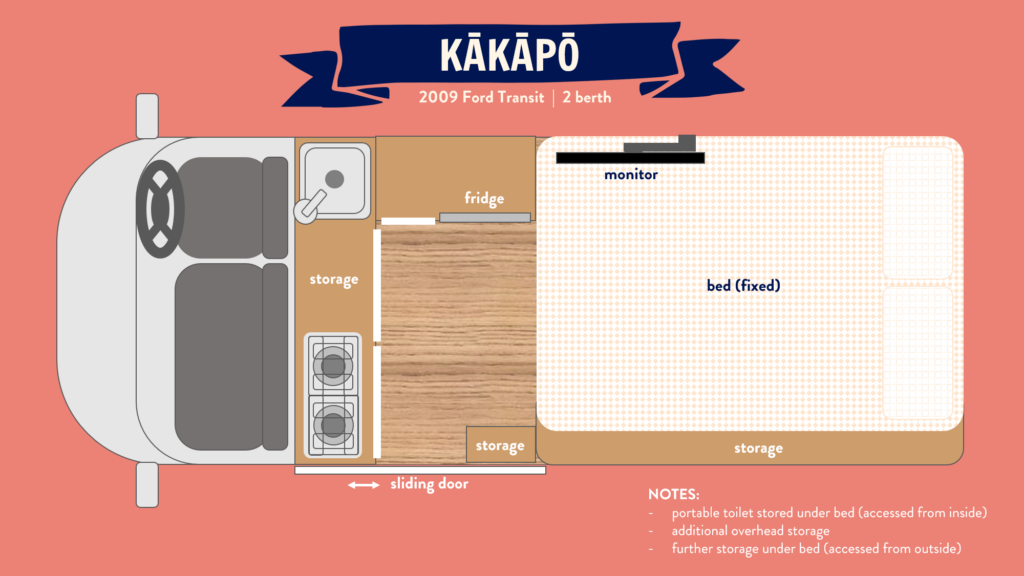 Is it self-contained?
The van is certified self-contained (CSC) for two people and has 40L fresh and waste water tanks. The generously-sized kitchen sink has an electric pump tap. The portable toilet is stored under the bed. The current CSC expires in October 2022 but will be renewed before sale to provide another 4 years certification.
Recoup your costs by renting out your campervan with Quirky Campers
We'd love to keep Kākāpō as part of the Quirky Campers NZ family – continuing to attract customers who want to hire her out – which means you could be recouping your costs when you're not using it and potentially break even in less than 3 years… all while you have your very own bach on wheels!
And it's no effort to do! Check out the campervan rental listing on our website… it would just be a case of updating her new home location! And read about renting out your campervan.
Find out more about buying this campervan
If you're interested in owning this lovely campervan, contact the campervan's owner Simon directly on 027 465 7783 or at s.m.brown@hotmail.com