Ivan's campervan conversion story
Converting an ambulance into a campervan was an absolute labour of love for us. As the owners of Quirky Campers NZ, we're fast becoming serial van converters and it all started with "Ivan" so we thought we'd share his conversion story. Ivan is now a retired member of the Quirky Campers NZ collection for hire. Since Ivan, we have converted another ambulance, Barbara! Renting through Quirky has allowed us to recoup our costs alongside other Quirky Camper owners.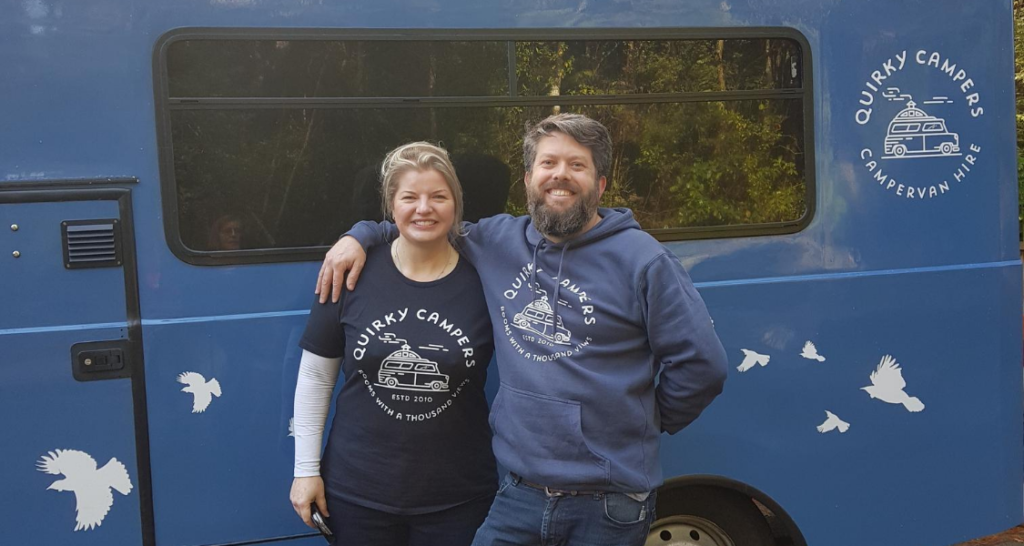 Buying the "campulance"
If we'd known then what we know about converting a campervan, we'd have bought an empty ambulance (and have done since!). But we bought a pre-converted one from a lovely couple of German backpackers. They had completed their travels in the campervan that they affectionately named their "campulance" and were heading home.
We fully intended to leave the van's layout as it was, trying it out ourselves and tweaking as needed. But after a year of continuous use by the backpackers let's just say it was a little fragrant! We got it home and set about stripping things back, removing all the soft furnishings and the mattress. On closer inspection the build quality wasn't so great, and we were already discussing "what-if" options. Within a day or so it was completely gutted!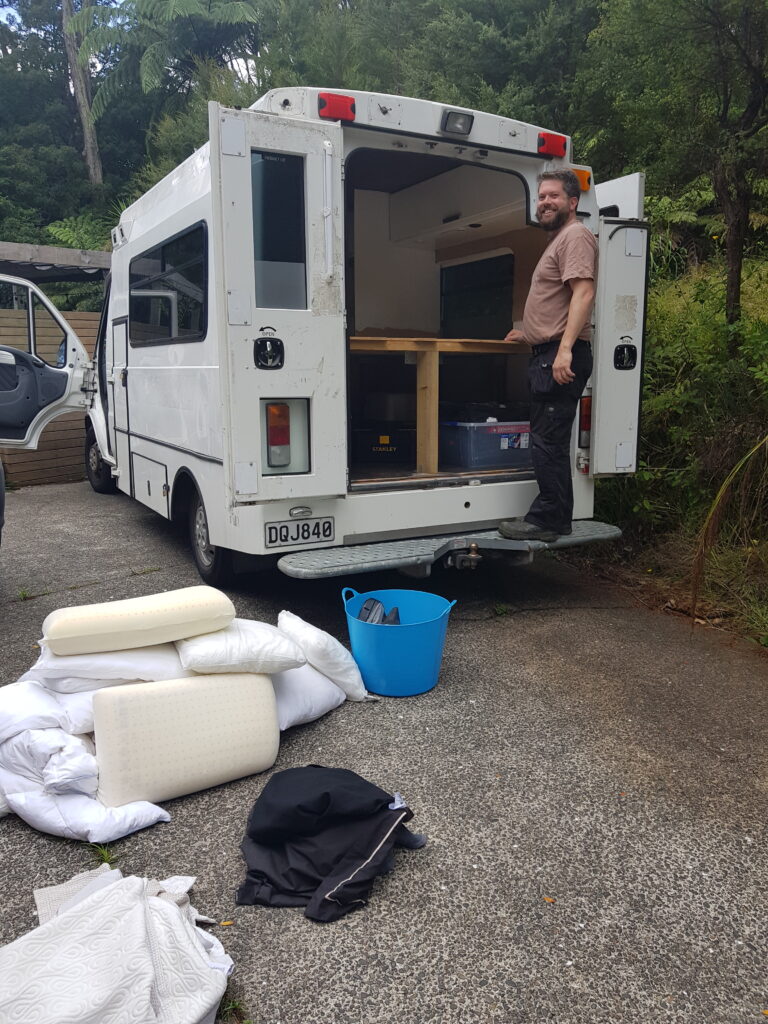 Why we chose an ambulance for our van conversion
Ambulances like this (with fibreglass bodies) make great campervans because they:
Are extremely well insulated and pretty much sound-proof – which saves a lot of time and money on the conversion
Have hard-wearing flooring coverings (even if you don't want to keep the blue rubberised clinical finish!)
Have been very well maintained – they had to be for their previous life!
They are a good size – you can put a bed across the back of the vehicle which saves space for the rest of the kitchen/living area
Are pretty affordable
The downsides with buying an ambulance as a base vehicle were:
It had higher kilometres on the clock
It only had rear doors (not a sliding door on the side as well)
We would need to work with the existing features such as access doors and cupboards
Running electrical cabling was going to be a challenge!
The exterior had been damaged when it was decommissioned (removing decals, lights, siren etc.)
Deciding on a layout for our self-build campervan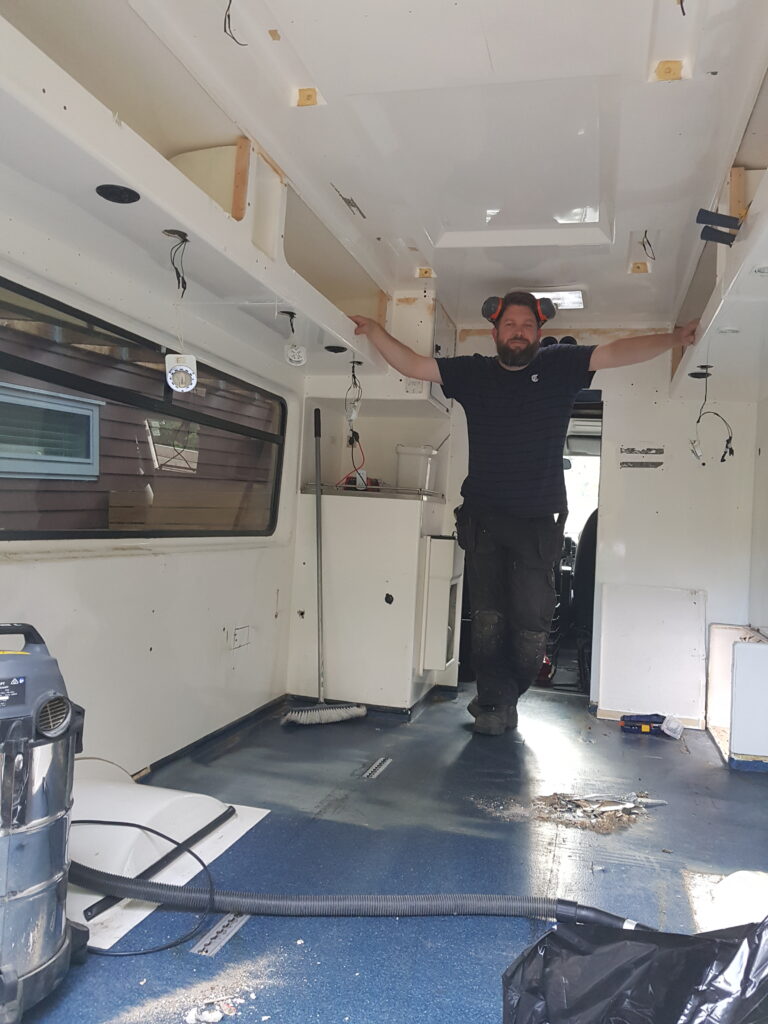 No sophisticated software was used for designing our campervan, just simple sketches really! But we had previously made a list of our must-haves so once the vehicle was stripped out, we went about planning the layout, making the best use of what was already there. For example, the externally accessed cupboard was perfect as a gas locker to hold our 9kg LPG bottle. Another small external door could provide access to the fresh and grey water tanks.
Our must-haves list:
Convertible bed so as not to block off the rear doors and provide a roomy living/dining area
Hob, grill and oven and a good-sized fridge (we love to cook!)
Log-burner
Self-sustaining for off-grid travel but also a 230V hook-up
Spacious and luxurious yet practical
The main thing we were prepared to compromise on was a fixed toilet/shower cubicle – we thought it would take up too much real estate and still end up being a tight squeeze! So we have a portable loo and a Joolca gas-heated water system and ensuite shower tent instead.
The style and fit-out of the campervan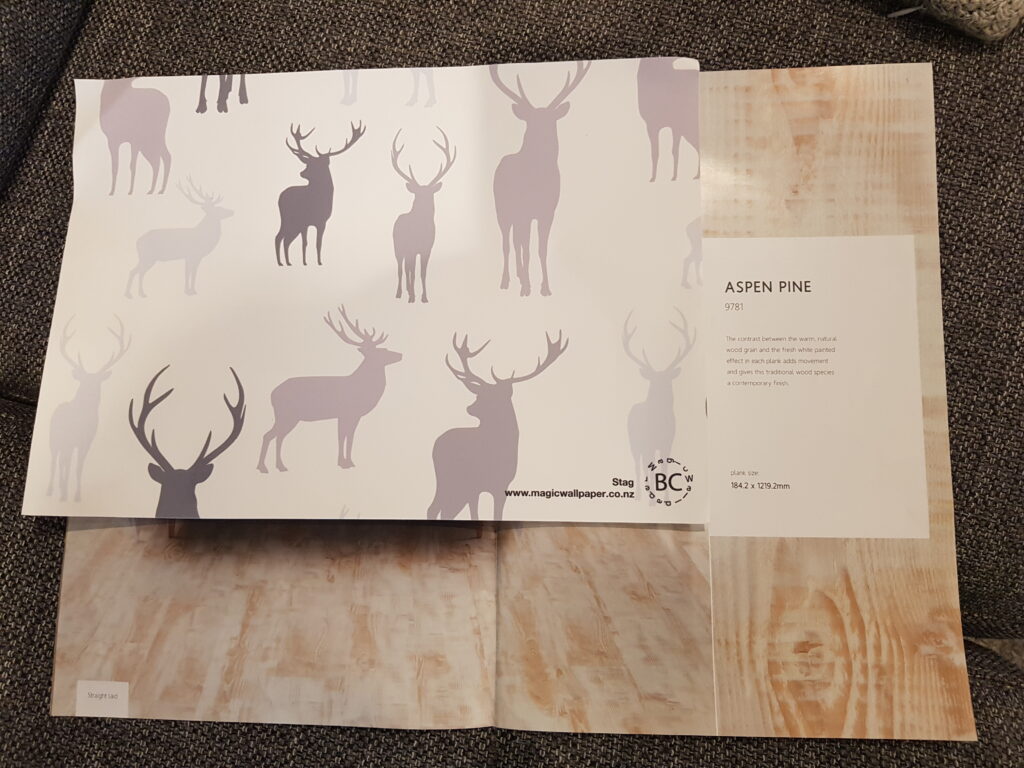 We started with the flooring, selecting timber-effect vinyl planks. And then, to both cover some of the internal damage from the previous conversion and provide something to fix to, we installed plywood walls. We wanted to separate the kitchen from the living/dining/sleeping area with some form of divider and hit upon the idea of using live edge timber slabs vertically to look like there were trees growing through the van! From there a loose woodland theme was developed and we found various items featuring deer – like wallpaper, cushions and even a plushy stag head!
Dan then fitted the kitchen cabinetry, appliances, dividers and bench seats, along with the plumbing and electrics. Clever chap! The only thing he didn't do was the tiling (though he was quite happy to give it a go!).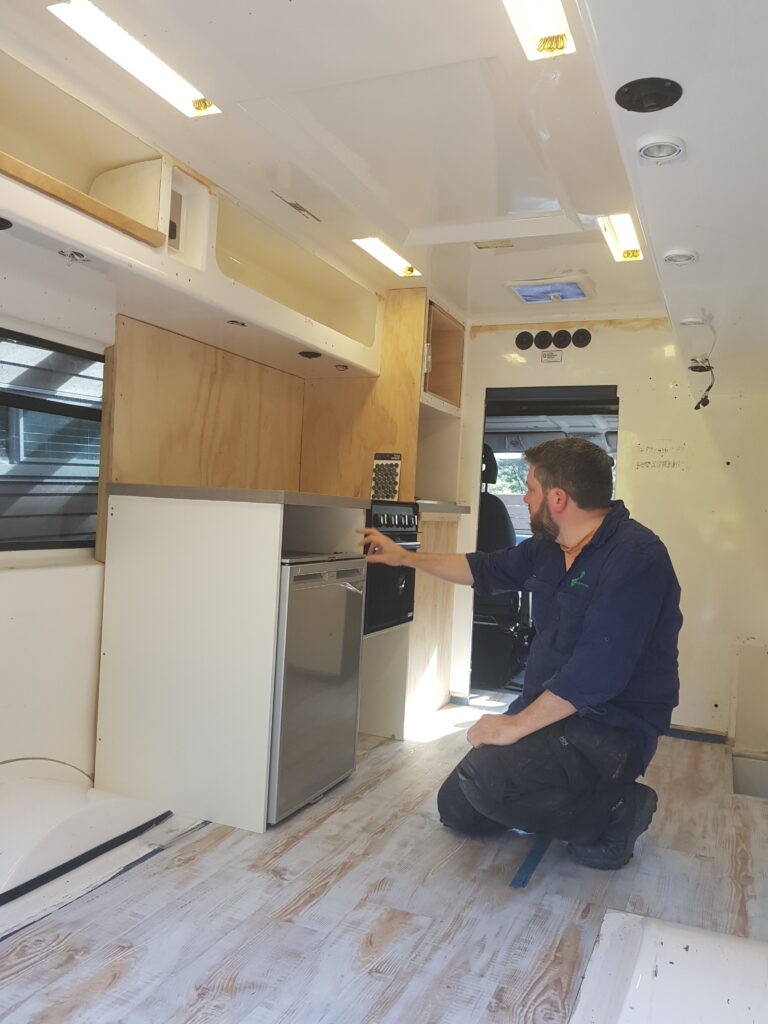 Giving our converted ambulance the finishing touches
Our poor ambulance sustained a fair bit of damage when he was decommissioned – it looked like they'd removed the stickers with a pickaxe! One of the most satisfying jobs was getting the bodywork repaired and painted. Not a cheap job by any stretch (about $8k) but what a difference!
Once back from the paint shop, the slightly nerve-racking job of cutting holes in a perfectly good roof made way for two skylights and the chimney. And then the gorgeous log burner went in.
I got crafty and made the seat cushions, curtains and blinds… and adding some quirky touches like the magnetic spice rack, message board, seed lights and artwork. And Ivan was born! All up, converting the trusty ambulance into lovely campervan took us about 7 months, working on him most weekends alongside our day jobs.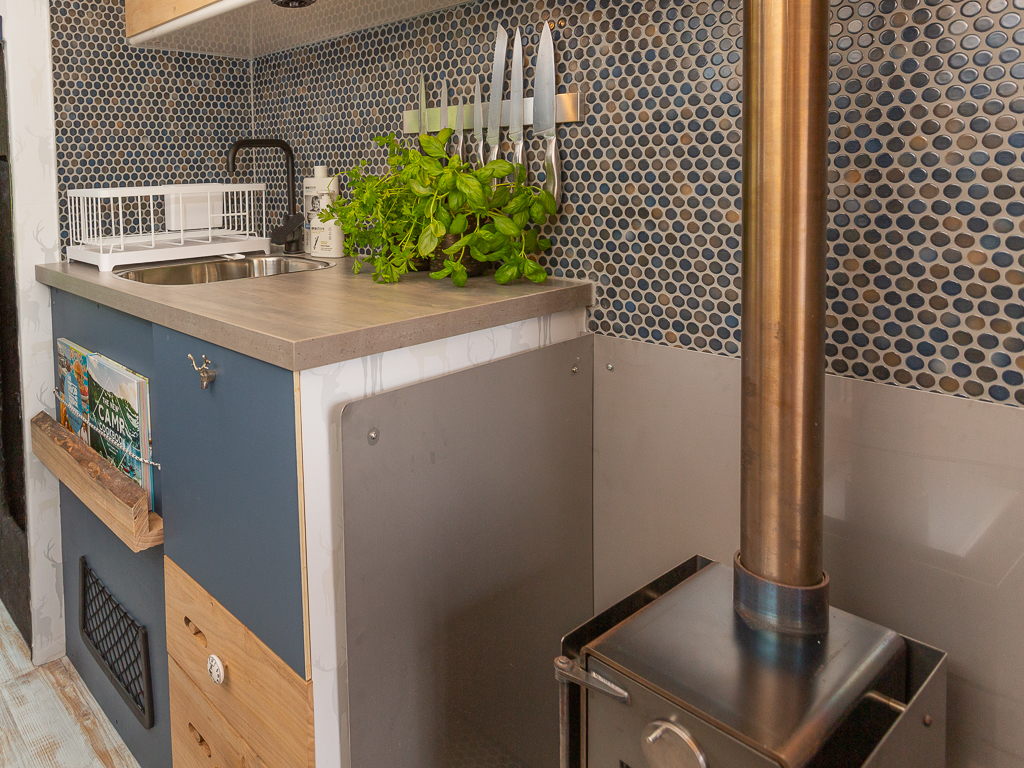 Getting a return on our investment
So what did this all cost? All up our investment was $48k. We spent nearly $19k on the ambulance but our lesson there was that we should've bought an empty ambulance for $3k or $4k less!
| | |
| --- | --- |
| Conversion breakdown | Cost |
| Base vehicle | $19k |
| External repairs and paint job | $8k |
| Kitchen appliances and awning | $6k |
| Internal timber, paint and tiling | $2k |
| Awning and outside shower & tent | $2k |
| Soft furnishings | $1k |
| Labour | $8k |
| Compliance/certification | $2k |
| TOTAL | $48k |
Ivan has secured over $25k of customer bookings in his first year – despite a global pandemic! After allowing for the commission and insurance costs, the payback on our investment is less than 3 years. And meanwhile we have our own little holiday home on wheels. Happy days!
If you want to know more renting out your own campervan through Quirky Campers NZ then sign up for our FAQs