Our friends Brenda and Andy at Cruzar Custom Campers based in Rangiora, have just finished this lovely conversion… and it could now be yours! Imagine exploring NZ in this beauty! Such understated elegance, all ready for you to add your own personal touches too.
All the interior woodwork is custom built by Brenda and Andy and everything's certified and ready to go. So let's talk details…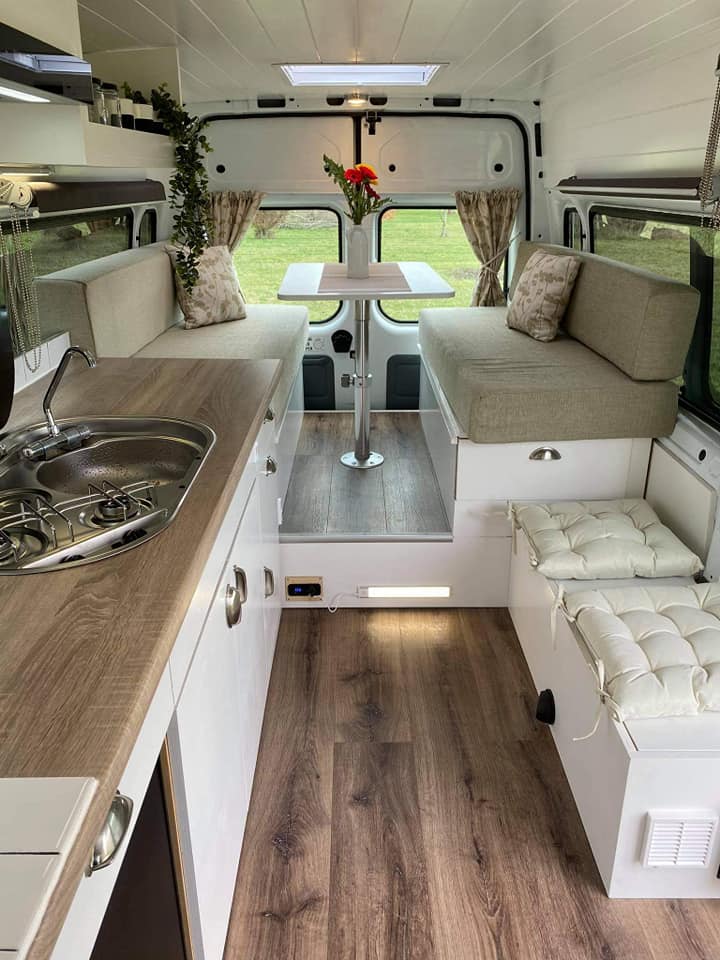 It's a 2011 LWB Ford Transit – 2.4L diesel, manual drive – with 246k kilometres on the clock. So heaps of life yet! It has remote central locking, reversing camera and comes with two keys.
The van is NZ-new, has been well maintained and has good bodywork. Up front there are two single seats and convenient access to the kitchen and living space from the cab. Just pull back the curtains that provide privacy and reveal this stylish and practical conversion.
The van has been insulated all round (floor, walls and ceiling). It has vinyl plank floor coverings, blackout blinds and lined curtains, a variety of LED strip lights and spotlights. We love the sophisticated colour scheme which keeps the whole space light and airy.
When it comes to the kitchen, it's well equipped with a Dometic sink and 2 burner gas stove unit (with external gas bottle locker) and range hood. The sink has an electric water pump with hot water. There's a 12V compressor fridge with generous 85L capacity (and small freezer compartment) and loads of storage with a variety of cupboard spaces, drawers and overhead spaces. With the white splashback tile and classy finishes it has that modern cottage feel… just on wheels!
The internal height – floor to ceiling – is 1.6m and in the living/bedroom area, you step up to the luxurious bench seating area which converts into a bed that is 140cm wide and 175cm long. The squabs are deep (15cm deluxe foam) for a very comfortable sleep and if it gets chilly there's a diesel heater (with it's own fuel tank) which is very economical and can run all night. With the skylight you can enjoy a nice breeze… so welcome on those warm nights!
You can plug in your devices and gadgets into the USB sockets and 230v plug sockets (when hooked up to campsite power) and you can stay off-grid courtesy of the 320w solar panel on the roof and 100Ah leisure battery.
Behind the scenes you can rest assured that all the electrics and gas meet the regulations. The van is also certified self-contained (CSC) for two people, and has generous 60L fresh and 65L waste water tanks and a portable toilet (stored under a bench seat).
Outside there's 3m x 3m Fiamma awning and a tow bar. There's also extra storage space accessible from the back doors under the raised seating area – a mini garage.
All this doesn't come cheap but as they say you get what you pay for! This van is yours for $38k NZD (or nearest offer).
And of course, we'd be proud to list this van as part of the Quirky Campers NZ family – attracting customers who want to hire it out – which means you could be recouping your costs when you're not using it and potentially break even in about 3 years… all while you have your very own bach on wheels!
Check out Cruzar Customer Campervans on Facebook and @cruzarcustomercampervans on Instagram… and email Brenda & Andy or call them on 027 479 6060 if you're interested in owning this wonderful campervan.