Affectionately known as "Rotovegas", this small geothermal city is easily dismissed as just another Kiwi town. But look within Rotorua and you'll find a peaceful haven with shimmering lakes, breathtaking hikes and rich Māori history.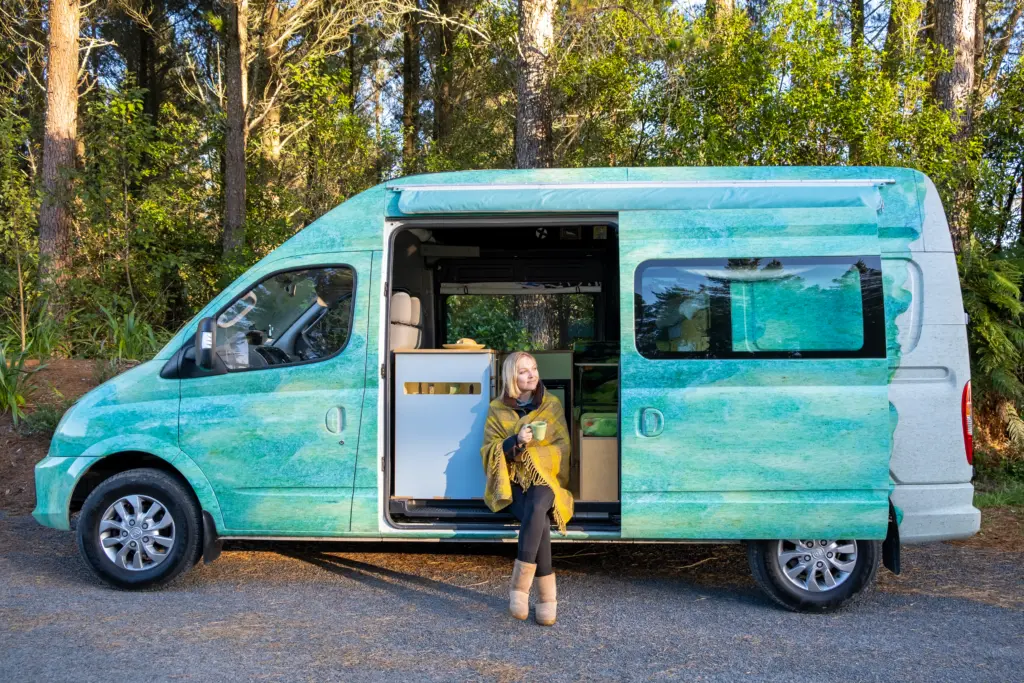 Craving a respite from the trappings of our city schedules, my best friend Chris and I decided to book Vallery (Van + Gallery = Vallery!) and plan a trip to Rotorua. We weren't in the mood for a long drive, so the less than 3-hour journey was ideal. And I had heaps of gear to take – my drone, camera, tripods and gimbals to name a few, so Vallery's huge boot space was a massive pro.

Day 1. And we're off! Auckland – Rotorua
Determined to beat the throngs of Friday commuters, we picked up Vallery early and set off before 9am. I drove, and Chris took on DJ duties. She started off strong with Kiwi classics like Crowded House's Weather with You, and, for a dash of nostalgia, Lorde's Royals ("in a torn up town, no post code envy"). For me, Goldenhorse's "Maybe Tomorrow" is an absolute must. Always pays to choose a roadie buddy with good music taste!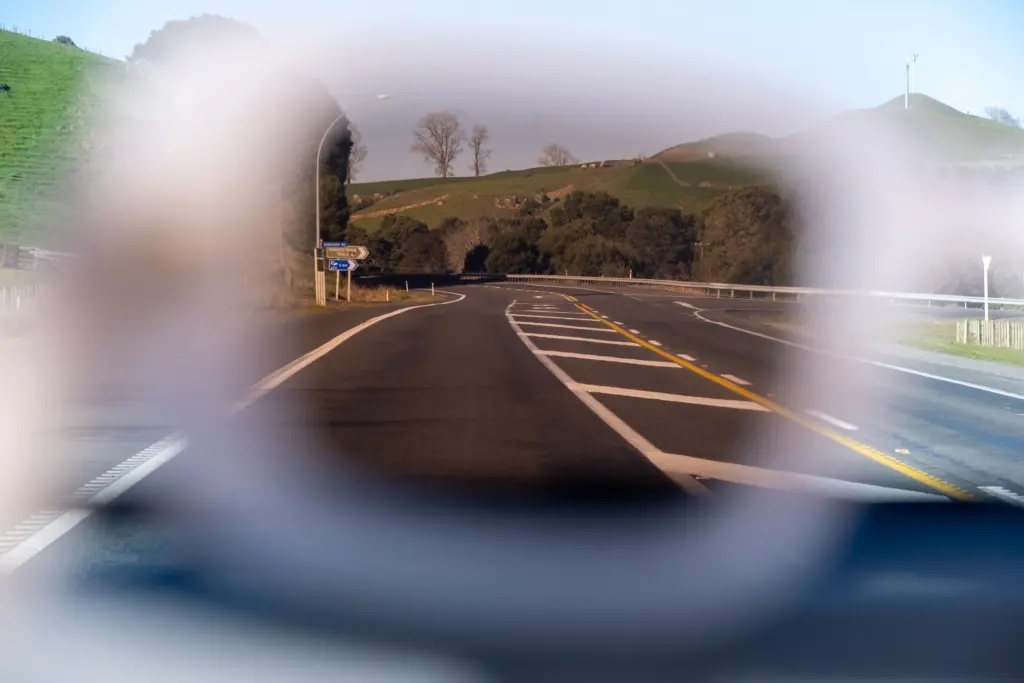 One coffee stop and supermarket run later, we drove Vallery to the edge of Lake Rotorua, hoping to soak up the last rays of the day with an unobstructed lake view. It had been weeks since either of us had basked in sunlight (thanks so much Auckland weather!) which made the afternoon all the more blissful.
A colony of squawking seagulls busied themselves around the shallows of the lake, copping disdainful glares from a small family of swans. Now unable to sleep, I seized the opportunity to snap some pics of Vallery in the midday light. Look how she glows!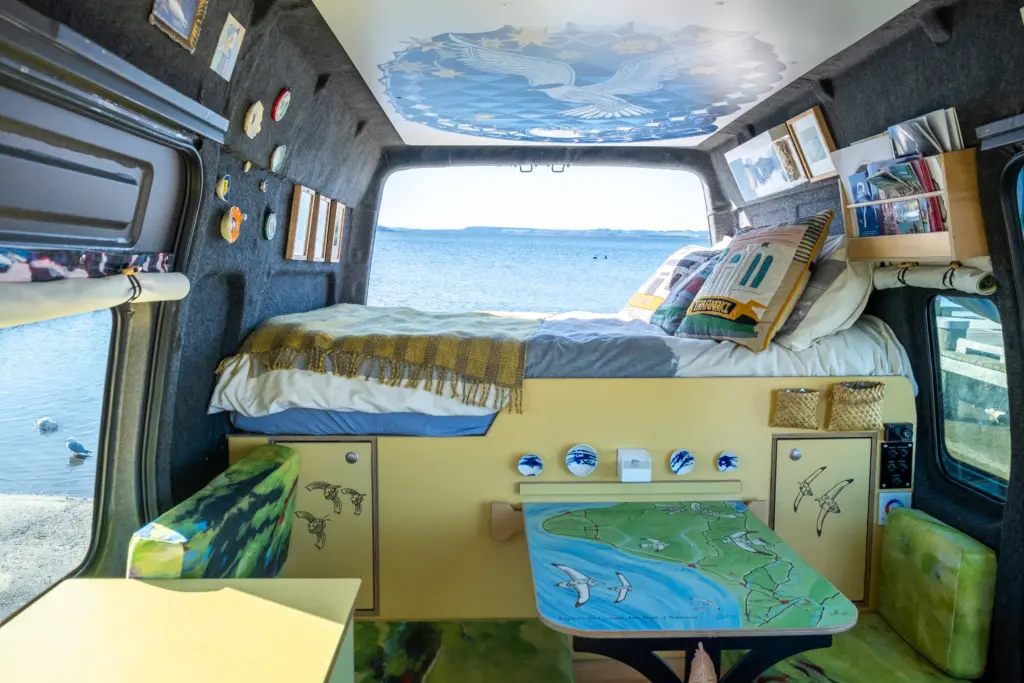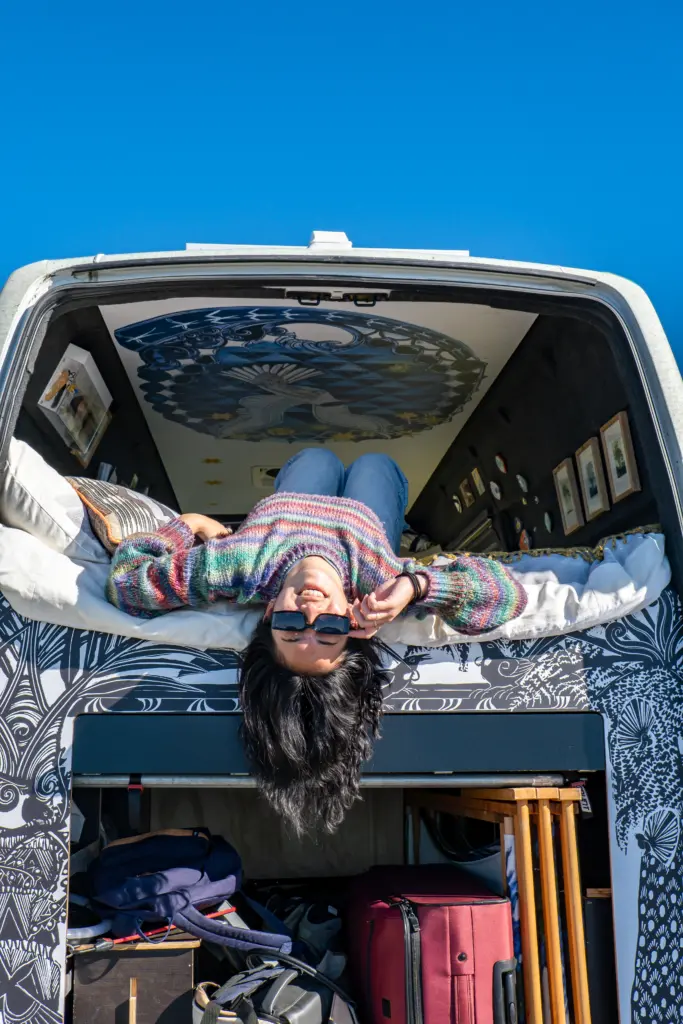 Lunch was a quick, low-effort and tasty recommendation from a Quirky fan – ham, cheese, and coleslaw ciabatta buns. Yum!
Two hours flew by before we realised it was still a wee drive to get to our freedom campsite for the night. So off we went! Top tip: Don't blindly follow CamperMate's coordinates to destinations! We ended up driving down a kilometer-long driveway before a woman politely explained our error and redirected us a few kilometers back the other way. I played the blonde card and we sheepishly reversed. Awkward. :')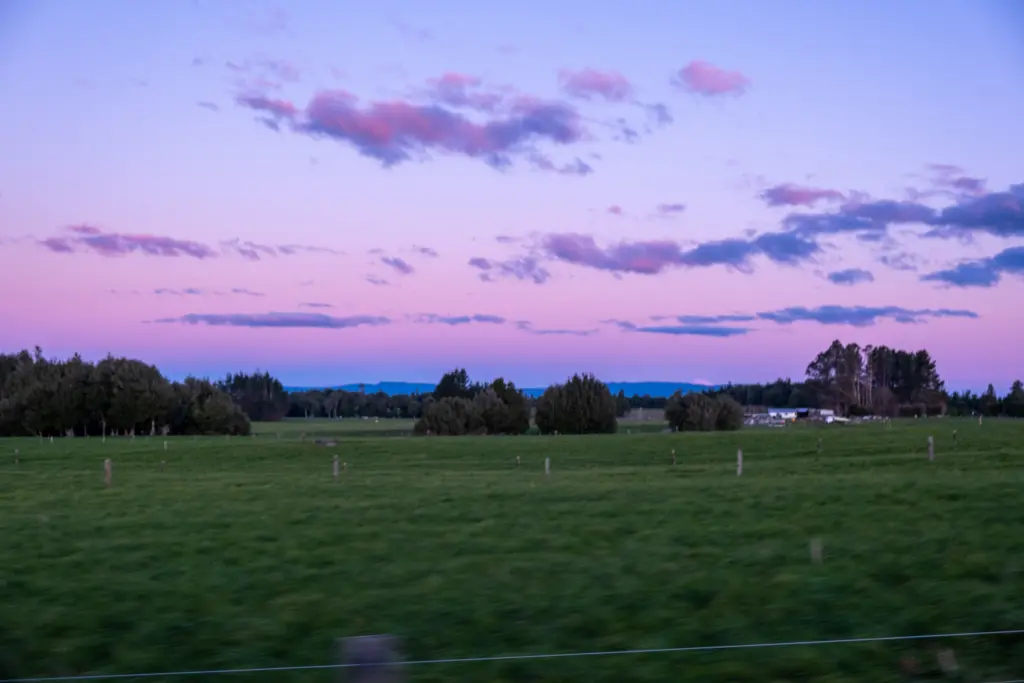 Feeling like right amateurs, we giggled for the rest of the drive. The sky seamlessly faded from a soft blue into a pinkish purple, before darkening to a navy black. We had arrived!
Easily one of the best things about winter camping (besides the pristine landscapes) is the tranquility.
In that large TECT freedom camping site, Vallery was the only van. Surrounded by tall pine trees, crisp air and an open sky, it felt like Chris and I had the world to ourselves.
At around 6pm, it was time to settle in and get cosy! We freshened up in the park's on-site KiwiCamp facilities, locked up Vallery and fired up the diesel heater. Within minutes, the warmth had us shedding layers – a heavenly escape from our draughty Auckland flat. Buzzing from the lollies we'd unthinkingly grazed on, we danced around the kitchen (still somewhat clumsy in the shared space) and made fried dumplings with garlic, ginger, and topped with sweet chili, aioli & coleslaw. Chefs much.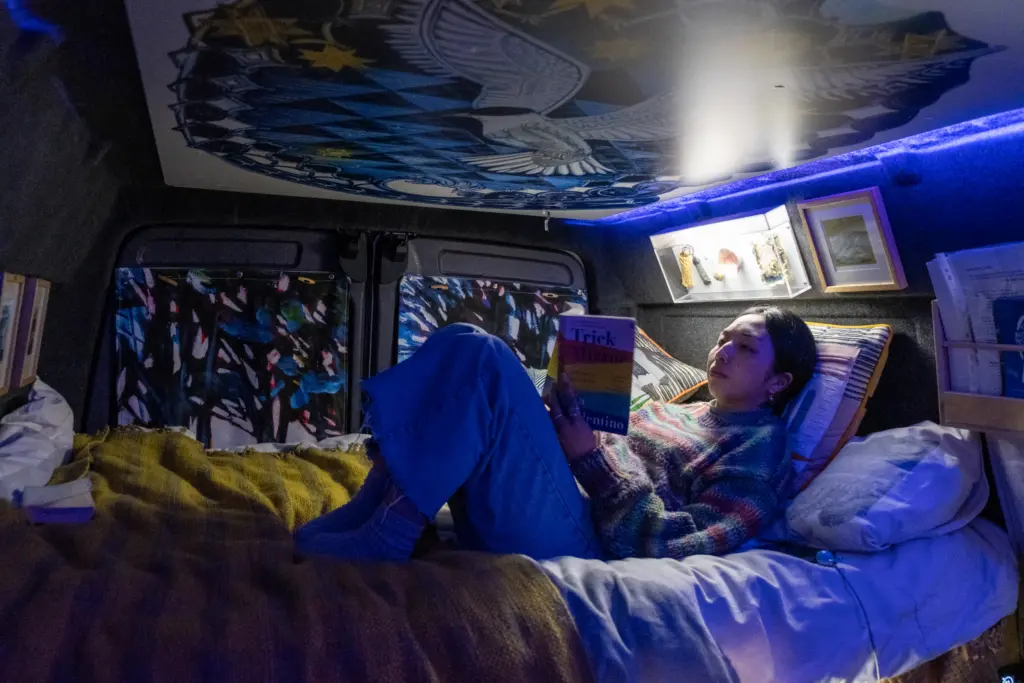 Satisfied and sleepy, we tucked in and wound down. I peeked outside at 9 and was greeted by a sky filled with thousands of twinkling stars. The Milky Way was just visible with its faint kaleidoscope of color. Bedtime.
Day 2. Secret Spot Hot Tubs and Meeting the Locals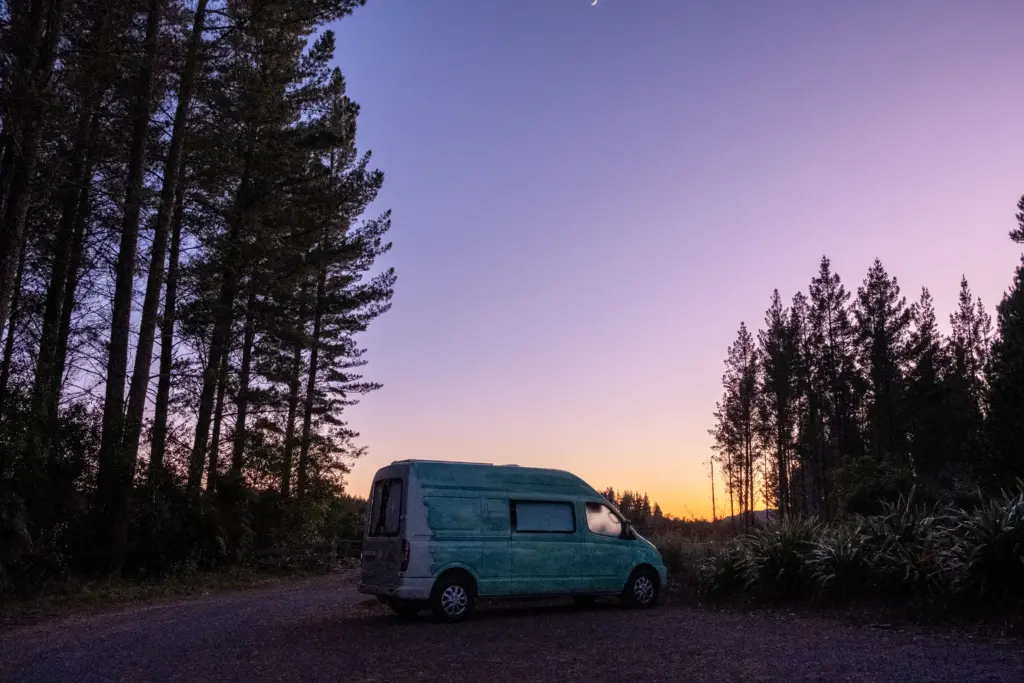 After a steaming mug of coffee over sunrise (the dream), we hopped in the cab and tootled along to our first stop of the day: Secret Spot Hot Tubs! On arrival, the friendly staff gave us a quick tour, took our coffee orders and led us to the changing rooms.

We tiptoed along the frosty path to our private, steaming tub. As we eased into the 45-degree water, the chill of the winter morning vanished. Streams of sunlight filtered through the bare trees, casting golden flecks of light on the frosted foliage around us. We sighed in unison, feeling the stress of city life melt away.
After our 45-minute soak, we wandered back to the main area, dipped our feet in the foot spa, showered (they have those amazing big showerheads that cascade down..mmm!) and got back into our winter layers. What a spot! So secluded and especially spectacular with such frosty surroundings. Both Chris and I left buzzing and would highly, highly recommend it as a relaxing addition to your Rotorua trip!

Feeling rejuvenated, we drove to Lake Okareka with the plan of hiking its boardwalk. But, as so often happens with the best adventures, our day took an unexpected turn. A local named Sandra approached Chris while she wrote her diary to strike up a conversation. Endeared by her warmth, we accepted her invitation into her home to learn more about the area's history. Over tea and biscuits, we covered topics ranging from the relevant – Rotorua's Māori history and evolving landscape – to the random – where to go bear spotting in Alaska. 😁

An hour later, Sandra took us to the DOC camping area she used to co-manage and proudly showed us the boardwalks her fellow council members built over years of hard work. It was inspiring to see someone care so deeply about preserving New Zealand's fragile land. Here she is in her adorable beanie with Chris. 🙂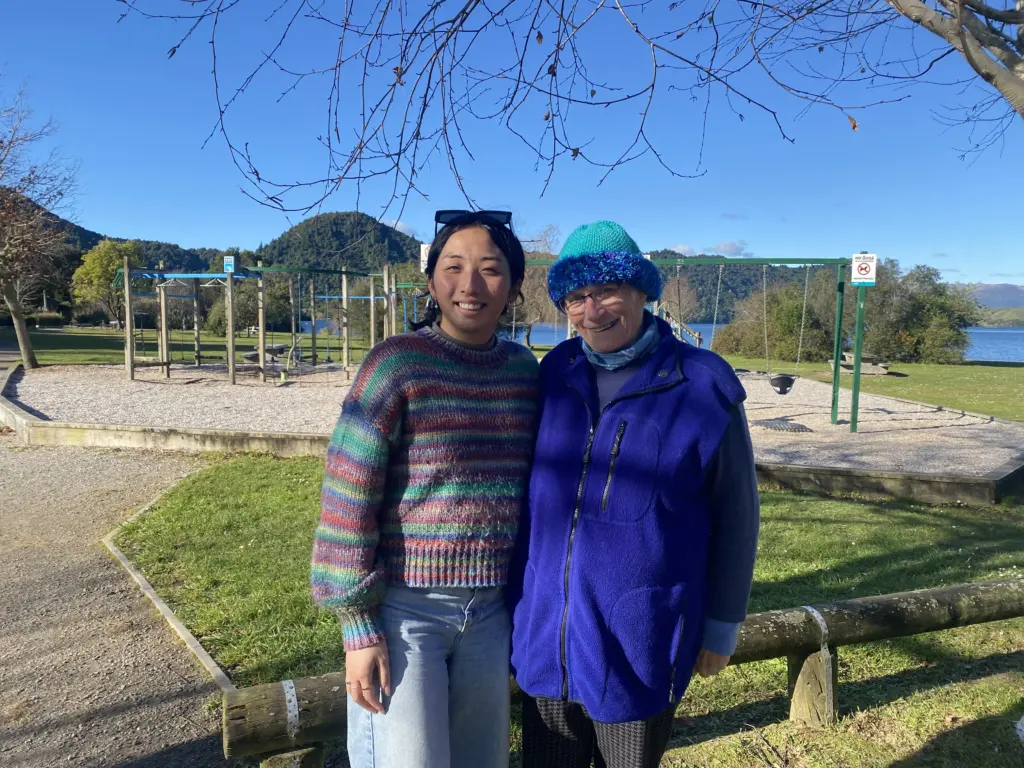 We said our farewells and headed a few minutes down the road to our home for the night – Blue Lake Top 10 Campground. Chris and I went for a stroll around the grounds before chilling in the roomy kitchen and showering in the (heated 😍) bathrooms.

Hungry once again, we whipped up some vegetarian nachos and debated the "correct" way to plate them. I'm a strong advocate for beans first and chips last. Chris, on the other hand, loves the part-soggy, part-crunchy textural combo you get by putting chips down first, then the beans. Each to their own! (Mine tasted better though.) 😉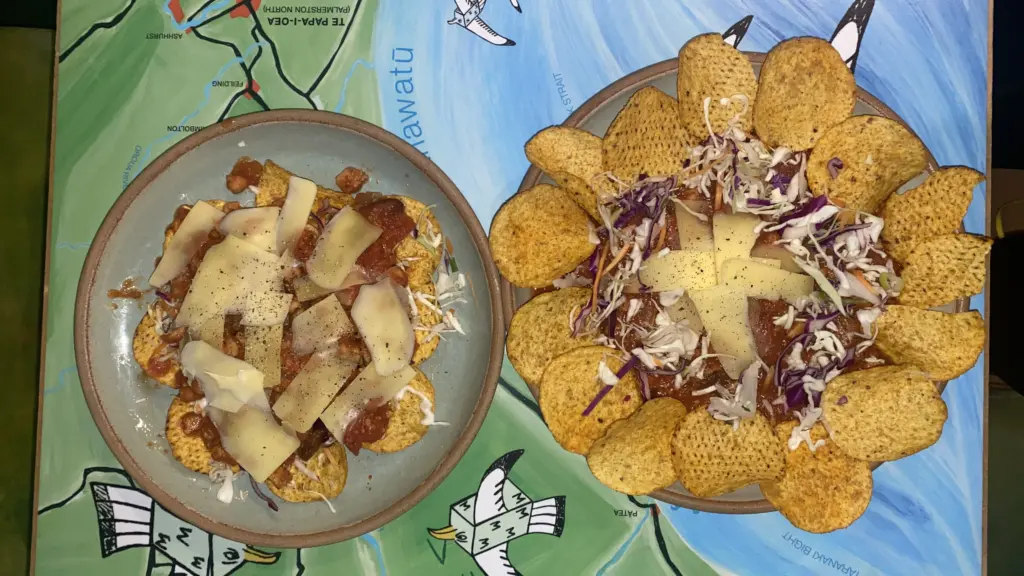 Day 3 in Rotorua – Hell's Gate & Lakeside Walks
Another stunning morning in Rotorua! Given our campsite spot was just a 30 second drive from Lake Tikitapu, we decided to wake up before sunrise and back Vallery up onto the lake. From there, we drank our coffees and watched the morning fog slowly; silently, lift off the water.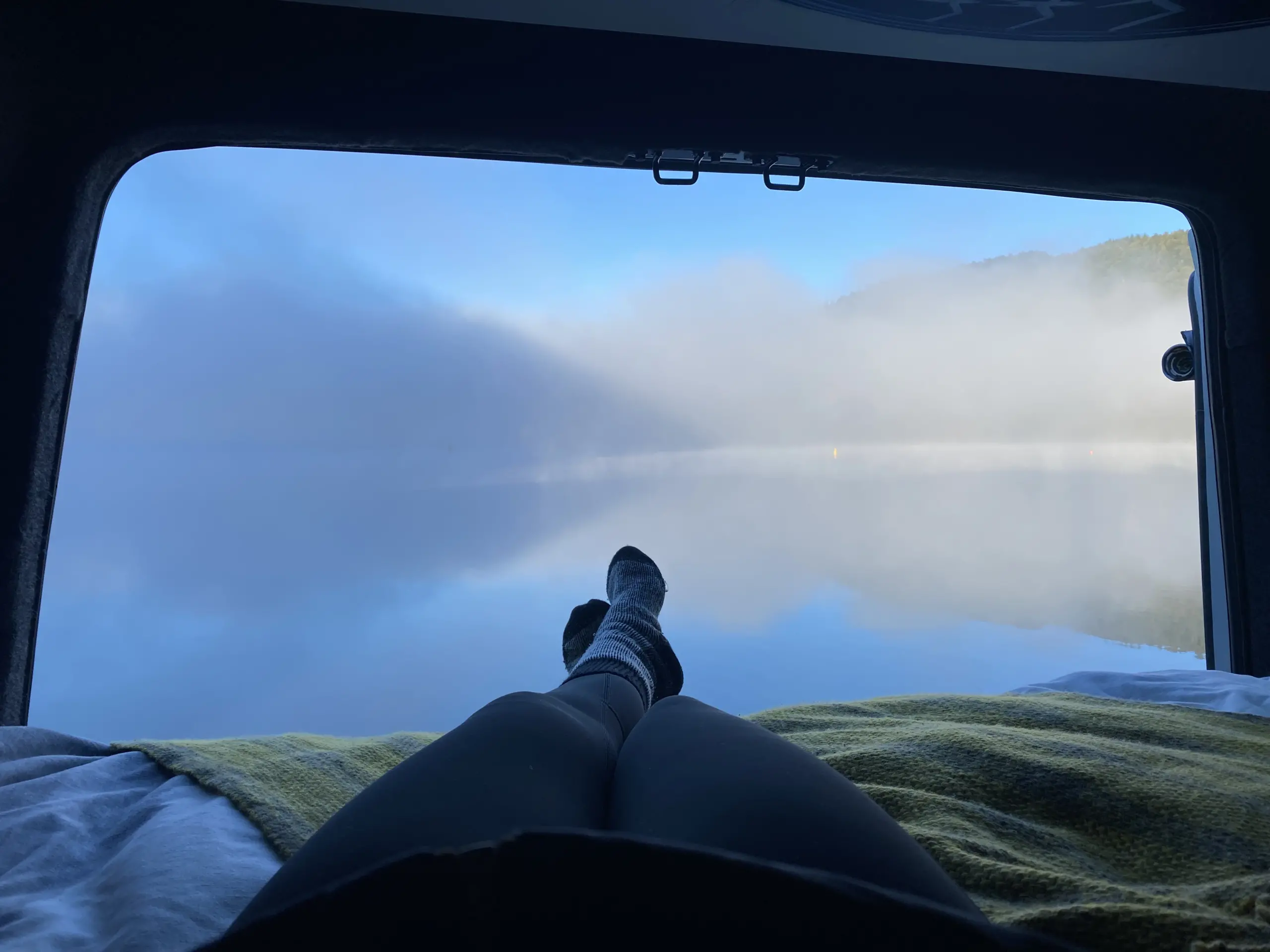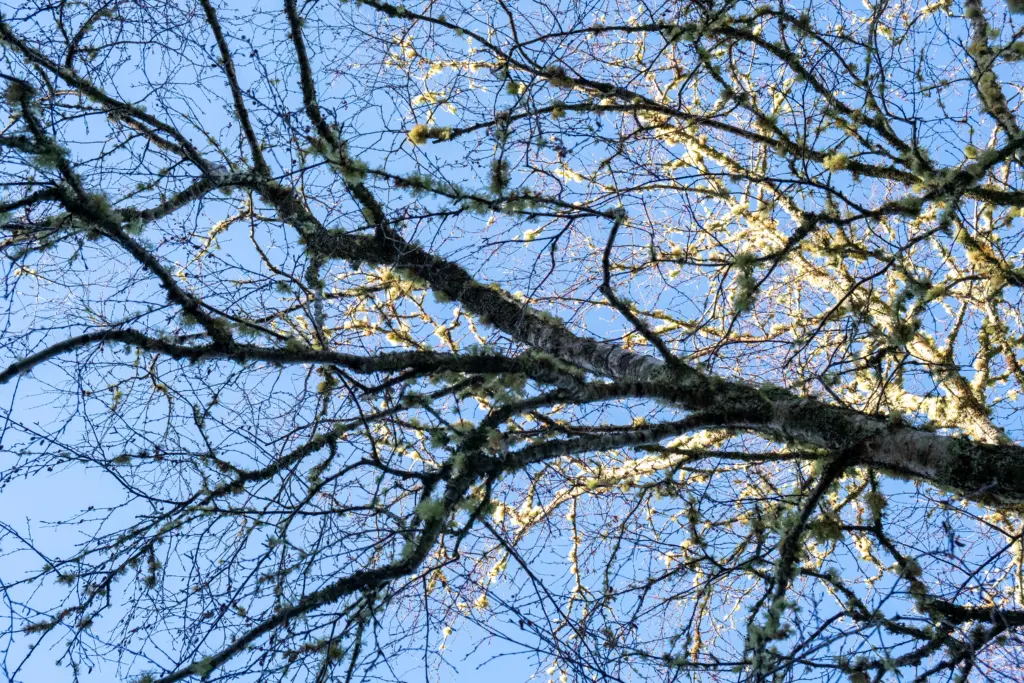 Still in my Uggs, I wandered around the lakefront accompanied by a cheeky fantail (Pīwakawaka). I tried (and failed) to capture a photo of it flitting about next to me.

For our second soak of the trip, we headed to Hell's Gate where we were treated to the "Experience" package. This combines all three of the most popular experiences – an interactive geothermal walk, Māori carving lesson, and a soaking session in their geothermal mud baths and sulphur spas.

The walk was by far the highlight for me. The mostly flat, well-kept path wove through a sprawling geothermal reserve made up of bubbling mud pools, acidic lakes, sulphur fumaroles, and roaring sinter cones. Each had their unique names, colours and temperatures. With only a few other people on the track at the same time as us, we were able to appreciate the majesty of this place totally uninterrupted.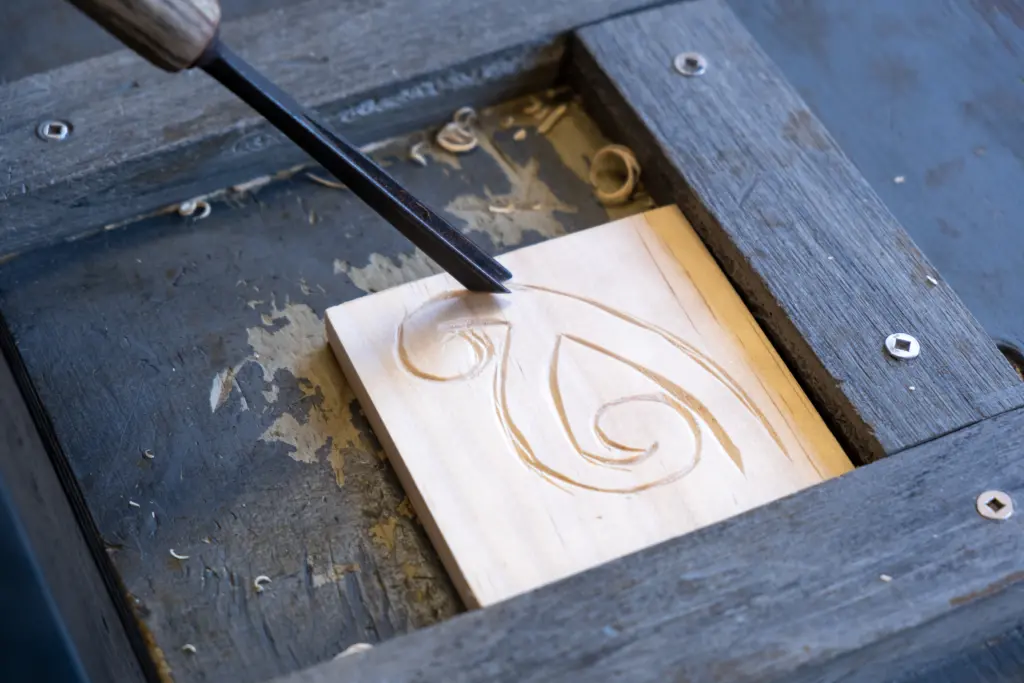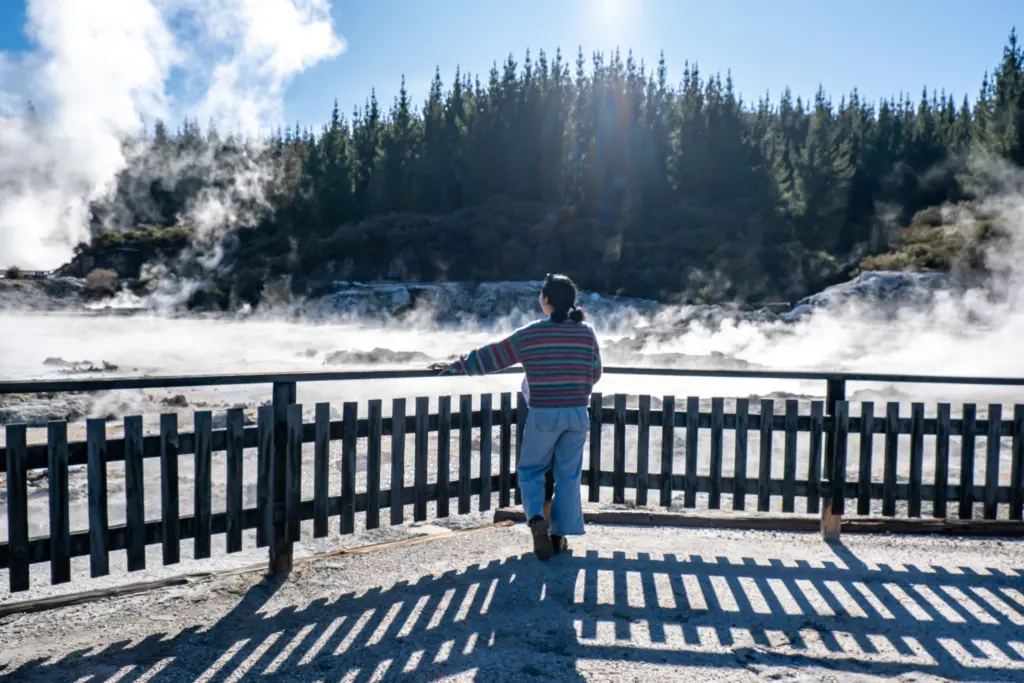 The map given to us at reception gave us insights into the history and geological makeup of each pool. Some were scorching hot at around 90 degrees celsius – ouch! I'd prepared myself for a strong sulfuric smell, but, anticlimactically, it was actually quite pleasant. That Rotorua is stinky is honestly a total fallacy.

Part-way into the walk, I saw something that stopped me in my tracks, Kakahi Falls. The largest geothermal waterfall in the Southern Hemisphere. I'll leave this photo here. 😍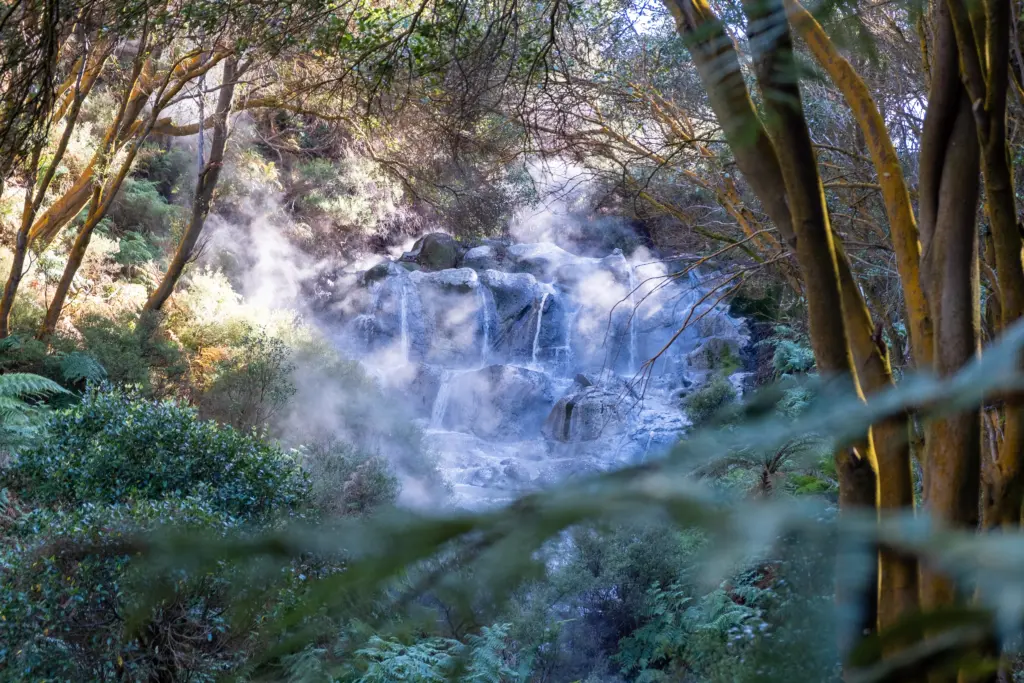 Next up was our soak in the mud pool. My inner child had a field day getting messy and rubbing the exfoliating mud all over my arms, legs, and face. But fair warning – do take them seriously when they say to avoid getting it in/around your eyes. Trust me when I say it's not worth it! 😅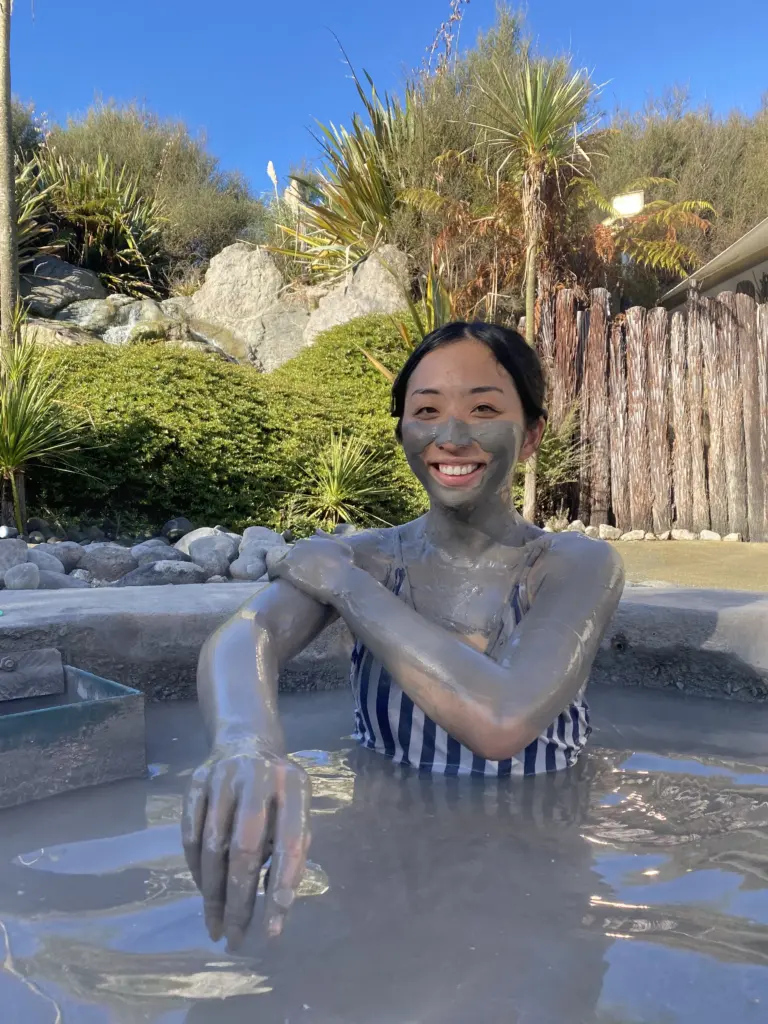 After rinsing off, we headed into the sulfur pools. I rested my head on the edge and looked out towards the geothermal reserve. The air was warm now and my body was in a state of total relaxation. Yet again, I found myself fighting the urge to nap!
We thanked the staff for their hospitality, returned our borrowed togs and towels, and flopped into Vallery for a power nap! Taking it slow, we did a bit of driving around the outskirts of Rotorua until we grew peckish. A supermarket chocolate danish from a wee roadside bakery did the trick!

Like the true party animals we are, we went wild with another crazy night…. In bed by 8 with a peppermint tea in one hand and a book in the other. 😴
Day 4 – Redwoods walk then hometime!
After two days of sitting around and soaking, we thought it time to get some proper exercise! Whakarewarewa Forest offers the majestic Redwoods Treewalk experience, but given we only had a short time to fill, we opted for one of the free ground-level hikes instead.

Dog-walkers and power-walking couples greeted us in passing with "Kia ora"s and big grins. We were totally dwarfed by the size of these trees which towered above us. It was quite spectacular.
Hometime! :') What a blissfully relaxing three days in Rotorua! Thanks a million to Secret Spot, Hells Gate, Blue Lake Top 10 Holiday Park and RotoruaNZ for collaborating with us to make this trip so memorable.

Whether you're like us – Aucklanders craving a winter roadie not too far from home – or visitors to the North Island wanting to see what the region has to offer, Rotorua is a must-see! Head over to RotoruaNZ to find activities and/or itineraries that suit you!

If you're keen to follow in our footsteps and take Vallery, or one of our other bespoke campervans for hire on a trip, check out our collection for hire!