This handcrafted campervan could be all yours (NOW SOLD)
Our friends Meisha and Vincent are selling their beloved self built campervan, Earl, to embark on a new project. Earl is actually the third van converted by this talented couple – so they know a thing or two about creating a great build – and they are itching to do their fourth!
Earl will be available to view in Auckland from Friday 7 May 2021 and is yours for $23k NZD or nearest offer so let's talk details…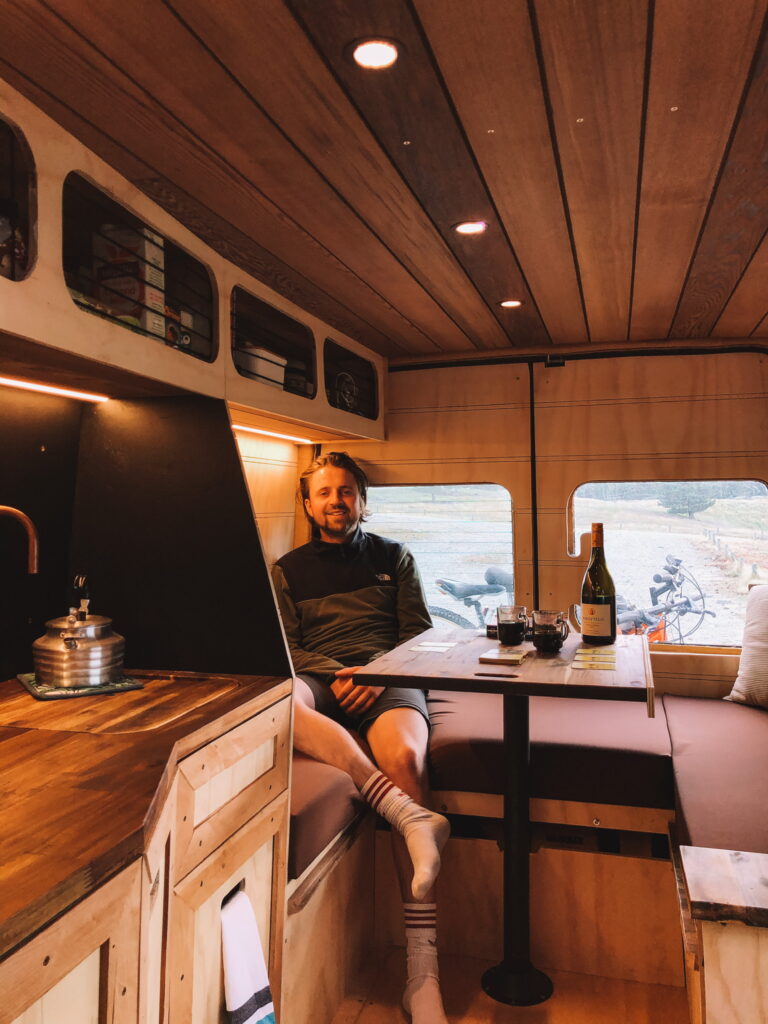 All about the vehicle
Earl is a 2005 Ford Transit (SWB, mid roof) – 2.2L diesel, 5 speed manual drive – with about 252k kilometres on the clock. The rego is valid until 12/08/2021 and the WOF until 01/10/2021.
The bodywork and cab have some blemishes representative of his age, but in our opinion Earl is in great condition. He has remote central locking and comes with one key. Up front in the cab there are two seats with access to the main living area which gives the interior that extra bit of length and a more spacious feel.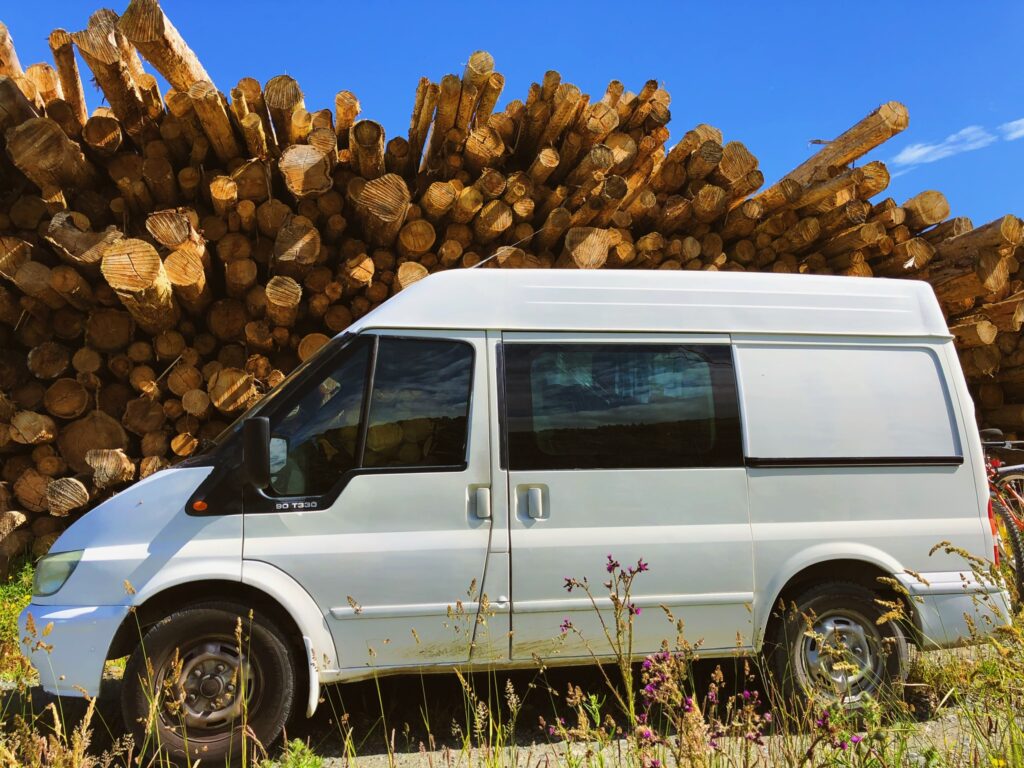 The living area
Such a social space
The van is fully insulated, has a natural ply floor, whitewashed ply walls and a beautiful ceiling made with cedar cladding (which smells as good as it looks). There are 3 LED spotlights down the centre of the van and also a warm white LED strip light which runs all the way along the underside of the overhead storage compartments… and looks fab!
The seating area (with 100mm deep cushions) in 'daytime mode' makes a rather social U-shape with space for the large acacia dining table in the middle. It can seat 5 people comfortably round the table so you can invite friends over!
The interior height is 1.6m and in terms of kitchen, Earl has a portable 2 burner LPG gas stove (with 7kg gas bottle) and a chilly bin for storing cold food and drink stored neatly inside one of the large drawers (on indistrial runners!). If you'd prefer a powered cooler, there are 12v cables in place for a possible future fridge.
Earl has a built-in under-mounted sink with a beautiful handmade copper tap – oh so quirky! There's heaps of space for food in the overhead storage compartments which are all secured with bungee cord. The kitchen walls are all covered in chalkboard paint, which is perfect for to do lists and there's a old bar stool to sit on whilst in the kitchen too!
A comfy bed for two
Earl's bed measures 120cm x 170cm across the rear of the camper – so a little narrower and shorter than a standard double bed. There are also storage areas overhead and under the bed.
The power system
Earl has a 120Ah AGM leisure battery (with fast charge) and comes with a 200w foldable solar blanket and MPPT solar regulator. He also has a VSR, split charge system to charge the battery when driving. There are two USB ports and a 300w pure sine wave inverter for any small appliances. Meisha and Vincent regualrly charge two phones, a laptop and speaker as well as using the tap and all lights for days without the need to top up the battery.
The hobby station!
The sliding door on the drivers side opens up to reveal a hobby station; a wall with hooks for tennis rackets/hose pipes/fishing gear etc. and a pull out drawer for anything from nuts and bolts to jandals! It's currently used it as a tool station… but the tools won't be included in the sale.
Is it self-contained?
The van is certified self-contained (CSC) (valid until 02/12/24) for two people and has 30L fresh and waste water containers. The kitchen sink has an electric pump tap. The portable toilet (included) is stored in a large drawers in the kitchen making it super easy to access at all times.
Recoup your costs by renting out your campervan with Quirky Campers
If you like the look of Earl and want a return on your investment then you could consider making him part of the Quirky Campers NZ family! Renting him out to our caring, responsible customers means you'd recoup your costs when you're not using Earl yourself and potentially break even in about 2 years. All while you have your very own bach on wheels! Sound good? Find out more about renting out your campervan.
Find out more about buying this campervan
If you're interested in owning this lovely campervan, contact Meisha directly at meisha.jackson94@gmail.com