We invited guest blogger Anke Ruwette to share the itinerary and top tips from her summer campervan trip across the South Island with her gorgeous pup!
Hi! I'm Anke and this adorable furball is my dog Milo. I love travelling and exploring New Zealand and find that travelling by campervan is an easier way to explore the country with a pup as you always have your "home" with you. Here I share the itinerary, top tips and highlights from my most recent trip.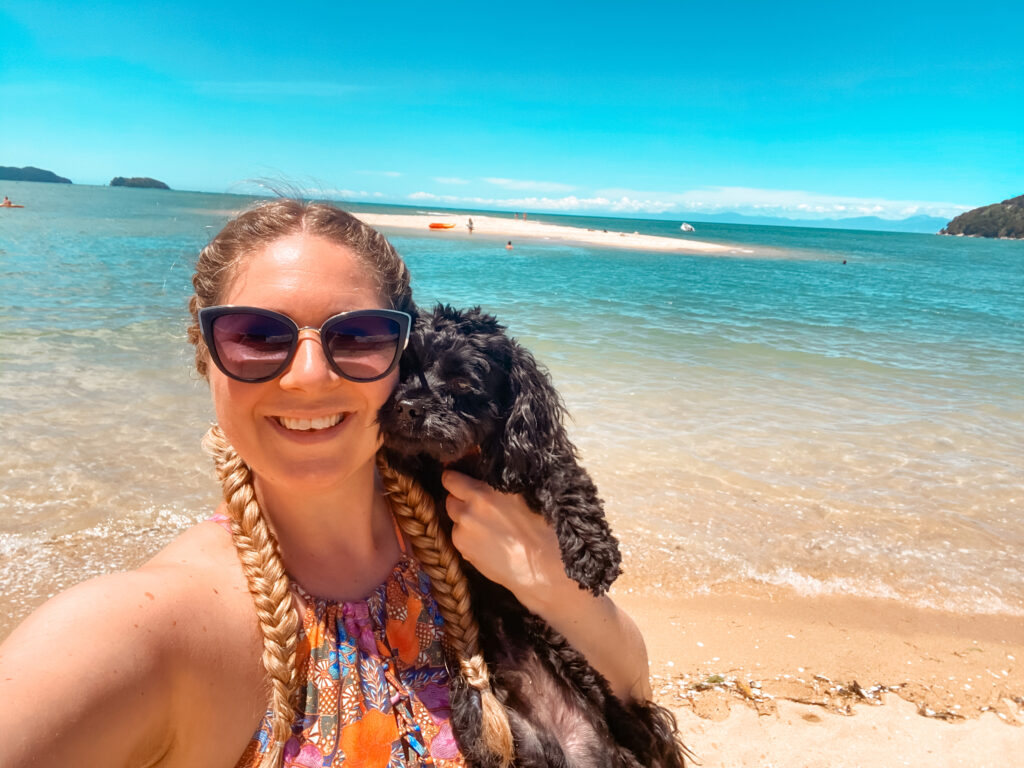 Choosing a campervan
After a successful first campervan trip in September I knew we were ready for the big roadie! So we decided to spend the Christmas break travelling across the South Island, exploring new sites and meeting up with friends.
I ended up choosing Quirky Campers NZ after thoroughly researching all the campervans out there. The quirky style of the vans is totally me and I chose Buzz (no longer listed) for his looks, size and location (close to Invercargill). The wood interior looked super cute and I liked that the set-up of the bed was a couch-to-bed design instead of the more typical table/bench set-up.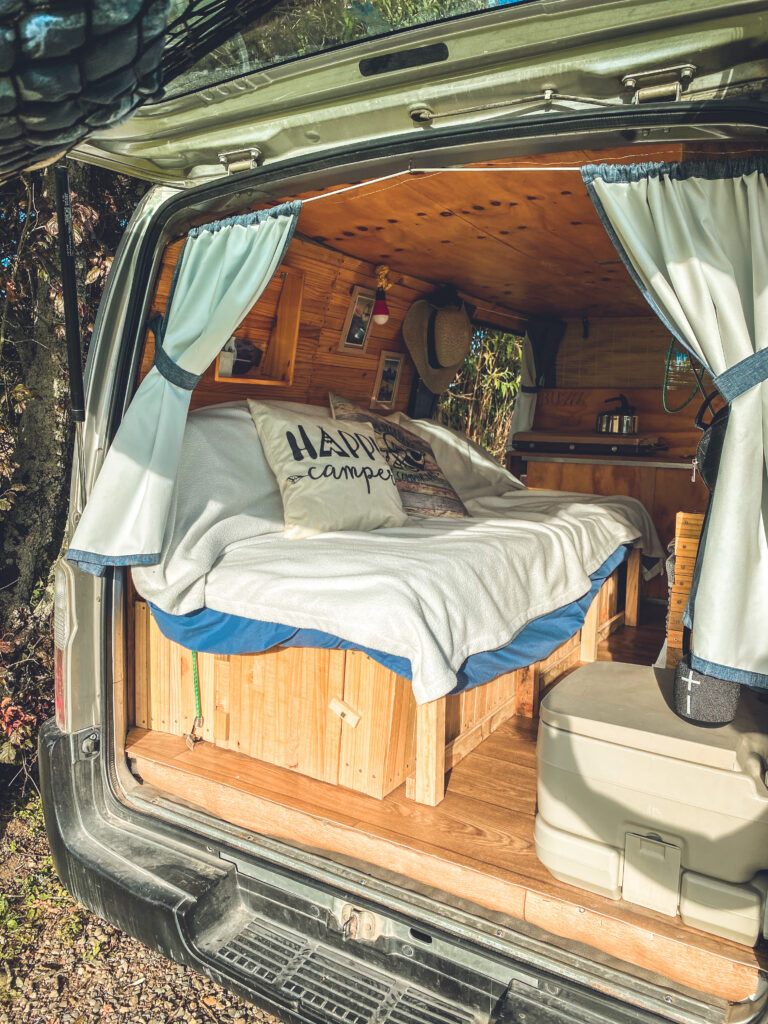 Planning our trip
After booking Buzz, I started planning our adventure. I knew I was going to be meeting up with friends so I planned my trip around that. I love using Google Maps in the planning stage as it gives me an idea of where the spots I want to go are located as well as driving times.
After I had a rough idea of the trip I started looking at good places to stay that were dog-friendly since Milo was coming along. I used Campermate for this as they have a pet-friendly filter option and I saved sites that looked good across the Island. I also found a Top 10 site that listed all their dog friendly Holiday Parks which was handy.
And then it was time to hit the road. Here's a link to a route we took and a run-down on our itinerary…
Queenstown > Cromwell
👱🏻‍♀️ Anke's Tips: Eat a pie at the Cromwell Bakery
Stay: Lowburn Harbour. Stayed the night freedom camping right outside of Cromwell. Lowburn Harbour is right on the lake, with lots of spots to set up camp. When I arrived it was already quite busy but I still managed to snag a spot on the lakefront. The site has toilets and it's really close to town, plus it's less than a 5 minute drive along the lake to the centre of Cromwell.
Cromwell > Staveley
🐾 Milo's Tips: Stop at Lake Tekapo's Dog Park! It's an awesome dog park in the woods. It's also next to an NZMCA park.
Stay: Taylors Stream Reserve – a freedom camping site in the middle of nowhere! It's a bit off the beaten track but this small freedom camping site was really well kept.
Staveley > Christchurch
🐾 Milo's Tips: Visit Central Bark Cafe at Pet Central for a pupcake or puppaccino.
Stay: North South Holiday Park. We were visiting friends for Christmas in Christchurch and North South Holiday Park is one of few sites that allow dogs.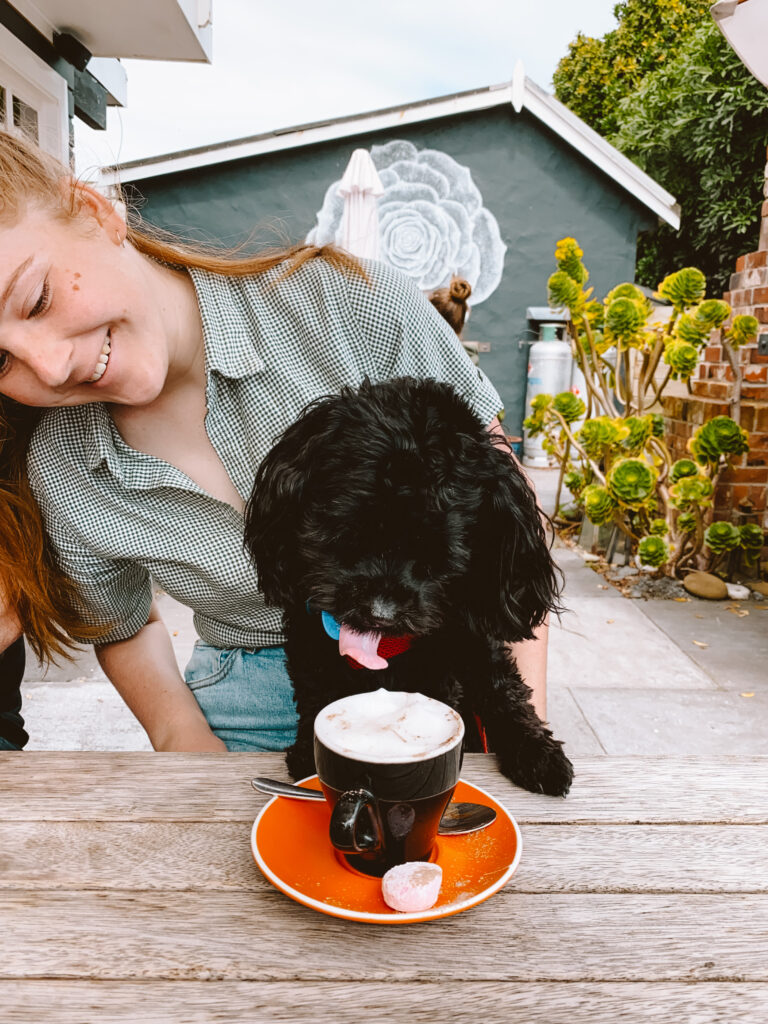 Christchurch > Hanmer Springs
👱🏻‍♀️ Anke's Tips: Can't go to Hanmer and not go to the Pools. We went on a rainy day and it was the best!
Stay: Hanmer Springs Top 10 Holiday Park… omg, the new facilities block is amazing. Definitely go check them out!
Hanmer Springs > Kaikoura
👱🏻‍♀️ Anke's Tips: Go and see the seal colony!
Stay: A1 Motel – it might be a bit outdated but the sites are nice and you probably can't get closer to town (except perhaps the freedom camping spots in front of the iSITE).
Kaikoura > Picton
👱🏻‍♀️ Anke's Tips: Stop for some crayfish at Karaka Lobster!
🐾 Milo's Tips: Also stop for crayfish 😋 there's also a dog park in Picton right behind the skate park, nice to let off some steam from the big drive.
Stay: Alexander Holiday Park probably one of the only parks in the area that allow dogs, so there were quite a few of them on site.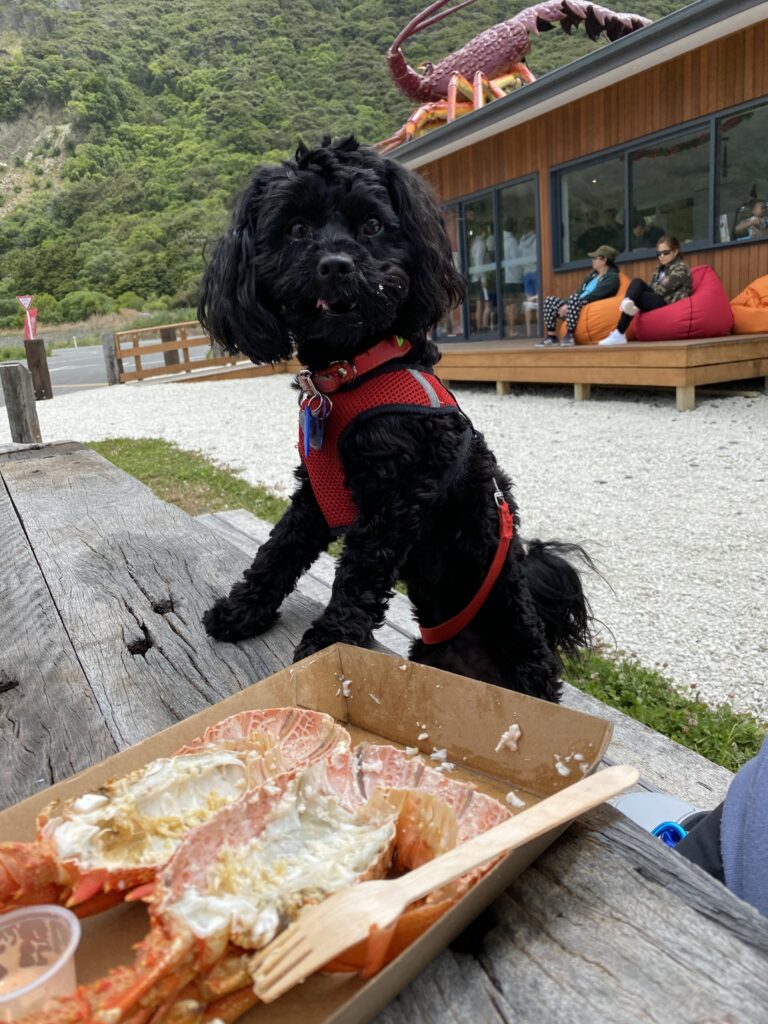 Picton > Nelson
👱🏻‍♀️ Anke's Tips: Before leaving Picton go the the Village Bakery for some pastry goodness.
🐾 Milo's Tips: Stop to stretch everyone's legs at Mahakipawa Scenic Reserve along the Queen Charlotte Drive!
Stay: Nelson Montgomery Square – freedom camping in the city at its best! This parking lot by day has a superloo where, for a few dollars, you can shower, use the toilet, do laundry etc. And we had a surprisingly good night sleep considering it was in town and it was New Years Eve!
Also stayed at the Nelson Top 10, which is right outside of town. It's probably one of the smallest Top 10 parks I've seen. Would recommend staying at the back of the campground as it is a bit more spacious and green. They don't always allow dogs so CHECK before booking!
Nelson > Motueka
👱🏻‍♀️ Anke's Tips: Visit Toad Hall, it's dog friendly and the fresh fruit ice cream is delicious! Day trip to Marahau (skip Kaiteriteri as it is not dog friendly). The base camp for Abel Tasman Kayaks is located at Marahau so I booked a kayak tour. It was one of my highlights and the team also took care of Milo for the day which was amazing! We also took a day trip to Wharariki Beach to see the elephant rock, and on the way stopped at the Ngarua Caves on top of the Takaka Hills.
🐾 Milo's Tips: Marahau Beach is dog friendly and it's a great beach for swimming or lounging.
Stay: 328 High Street. The only dog-friendly campsite in town during the summer. Since we were staying for a few days I wanted to book in so I didn't have to worry about finding a place to stay. 328 High Street may be small, but it's close to town and feels like you're in the middle of the fields including morning serenades by pukeko. We both would stay here again!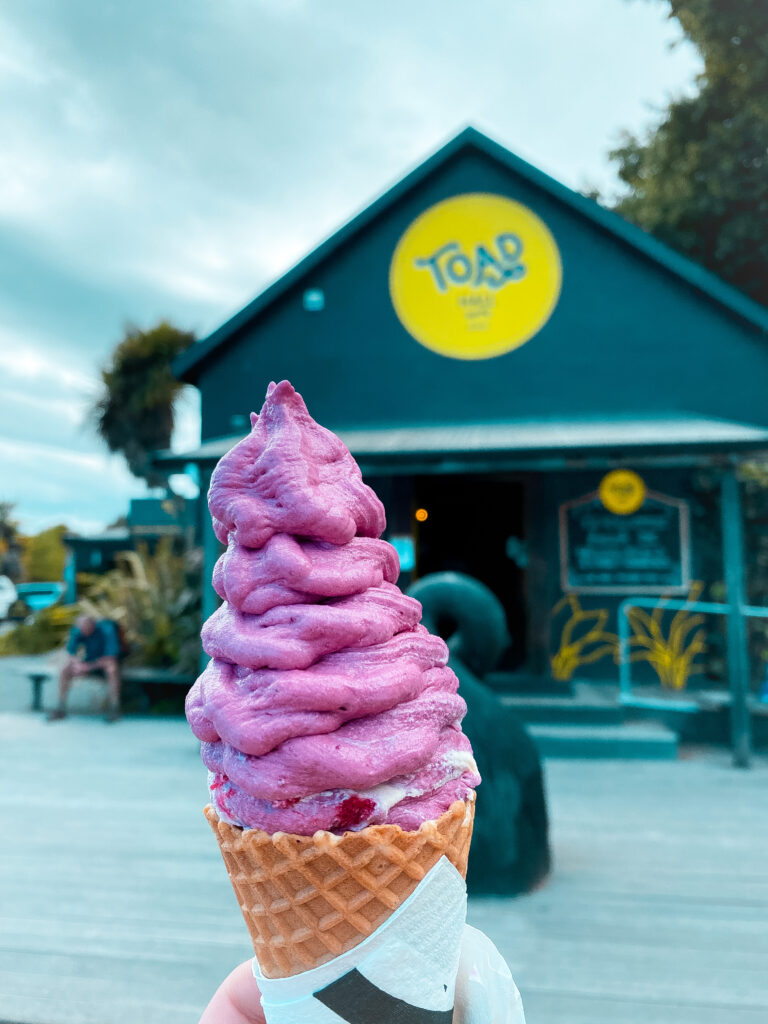 Motueka > Murchison
👱🏻‍♀️ Anke's Tips: Stay longer! I was just there for the night, and wish I would have stayed longer and explored more of the campground and its surrounding.
Stay: Riverside Holiday Park. Probably the most inexpensive stay besides the free ones and it was right on the water.
Murchison > Reefton
👱🏻‍♀️ Anke's Tips: Go and visit the Buller Gorge Swingbridge Adventure and Heritage Park, if you want to walk the longest swing bridge in New Zealand. You can also pan for gold here!
Stay: The Strand, this small freedom camping spot on the water is just a block away from the town centre.
Reefton > Ross
👱🏻‍♀️ Anke's Tips: Stop in Hokitika for lunch at the Sandwich Company.
🐾 Milo's Tips: Morning runs on the beach in front of the campground!
Stay: Ross Beach Top 10 Holiday Park. Loved this campground right on the ocean, all the sites are surrounded by huge flax, making it quite private. Also all the facilities are well kept and purpose-built. We loved the whole shipping container look.
Ross > Makarora
👱🏻‍♀️ Anke's Tips: Stop at Knight's Point Lookout for some amazing scenic views!
Stay: Makarora Country Cafe which is a quiet roadside campsite. They deliberately keep the numbers low so everyone has enough room and they can enjoy the facilities.
Makarora > Queenstown
The end of the trip and time to take Buzz home! We had an amazing time, Milo, Buzz and I… and can't wait for our next adventure!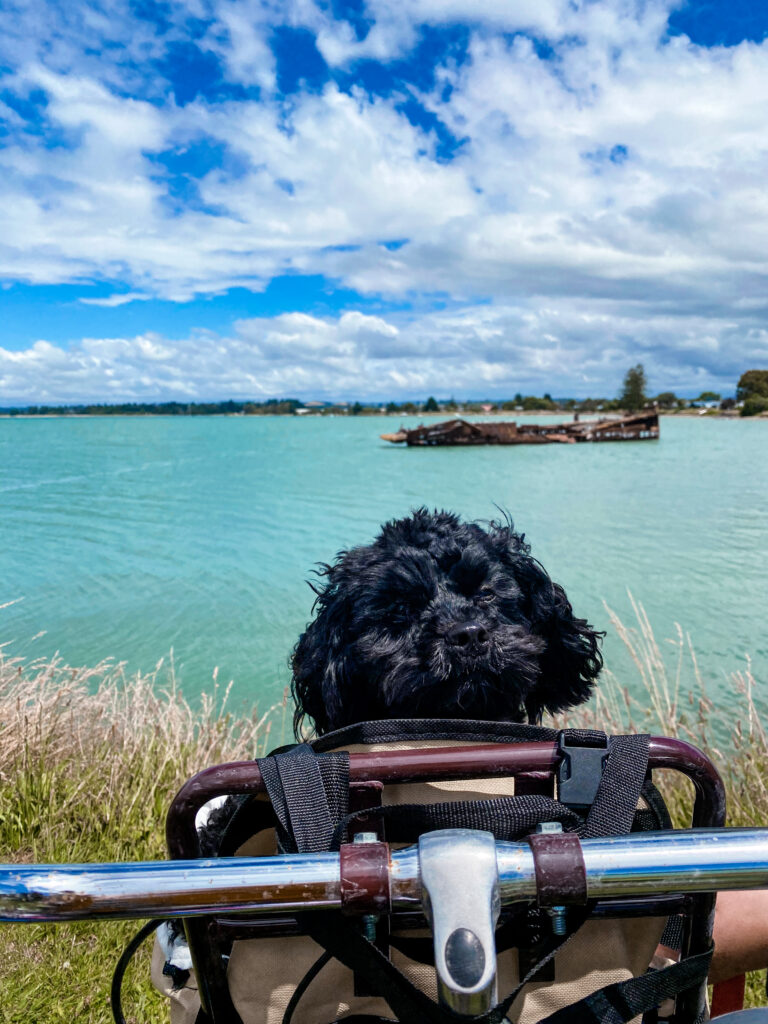 Trip Highlights
It was an fantastic trip around the South Island. Waking up in all these wonderful spots with my little furball, was the best!
The highlight has to be kayaking in Abel Tasman National Park. It has been on my bucket list since first visiting Abel Tasman years ago. I spent a whole day kayaking around the Marine Reserve, seeing baby seals, a baby seagull and even had a little blue penguin swim next to my kayak.
Milo sadly couldn't come with me, but while I was out on the water, he got to spend the day at Abel Tasman Kayaks Base Camp getting cuddles and treats from the amazing staff and visitors stopping by.
If you're keen to follow in Anke's footsteps and take your four-legged friend on a campervan trip, check out our pet-friendly collection for hire!