This lovely handcrafted campervan could be all yours (NOW SOLD)
One of our wonderful owners is selling their campervan. It doesn't happen very often so don't miss your chance to own your own Quirky Camper!
Fergus a compact fellow, but has everything you need for the perfect NZ road trip. He was hand built and finished with larch, rimu and beech and has lots of quirky features. Fergus is a boutique camper… small, stylish with a touch of highland charm! We love the cosy nook, where you can enjoy eating inside if the weather isn't great or snuggle up with a glass of wine and chill.
Fergus is currently based in Auckland and is up for sale as his owner is buying a bigger van. He's yours for $18k NZD or nearest offer so let's talk details…
All about the vehicle
Fergus is a 2010 Mazda Bongo Brawny – 2.0L petrol, automatic drive – with about 170k kilometres on the clock. His rego is paid up until 11/09/22 and his COF* expires on 18/05/22. A COF is required if you plan to rent the van out; if it's for personal use only, a WOF is sufficient.
The bodywork and cab have some minor blemishes representative of his age, but in our opinion Fergus is in great nick… he looks good and doesn't miss a beat. Fergus has central locking and comes with two keys. Up front in the cab there are three seats – the middle of which can be folded down to provide storage space and cup holders.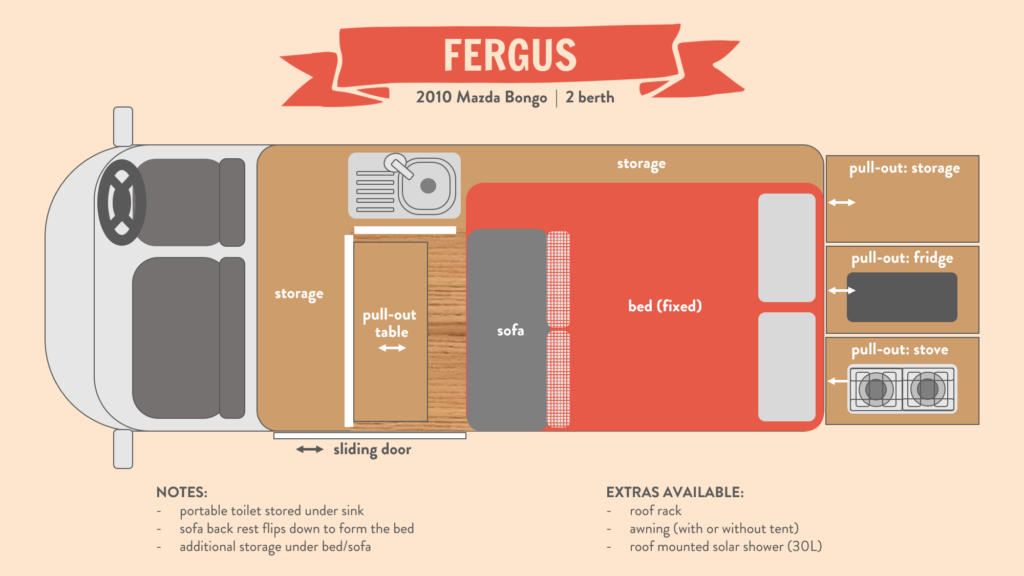 The living and sleeping space
The clever design means there's minimum fuss
Fergus has the best of both worlds – even though he's a compact chap. You get all the benefits of a (virtually) fixed bed (less faffing at night and extra storage underneath) but if the weather isn't behaving you can still sit inside. The interior height is 1.2m and to dine inside you simply swing the end of the bed into a bench seat, pop out the pull-out table and create a seating area perfect for two.
A comfy bed for two
Fergus has a comfy double bed measuring 130cm x 190cm with cosy furnishings (all included) and bendy reading lights. To make up the bed you simply pop the cushions from the bench seat away, and pull down the back rest to complete the bed area. Fergus has thermal curtains to keep out the chill. There are also storage areas, both adjacent to and under the bed.
Cooking up a feast
Fergus boasts three slide-outs accessed from the rear door; a pull out kitchen, which includes gas stove and bottle, a 22L compressor chest fridge and a storage drawer. He comes with all the kitchenware you need to cook up a storm.
Power and plumbing
Fergus has a leisure battery recharged by the roof-mounted solar panel. This set-up means that when you're off-grid, you can use the multiple USB charging ports, lights, and keep your food and drinks cool in the fridge. If you're staying at campsite, Fergus also has 230v hook-up so you can plug-in and then use the standard sockets for other equipment and devices. His Warrant of Electrical Fitness (WoEF) is valid until 24/08/24.
Is it self-contained?
This van is certified self-contained (CSC) for two people and has 25L fresh and waste water containers. The kitchen sink (inside) has a hand pump tap. The portable toilet (included) is stored under the sink. The self-containment certificate expires 19/11/22.
The quirks!
The extras
If you're worried about not having enough space – or standing room – then worry not! Fergus comes an awning with tent to triple your living space! Also included is a rook rack, an outdoor table, two chairs and an outdoor rug. Plus you also get two 20L solar shower bags and a double pop-up shower tent – the two compartments mean you have a separate changing room (also a great place for the portable loo!).
Recoup your costs by renting out your campervan with Quirky Campers
We'd love to keep Fergus as part of the Quirky Campers NZ family – continuing to attract caring, responsible customers who want to hire her out. It would mean you could be recouping your costs when you're not using the campervan yourself and potentially break even in less than 2 years… all while you have your very own bach on wheels!
And it's virtually no effort to do! Check out the campervan rental listing on our website… it would just be a case of updating his new home location! And reading up about renting out your campervan.
Find out more about buying this campervan
If you're interested in owning this lovely campervan, contact Leanne at campervans@quirkycampers.co.nz to chat and/or arrange a viewing.