Buy this newly converted campervan (NOW SOLD)
Meet the latest creation by Adam Land, the man behind our gorgeous Quirky campervan, Brendan! Adam has just finished this as-yet-unnamed conversion so it's in never-used, mint condition! This rustic campervan is for sale now, ready to take you around NZ… and share with our lovely customers if you'd like. Based in Whenuakite (between Whitianga and Tairua), this van is yours for $27k NZD or nearest offer! So here's the lowdown…
All about the vehicle
It's is a 2004 Mercedes Sprinter 208 CDI 2.1L Turbo (mid roof) – diesel, 5-speed manual rear-wheel drive – with only 237k on the clock so plenty of life yet! It's chain-driven (no cam belt) and has recently had a full service (inc. new fluids and filters) as well as a new windscreen and interior dash. It has two keys and the bodywork is in good condition (but has some blemishes representative of the vehicles age). The van has recently achieved it's first COF which expires November 2021. There will be 6 months added to the rego and 1000km of RUCs for the new buyer. *Note: A COF is required if you plan to rent the van out; if it's for personal use only, a WOF is sufficient.
Making the most of the inside space…
Up front in the cab there are two seats and the absence of a bulkhead means you can step straight through to the kitchen. Plus, the passenger seat swivels which maximises the space and creates a comfortable dining area. The main cabin area has an interior height of 1.65m with a nicely designed layout. Even with a fixed bed, the living area feels pretty spacious. The functional kitchenette is made of bamboo plywood with lovely rustic touches like the copper plumbing and reclaimed cast iron enamel sink. Oh so quirky! There is a 50 litre 12v compressor fridge/freezer as well heaps of accessories and everything you need to cook.
… and enjoying the great outdoors too!
This van has not one, but two awnings… one on the passenger side over the sliding door and one out the back. The raised, fixed bed means that there's heaps of permanent storage underneath in the "garage" -accessed from the back doors. The heavy duty 20L storage bins offer a great place to store outdoor/sports clothing and equipment. And then there are are the large, cantilevered drawers which provide storage as well as the outdoor cooking setup…
Staying warm and dry
Staying warm and dry is easy in this van. There's an all-weather (MaxxAir Deluxe) roof vent fan to keep you cool in summer, and circulate air even when it's raining. And to keep you toasty warm, there's a diesel heater mounted underneath the passenger seat. The lowest setting is plenty warm enough and at maximum power (5kw) it is suitable for New Zealand's coldest climates!
The comfy bed is perfect for two
The permanent sleeping area means no bed to assemble/disassemble. It's supplied with a new double mattress, new bedding and new blankets… and it's a seriously comfortable sleep. There are also little storage areas around the bed.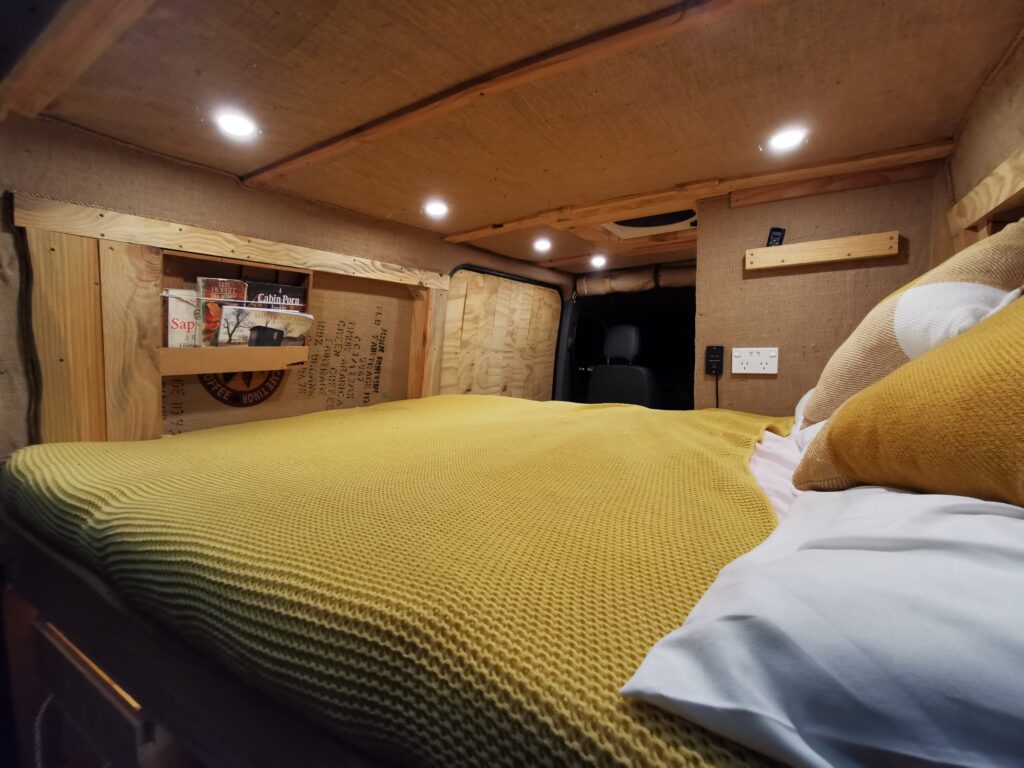 The power system
This van has a 130Ah deep-cycle leisure battery which powers all of the vans auxiliary electrics. The battery charges through the 110W solar panel (roof-mounted) and via the engine alternator. There's a 700W inverter which powers a plug socket with dual USBs via a circuit protected distribution board. This basically means you can charge phones, cameras and laptops just fine, but perhaps leave the hairdryer at home! 12V electronics (lights, fans, fridge etc.) all run through a fused distribution board. Looking in from the "garage" the electrics live behind a removable sheet of perspex to keep them safe, and easily monitored. All the electrical work has been issued with a brand new Certificate of Compliance and Warrant of Electrical Fitness.
Is it self-contained?
The van has just been certified self-contained (CSC) for two people and has a very generous 70L fresh water tank which means refilling less often. A simple galley foot pump supplies cold water to the kitchen sink. The 60L waste water tank is underslung in a specially fabricated cradle and has a tank monitor in the kitchen to indicate the remaining capacity. A brand new, never used, 20L camping toilet lives in a sliding drawer under the bed. There is also a 25L roof-mounted solar-heated water cylinder, plumbed through the ceiling for hot water on tap (weather permitting).
Recoup your costs by renting out your campervan with Quirky Campers
We'd love this van to be part of the Quirky Campers NZ family of campervans for hire. And because the owner, Adam, had every intention of renting this van out himself, it's all ready to hit the road. All it needs is a name! You could be recouping your costs when you're not using it and potentially break even in less than 3 years… all while you have your very own bach on wheels!
Read about renting out your campervan.
Find out more about buying this campervan
While the van has everything you need, there is still a lot of scope for adding personal touches. Adam is happy to customise the van with some extra features you might want like hooks, shelves etc. If you're interested in owning this lovely campervan, contact the campervan's owner Adam directly at campervans@adamland.design. Weekends are best for viewings.