Are you about to head out on your first campervan holiday in New Zealand? Before you get behind the wheel, you'll want to make sure that you are as fully prepared as possible to have an absolutely epic campervan adventure. To help you out with this, we've put together a few top tips for a first-time campervan holiday in New Zealand that will make your road trip as stress-free as possible.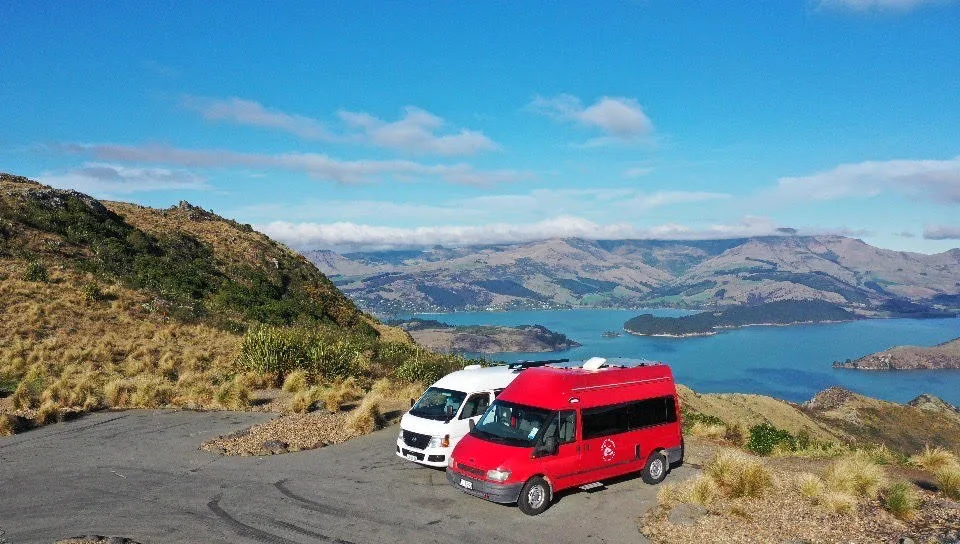 1. Choose Your Vehicle Carefully
Make Sure You Choose the Right Vehicle. It sounds obvious, but it's important that you choose the right campervan for your needs. If you are embarking on a long trip, you might prefer a campervan with a fixed bed, rather than one you need to put up each night.
If you want to do a lot of freedom camping and really get back to the wilderness, you probably want a campervan with large water tanks or solar panels.
Have a look at all of our campervans available to hire.
2. Know the Roads and your Campervan
Driving a campervan is, obviously, different to being in charge of a car. However, most campervans are pretty easy to manoeuvre around the winding roads that you'll find spanning the New Zealand countryside. Here are our top tips for driving a campervan in New Zealand:
In New Zealand, you drive on the left-hand side of the road;
The default maximum speed limit is 100kmh on the open road (62mph). However, check out the New Zealand Travel Agency website for more info on the types of road laws you will come into contact with;
Remember that your campervan is taller, longer and wider than you might be used to. This is particularly relevant when parking!
Braking and accelerating take longer than you might be used to in a car; particularly if your campervan is fully loaded;
We know you probably wouldn't but don't talk on the phone whilst driving, it's illegal;
Keep an eye out for animals like sheep on the road; especially in rural areas;
There's no harm in driving slower than the speed limits, after all, driving your campervan in Aotearoa is one of the main attractions of your campervan road trip!
3. Pick a Range of Places to Stay
There are a few options when it comes to choosing where to park up at night. Perhaps the most traditional is a campsite, where you pay per night for access to a variety of facilities. This is a good choice if you want the luxury of electric hook up, showers and toilets. You will also be able to refill your water supplies, and dump your waste.
You can also stay on a Department of Conservation (DOC) camping ground. Whilst the facilities are often pretty basic, you are also virtually guaranteed to spend the night surrounded by stunning scenery like forests, beaches or lakes, because these sites are regional and national parks.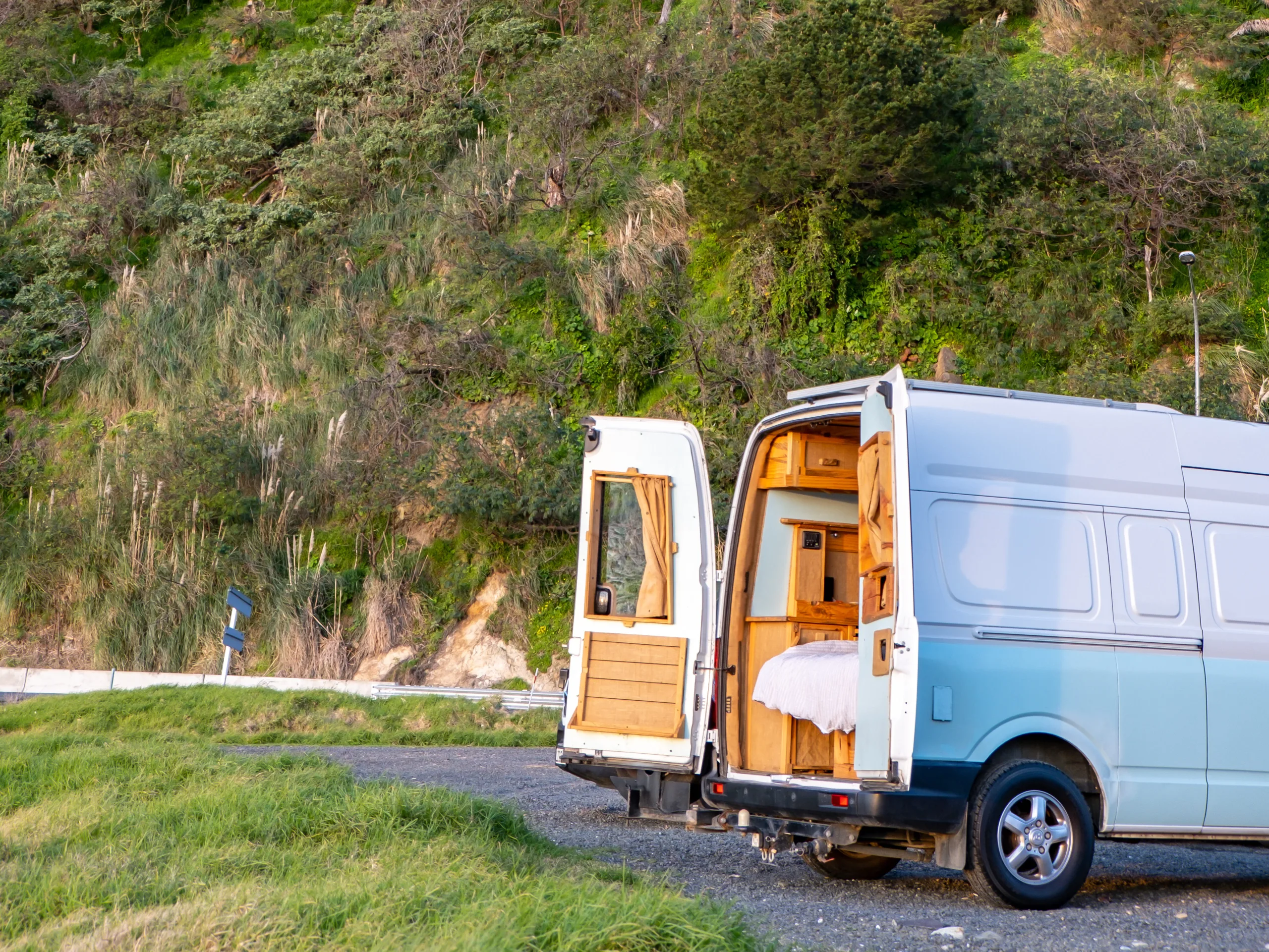 Alternatively, you might want to consider freedom camping. There are a few rules governing what kind of vehicle is allowed to freedom camp in New Zealand, as well as some standard etiquette guidelines you'll definitely want to adhere to. Thankfully, all our campervans are fully kitted out and certified self-contained so that you can freedom camp in style.
Whichever option(s) you choose, downloading one of the available camping apps will help enormously. Take note of the reviews 😉
4. Pack the Right Essentials
Okay, so we could make you a checklist a mile long for the things to pack for your first time campervan trip. But to be honest, you'd probably stop reading this blog, and the chances are you'd forget to pack some of it anyway! So, what are the essentials you don't want to leave home without?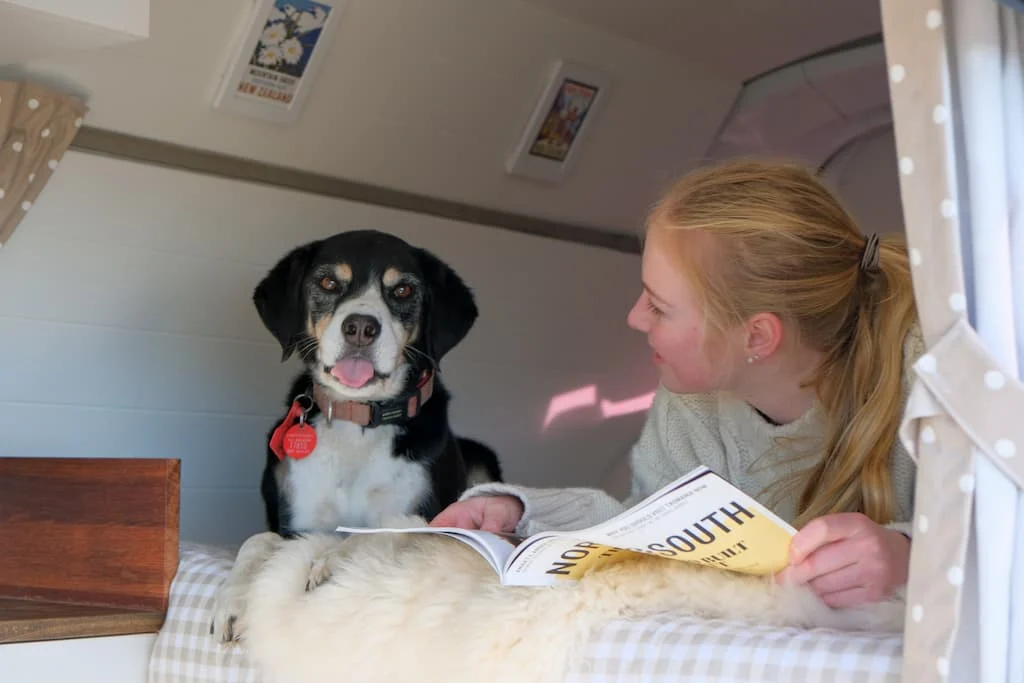 Swimwear!  There are so many beaches, lakes and hot pools in New Zealand to take a dip in, so pack your trunks! Fun fact – in New Zealand, we call swimwear 'togs'. If you plan on skinny dipping (it is legal in NZ), be sure to practice discretion and keep a respectful distance from others. In other words, maybe don't do it in the middle of a summer's day at a crowded lakefront. 😉
Fun fact – in New Zealand, we call swimwear 'togs'.
Plug converters. Need juice? If you're using solar to power your campervan batteries, you'll be able to use USB charging sockets to keep your phone topped up. If you want to plug in to the mains, make sure you have a converter as New Zealand uses angled two or three pin plugs;
In the words of the immortal Baz Luhrmann, wear sunscreen. The climate in New Zealand is pretty mild but you'll burn faster than you expect. Don't get caught out!
There are virtually no natural predators in New Zealand. However, if you're going hiking, you'll want to ward off pesky little critters such as sand-flies because their bites are really annoying! Pack some sand-fly repellent, particularly if you're heading into forest areas.
Most importantly, don't forget your INTERNATIONAL DRIVER'S LICENCE. Find out here if you need one.
5. Stock Up When You Can
The roads in New Zealand are long, winding, and take you on an amazing scenic journey around some incredibly beautiful countryside. Bear in mind that you aren't likely to come across a rogue McDonalds in many places! So, our top tip is to take advantage of fuel station forecourts and local shops where you can, and stock up on:
a full tank of fuel;
trail mix or snacks for whatever activity you have planned the next day;
essential star gazing fodder – popcorn is a must!
have you got your dinner sorted for the next day?
Some New Zealand snacks to try:
Pineapple lumps
L&P
TimTams
Jaffas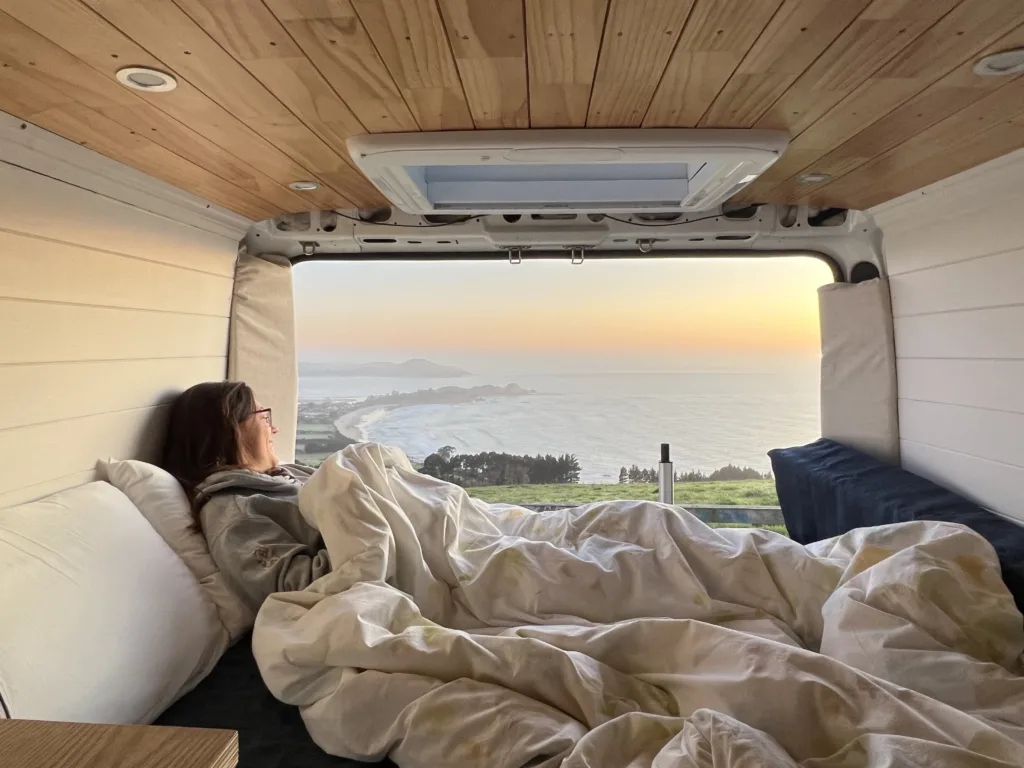 6. Keep Eco in your Campervan
If you are (and we totally recommend you do) freedom camping on your trip to New Zealand, then you'll want to make sure that you dispose of your waste correctly and appropriately. Be a responsible camper and adhere to the Tiaki Promise!
Wastewater treatment stations are located in most campsites, and in the main cities and towns. You can find the exact location using one of these super helpful camping apps.
Hopefully by now you're feeling a little more confident about setting off on your first campervan trip. Feel ready to hire a campervan? You might just find your match among our self-contained, bespoke campers!