Proud owners of Fred Jess and Kaj spill the highs & lows of their first ever van build and their top tips for aspiring converters!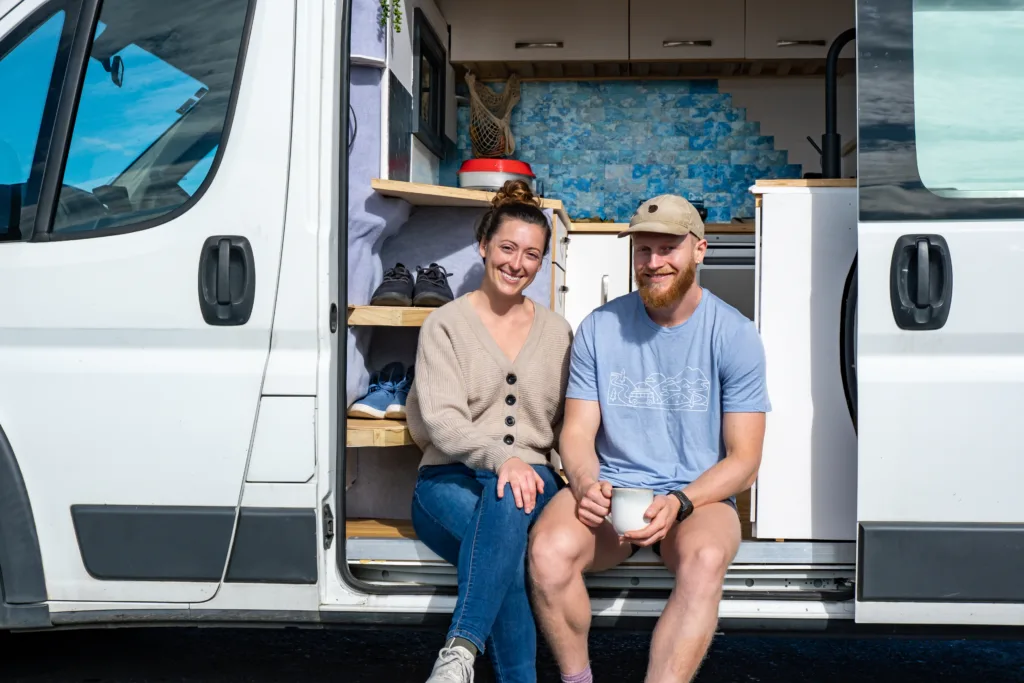 Finding Fred
First things first, why Fred? Tell us how you chose to take him on.
Jess had followed vanlifers for a few years and loved the look of travel, freedom and adventure. The South Island has so much to offer but many people get stuck in their "bubble" or local area. So, we thought having a campervan would give us a lot more incentive and ability to get away somewhere remote for a weekend, rain or shine.
We looked into buying an already converted campervan, but this wasn't financially feasible on our student budget. Buying an empty van to convert meant we could spread the costs out (rather than one lump sum as a campervan purchase) and also meant we could lay it out and have features that we wanted, completely customised to our needs and desires. After weighing up the pros and cons of both, and spreadsheeting different costs for each, we settled on a conversion and started our hunt for a van!
Why did you choose a Fiat?
Each larger campervan has pros and cons – height, width, length, even something like the curve in the walls. We found that a Fiat had the straightest walls which would make building a bit easier. We knew we wanted something with low KMs, newish, a reliable engine, and looked nice inside and out. It also mattered that we'd be able to stand up in our van (especially for the taller Dutch!) so he could be comfortable in all seasons, and auto so that friends and family could use him too when they came from overseas to visit. Man, it was hard finding a van that hit all of those criteria (esp automatic!) within our budget! 
After weeks of hunting various sites, we came across the Fiat at a good price, good KMs, looked nice, and was just up in Christchurch so we took the leap and went up for a visit. After a test drive and pre-purchase inspection, it just felt right and we drove Fred back to Dunedin that day!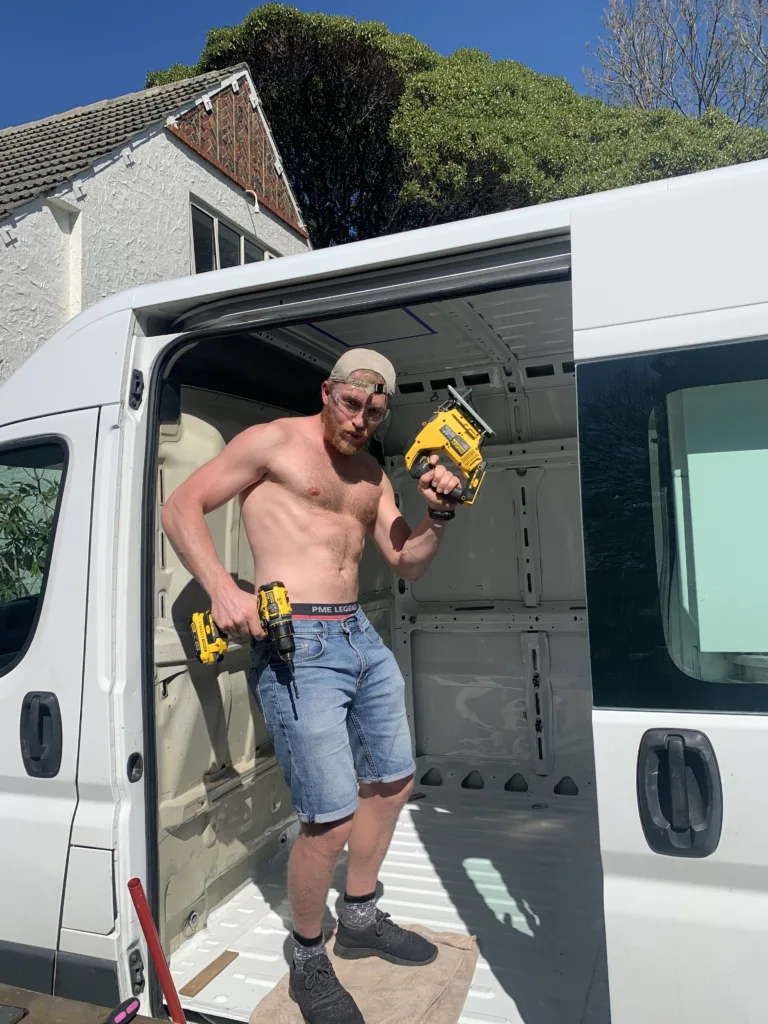 Was it hard to find a van you wanted?
It just took some time! We looked at other vans but they weren't quite right or something felt off. Some showed previous leaks and signs of internal water damage. Others had sellers that gave us a strange vibe – one ghosted on us completely. We had everything squared away with another seller, but when it was time to pick up the van, he messaged to say that he had sold it to someone else who offered more money. He then tried to turn it into a betting match, which we had no interest in (especially as it seemed already overpriced). We were pretty gutted, but a week later, Fred popped up and was so perfect.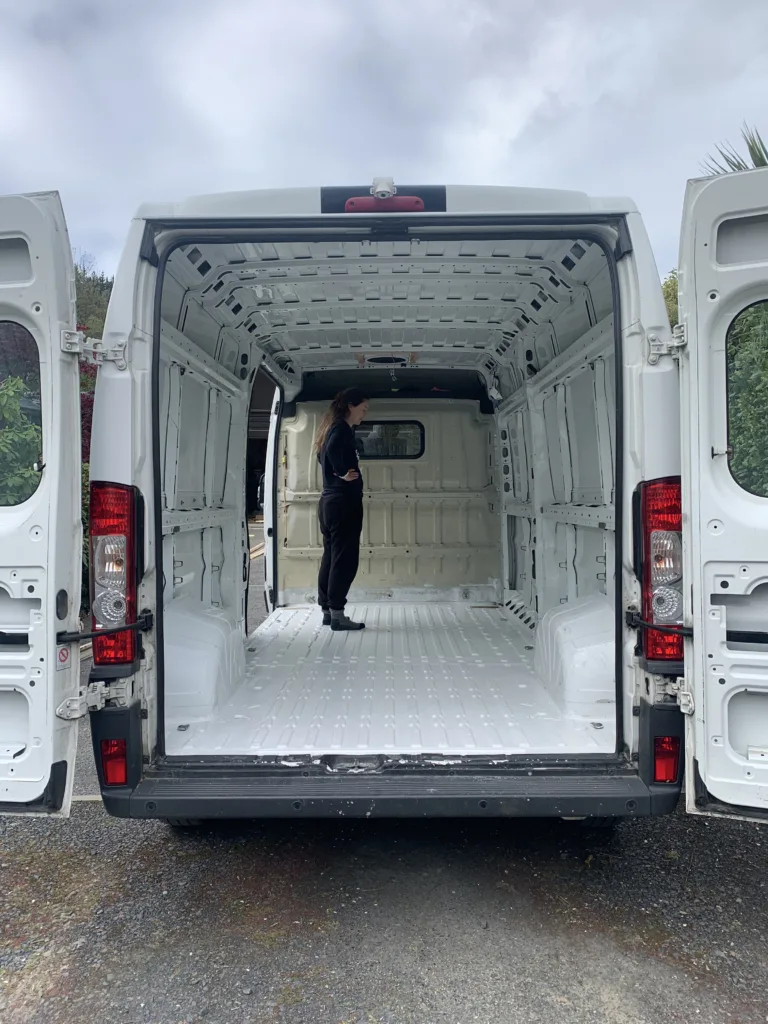 First-timer Fears: Planning the Build
Converting a van from scratch is no small feat...
What initial concerns did you have about building Fred?
I'm not sure which was our biggest concern – cost or lack of skills. It was a huge feat compared to something either of us had undertaken before, and was our first big investment as a couple, so that challenge alone (the "oh my gosh we're building a campervan!?") was pretty daunting.

And then certainly the costs… We could budget based on what people outlined online, but NZ costs of building materials can be significantly higher than in the US. We could make a rough estimate and add X%, but at the end of the day it was still a gamble. And we took it on! Although the initial costs, such as purchasing power tools, were a bit of a financial strain, dividing the construction process over time helped distribute the expenses.
We also had no serious building experience. We'd done some odd jobs or our dads had shown us a couple of things, but nothing like doing a van build from scratch. Essentially we watched as many Youtube tutorials as we could and then just took the plunge. Certainly some trial and error and a big learning curve. It was completely different to our day-jobs, which made it interesting and exciting. And sometimes there was the definite "fake it till you make it". But we just backed ourselves knowing that the only way to learn was to do, and we got there. 🙂 I think we also had the mindset that if it didn't work, then we'd just take it out and try again.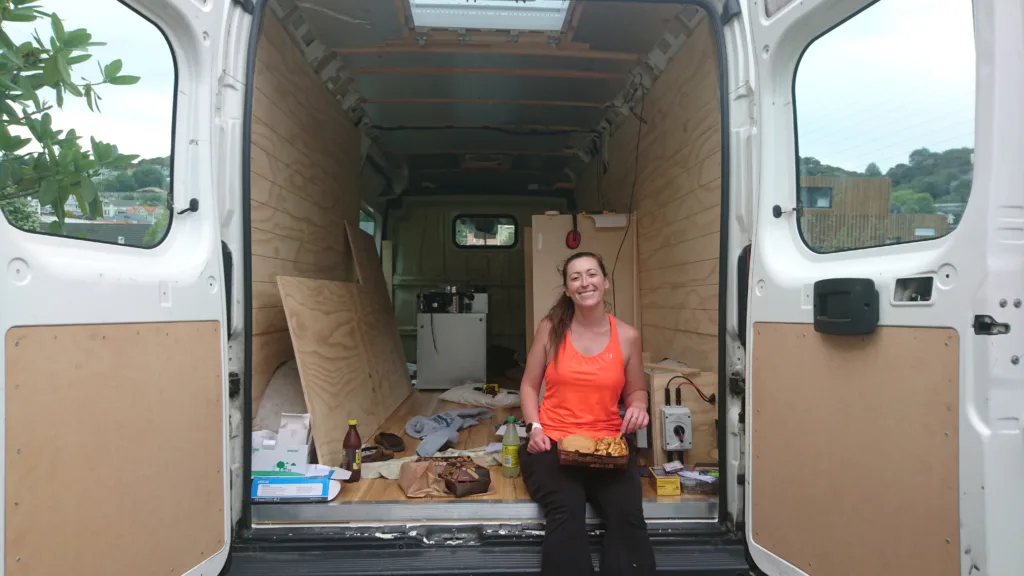 Looking back, were those concerns valid? How did you overcome them?
Despite budgeting and planning well for costs, we'd gone over by the time Fred was fully finished. However, we kept track of all receipts and costs, and spreading the work over several months helped us manage our budget and minimize the impact on our bank accounts.
As first-time converters, you must've had a ton of questions along the way. What resources did you use?
We did HEAPS of homework before we even began the van build. Jess mostly researched design (Kaj didn't really mind what design as long as it had the essentials) and picked out various aspects that she liked from the years of following vanlife online.
Youtube was our main source of knowledge. We watched loads on there before we started and before getting into the bigger jobs (e.g. electrics, cutting holes in the van). We actually never intended to build Fred with the purpose of renting him out, so we figured we just had to make it work for us and family/friends. But Kaj is very pragmatic and Jess is a perfectionist, so a lot of the work, care, and thought that went into Fred paid off in the end by being able to share him with Quirky and visitors keen to experience New Zealand!
But take caution: I think the downside of Youtube tutorials is that it makes some things look so easy and quick to complete, "yeah, we'll be able to do this in a weekend!". In reality, it was certainly frustrating or disheartening when things weren't easy or took longer than expected. But give yourself some credit and grace – it's a huge learning curve and you've got to start somewhere!
Do you have a handcrafted campervan or want to create one and are interested in having it pay for itself? Contact us!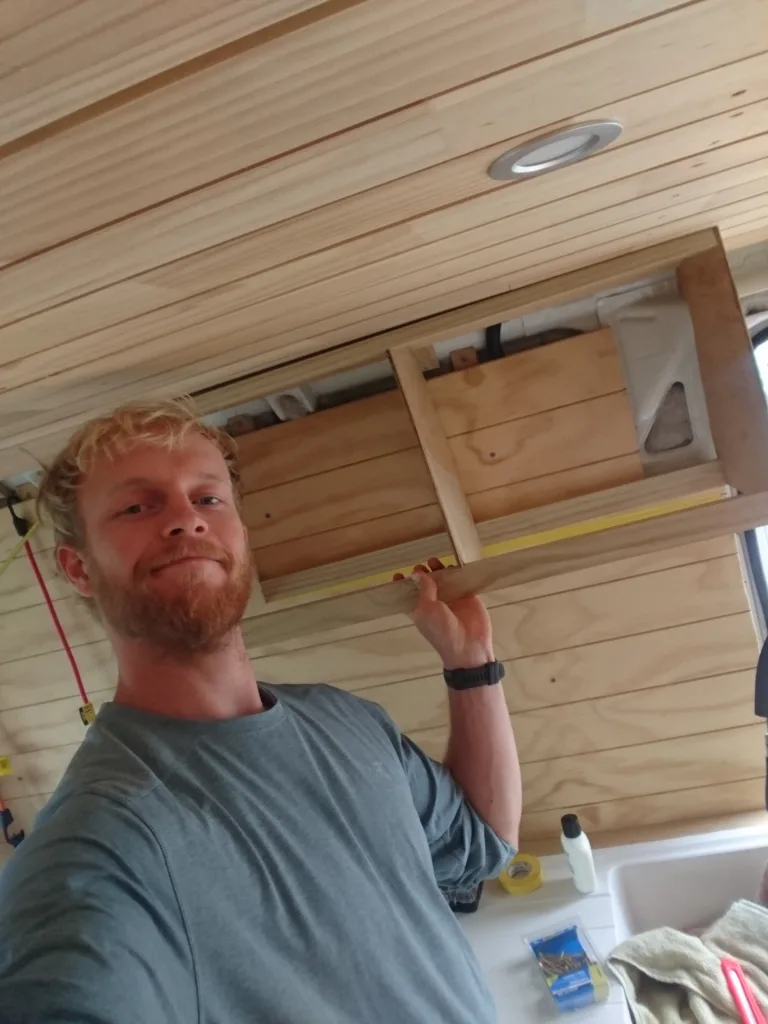 Quick-Fire Questions
What inspired the name "Fred?"
I think it's an American thing to name cars… Jess inherited a car from her grandmother after she passed and gave it her grandmother's name. "Fred the Fiat" was a nice alliteration, and Fred was her grandfather's name, so it just worked!
Who did what?
Jess did the design, and both Kaj and Jess built. Once NZ borders opened, Jess left to go see her parents in America for 2 months and Kaj kept building Fred and taking him on some early adventures when he had the basics done (meaning it had a floor and walls installed). Kaj smashed out a huge amount of work on Fred over the summer, and then Jess and Kaj finished Fred off.
How long did Fred's conversion take?
Ooh, from start to finish, everything but the final details of Fred was done in 6 months. Fred was a weekend job for us. Kaj had recently finished his PhD and started work, and Jess was in the middle of hers during the van build, so the focus on Fred was for the weekends. This certainly slowed things, but it also helped us spread out costs… There wasn't a need to buy a gazillion things to build with or put to use ASAP.
It's interesting – building the big things over the first 3 months made it seem like we were making good progress each weekend. You could see a floor, framing, insulation, walls… "The bones". But then the smaller finishing details – which seem menial compared to something like plumbing or electrics – took longer than anticipated. We were also super busy work-wise towards the end of the van build, so there were a couple months where we just didn't work on Fred. I think all up, Fred took 9 months to finish.
What's Fred's funkiest feature?
We'd like to think Fred's fireplace is pretty funky! A very unique feature in a campervan but we're so pleased we went with it! We wanted Fred to be able to be used year-round and winters get colldddd down in Otago, so having a cozy wee fireplace was a neat quirk that was also practical. And it adds a romantic ambience to our travels. 🥰 Man, it gets toasty!

Is DIY really in our DNA? 😉
Heck yeah! As a builder said to me, you can learn anything off Youtube these days if you want to. We would definitely build another in the future and feel WAY more confident in our knowledge and skills.
Getting Stuck In: The Van Build
Talk us through the build. How did you do what?
Fred was previously used as a carpet layer's van so was in good nick and completely empty. This gave us bare bones to start with.
Before we took off the subfloor, we taped out what we wanted there to help visualise the space and imagine functionality.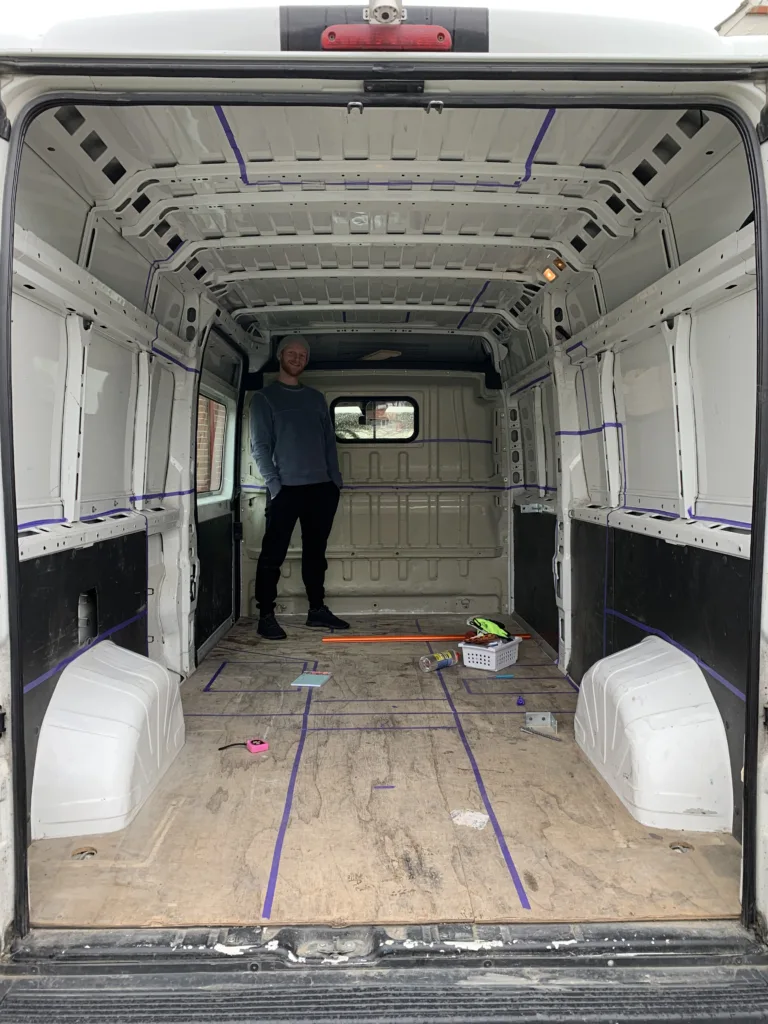 Once we were happy with our layout, we took off the subfloor and thoroughly cleaned and primed with a rust-preventer underneath. We then laid the timber framing along the floor, put down insulation boards, and re-installed the subfloor.
We then could install the extraction fan, and we knew we wanted a skylight in the rear, so those went in next…it was super scary and a bit counterintuitive to cut a massive hole in the roof of a perfectly good van. But we're so pleased we have those, especially the natural light over the dining/bed area!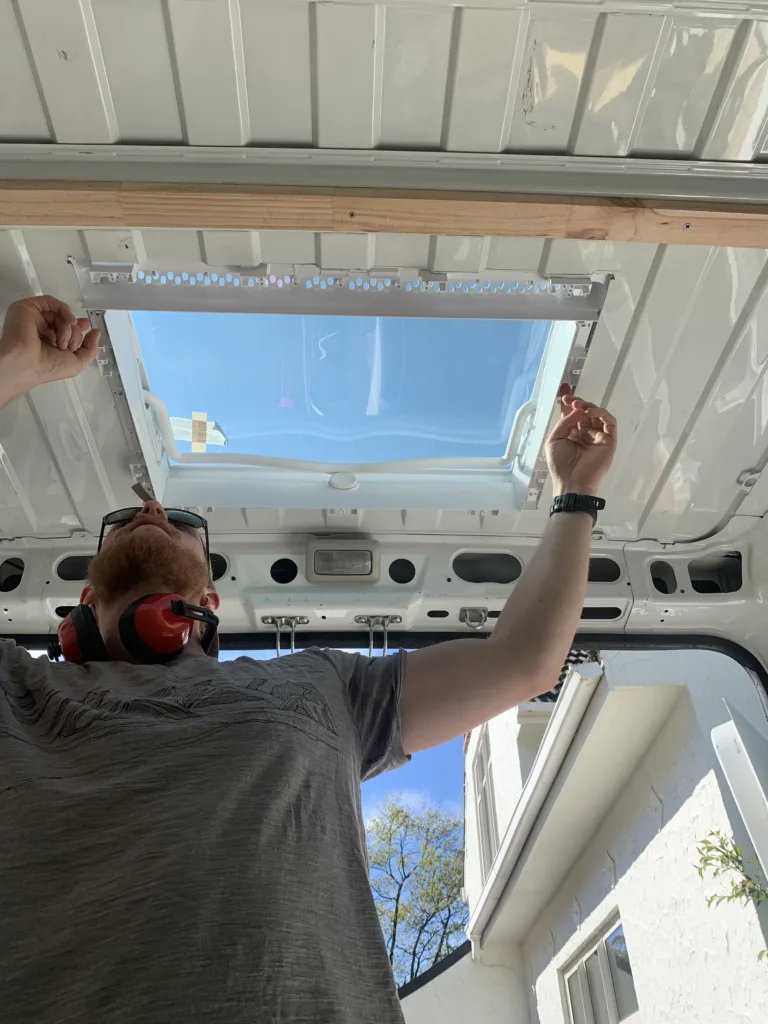 We put spray foam insulation wherever we couldn't fit other insulation – in joints between the battens or in the structural metal parts of the walls and ceiling. We then framed the walls with timber battens, and installed thick sheep wool insulation from a provider in Christchurch in the walls, doors, and headliner shelf. Being as far south as we are, we knew we wanted Fred to be really well insulated, so made sure every nook and cranny was covered!


We laid the final floor, put our conduit through the walls for the wiring, and installed the walls. After then doing the solar installation, it was almost like building lots of boxes of various sizes – building a box that became the platform, boxes for the benches, shelves and cupboards, etc.
How did you find it overall?
We really enjoyed the experience and looking back, being able to say WE built Fred is pretty awesome! There were definitely frustrating parts along the way and maybe some tears, but the experience of building has been epic. Youtube seriously has everything and was probably our biggest source of knowledge! We could watch so many different videos and merge ideas about design or build order or different ways to construct things for XYZ final result.

The Highs
What was the most satisfying aspect of the van build?
There are a few aspects we've been stoked with… successfully wiring all the electrical (completely out of our knowledge depth to start with), the fireplace (*dreamy*), and when we could actually step back and take him in wholly and be like, "heck yeah, we built this!" was pretty damn satisfying.
What was the most challenging?
I think the most challenging part was not getting carried away and overspending because it needed to be perfect and "Instagram-worthy". We had to keep reminding ourselves (well, Jess) that ultimately it just had to work and look nice. There was no need for fancy frills, just keep it practical and functional.
The Lows
What was the most frustrating part?
The electrical system was definitely the most daunting part of our van build, and we put it off for weeks. After hours (no joke) of watching and rewatching Youtube tutorials and making sure we were 150% sure about it all, we hit a point where the build couldn't progress without the wiring being done. We finally cracked into it and completed the wiring, flicked the light switch and… nothing happened. Turns out one of the fuses was manufactured incorrectly. An easy fix and the company sent us a new part, but at the time Kaj cried a little. We were certainly happy when we installed the replacement part and all worked perfectly!
Looking back, is there anything you would have done differently?
We're pretty pleased with our final result! But I would say that we only discovered the magical concept of pocket holes towards the end of our van build. Jess brought a Kreg pocket hole jig back with her after visiting family in the States and we've used it on other projects – it makes such a difference and in hindsight, it would've been great to use during Fred's build.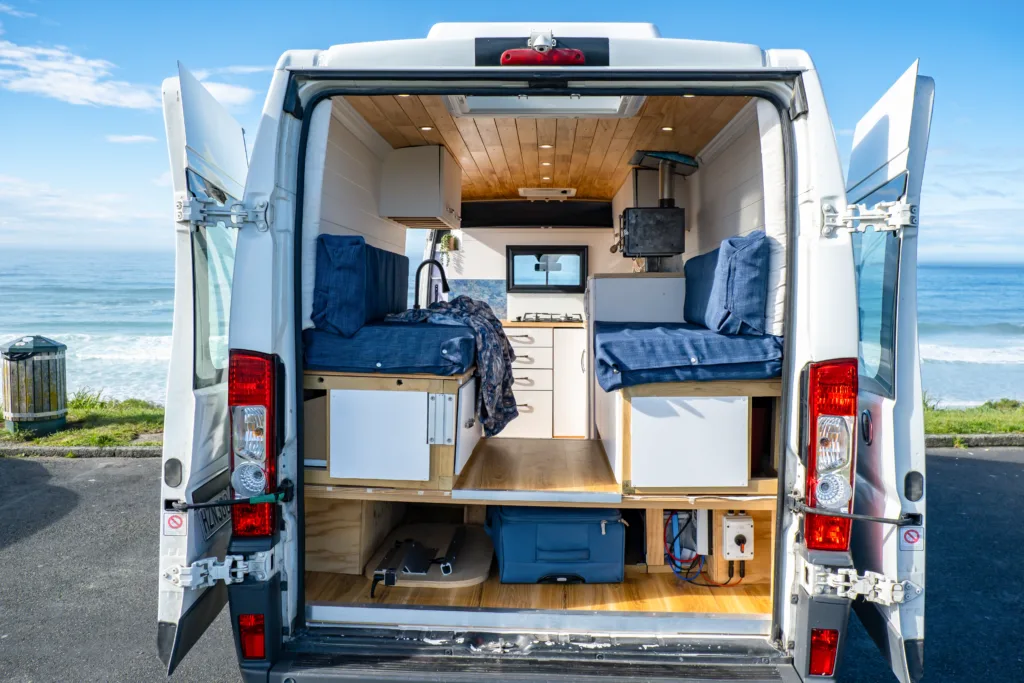 Top 5 Tips for Rookie Converters
1. Do your homework on van type
Look at pros and cons of each van, think about what you value or features to prioritise, and what it is you're looking for in your final result.
2. Break it down into manageable stages
Break it down into manageable stages. Tape the layout, lay the framing, then insulation, then flooring, then walls, etc. This makes it WAY less daunting and gives such a sense of accomplishment when you have achieved a "stage".
3. Do the mahi, get the treats
It may seem tedious and is definitely time-consuming, but try learn as much as you can before diving into something. Having that knowledge makes things go a lot smoother, rather than stop-starting each part while you research "how tos" and look at various ways of approaching a task.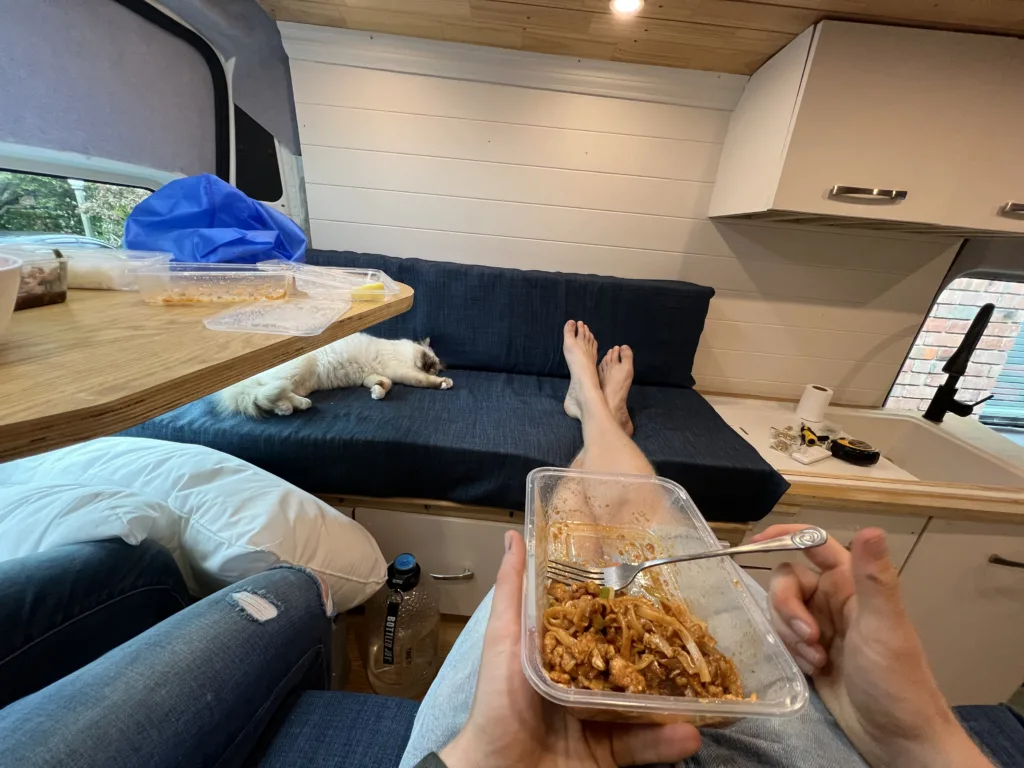 4. A classic, but measure twice, cut once
And remember that if you make a mistake, it's okay and can be fixed!
5. Plan for a few steps/stages ahead
For example, when you're framing and insulating the floor, think about where the lower cabinets will eventually be. Take this into consideration when you lay the framing under the floor so that cabinetry has a point to be secured into.
Bonus tip: you don't need the fanciest tools or lots of different things! We basically built Fred with just a jigsaw and a drill and that got us through just fine 🙂

Want to experience Fred the Fiat for yourself? Click here for more info, pics and pricing of all our vans available for hire.