Ready to say "out with the bland and in with the bold"? There are countless ways to transform your campervan from something good to gorgeous and uniquely yours, so the real question is, where on earth to begin? Right here with these 10 ways to Quirkify your camper! Our 10 easy suggestions will give you just the inspo you need to get your dream bach-on-wheels underway.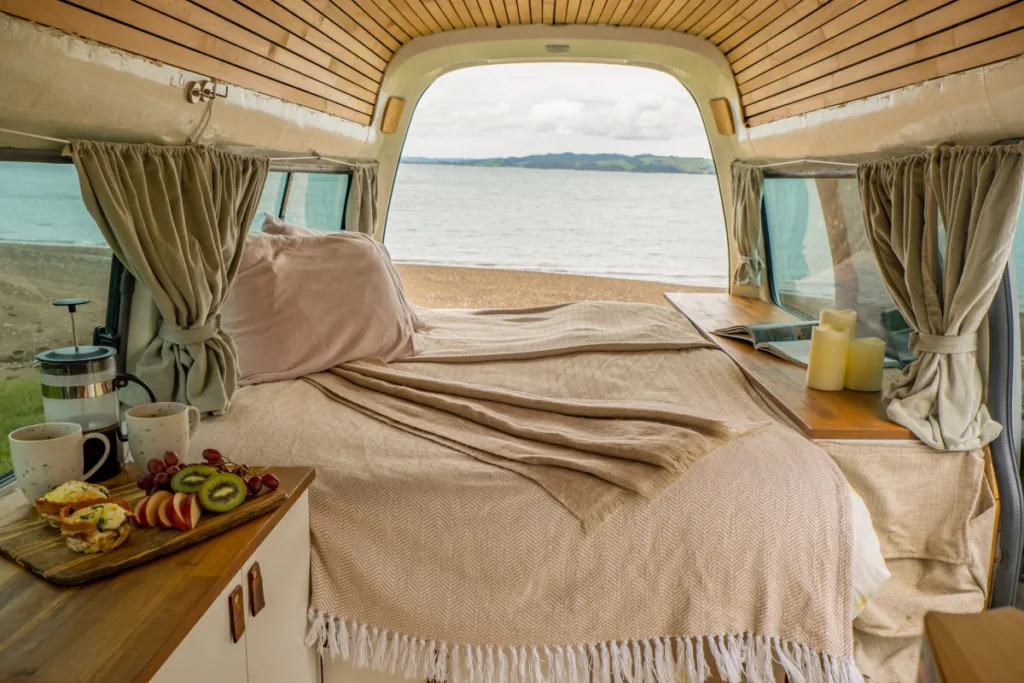 Let's face it, decorating your van can feel like risky business. What if the colours don't gel or it all ends up looking too cluttered? We hear you! These are very real fears, but ones that can be almost entirely mitigated by planning. We highly recommend deciding on, and sticking to, a unifying theme to prevent disliking your van's new look later down the line.

Remember, even if you're starting with a basic conversion, there are endless ways to add your own quirky flair and make it truly yours. Let's shake things up and get creative!

1. Add some funky soft furnishings
Start with upholstery
We've all seen our fair share of uninspiring campervan upholstery. But guess what? You're not stuck with that! There are so many amazing colours, patterns, and fabrics to choose from that will truly make your ride stand out.
Of course, you'll want to pick a fabric that's durable and suitable for upholstery (nothing too stretchy or dirt-prone), but that still leaves you with plenty of options. From simple patterns to statement fabrics, the sky's the limit!
Check out Big Dunc's patterned sofa bed and Vallery's forest-inspired seating cushions.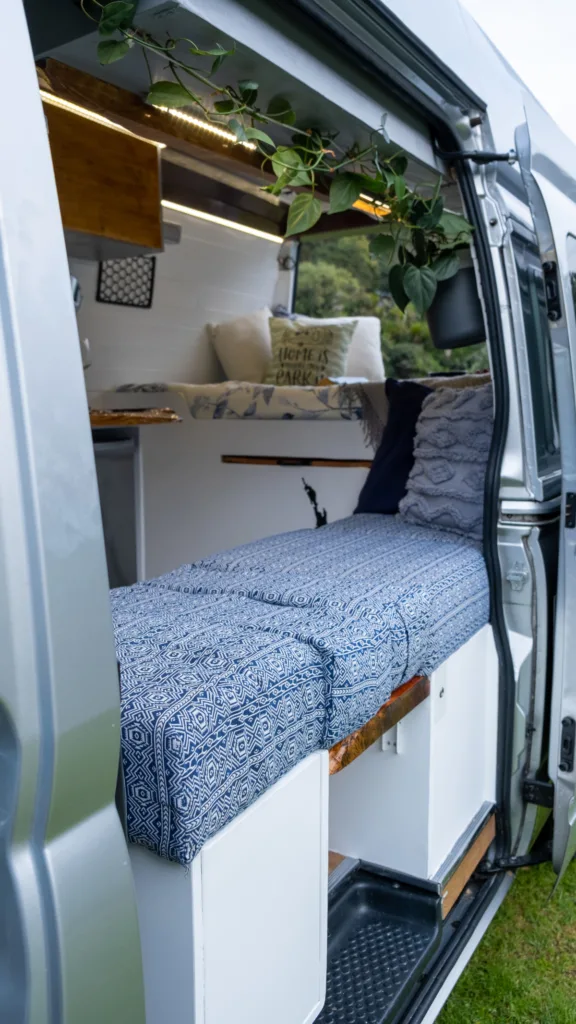 Curtains or blinds?
When it comes to campervan interiors, curtains versus blinds is one of the great debates. There's lots to consider, like aesthetics, function (blackout / climate control / ease of opening and closing), budget and time.
But it's no wonder curtains are the more popular choice – they're low-maintenance, give your ride a cosy vibe, and even provide some extra insulation. Plus, they can be easily removed and washed or replaced. We've found that blackout window coverings are slowly becoming the standard, with the majority of our campervans for hire fitted out with them.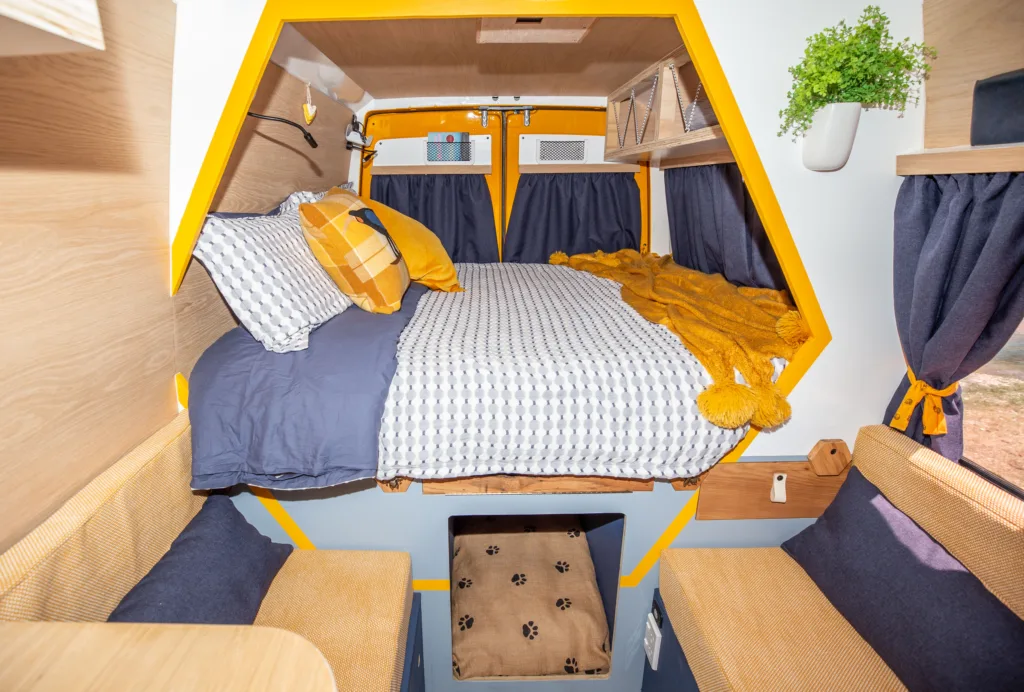 Barbara has blackout curtains all around her interior which can be easily pulled to the side during the day.
Blinds tend to use less fabric and when rolled/pulled up, often cover less of the window and look more streamlined… but can take a little more time to roll-up and put away.
Still unsure what's best for you? Read this fantastic guide to DIY camper curtains.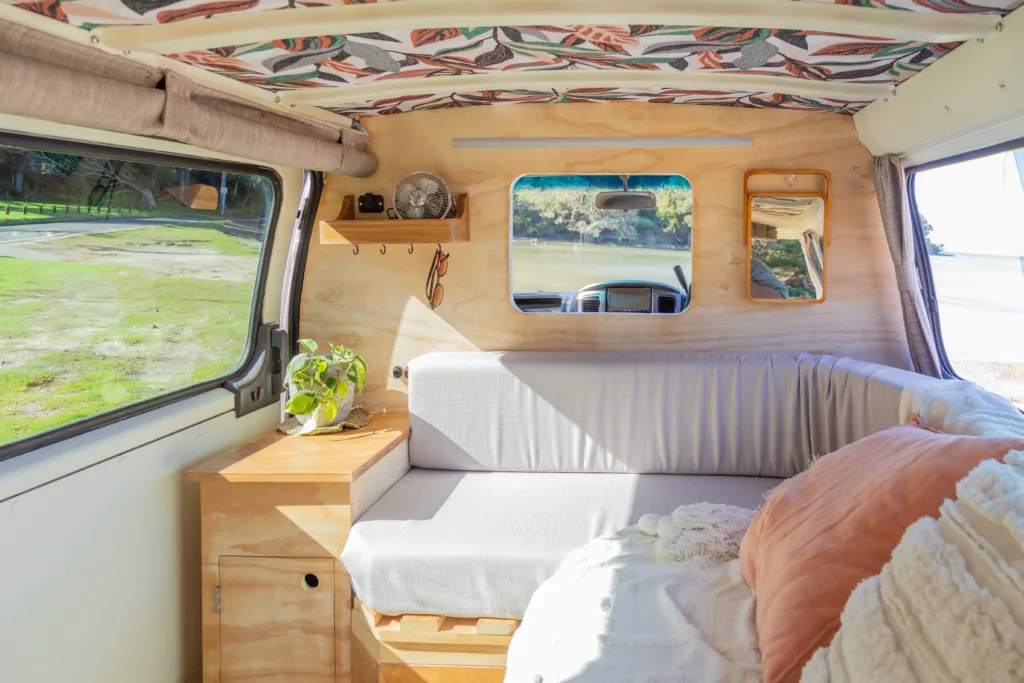 Rigby can become pitch black day or night with her fabric, velcro blinds and tie-back curtains.
Cushions, throws, duvets and rugs
Now, THIS is where the real fun begins. Needless to say, a few carefully chosen throws and scatter cushions can make all the difference to your van's final look. And a rug, while adding to the van's homely feel, can keep your toes warm on your camper floor during the cooler months. You could even add a welcome mat to wipe off your dirty feet before stepping into your van, like Kygo's.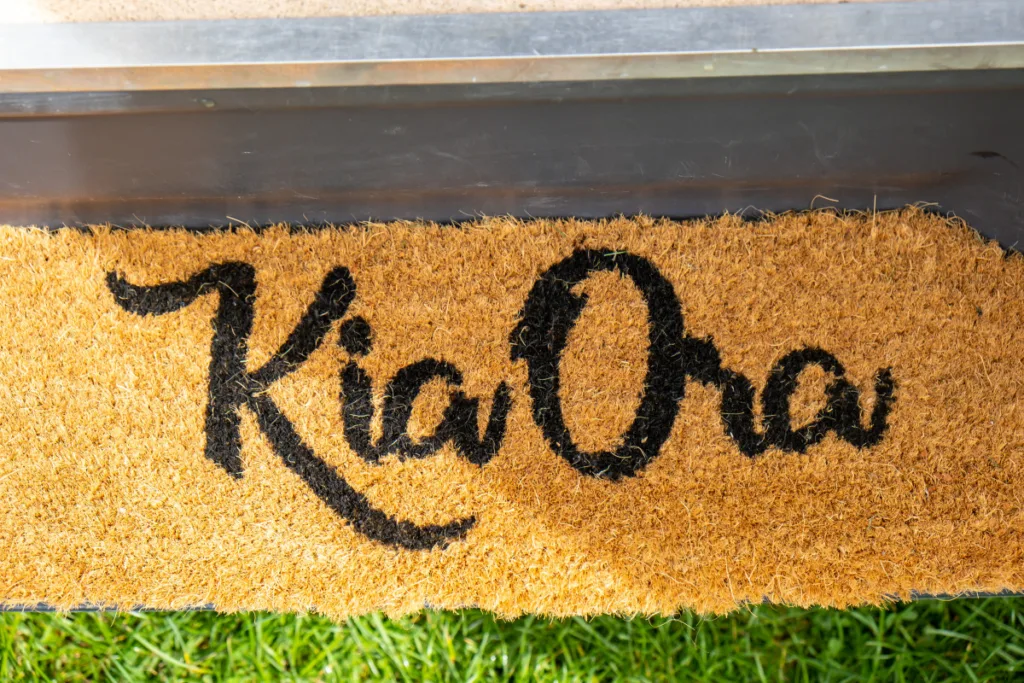 If you want your finishing touches to be truly one-of-a-kind, head along to some local thrift stores and have a rummage around. You might just find something that perfectly complements your colour scheme while giving your van an inimitable "je ne sais quoi"!
This gorgeous tartan cushion is the perfect statement piece, tying together Barbara's blue and yellow colouring.
We love how Madeleine's matching curtains and cushions work to create such a cohesive feel
Remember the cab
The cab is so often overlooked as a chance to give a camper some extra personality. A pop of bright colour, some bold details, or a gorgeous seat cover can totally transform the vibe of your camper's front end. Check out this awesome painting in Bertie and Hoodie's cute steering wheel cover.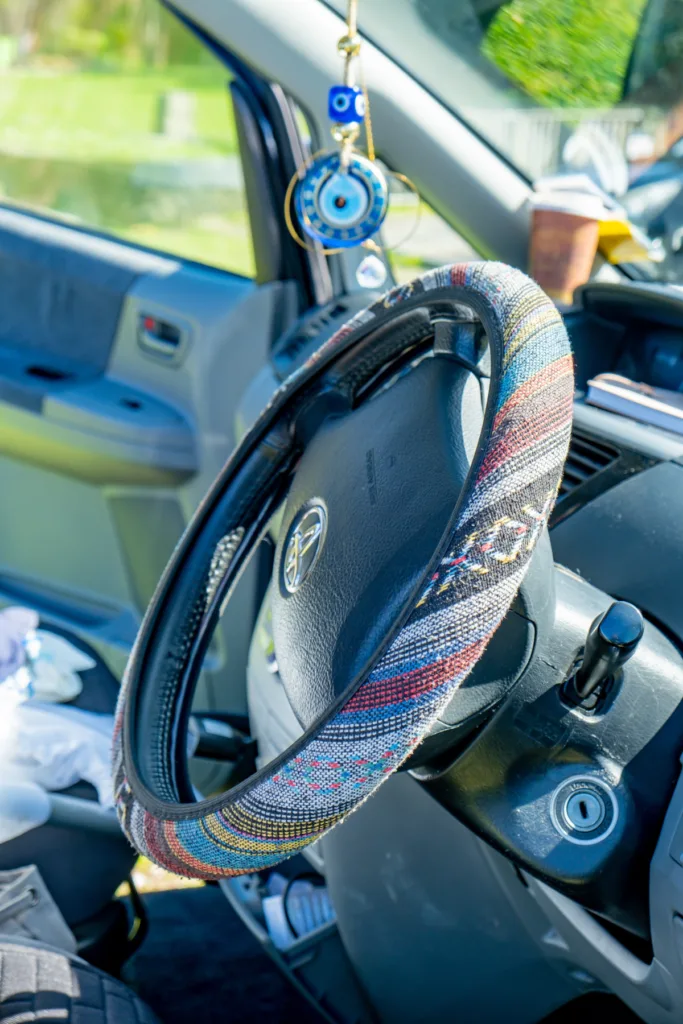 Then there are the seats, which tend to be pretty dull and shabby. A bright colour, some contrasting piping or a beautiful fabric choice can really bring your campervan to life.
Quirky UK van Sassenach has swivel seat covers that match the upholstery in the back of the van.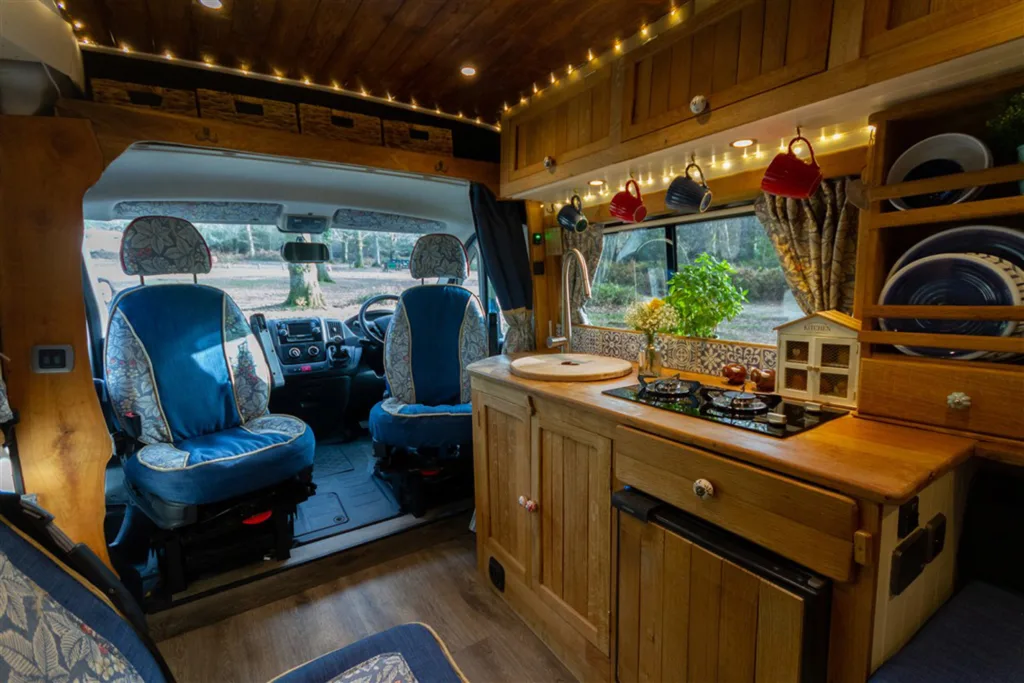 2. Stick down some splashbacks
When it comes to splashback designs, the possibilities are endless. The best part is that you don't need to limit yourself to materials marketed specifically for campervans. As long as the surface you're attaching them to is flat and sturdy, you're good to go! So go ahead, get creative, and let your splashback shine.
Bertie's owners showcase their family's artistic talent with this stunning splashback mosaic.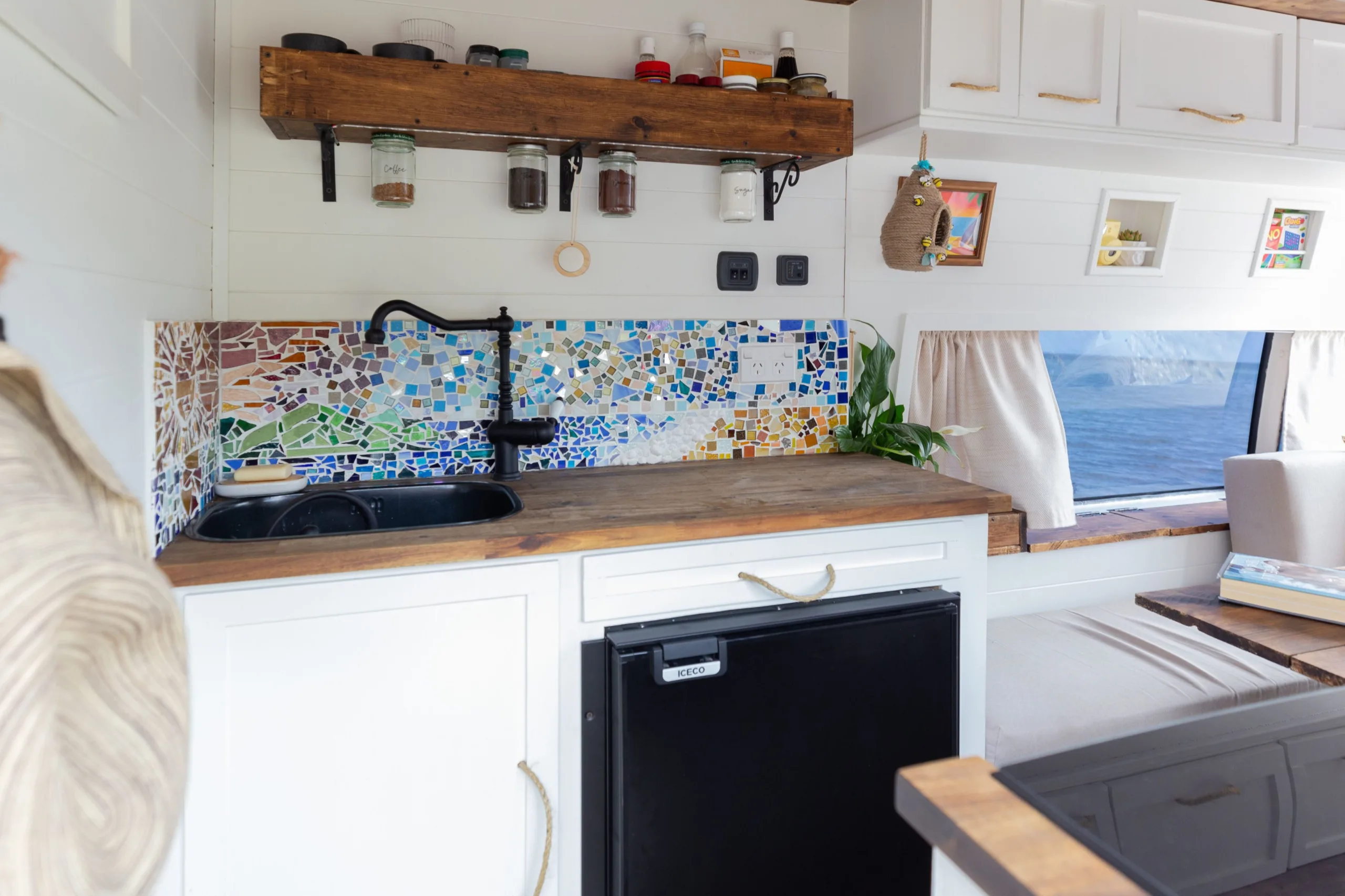 Big Dunc's blue and white honeycomb tiles are a beautiful addition to the van.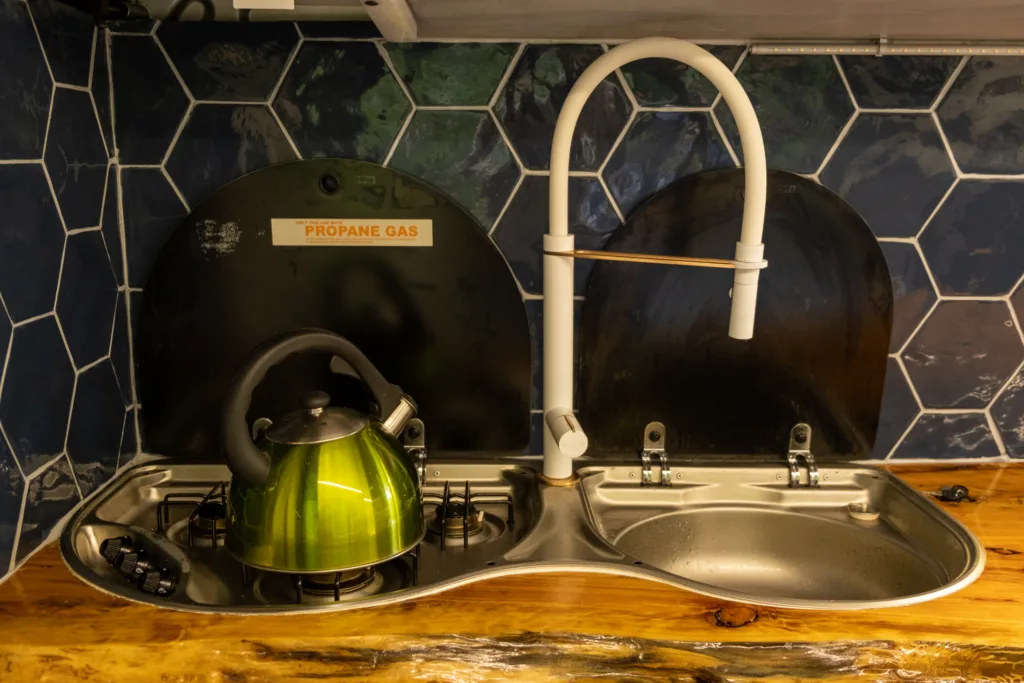 For a cheaper, lighter and quicker alternative, consider looking into tile stickers.
3. Collect some quirky kitchen equipment
One of the easiest and most effective ways to pimp your ride is by adding some unique crockery and kitchen equipment. Check out Cliff's custom-made camper mugs! Too cute.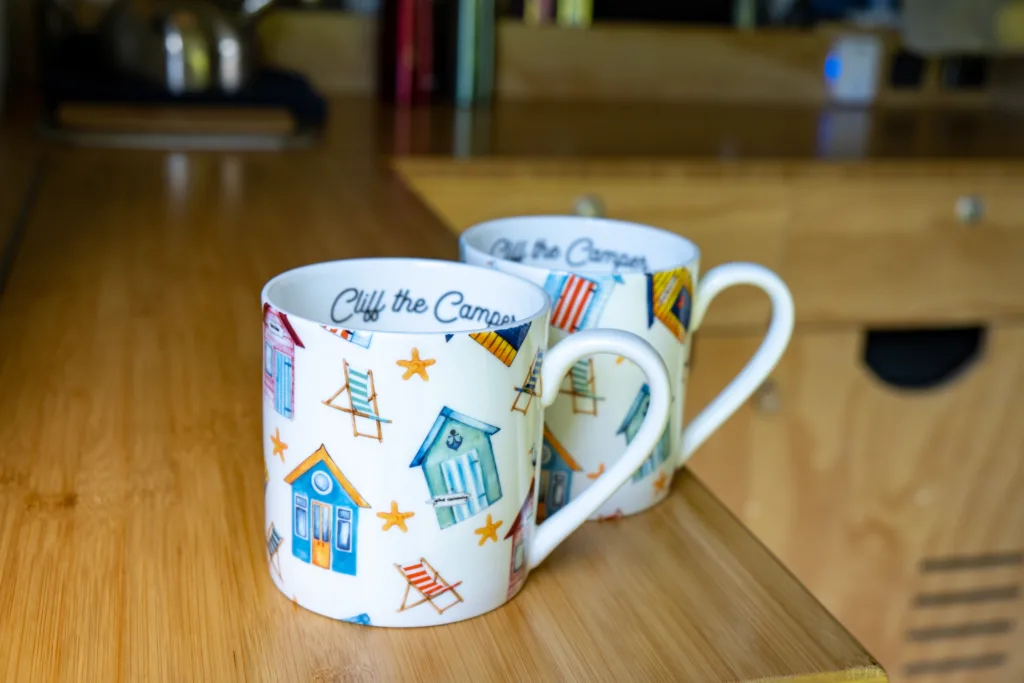 4. Embellish the exterior
From an outsider's perspective, it's all about the bodywork, baby! Whether your van's exterior is a neutral colour or bold, there are plenty of ways to make it catch the eye of passers-by.
Spray it with a fun colour
Emmy dons a layer of striking emerald paint to match her interior colour scheme.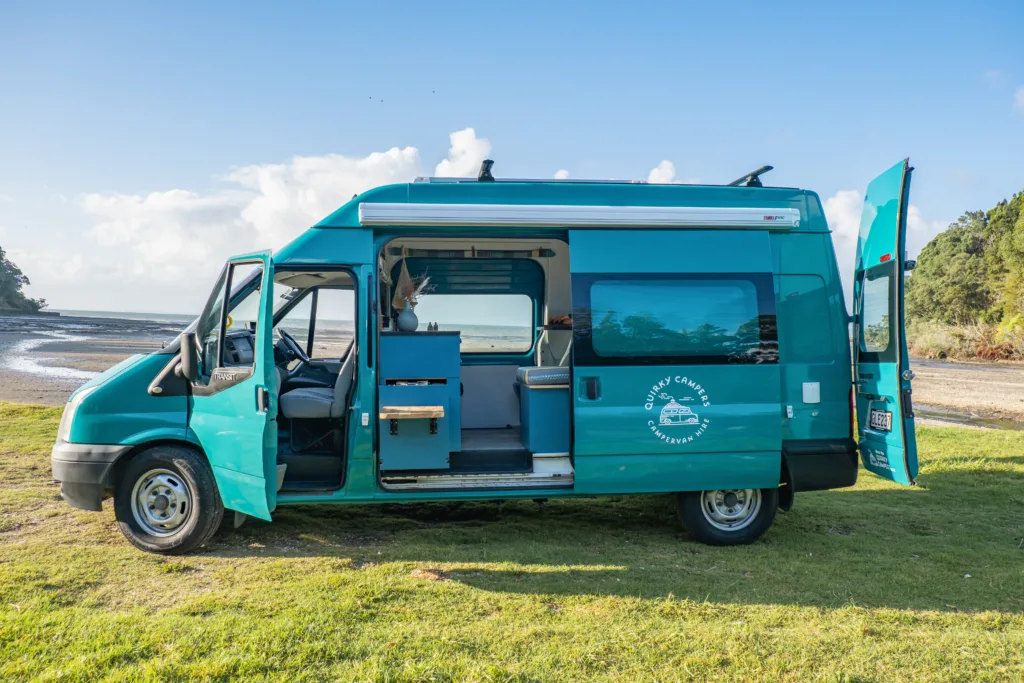 Want to do a monochromatic DIY paint job and need some tips? See how our friend Laura did it.
Go crazy with a custom spray job
Sometimes a single colour isn't enough. If you want to really express yourself, one way is with a custom spray job. Take this design on Quirky UK's camper Rory for example. Displaying Pink Lloyd and Tron-inspired bodywork, he's a striking symbol of counterculture.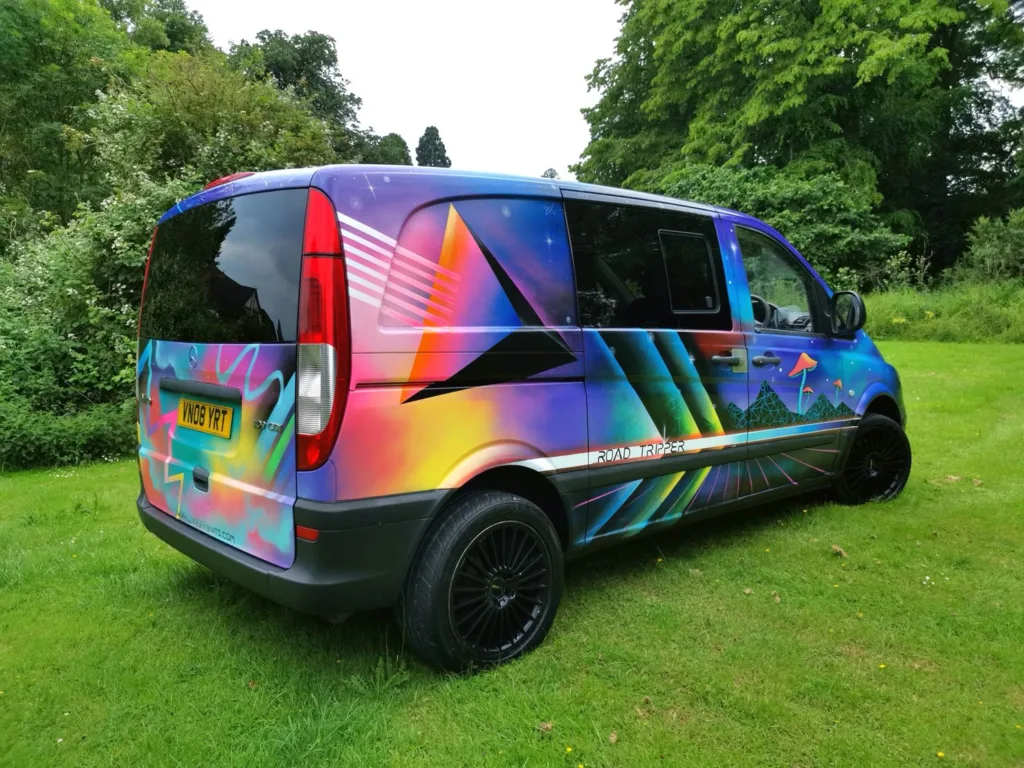 Decal stickers
If respraying isn't quite within your budget right now, you can jazz up the outside with some decal stickers. These are very affordable, easy to apply (and remove if required), long-lasting and come in endless colours and designs.
5. Consider a paint job
Just like with a house interior, paint can be a quick and budget-friendly way to jazz up your van and switch things up whenever you feel like it.
Use two contrasting but complementary colours for something bright and striking. Or paint the walls white and the cabinetry a cool colour for a clean and calming look like Olive.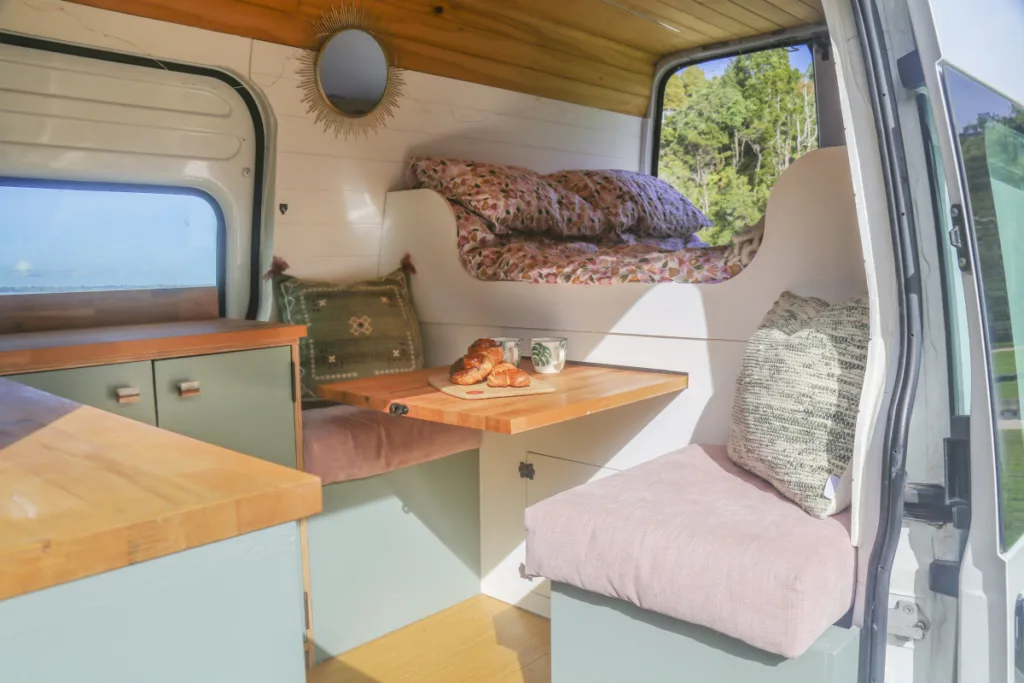 6. Add some inviting windows
You might already have windows in your van, but what about adding a standout "feature" window? Or maybe you've got a panel van with no windows to speak of. Either way, don't overlook the opportunity to customize and add your own special touch to your conversion. Whether it be a washing machine door (take your time to find a lovely round one) or a pothole/cut-out window.
7. Don't forget what's up!
If the ceiling of your converted van is still plain, you could follow Rigby's example and use a patterned wallpaper to give it a signature finish. His owners even lined his cupboards to match – how cool!

8. Mount some shelves or hooks
Got some spare wall space that could use a bit of sprucing up? Think about what you use all the time and would benefit from having close at hand – your winter jacket, keys, hat, chargers, spices or even your dog's leash can all find a home on a hook of some kind. This not only makes them easy to grab on the go but also clears up valuable storage space in your drawers and cabinets for more delicate items.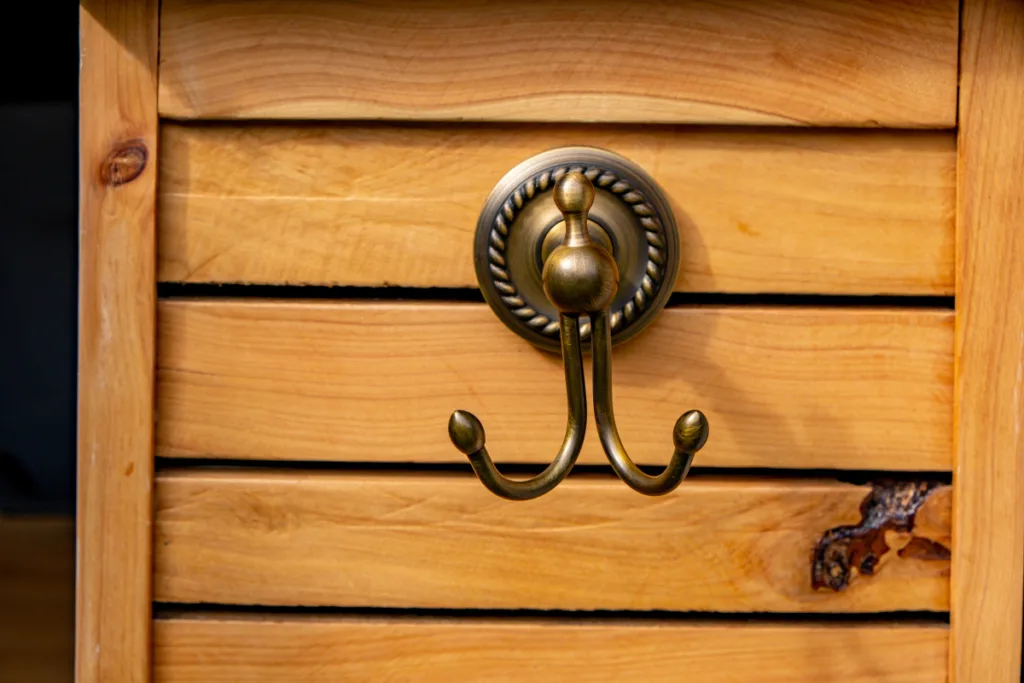 Hoodie's metal hook is great for hanging up coats or bags. Barbara's bee-autiful magnetic spice eliminates the mess often involved in transporting spices.
9. Create your own "patio"
When it comes to the outdoor living space, you want the best of both worlds – practicality and comfort, as well as a touch of visual appeal. While it may take a bit of effort to hunt down things like a unique camp chair or table, don't be afraid to step outside of the box. Take a peek at Big Dunc's hammock (complete with a Jenga set), or Max's vibrant rainbow picnic blanket for inspiration!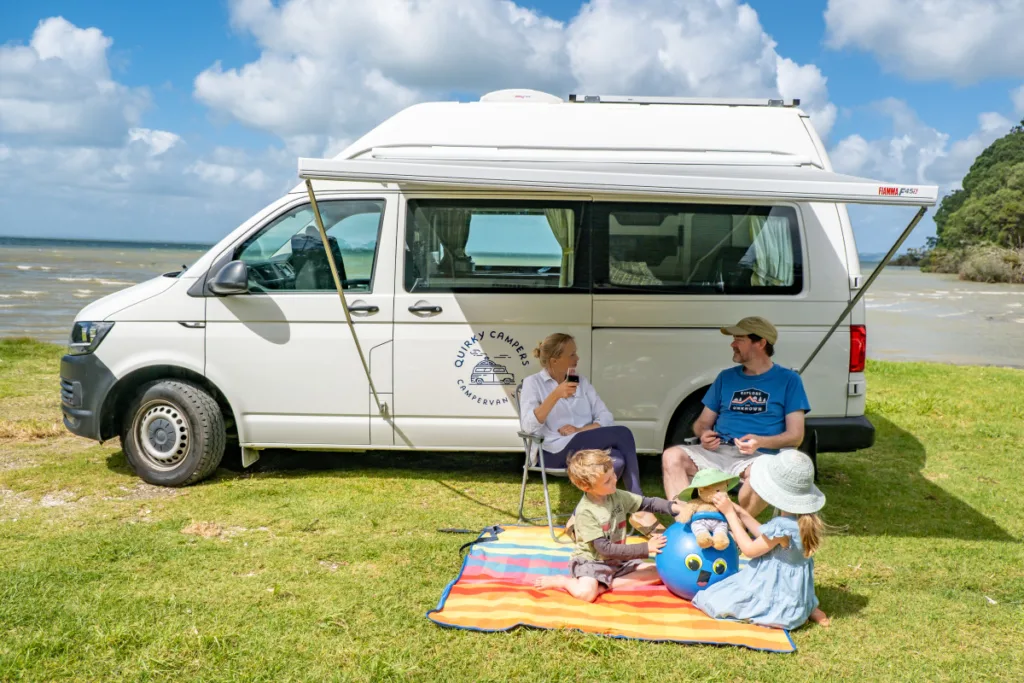 10. Decorate (but know when enough is enough)
Regardless of what the rest of your campervan looks like, you can always inject it with life, colour and personality with the finishing touches. Whether it be a framed picture, an antique or a handcrafted object, don't feel you have to hold back on ornamentation just because it's a vehicle!
The main thing to remember is that anything that isn't firmly attached in place risks moving and falling while you're on the road, so be sure to secure everything before you hit the road.
Try adding:
Plants. Real or fake? It depends on what you think of its chances of survival
Photos. Hang up some Polaroid pics on a string or use lightweight picture frames to showcase some cherished memories.
Artwork. Elevate your van's aesthetic by mounting your favourite piece of art or even something suitable you found at a charity shop!
Mirrors. Make sure they're properly mounted – you don't want to step in one day and find shattered glass strewn across the floor.
Ambient lighting. To create a cozy ambience, opt for some energy-efficient lights. Fairy lights are popular because they are either battery-operated or just don't use much power. Some even use solar!
Stickers.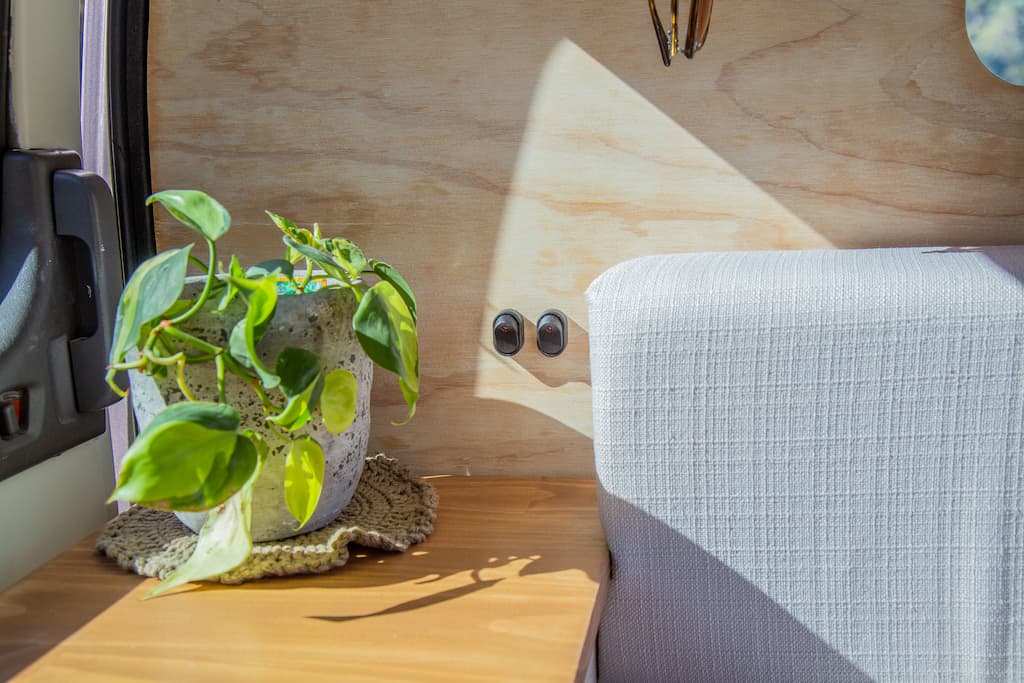 Summing it all up
The possibilities for transforming your van into a distinctive, and personalized bach-on-wheels are endless, regardless of whether you're building it from scratch, buying a pre-converted model, or already have a factory-fitted motorhome. So get quirkifying and don't hold back!