Buy "Earl"… a handsome campervan crafted from an ambulance (NOW SOLD)
His owner is planning to go bigger so the lovely Earl is for sale! Ex-ambulances make great campervans; very well insulated, wide and with standing room for most. So, don't miss the opportunity to own this handsome chap to explore our beautiful backyard… and share him with our lovely customers to recoup your investment if you'd like. Based in Brighton, Christchurch, Earl is yours for $35k NZD or nearest offer! So here's the lowdown…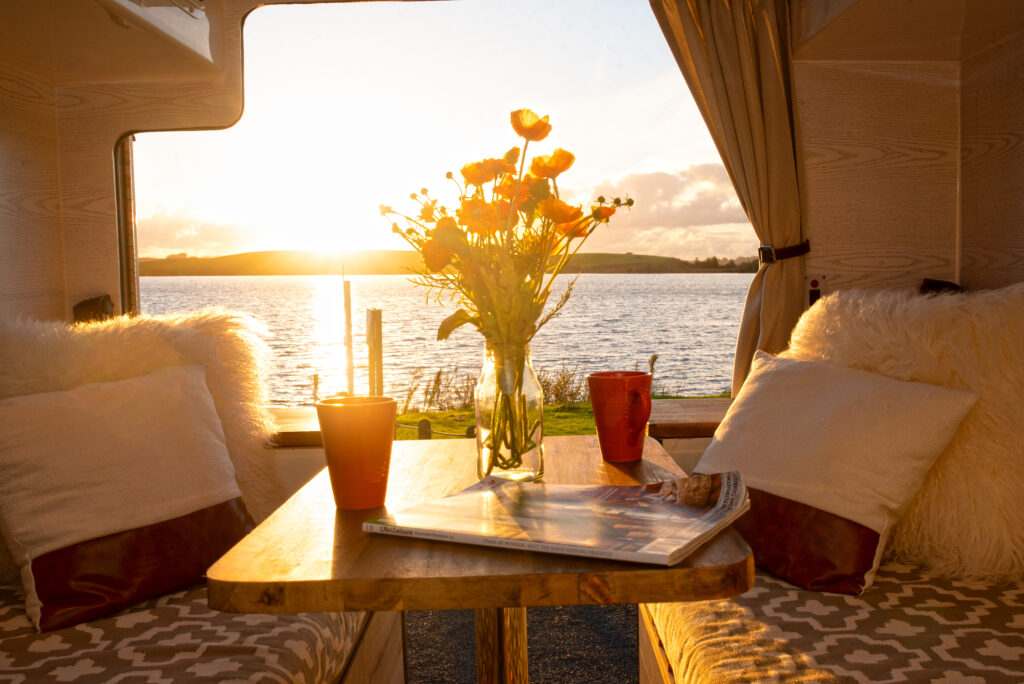 All about the vehicle
Earl is a 2008 Mercedes Sprinter 3L V6 Turbo – very fuel efficient diesel, rear-wheel drive, automatic – with 321k kilometres on the clock. Earl had a full service recently and comes with two keys (both with new batteries). His bodywork is in good condition (but has some blemishes representative of the vehicles age – and his previous life as an ambo!). The WOF expires October 2022, the rego is valid until December 2022 and RUCs are paid up to $345k kilometres (worth $1800!). *Note: A COF is required if you plan to rent the van out; if it's for personal use only, a WOF is sufficient.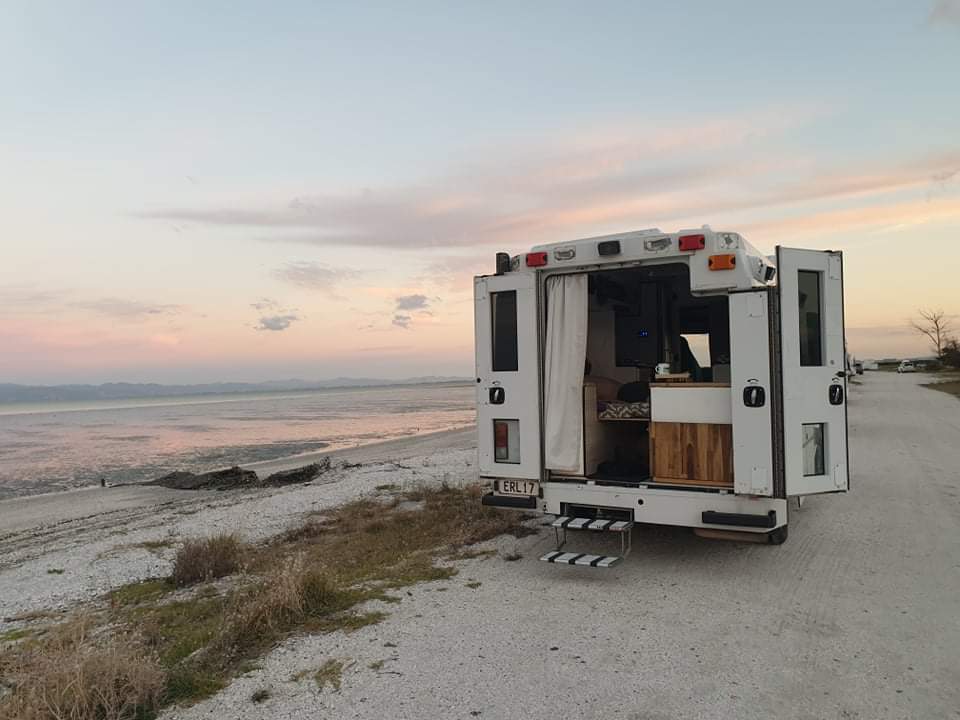 From cab to kitchen…
Up front in the cab there are two seats with access straight through to the kitchen. The main cabin area has an interior height of 1.8m – so most people can stand easily. The functional and sleek galley kitchen features lovely timber benchtops, a full-sized sink, a two burner gas hob and a generous 85 litre 12v compressor fridge (with freezer compartment) as well heaps of storage. There are LED ceiling lights as well as under-cabinet task lights.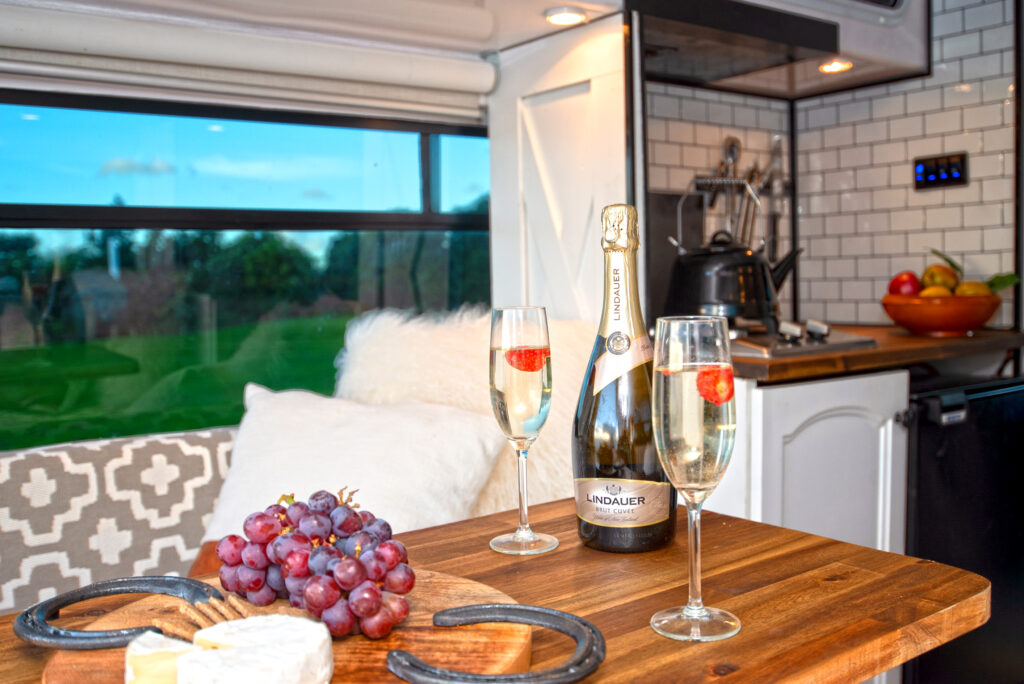 From day…
The beauty of a convertible bed is a generous seating area in the day. Two large bench seats which you can happily lounge on with a good book while taking in the views. And there's plenty of overhead storage for clothes. Nice weather? Then crack out the large gas barbecue… or dry those togs after a dip by hanging them on the metal clothes dryer.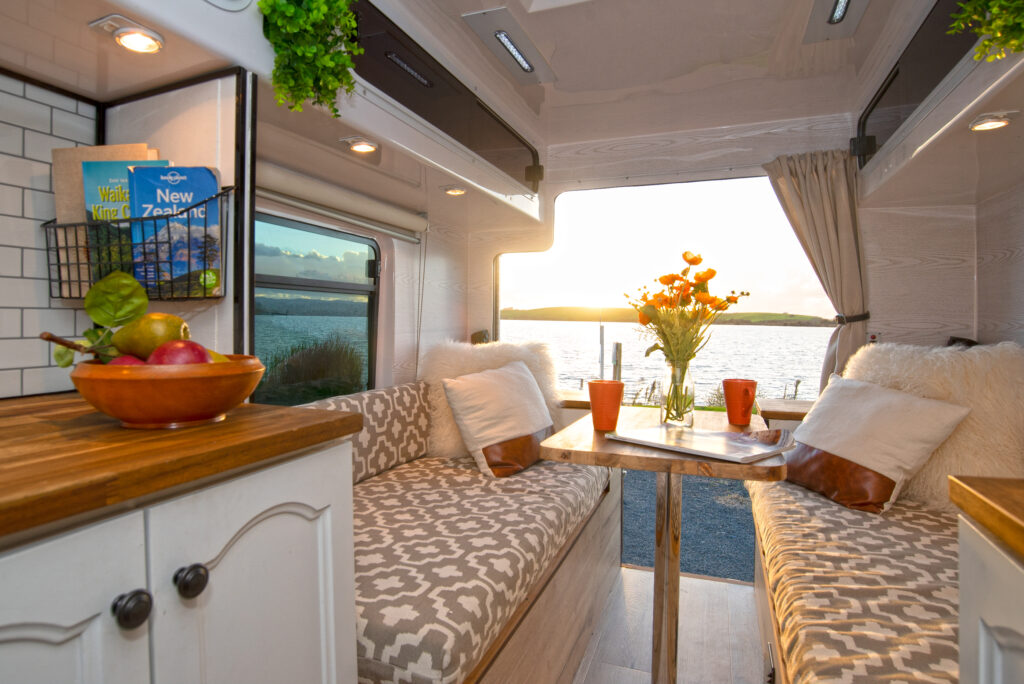 … to night!
When it's time to hit the hay, the clever seating transforms into a comfortable standard-size double bed with memory foam mattress and topper. And you can cosy up and continue reading with the under-cabinet lights. Or better still watch a movie using the projector! Worried about being cold? Well, ambulances like this are brilliantly insulated with 80mm foam walls so no need to worry at all. Earl is super cosy and warm.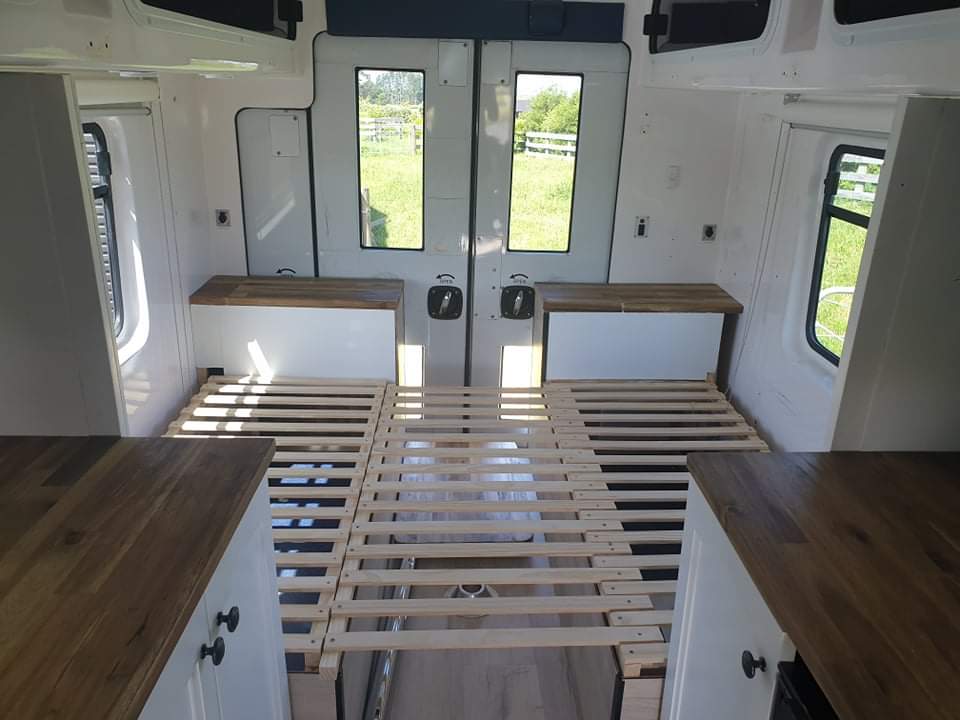 The power system
Earl has a 200Ah deep-cycle leisure battery which powers all of the 12v electrics. The battery charges through 2 x 310w roof-mounted solar panels… you're not going to run of power easily here! There are 4 USB charging points and 2 x cigarette lighter outlets.
The waterworks!
Earl is certified self-contained (CSC) for three people until Feb 2025 and has a very generous 80L fresh water tank which means refilling less often. An electric pump supplies cold water to the kitchen sink as well as the outdoor tap/hose. The 70L waste water tank is underslung to maximise space inside and the tank monitors in the kitchen indicate the remaining capacity. A brand new, never used portable camping toilet lives behind the passenger seat. Also included is the fantastic Joolca Hottap portable gas-heated outdoor shower system.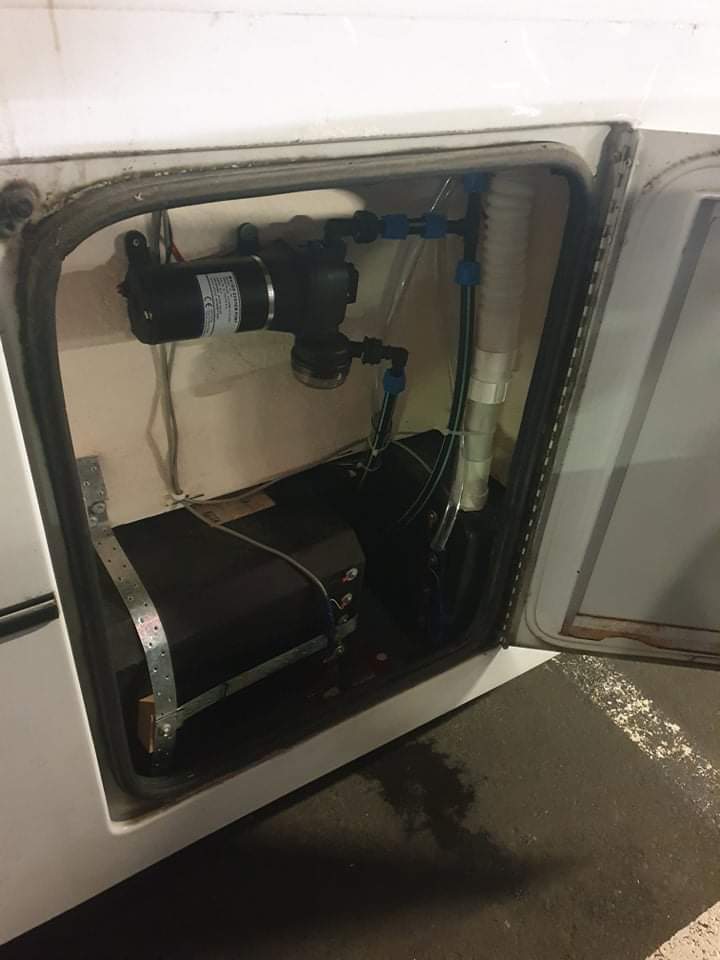 Recoup your costs by renting out your campervan with Quirky Campers
We'd love Earl to be part of the Quirky Campers NZ family of campervans for hire. And with the borders opening up we have customers lining up to book with us. We know Earl would be very popular so you could be recovering your costs when you're not using him and potentially break even in less than 3 years… all while you have your very own bach on wheels!
Read about renting out your campervan.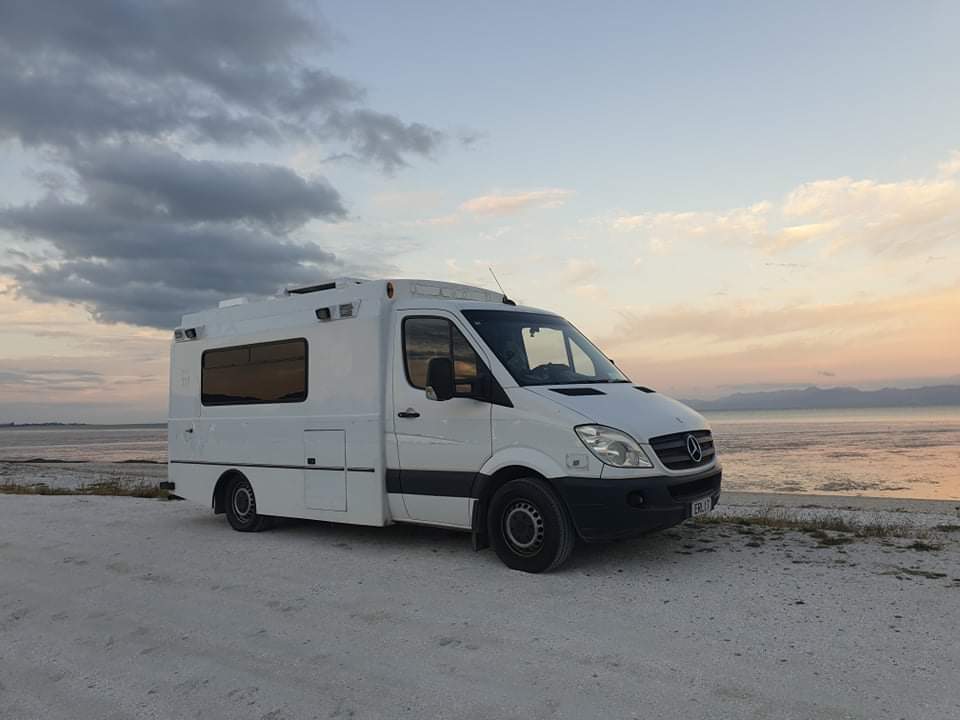 Find out more about buying this campervan
If you're interested in owning this lovely campervan, contact owner Helen directly at H12346@outlook.co.nz to arrange a viewing.