Hiring a campervan with Quirky Campers NZ, what is it actually like?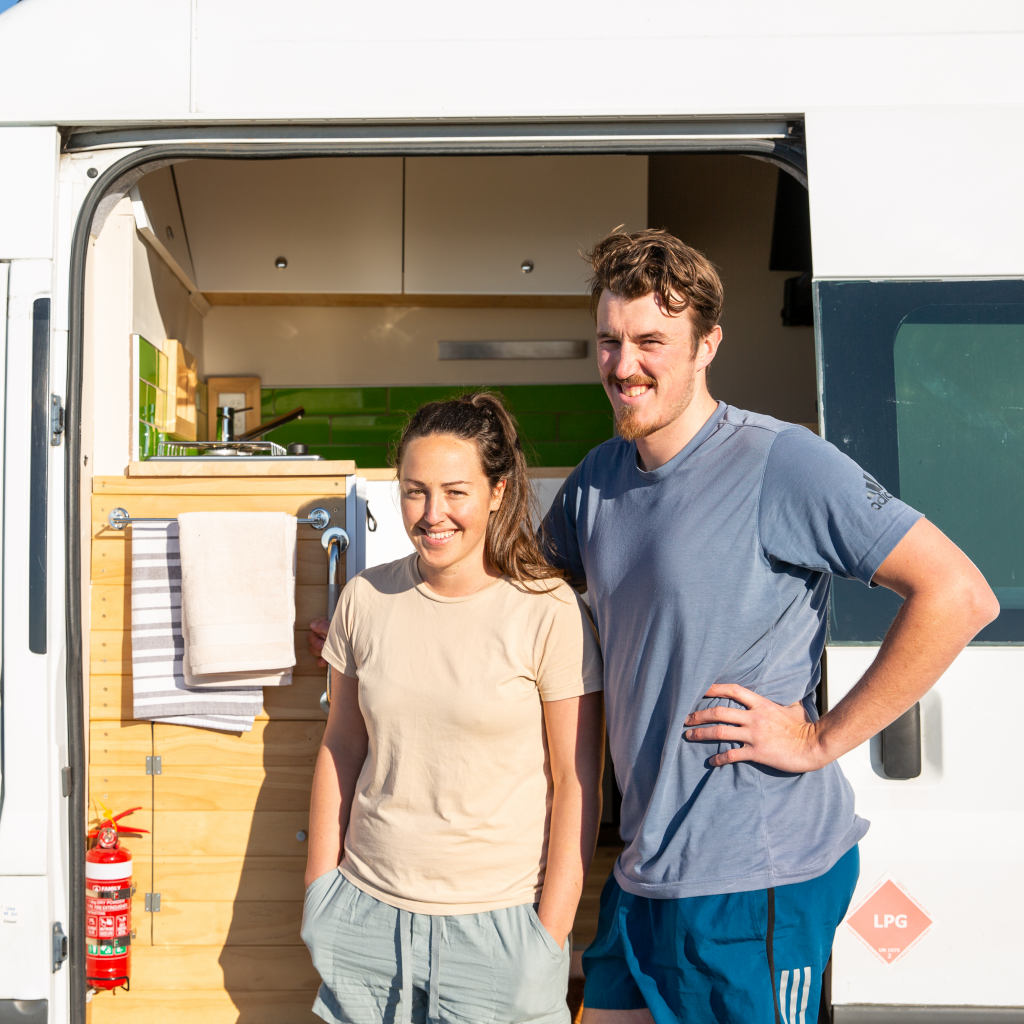 One thing is for sure, no two people hiring a Quirky Campers campervan will have the same holiday. All our listed campers are privately owned. That means that hiring Kākāpō in Christchurch and meeting his lovely owners Simon and Kendall (pictured above) will be different to picking up Ivan from Auckland from Leanne and Dan! Every van, every owner and every adventure is unique.
However, whilst vans differ in terms of style, bed type, heating options and so on, some things about the Quirky Campers experience will remain the same whether you are holidaying in Northland or Southland.
The experience of browsing our campers, asking us questions and making your booking will be as enjoyable and convenient as the campervan trip itself
Your campervan will be practical and beautiful, we don't accept style over substance or vice versa! It will be fully self-contained so you have all you need (mainly water and toilet facilities) so you can freedom camp
We have checked Certificate of Fitness and gas/electrical safety of your vehicle, and provided insurance, so you just have to worry about the itinerary
You can take your pet(s)! Most – and right now, all – of our campers welcome your furry friends so save money on kennels and bring them along for the ride!
You won't need to worry about cooking… our vans even equip you with all the essentials such pots, pans, utensils and staples such as tea, coffee and spices.
You can add on extras to tailor your experience… save or splurge! Extras vary by van but options include bedding and towels, roof rack, outdoor shower, an alternative local pick-up location or a late drop-off
You will always have a great view. So pull over at whatever point, put the kettle on and take in what's around you
Memories you make in a Quirky Camper will blow other holiday memories out of the water! OK, we might sound like we're blowing our own trumpet, but it's what our customers have said! We're just passing on the info 😉
What have our customers said about us?
If you don't believe us, read what our customers have to say!
Hannah hired Mahara, November 2019
Our experience with Mahara campervan was so great. Jeremy and Liz were very communicative and friendly, and we picked the van up and dropped it off again with no problems. The van was incredibly well designed and comfortable – we cooked some great meals, slept well, and had no technical issues while driving to Milford Sound and back. Our main problem was keeping the kea off the roof! Staying in Mahara made the trip so much more enjoyable than times where we have stayed in crappier campervans.
Aimee hired Ivan, December 2019
We had the most wonderfully fun trip around the North Island with Ivan, there is nothing we could think of to be improved upon! Spacious yet cosy, surprisingly easy to drive, with everything we could possibly need and carefully thought-out details to make things extra special, we would recommend a trip in Ivan to anyone – he was always the envy of the campsite wherever we went!
Al hired Ivan in December 2019
Fantastic experience! We rented Ivan for a few days and went North. It drove well and was super comfortable and cozy, and as it's very unique we had a lot of people stopping to talk about it. Leanne and Dan run a very professional operation and we'll definitely rent a Quirky Camper from them again.
Tali hired Ivan, December 2019/January 2020
We rented Ivan for our ten-year wedding anniversary and took him to Northern Bass Festival. We were the envy of our friends! Fully equipped with everything we needed from the kitchen to the sleeping area, we were warm and cosy, and the thick doors and windows kept out any excess sound. Leanne and her partner were lovely and easy to deal with, accommodating and helpful with any questions we had. Thoroughly recommend this company – we will be hiring from them again!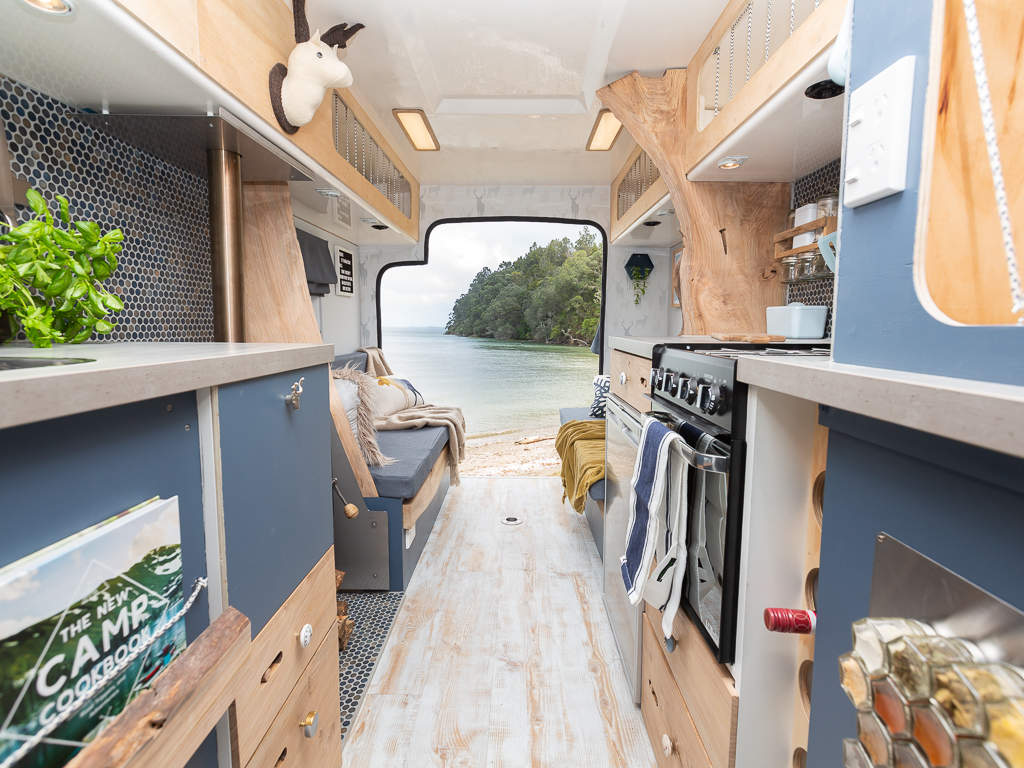 Julia hired Kākāpō, February 2020
Booked the gorgeous and funky Kākāpō camper for 8 days of fun on a South Island Tiki tour. Easy booking and smooth processes with great communication made our home away from home just perfect. Awesome van for all weathers with full off grid lifestyle. Really comfortable bed, all essentials included and thoughtful extras. Easy to drive, good size for parking in most places, great value and friendly helpful owners. Will definitely book again to finish off seeing the bits we missed. Thanks a million Quirky!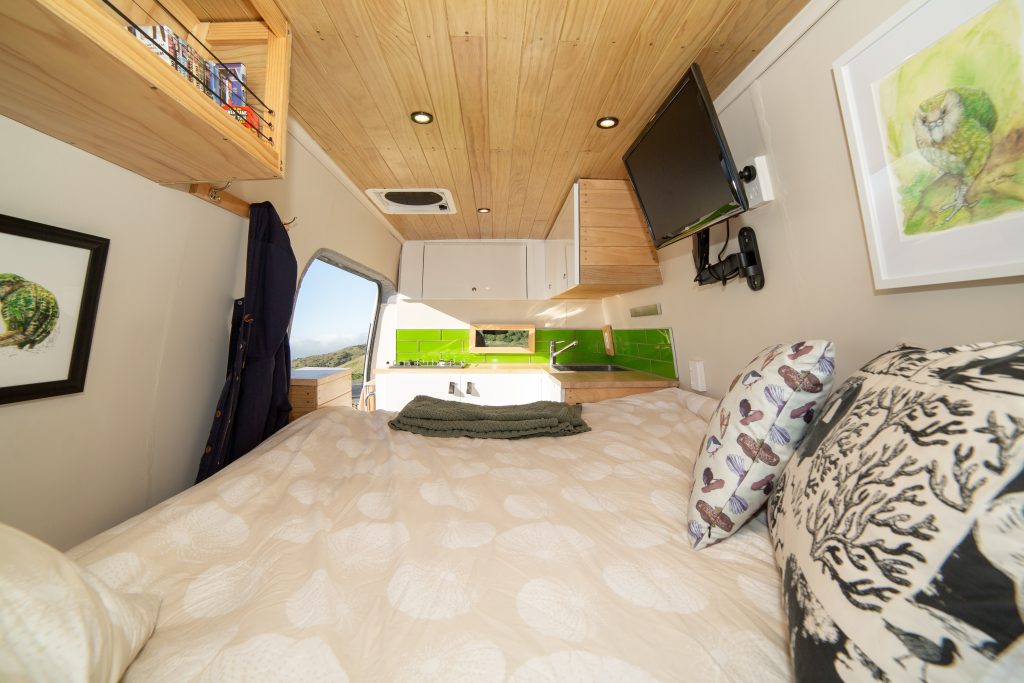 Clare hired Ivan, February 2020
We rented Ivan from Leanne & Dan in February 2020 to celebrate my 50th birthday. We were extremely happy with all the help and advice we were given before we set off. Ivan was equipped with everything we needed and the bed was extremely comfortable. We would thoroughly recommend Quirky Campers and hope to rent another van some time in the near future.
Alex hired Morrison, March 2020
Had a wonderful time travelling round the South Island in the Morrison – he's super cosy and felt more like driving a car than a van. Quirky campers were also super helpful, flexible and friendly. We had to end our road trip slightly early due to lockdown and they were really nice and refunded our last days immediately. Would definitely book again (it's also nice to drive around in van that doesn't have massive branding all over it!).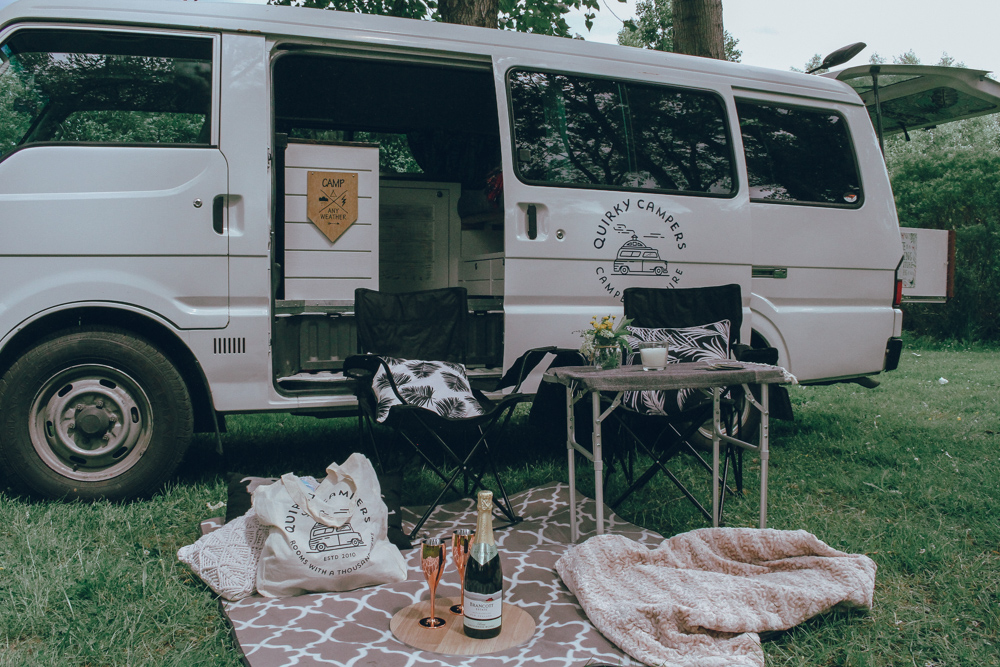 Josie hired Ivan, March 2020
We spent an amazing 3 weeks travelling the north and south islands in Ivan and loved every minute! From the beaches to the mountains Ivan performed faultlessly, keeping us warm and dry throughout our epic adventure. A real head-turner of a camper with numerous people enquiring about Quirky, Ivan definitely stands out from the crowd of standard white campers whilst also blending in to the surroundings when parked up in the wilderness. It had everything you could possibly think of to provide a feeling of luxury camping. We can't recommend Quirky Campers enough!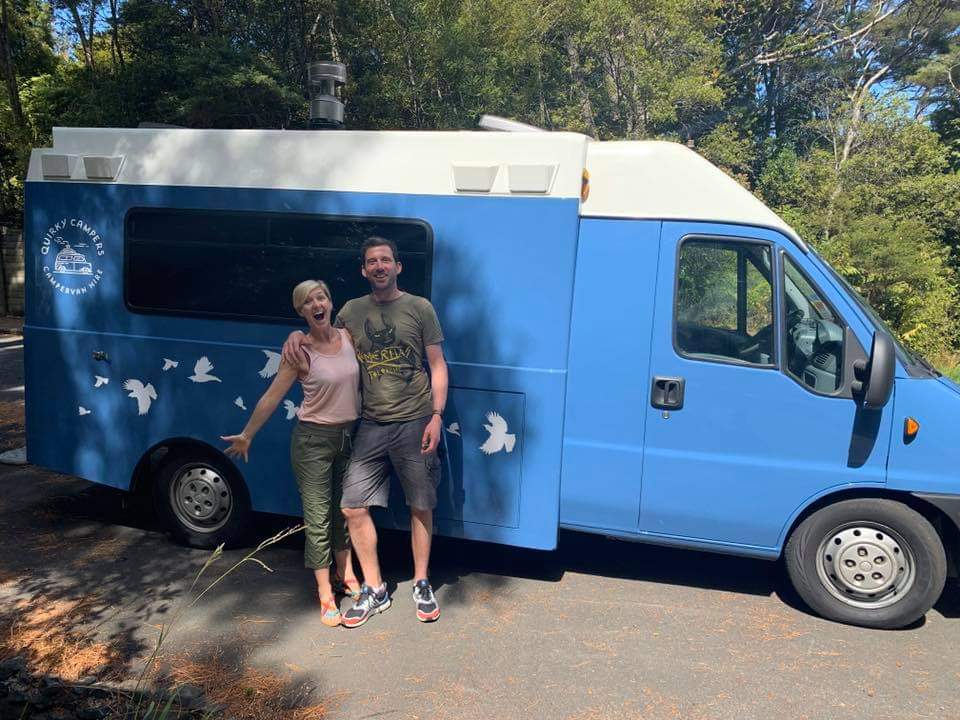 Rosie hired Ivan, July 2020
I rented Ivan for the weekend during a cold spell. He was easy to drive even for someone like me who has never driven a larger vehicle. His pot belly stove kept the van warm and toasty for the cold evenings and everything was spotlessly clean and easy to use. His owners are fabulous to deal with and I have no complaints at all. Totally recommend.
Choose your perfect Quirky Camper here.