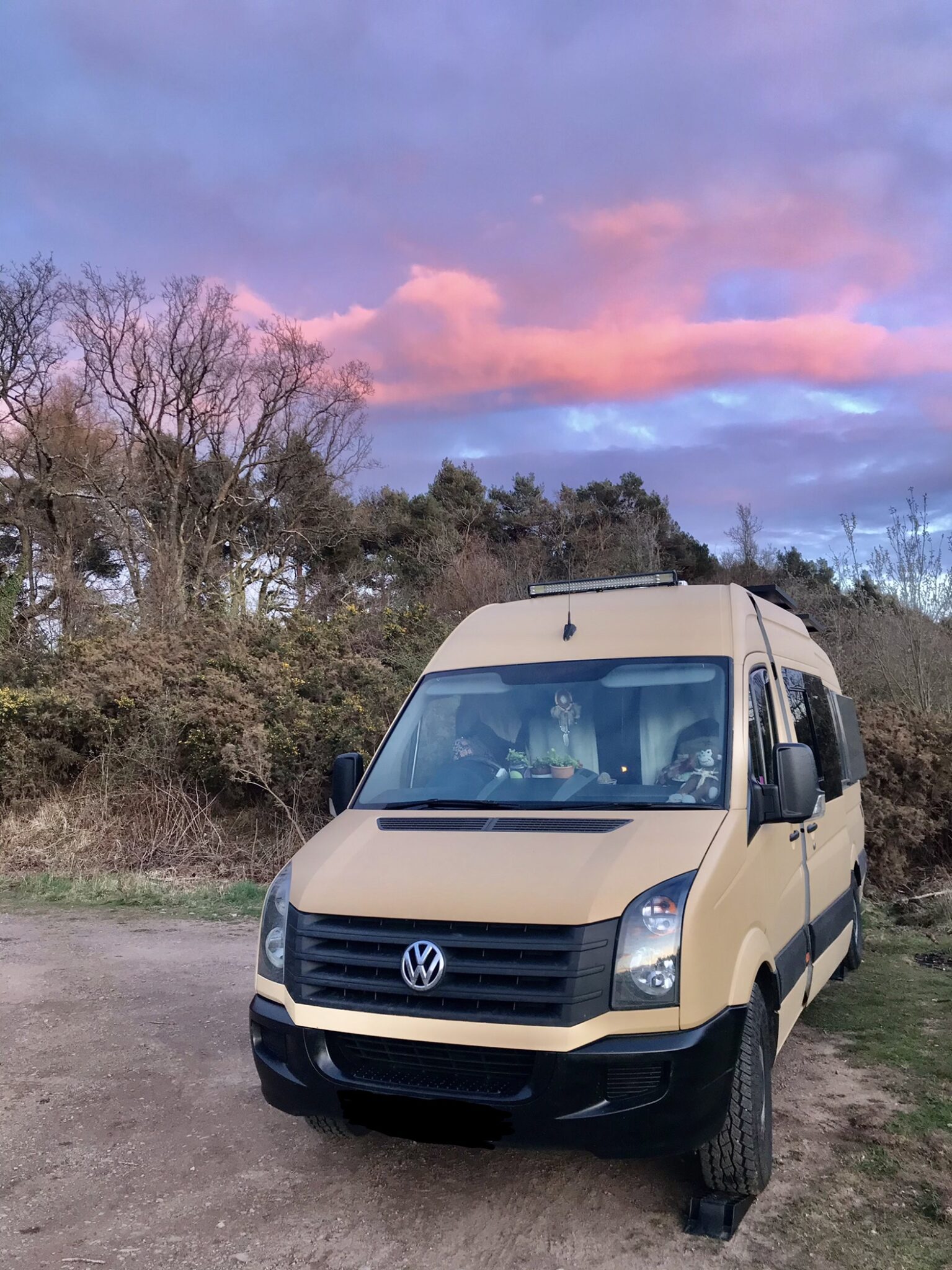 Sold
Vehicle Description
'Pat the Crafter'
*OPEN TO OFFERS* PRICE REDUCED – We are getting an old van to renovate so we need a quick sale, Thank you.
Our campervan 'Pat' is a 2016 LWB VW Crafter hand-built and carved with love by us. With a rustic wooden interior, this van is sure to make you feel closer to nature and allow you to connect with all the beauty outdoors has to offer. We are parting with our beloved van and downsizing to accommodate a change in circumstance. We have grown together so much on our journey with Pat and hope to find a new owner/s who can continue to enjoy sunset park ups and all the adventuring Pat was built for.
Listed below are the specifications of our camper:
– Millage – 78000
– Service, cambelt and new clutch done 6 months ago with receipts
– MOT – Dec 2021
– A/C, Cruise control, Bluetooth media player, electric windows and mirrors, rear parking sensors
– 5x Toyo A/T tyres in new condition(including spare)
– Passenger and driver's seat both captains swivel seats
– 5x windows fitted – 3x with privacy glass 2x small windows in the back doors
– 3x windows have blinds we made
– 2x windows came with blinds and bug net fitted from factory
– Recycled bottle insulation in the gaps
– 50mm Celotex boards on floor and ceiling
– LPG bottle under the kitchen with fill-up point by the sliding door
– 3 burner LPG hob great for cooking
– Full-size sink with running water
– 6lt per minute water pump
– Accumulator tank
– Inline water filter
– All plumbing are push-fit connectors with multiple stop cocks
– 140lt water tank in the garage area under the bed with fill up on the outside of the van
– 25lt grey waste tank under the sink(can be emptied without being removed
– Lots of kitchen storage
– Extension pods fitted to outside of the van to allow for width ways bed inside
-Full-size double bed widthways across the back of the van
– Double foam mattress with new mattress topper
– Clothes storage above feet end of the bed
– Diesel night heater
– Log burner with lots of storage underneath
– Floor to ceiling storage in between the bed and log burner
– Bench seat opposite side door with 3 big storage draws underneath
– The van has been roller painted in a military paint(spare paint left to go with the van)
– 2x 325w solar panels giving 650w of solar
– Victron MPPT solar charge controller
– Victron 500w Phoenix Inverter with a switch inside the living area to turn it on and off
– Victron smart shunt
– 2x Victron 170amp supercycle batteries
– Sterling 30amp split charge relay
– 6x ceiling led lights
– 2x 240v house sockets for home appliances
– 3x USB sockets
– 3x voltmeter's to see leisure battery voltage
– Under cupboard kitchen lights
– Led floor lights
– 2x led bed reading lights
– Water level gauge
– A draw that slides out from under the bed to house the toilet
– Roof vent in the front with extraction fan built-in
– Rear skylight above the bed to see the night sky
– 12v Dometic compressor fridge
– Front and rear light bar fitted with switches in the front cab for operating
– Upgraded front door speakers
– Slam lock door locks on outside of the van with 2x spare keys
– Anti-theft security fitted to the van fitted professionally before we bought it
– Jerry can holder on the back door
– Custom wood flooring
– 2x smoke alarms fitted 1 in the living area the other in the garage area
– 1x carbon monoxide detector in the living area
– Fire extinguisher
– Fire blanket
– Custom window covers for the cab
– Custom curtains to block the cab off from the rest of the van
– There is a storage area in the van to hide away passports and important documents etc
We have many more photos of the full build process available upon request. As we are aiming for a quick sale to move into our new van, we are open to sensible offers so please don't hesitate to get in touch and arrange a viewing! Thank you for taking the time to look.
Please note: Quirky Campers do not inspect the listings for accuracy or check campervans in person. We have asked sellers to provide evidence of certificates and paperwork however you MUST check yourself that the information provided is present and correct. You will need to exercise the normal due diligence when buying any vehicle.
Make and Model
VW Crafter CR35 LWB High Top
Current Mileage
78,200miles
Registered Vehicle Type
Panel Van (meets DOT standards)
Fixed full size double bed in the back of the van width ways sleeps 2 comfortably, 4′ foam mattress with brand new mattress protector supplied.
Maximum Weight (MAM or MTPLM)
3,500kg
Unladen Weight Verified?
NO - the vehicle has not been weighed since completion
Gas sign-off supplied
None