Unique Campervan Hire in the UK
Welcome to our range of bespoke campervans for hire.
Whether it's for adventure, work or family holidays to remember, you can experience a taste of vanlife.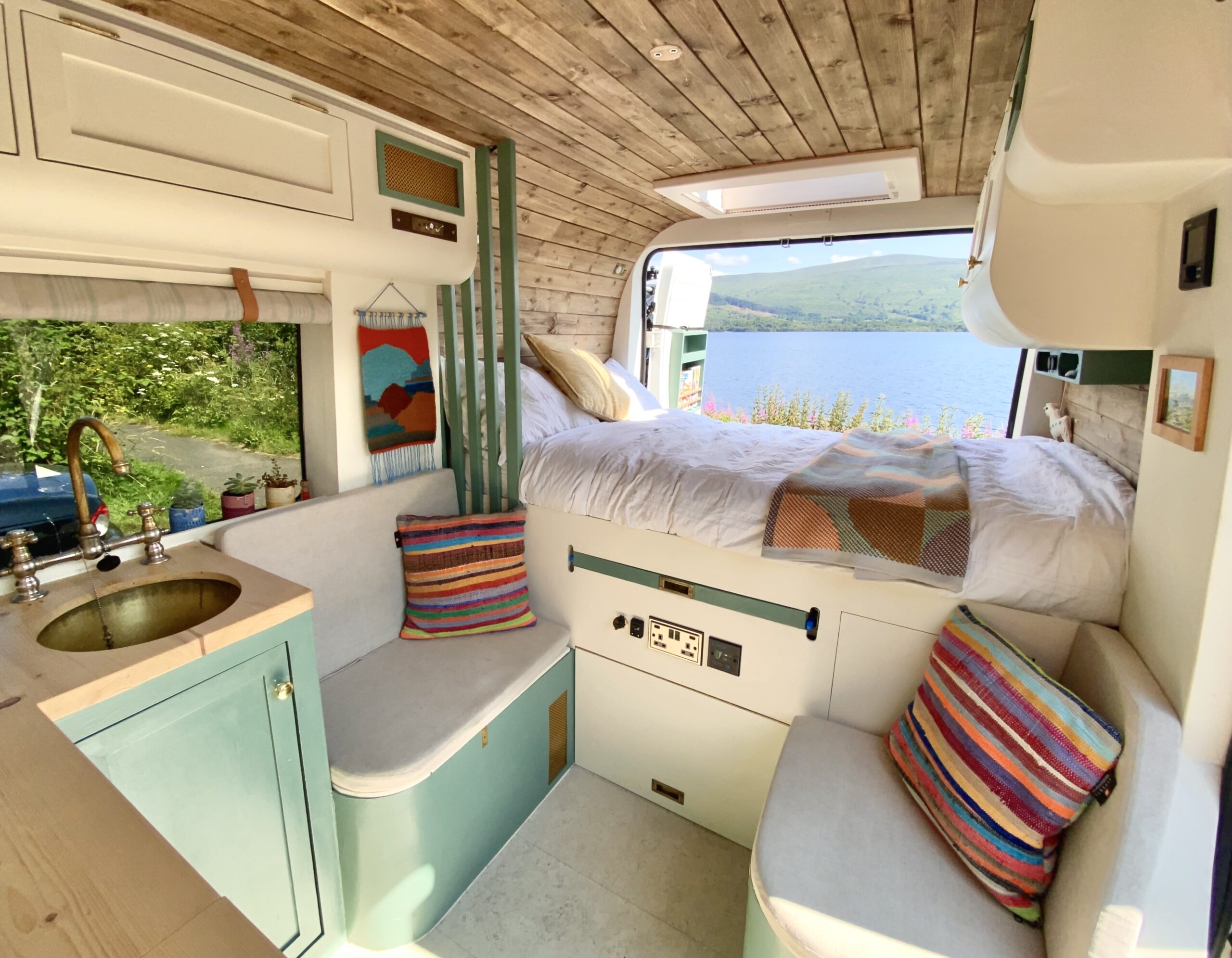 Unique Campervan Hire in the UK
Welcome to our range of beautiful and bespoke handcrafted campers. Quirky Campers are not your average campervan hire company. You won't find campervans like these anywhere else. If you're looking to rent a campervan for your dream UK holiday or even want to venture further afield into Europe, look no further. 
Whether you're after a romantic break just for two, an off-grid adventure, a pet-friendly holiday or some family fun, you can find the ideal campervan or motorhome for hire in the UK here...
Explore the UK and Europe in luxury and style
We know exactly how it feels to enjoy being out in nature, but not enjoy the sensation of a slowly deflating mattress. Plus the unique freedom of road-tripping, the open road and being able to stop wherever you want and whip up lunch for the family is unbeatable. Or to find the perfect picnic spot and decide to make it your home for the night.
There really is nothing like travelling in a campervan on holiday to give you a sense of adventure without having to compromise on comfort or luxury. Think luxury motorhome holiday rental but with oodles more creativity and uniqueness. Then you'll be close to what we have to offer here at Quirky Campers.
Find your perfect campervan for hire
Our listed campervans and motorhomes are available for you to hire, fully equipped, across the UK and Europe. Plus we have made it easy for you to find the right van. Simply select the region or enter the postcode where you'd like to collect, and the vans will automatically appear for you. Use the date selector if you are looking for specific dates and see which one takes your fancy.
Refine your search by selecting how many people you need to accommodate and whether you need a toilet, shower, fridge/freezer or require the van to be pet friendly. There are also plenty of hireable extras in case you need things like bedding, firewood, bike racks and lots more. 
If you need to know something more specific. Such as whether the campervan has a double bed or a king-size bed, how many gas hobs, or how the living area converts into the sleeping area, just get in touch and we can find out for you. 
As the only rental agency that is especially selective, you can be confident that whichever one you go for has been chosen for its craftsmanship, originality and style. All our vans have private owners, meaning you've come to the right place if you're looking for an experience like no other.
Whether you're looking for smaller campervans like a VW T6 to glide through country roads, or a converted minibus to fit the entire family, Quirky Campers Campervan Hire has you covered!
Click on each campervan to see the full details, optional extras and find the perfect 'room with a thousand views'.
Search by your dream destination
We have campervan hire across the whole of the UK – London, Scotland, Northern Ireland, Wales and across England.
For the Cotswolds, Dartmoor or the Cornish coast have a look at what's on offer in Cornwall or Devon. For the Lake District and the Yorkshire Dales, see what there is in Cumbria or Yorkshire. Fancy a road trip to Northumberland? Check out our campervans in Newcastle.
Seeking adventure across the pond? Check out GoCamp, our recommended camper van rental company in the U.S. GoCamp offers a curated camper van fleet, excellent customer service and helpful van owners, who provide a great experience every time.
For New Zealand, our recommendation is of course Quirky Campers New Zealand. Headed up by Dan and Leanne who are avid campervan lovers themselves, you're bound to receive a personable, friendly and knowledgeable service.
Need help finding a place to stay?
Take a look at our 10 must-visit campsites across the UK or our pick of the best campsites in Scotland for campervans.
Heading to The Welsh Valleys? Have a look at our recommended campsites in Wales.
Or take advantage of our Camping and Caravan Club Site hirers discount…
Did you know we are members of The Camping and Caravanning Club Motorhome Hire Scheme? This entitles you to up to 30% off Club Sites. You can find details of their sites on their website www.campingandcaravanningclub.co.uk
To guarantee your pitch it's best to book by calling the service centre on 024 7647 5426. Then all you have to do is show the Motorhome Hire key fob, which you will find on the keys of your hire vehicle, on arrival to claim your discount.
So what are you waiting for? Your road trip starts now!
What do our customers say?
Here at Quirky Campers, we pride ourselves on having hands-on customer service, and even better campervan owners. Here is a selection of recent reviews from hirers. You can find hundreds more on our individual campervan pages, or on Instagram and Facebook: 
---
"We spent a fabulous weekend in Edale in Floyd, it may have rained for most of the weekend but we were snug and happy in the best camper van on the site, often admired by people walking past. The layout means you can prepare meals and enjoy at the table, space for relaxing and reading, the bed is comfortable and the icing on the cake was watching a film on Saturday night on the projector. It is very well equipped so all you need is yourself, food and clothes to enjoy a fun and relaxing break. Dave and Helen are so helpful, they gave a handover which meant we were confident with the van from the off, our first camper van experience. Floyd is a perfect companion for getting away."
Sharon & Ed, July 2023
---
"Staying in Rua was an absolute delight! There are so many little touches that make it the perfect place to spend some time in. The bed was easy to put out and put away, there is lots of storage and the kitchen area is easy to set up to use with a small fridge and sink. Really helpful to have the USB ports and reading lamp. Driving is very smooth and comfy. The blackout blinds and insulation makes it dark and warm for the perfect night's sleep. Lovely little cubby holes in the wall to store things that you need to get to. Would recommend 😊."
Tamsin, July 2023
---
"We booked Athena for our 5-day trip to Glastonbury. Pickup was very easy, we were shown how everything works and left a manual too. Athena comes with everything you need and more. The shower is great, much bigger than expected. Having solar panels to charge the batteries is great, meant we had electricity the whole time without having to be hooked up. Really comfy bed and easy to drive. I'd definitely recommend it to anyone wanting a bit of luxury while enjoying nature."
Anne, June 2023
---
"Had a fantastic trip in Savannah down in Cornwall – Savannah was surprisingly easy to drive, super well equipped and had everything we needed for a week away. Everything was really comfortable, and straightforward to use. Will definitely be back for another adventure!"
Laura, June 2023