10 Questions for Full-time Vanlifers
With thanks to our guest bloggers Joe and Eunice Hurley: Blog / Instagram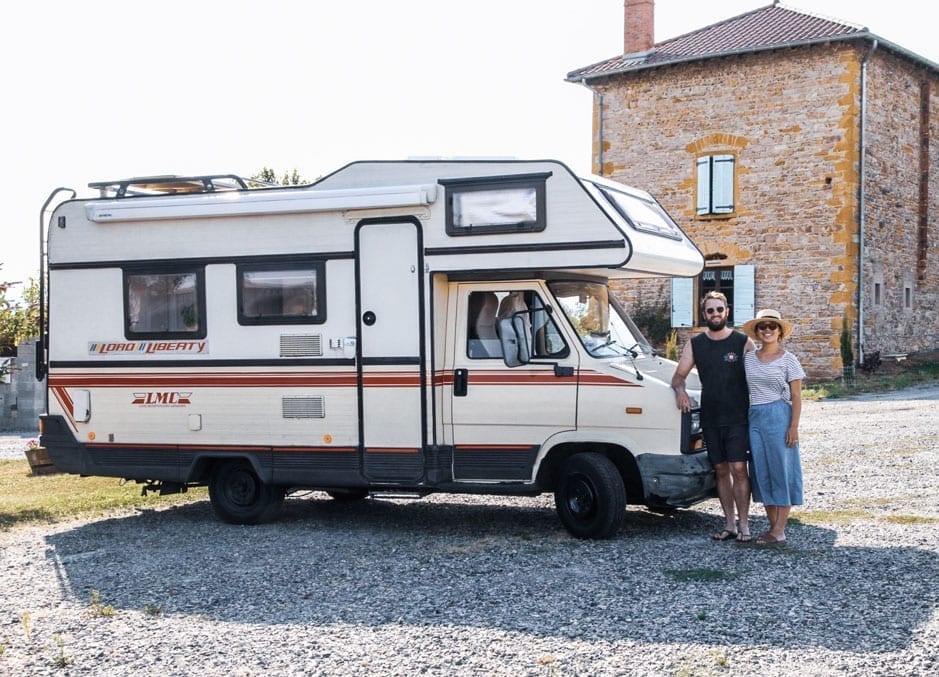 The Hurley Ventures – we are Joe and Eunice Hurley, 26 year old newlyweds from Brisbane, Australia. Before vanlife, we were working full time; Joe as an underground copper geologist and Eunice as a physiotherapist in a hospital. We wanted to have a 'gap travel year' as we love travelling and decided to combine this with our honeymoon. We saved up money after both working for 4 years, then quit our jobs a few weeks before our wedding, got married and then packed up our lives and went overseas!
We bought an older van (Fiat Ducato 1988), renovated the entire interior and have been travelling full time in a van across Europe since August 2018. We have experienced both summer and winter seasons and visited 23 countries and counting! We prefer visiting free/natural places, off the beaten track and where we can put our 1988 Fiat Ducato to the test.
These are the 10 questions we wish we could've asked someone before we started vanlife.
1. Why travel in a van?
We both wanted to do a trip for a year and also love nature and camping so we got inspired by travelling in a van! Also, travelling for so long, we didn't want to keep changing hotels and live out of a suitcase. We wanted to create a home so that we could still be very comfortable when travelling. Not only do we save a lot of money on accommodation and transport, but it gives us the flexibility to go where we want, at our pace and in our own time. We also enjoy living minimally and our tiny home on wheels is perfect for just that! It is completely self-contained – meaning we can go 'wild camping' and have everything we need.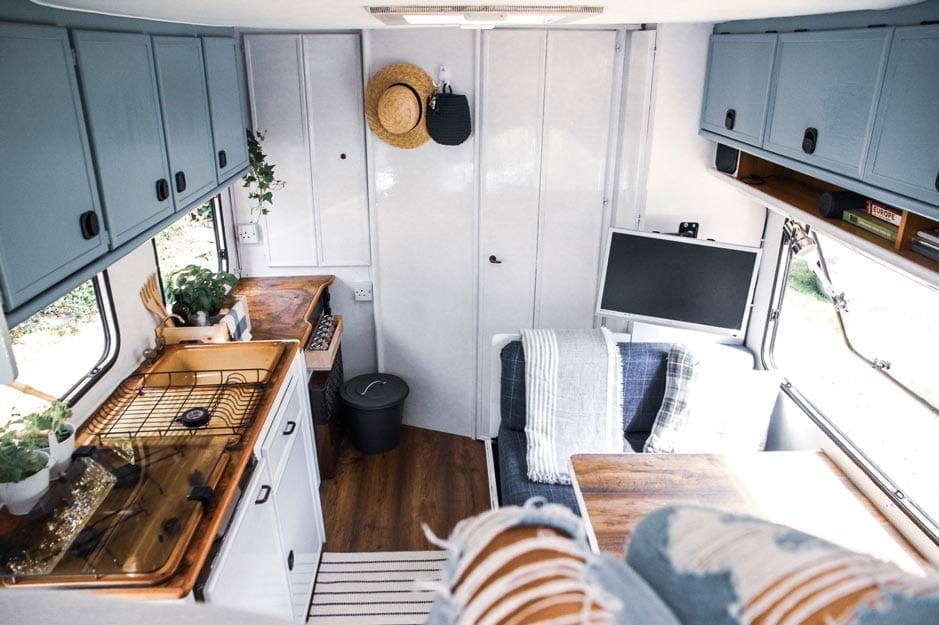 2. What are the basic things you need to be 'self-contained' and comfortable?
We have an 80w solar panel and two deep cycle batteries which give us enough electricity for lighting, charging electronics and even the keep the campervan fridge going, without the need for plugging into mains power. Our water tank can last us up to 5 days before needing to be filled up (this includes daily showers, drinking water and washing up). We also have 2x 13kg gas bottles for cooking, heating the boiler for our showers and to keep the fridge going if there hasn't been enough sun to charge our batteries. We know that a lot of other vans do not have a shower/bathroom inside their van but this was one thing we did not want to compromise on and it works well for us! It is comfortable and cosy as we have a bed, kitchen, fridge, dining table/living area and a bathroom and toilet.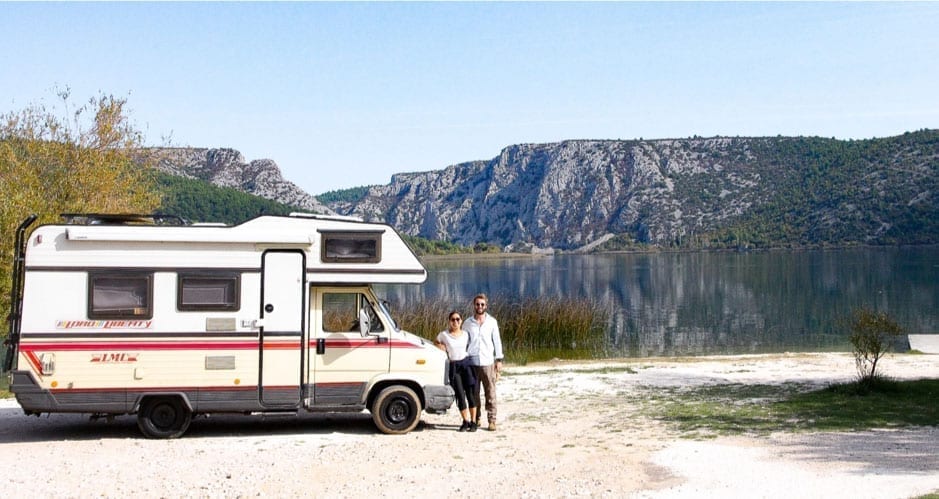 3. How do you usually organise your travel and where to go?
We use Instagram, Google, blogs and a Lonely Planet book to find places to visit. We use the park4night app to find spots to stay/camp. We use Google Maps to help map out our route and travel time. Then we handwrite it in our good old travel book so we can keep track of where we go. We have a general plan for which countries we want to visit well in advance (2-3 months prior) but prefer to plan the exact location of where we'll go and where we'll stay around 1-2 weeks in advance. In saying that, we have improvised a lot when we have found some great places to visit last minute or changed our plans due to bad weather or mechanical breakdowns. Our route, parts 1 and 2: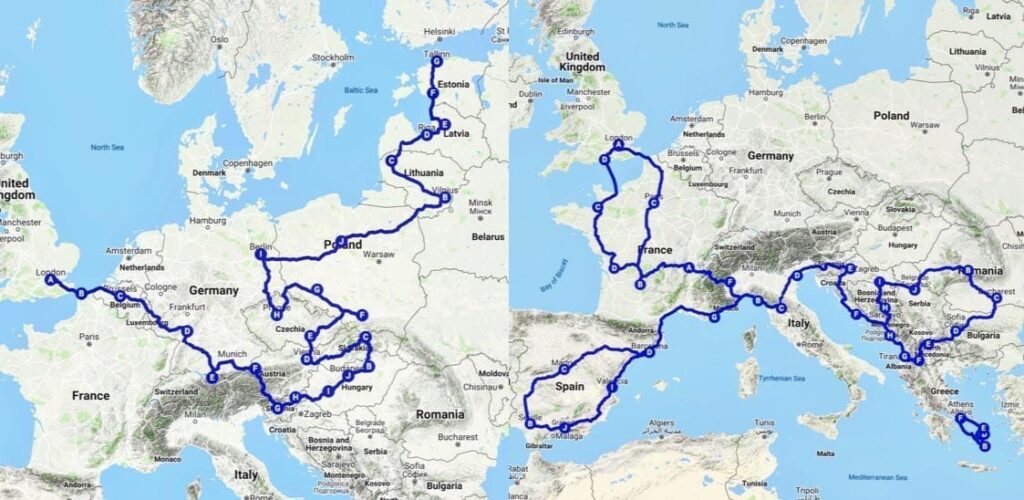 4. Wild camping vs campsites?
Each country has different laws regarding whether it's permitted or not but generally if you are discreet, you won't face any problems. For example, in Croatia there are signs everywhere saying no campers, and you will get fined there as the police patrol it frequently. However, if you're in the countryside a bit more, wild camping will be a lot easier and it's likely you won't be disturbed.
We generally try to stay in places which are off the main road and more quiet. We love staying in more scenic places overlooking a lake, river, the beach or mountains etc. In cities, we try and stay somewhere conveniently close to the town centre or public transport so we can sightsee the town easily. We find the best free parks in public carparks, local parks or quieter side roads. We always make sure our parking locations are not disruptive to the daily cycle of wherever we visit, and we always try to leave a location better than we left it.
In saying that, sometimes a nice campsite is what you really need to get all the chores done easily and have everything in one spot (i.e refill water, dump your waste, do the laundry and charge up the batteries if the sun has been hiding!). So we don't mind an occasional visit to a campsite.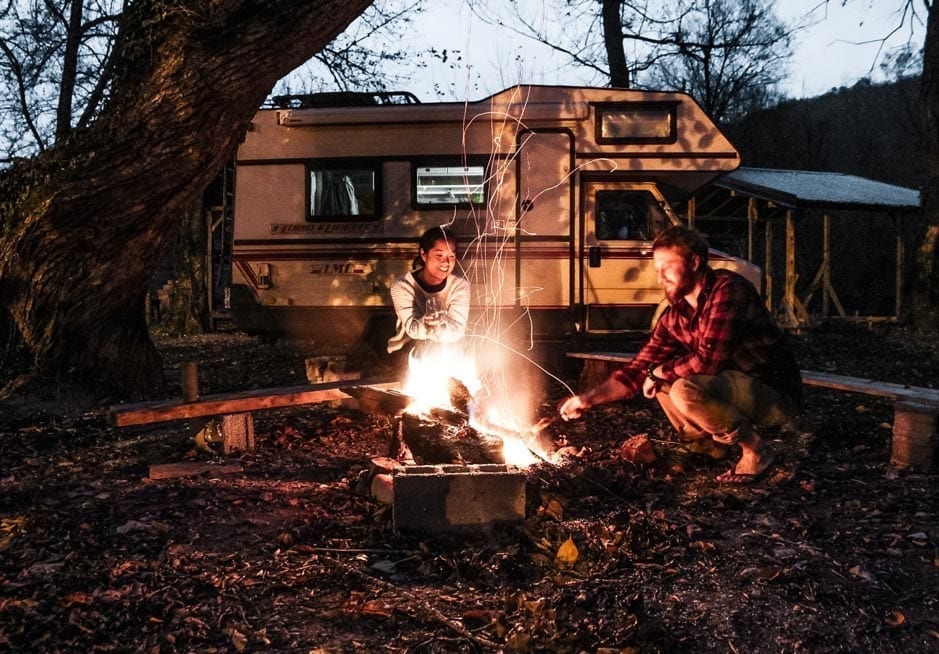 5. What about breakdowns on the road?
They're inevitable! We have found that really knowing how your campervan operates, as well as looking after it well are the keys to getting back on the road quicker! Consistent preventative maintenance is essential, especially with an older van like ours (1988 vintage). Become familiar with the basics of the engine mechanics so that you can monitor it and avoid lengthy/expensive breakdowns. If you are travelling on the road for a long time, make sure you continue servicing your vehicle approximately every 5000km etc.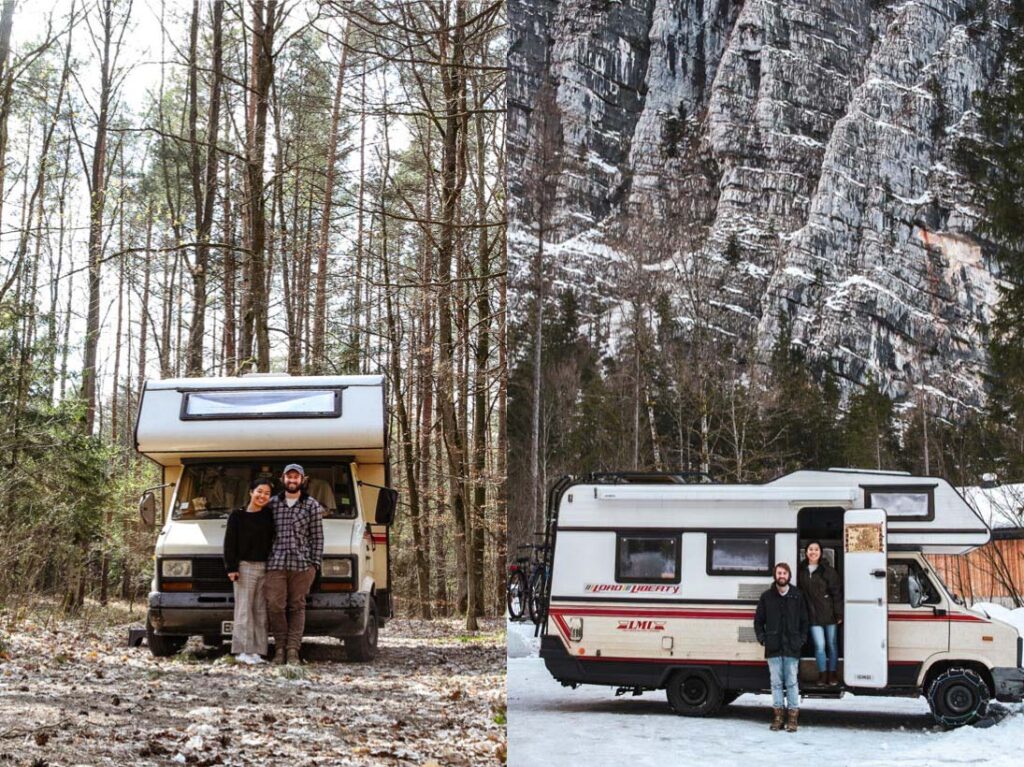 6. Is vanlife in winter doable?
Yes it is – we did van life in winter through France, the Bavarian and Austrian alps! We had to get all the right gear – appropriate tyres/chains and shovel, heating (gas heater), insulation (we put alfoil/styrofoam layers) and anti-freeze solution in your engine and bathroom/toilet. We did a bit of research on what the winter tyre requirements were for each country beforehand. When driving on wet salted roads in winter it is important to regularly wash the underside of your campervan thoroughly to prevent rust. Also make sure you take into consideration the weather for your safety when planning to drive and spend time outside.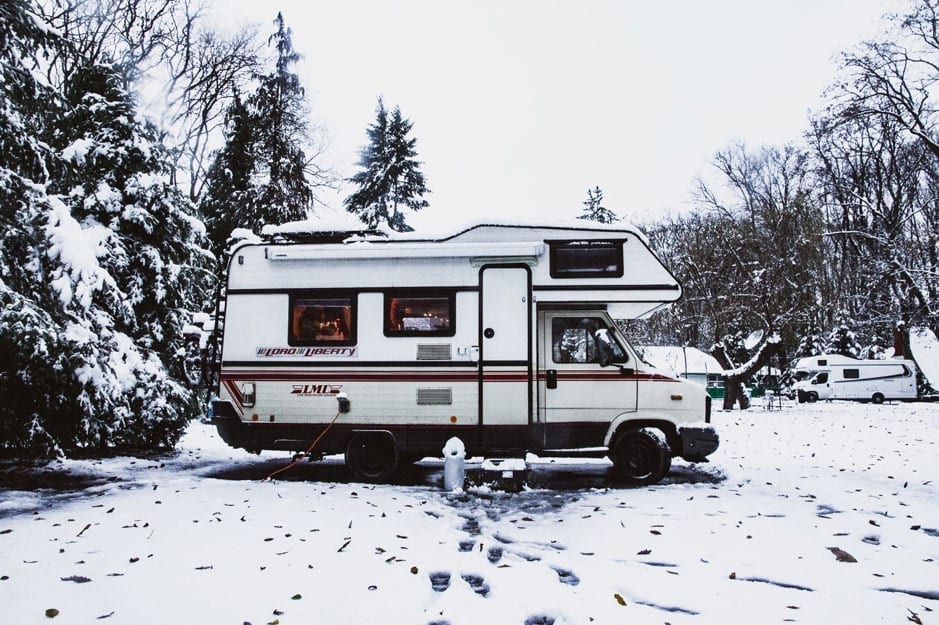 7. What do you do about campervan insurance and green cards?
It goes without saying that you must have insurance and a green card which stipulates all the countries your insurance policy covers you for. Make sure you have this printed as some countries in the Balkans only take an original version.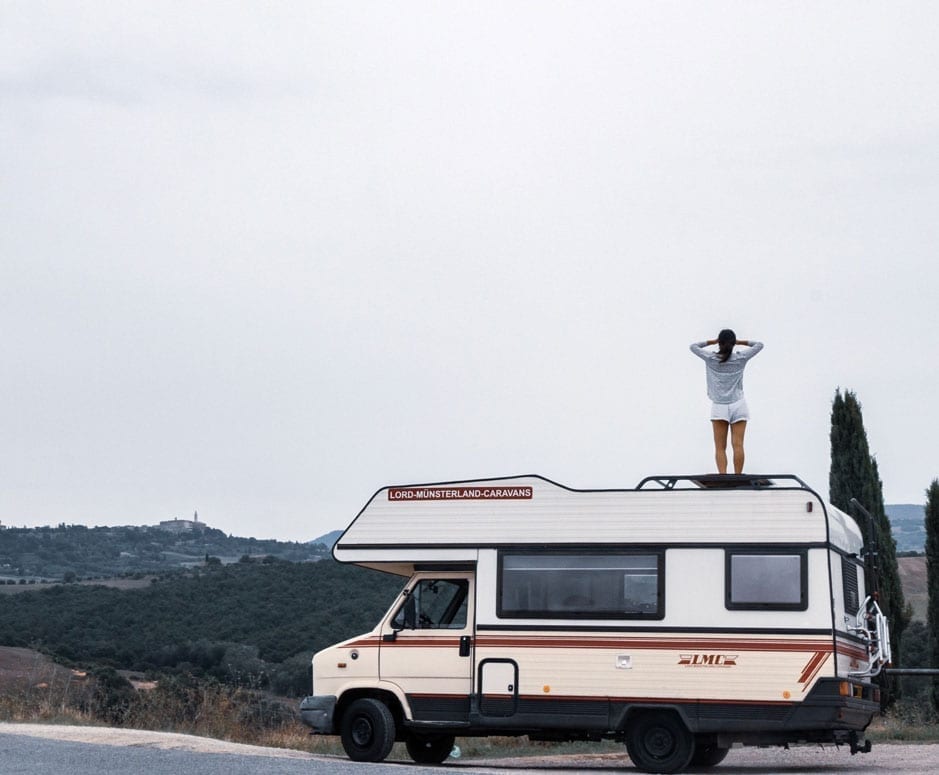 8. Do you feel safe in your van?
Generally, it has been pretty safe from our experience – we haven't felt unsafe in the van when parked somewhere. Locals are usually friendly or linger only briefly for a bit of a stare at the vehicle as it's so unusual (like in Lithuania, don't think they see foreigners as much in the countryside!).
Our van did get robbed in the beginning when we were out exploring a French town and they took our electronics, wallets etc. We have definitely learnt from that experience and now try to take extra precautions. We now have a safe inside the van which is really well hidden as the thieves were easily able to access the electronics that were stored in our overhead cupboards. And we now try to take most of our valuables (camera, laptop, wallets, passports) with us when we leave the van. We also place a steering lock on the wheel, and when in a city, we try to park at a public carpark which is busy and where the van is visible (i.e try not to park it on a random side street on its own).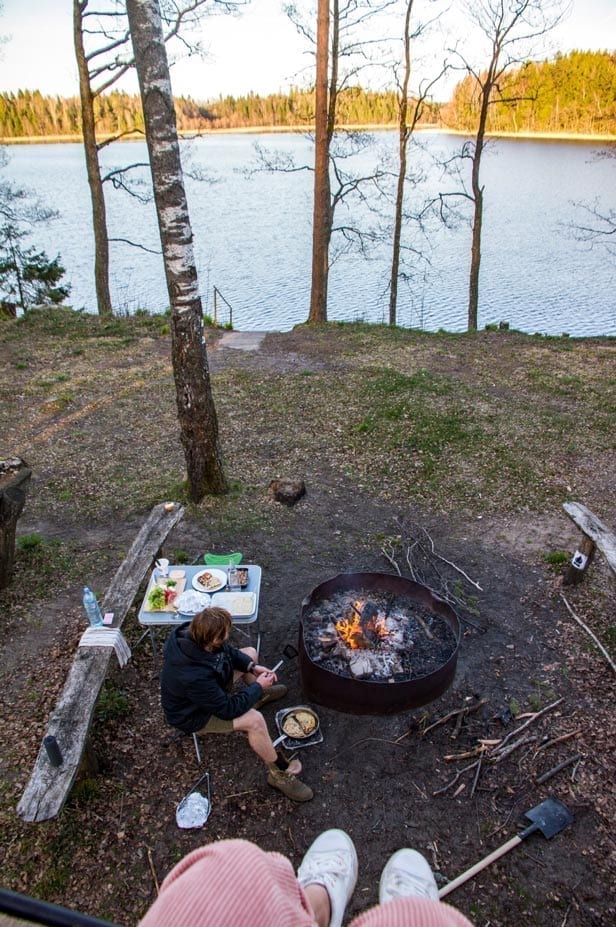 9. How do you afford and budget for extended travel?
We saved up enough to travel for a year. We don't want to work during our trip so we need to be thrifty to make our money last but we don't want to compromise on travel plans. Our main expense is diesel. Wild/free camping saves us a lot of money on accommodation and we can generally find cheap campsites when we need them. We also buy groceries from the local grocery store so we can cook in the van. We do a lot of our van servicing ourselves and try to DIY solutions if things inside the van are broken or faulty. The local hardware stores (i.e Bauhaus!) are amazing and have everything you need. We also bought cheap bikes in Croatia which have truly paid themselves off in terms of money saved on transport/parking. For example, instead of paying for parking at the entrance of an attraction, we simply find a park a bit further away and then ride our bikes the rest of the way.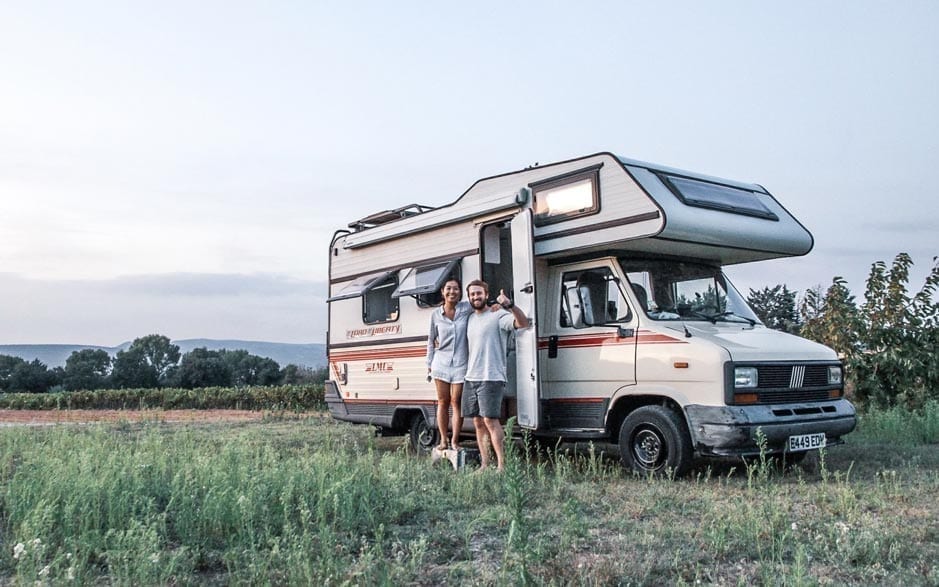 10. Have you had any issues with travelling (especially since you're not from the EU)?
Apart from the UK and Ireland, once you hit mainland Europe it is all right-hand drive with pretty much the same road rules everywhere. Make sure you have your emergency equipment that you are legally required to have (fluro vests, triangles etc). Road tolls are different country to country – some have toll booths on certain roads and other countries require you to buy a vignette instead. Either way, we've found it really easy. Vignettes are easy to buy at any service station near the border or near the road and there is sometimes a sign saying vignette required before getting on that motorway. We usually take non-toll roads but it's handy going on them sometimes as they cut your travel time significantly.

When it comes to travelling through different countries, we had to do a bit of research on the 'Schengen Zone'. Basically it means no border control or restrictions travelling between all the countries that belong to the Schengen zone. For us travelling on Australian passports, we get to have 90 days within a 180-day period inside the Schengen. We have heard of others getting longer visas in certain countries but we have found the 90-day restriction fine – we just planned our route to account for it. We spent 3 months through the Balkans and by the time we were finished, we were fine to re-enter the Schengen zone. Also, Australia has additional 'Bilateral agreements' with certain Schengen countries so that you can stay there additionally to the 90 days rule. We made sure we emailed the Australian consulates in these countries to double check and have it in writing. As you go in and out of the Schengen Zone, or between countries not in it, you stop at a border and have your passports, green card/insurance and van checked by the police.

There are 'green zones' for some of the major capitals in Europe which have enforced rules on what vehicles can enter the zone and if your van doesn't comply with the eco standards (ours certainly did not as our camper is vintage!) you will be fined. It's mainly the big cities so just do a quick Google beforehand. There are usually places that you can stay that are outside the green zone so you can still visit the city.

There are different gas bottles and fittings for each country and we started off with a UK bottle and a spanish bottle. Some countries like the Balkans and Poland will directly refill your existing bottle which saves you from having to buy a completely new gas bottle and fitting each time so we always looked out for those places. Even so, buying a new gas bottle from scratch is not too expensive and usually lasts us a month in winter (heating chews up the gas) or longer in summer months.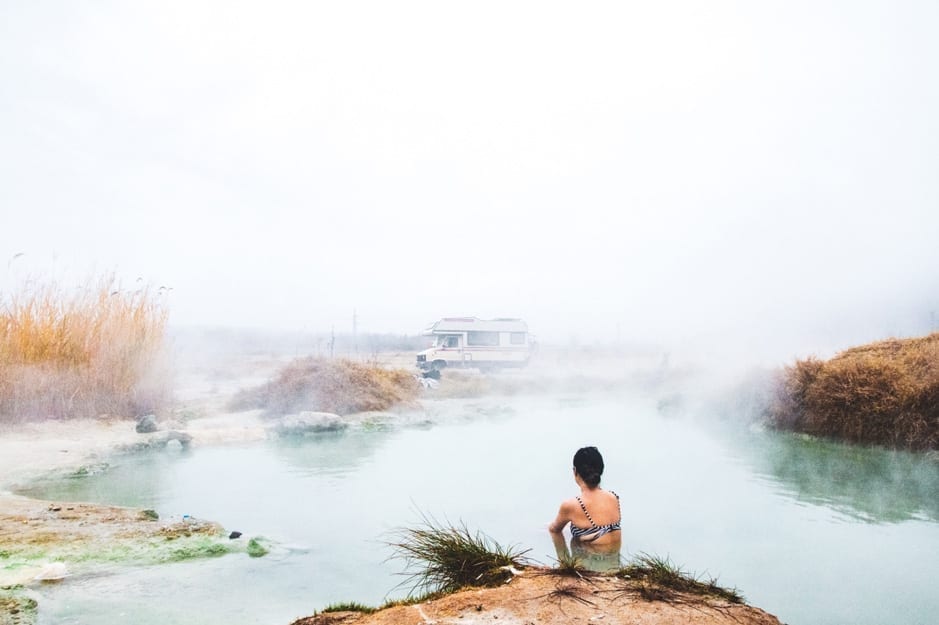 If you're new to vanlife, read our tips for driving a campervan or motorhome for the first time.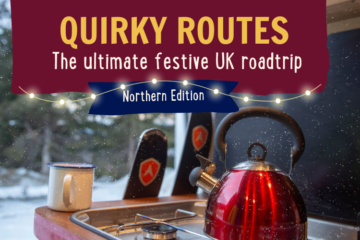 Are you a festive fiend or a grumpy Grinch? This season no matter what mood you're in, escape the normal and take yourself and …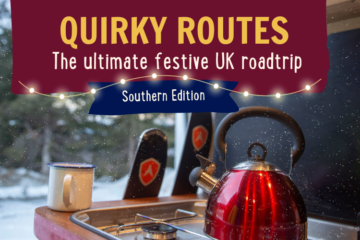 Are you a festive fiend or a grumpy Grinch? This season no matter what mood you're in, escape the normal and take yourself and …