7 Things to Consider When Hiring a Quirky Camper Van
Are you interested in hiring a campervan but not sure what to expect or how to choose?
Read this guest blog from Darren of iZog Adventure who hired MacIntyre in April 2018 for all you need to know…
Rebecca and I have wanted to convert a campervan since we first met. We decided that we needed to hire one and live in it for a few days and there was no better way to do this than at Camp Quirky 2018. Quirky Campers offered us a ticket to their festival if we hired a van through them, which seemed the perfect solution. So Rebecca and I looked through their list of available campervans for hire.
The 7 things to consider when hiring a campervan
1. What does your licence allow you to drive?
You may have some limitations on the weight and size of van you can drive. So be sure to check the type of vehicles for which your driving licence is valid. Also check the hiring rules for the camper you want to hire. Some require you to have held a valid licence for a period of 2 years or more. And some might have age restrictions, or specific countries that they will accept licences from. Check the 'Insurance, Breakdown and Drivers' section of the camper van listing for more details, and always ask the camper van owner any questions about insurance.
(Editor's note: All Quirky Campers hires require you to have held your licence for a minimum of 2 years and be between the ages of 23 and 75. The vast majority of our campers are under 3.5t and can be driven by anybody, but if the vehicle is over 3.5 t you will need a C1 on your licence.)
2. What size van should you choose?
If you are looking for a weekend getaway, a short wheel base might be enough room. But a longer wheel base will give you more space. Or extra facilities that wouldn't fit in a smaller van. Hiring a larger campervan might be more suitable for a longer trip, or one where you expect to spend a lot of time in your van. Consider how much stuff you want to bring with you, and how confident you would be driving a van of your chosen size. A larger van with a long wheel base might be wonderful to pack all your things into. But will you be able to take it everywhere you want to go?

3. How do you want to cook?
Is a gas hob enough or do you want an oven? Are you happy to prepare simple food, or do you use every pot in the kitchen when you cook? Think about the whole kitchen space in the camper van too. It was important to us that we could stand up while cooking, so we opted for a van with plenty of headroom, but if you only plan to heat water for tea, you might be fine sitting or kneeling to use the hob.

4. How many of you will be travelling/sleeping in the campervan?
There are a couple of important numbers you need to check. How many 3-point seatbelts there are for when you are driving. Secondly, the number of sleeping berths there are. Bear in mind that berths may in a shared bed. If there are more seats for passengers than beds in the van, you might decide to bring a tent for the extra people to sleep in, so make sure there will be enough space to store one.

5. Where will you want to camp, and where is the van based?
It's a lot of effort picking a van up at one end of the country to drive to the other, unless it's close to where you live. Consider where the most convenient pick up and drop off points will be for you and look for campervans close by. You might find that a van halfway between home and your holiday destination would work so you could drive part of the way, or you might prefer to find one close to home so you can pack before you leave. Bear in mind that you might need to pay additional fees if you travel over a certain number of miles each day (averaged out over your hire period). Check the 'Usage' section of the listing for details.
(Editor's note: Quirky Campers mileage limit is 200 miles per day and therefore charges will not apply to the vast majority of customers. However other agents will vary)
6. What does the van look like?
In some circumstances the van's exterior appearance may be important. If you are wild camping, you might not want it to stand out too much. On the other hand, if you are taking it to a festival, you might want it to be bright and colourful and to stand out! Some quirky camper vans have beautiful artwork on their sides, while others are stealthier, looking just like any other panel van on the road.

7. How long will you want to hire a van?
If, like us, you want to experience a taste of vanlife, it's probably best to hire for 3-4 nights as a minimum. Calculate how far you want to drive, and bear in mind that camper vans can be much slower than you might be used to. We tend to add at least an hour on to any predicted drive times, so we can drive safely and not feel rushed. You want to make sure that you arrive places while it is still light too, so you might not want to drive late into the night to get somewhere on a hectic schedule.
We based our decision on what we want in our own van. It's a list that seems to be constantly changing based on our vanlife experiences, but it currently includes: enough head room to stand up when we cook, somewhere we can both work on our laptops, a comfortable seating area and somewhere that looks and feels like home to us. We narrowed our choices down and chose MacIntyre because it seemed to really fit the bill.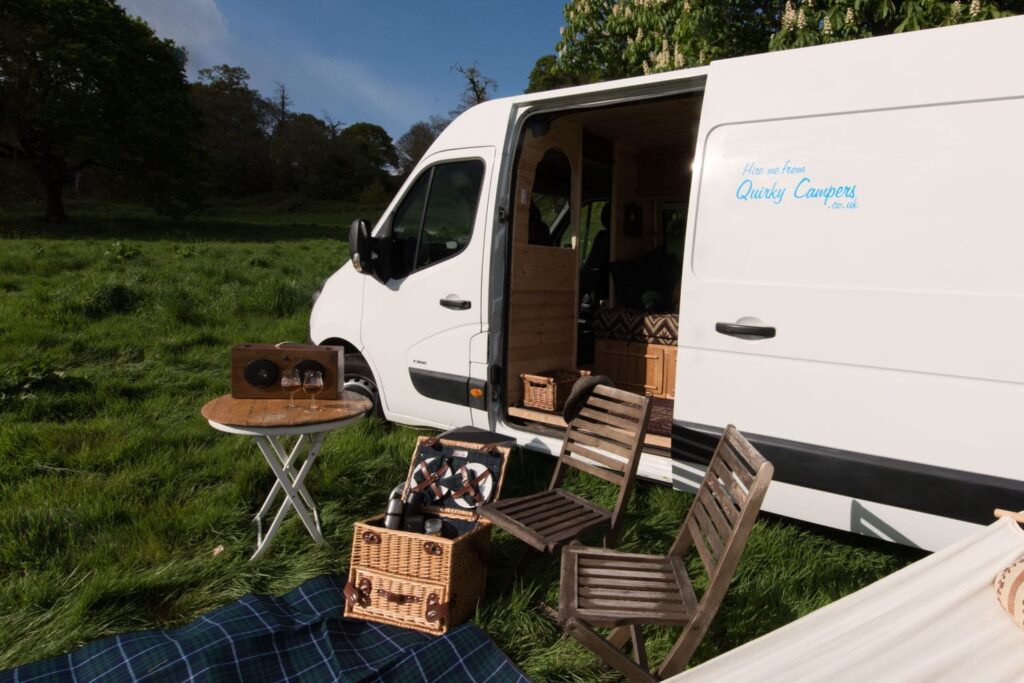 Collecting the van
Allow yourself a couple of weeks if you can between booking and departure. To arrange deposits and send documents so that most of the details and checks will be out of the way by the time you go to pick up your van. Collection is very straightforward. We went through some final bits of paperwork, had a tour of how it alls works and we were on our way.
Driving a campervan
It had been a while since I'd driven a van. But I actually enjoyed slowing down and taking it a little easier on the roads. I'm normally a bit of a petrol-head, so I never thought I'd say that. But I played a game with myself, seeing how high I could get the MPG in a van. I got an average of 33.9, which isn't bad but is much lower than I'm used to in my car!
Cooking in a van for the first time
MacIntyre has a 2-ring gas burner hob, so we decided to cook a chilli. Things go a little slower than at home when you're cooking on an LPG hob, but otherwise it's very similar. Just remember to keep an eye on the flame. And if your food is cooking much slower than you expect, check that the gas bottle hasn't run out!
It was a gorgeous mild evening, so we set up the table at the back of the van and ate our chilli looking out at the moon rising over the camp and listening to the music in the main tent as it drifted over to us. You can see more of this on our Camp Quirky Vlog over on YouTube.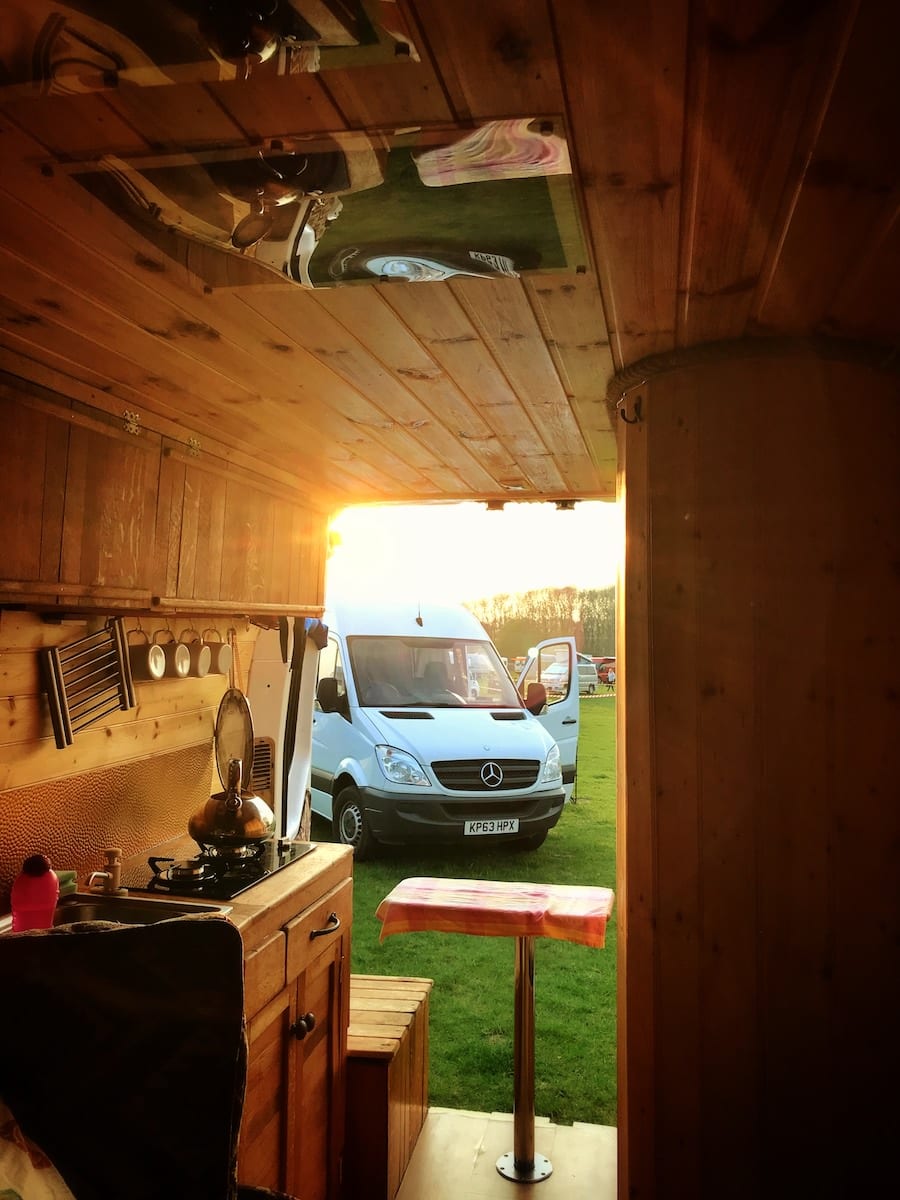 Sleeping in a quirky campervan
Macintyre has a huge pull out sofa that converted into a full-size 6-foot bed in the evening. We found that a pull out bed wasn't as comfortable as a normal mattress as I kept falling in the gap! Rebecca quite liked it though. So our next hire has a fixed-bed, so we can properly compare the two. We like the idea of the comfy sofa seating area and the extra space you get with your bed being tidied away during the day. But fixed-bed layouts often have more storage and the benefit of being able to hop into bed easily when you're ready to sleep.
Washing and using the loo
We decided against having a toilet as there were good toilets at the festival and decided that we would live without showering since it was only for a few days.
We found that getting up in the middle of the night to use the campsite loos wasn't too difficult as our pitch was only a few minutes away. But we decided that we need an option for emergency peeing in when wild camping away from toilets.
So what are we up to next?
Rebecca and I have picked up a brand new motorhome in Italy that we are driving back to the UK over 22 days. After two weeks on the road we have a good sense of living in a coach built camper and we are still sold on converting our own quirky van. We have a lot of new ideas we want to try. And when we get back we will be hiring a campervan again from Quirky Campers before starting our own build.
We are blogging and vlogging our journey. So do check out our social media to follow along. We would love to hear from you and what plans you have for vanlife.
Darren (iZogAdventure)
Check out the full list of campervans available to hire here.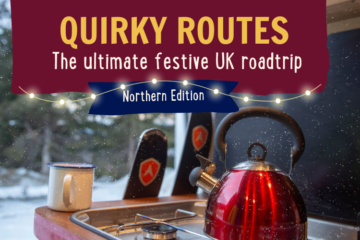 Are you a festive fiend or a grumpy Grinch? This season no matter what mood you're in, escape the normal and take yourself and …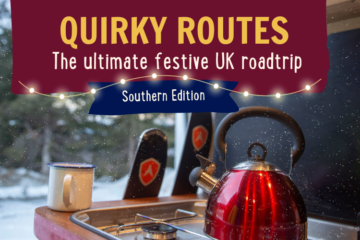 Are you a festive fiend or a grumpy Grinch? This season no matter what mood you're in, escape the normal and take yourself and …