Agnes - Ex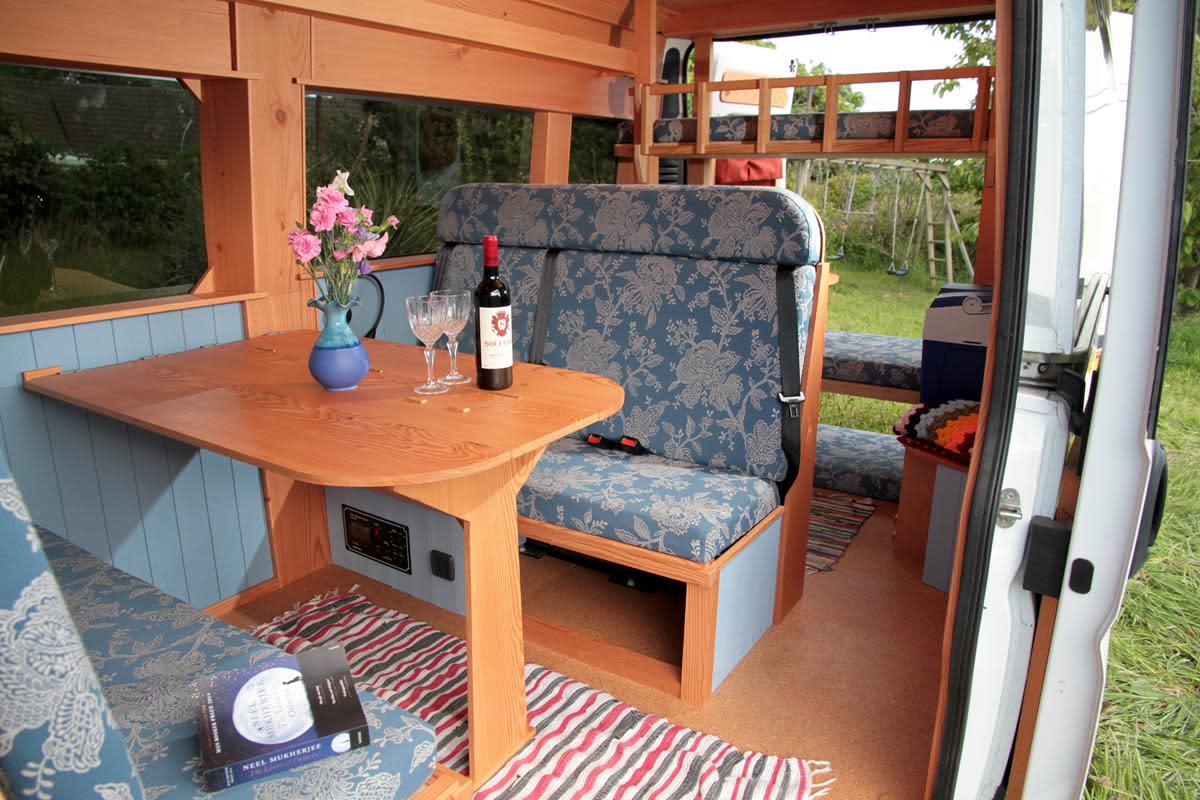 Cornwall
6 Belted seats 2 Adult berths 3 Child berths
Agnes is a beautifully handcrafted and spacious family camper van, perfect for a beach focused campervan holiday in the South West. She's like stepping into a bright and modern country-style kitchen on wheels; with sleeping space for up to 5 people and a large dining and sofa area for the day, this campervan hire Falmouth will definitely put a smile on your face when you hire her for a relaxing road trip. Agnes' spacious interior is cut from reclaimed Douglas fir beam and the floor is made from cork. There is so much storage space, as the bunks can even be removed to make more room for bikes, surfboards or an inflatable kayak. Whether you want to go exploring off grid, or use the 240v hook up on a campsite, you'll definitely have an epic holiday in the calming and relaxing space of Agnes.
Essential Information
Hob
Heater
Dining Table
Refrigerator
Kitchen Sink
Leveling Jacks
Radio
EU Travel Allowed
About the Campervan
Description of Beds: 1 standard Double bed & 3 Kids bunks. Top bunk: 5ft 7in long Middle bunk 5ft 10in long Bottom bunk 4ft 7in long (for toddler of small child)

Description of Seating: 6 seats all with 3 point seat belts: 3 in the front and 3 in the back, all facing forward. No ISO points or swivel seats.

About the area: Agnes lives in the heart of Constantine village on the main through road. Constantine is a little out of the way but we are surrounded coast, beautiful villages and we are close to the picturesque Helford River. There are some lovely local spots for off-grid camping as well as some lovely camping sites to visit.

Parking: There is parking available for your own vehicle in the village, or if preferred parking can be made available on our driveway.

Cooking Equipment: The kitchen has all you could possibly need to cook up a feast with a grill and two-burner hob. Agnes is also fully equipped with cutlery, cups, plates and bowls for 6 people, as well as pots and pans, sieve, bread board, kettle, bottle openers and more!

Water Facilities: Sink with electric pump

Audio Equipment: CD player and radio in cab, speakers wired to back

Conversion Story: The conversion took place in a little workshop near Falmouth in Cornwall. Finishing up the oak framing jobs we created space inside for Agnes. After a lot of careful planning and designing we set about ordering materials, the most exciting being the reclaimed Douglas fir, sourced from 14 by 14 inch beams, 9 meters long, from a demolished cardboard box factory. I firstly set about installing the electrics and insulating to a high standard. Then the fun part! Timber paneling & hand-making fitted furniture and features to set the van apart from others. All that was left was to choose the fabric and final fixtures, and lay the cork flooring!
Pick up / Drop off Times
| - | Pick up | Drop off |
| --- | --- | --- |
| Sunday | 9:00AM - 5:00PM | 9:00AM - 5:00PM |
| Monday | 9:00AM - 5:00PM | 9:00AM - 5:00PM |
| Tuesday | 9:00AM - 5:00PM | 9:00AM - 5:00PM |
| Wednesday | 9:00AM - 5:00PM | 9:00AM - 5:00PM |
| Thursday | 9:00AM - 5:00PM | 9:00AM - 5:00PM |
| Friday | 9:00AM - 5:00PM | 9:00AM - 5:00PM |
| Saturday | 9:00AM - 5:00PM | 9:00AM - 5:00PM |
Note: Campervan Hire prices are per 24 hours. If you request pick-up at an earlier time than your drop-off time the owner will quote you for the additional hours. Typically this is £12.50 per additional hour.
Vehicle Spec
Vehicle Type: camper-van
Make: Citroen
Model: Relay
Year: 2008
Vehicle Length: 6 metres
Vehicle Height: 2.9 metres
Max Laden Weight (MAM): 3150 kg
Payload: 330 kg
Transmission: manual
Fuel Type: diesel
Registration: emailed when you book
Note: The hire of this vehicle is arranged by Quirky Campers ltd acting as the agent on behalf of Agnes - Ex's owners. We make every effort to ensure that all the vehicles listed with us are of a high standard but cannot guarantee the condition of the vehicle. If you experience any problems please notify us as soon as possible.