Blubelle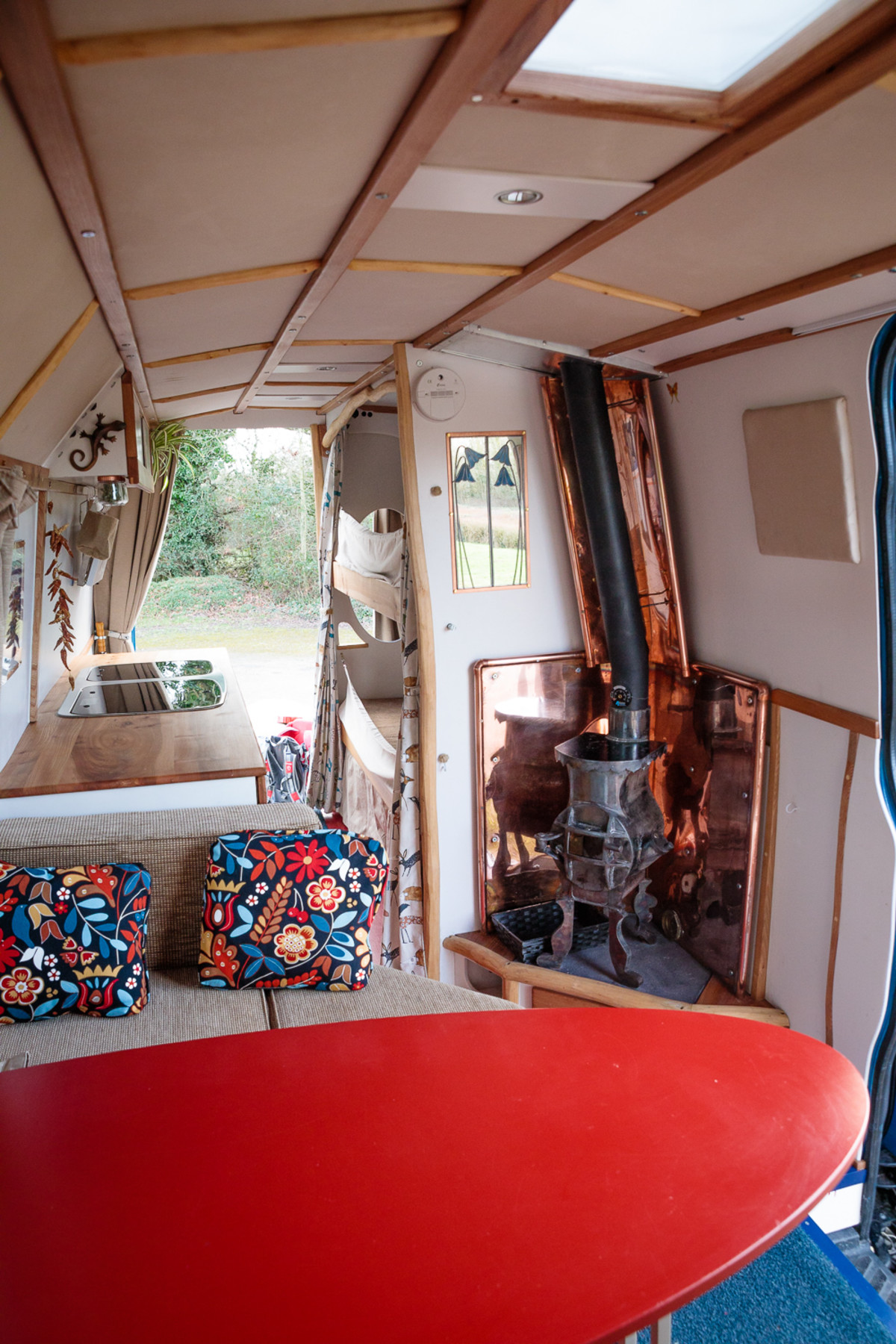 Bristol
5 Belted seats 4 Adult berths 1 Child berths
If you're looking for an eclectic, whimsical, yet super practical family camper van, then Blubelle is your girl! Created from the minds of her circus performer owners, Blubelle is a high spec campervan hire Bristol, who can sleep up to 5 people in her double bed, bunk beds and cab bed space. This super functional camper is a comfortable and tranquil space which enables you to indulge in complete off-grid solitude, or invite friends over for dinner in the large 7-person capacity social seating. Her wood burner means you can live the Instagram dream, snuggled up with a hot cup of cocoa gazing out the windows at a secluded view you've found just for yourself.
Essential Information
Hob
Heater
Dining Table
Refrigerator
Kitchen Sink
Outside Shower
Bike Rack
Toilet
Awning
Solar
Extra Storage
Leveling Jacks
Radio
Inverter
Water Tank Capacity: &nbsp40 litres
EU Travel Allowed
About the Campervan
Description of Beds: Standard double bed, two 6'x2' (182cm x 60cm) bunk beds and cab bed

Description of Seating: Drivers seat and 2 x passenger seat in the cab all with 3 point belts Rear facing bench seats, with two lap belts in the back.

About the area: Blubelle is parked outside my house in Eastville, a fifteen minute cycle from Temple Mead train station and very near to a bus stop that comes direct from the centre of town, with very quick and easy access off and onto the M32 and a local Tesco's superstore or Better Food Store selling local and organic foods plus eco-friendly health and beauty products, with a cafe .

Parking: Street parking

Cooking Equipment: Inside Blubelle you havea. three-burner hob, sink and fridge. You've also got a fully equipped kitchen space with a copper kettle | espresso coffee maker | Tea pot with cosy | 5 Mugs | 5 Beakers | 3 cooking pots of different sizes with lids | frying pan | 2 wooden chopping boards. You also have lots of cooking utensils as well as 5 Dinner plates | 5 Dinner bowls | 5 Breakfast bowls | 5 Sets of knives, forks, spoons and teaspoons | 2 Sets of child's knives, forks and spoons | 1 Fold away fruit bowl | 2 Tea towels.

Water Facilities: 2x 20 litre removable water containers with foot pump

Audio Equipment: Standard CD player in cab, portable bluetooth speaker supplied for everywhere else

Type of Heating: Woodburner

Conversion Story:Blubelle's owners Kati and Skippy come from a contemporary dance and circus background; and her roots are buried deeply in performing arts and Circus. Much of the inspiration for this iconic conversion came from the vehicles they saw at Burning Man festival where originality and creativity abound. Their conversion team was made up of many highly skilled circus folk from jugglers to street performers to a sculptural metal worker who created the woodburner from scrap metal! Blubelle's roots are buried deeply in performing arts and Circus, with a dream of living off grid in beautiful locations. So, here's Blu an art car that can go and find peace and tranquillity or community and entertainment to wash off everyday life and breath for a moment with family, friends or blissful solitude.

Warning: The payload of this vehicle is 420kg. This is below the Quirky Campers recommended payload of 550kg for a vehicle with 5 belted seats. Drivers need to be aware that the total weight of driver, passengers and baggage must be below 420kg to keep the vehicle within its legal Max Allowed Mass (MAM) of 3500kg
Pick up / Drop off Times
| - | Pick up | Drop off |
| --- | --- | --- |
| Sunday | 8:00AM - 8:00PM | 8:00AM - 8:00PM |
| Monday | 8:00AM - 8:00PM | 8:00AM - 8:00PM |
| Tuesday | 8:00AM - 8:00PM | 8:00AM - 8:00PM |
| Wednesday | 8:00AM - 8:00PM | 8:00AM - 8:00PM |
| Thursday | 8:00AM - 8:00PM | 8:00AM - 8:00PM |
| Friday | 8:00AM - 8:00PM | 8:00AM - 8:00PM |
| Saturday | 8:00AM - 8:00PM | 8:00AM - 8:00PM |
Note: Campervan Hire prices are per 24 hours. The default pick up and drop off time is 2pm. If you request a pick up or drop off outside of this, the owner will quote you for the additional time. Typically this is £12.50 per additional hour.
When would you like to go?
Sorry, there was a problem...
Vehicle Spec
Vehicle Type: Campervan
Make: Mercedes-Benz
Model: SPRINTER 311 CDI LWB
Year: 2007
Vehicle Length: 7 metres
Vehicle Height: 2.8 metres
Length with hitch: 7.1 metres
Max Laden Weight (MAM): 3500 kg
Payload: 420 kg
Transmission: manual
Fuel Type: diesel
Registration: emailed when you book
Note: The hire of this vehicle is arranged by Quirky Campers ltd acting as the agent on behalf of Blubelle's owners. We make every effort to ensure that all the vehicles listed with us are of a high standard but cannot guarantee the condition of the vehicle. If you experience any problems please notify us as soon as possible.